A list of Ireland's most popular baby names of last year has been revealed.
The CSO today released a list of 100 boys' names and 100 girls' names that were most used in 2018.
Emily and Jack pipped the post as the most common names for newborns with 686, and 460 babies registered with these names respectively.
They were also the two most popular baby names in Ireland in 2017.
There were lots of new names in the top 100 too, including Frankie, Freddie and Theodore for boys, and Ada, Bonnie and Ivy for girls.
Commenting on the trends in Irish baby names, Statistician Carol Anne Hennessy said: "Back in 1968, John, Patrick, Michael, James and David were the names most favoured by parents of newborn baby boys. While there were 2,863 baby boys named John 50 years ago, the five most popular boys' names in 2018 together accounted for 2,691 baby boys.
Interestingly, not one of the top five names for girls appeared in the top 100 names a half-century earlier. Mary, Catherine, Margaret, Ann and Anne were the most popular names for baby daughters in 1968, with 2,364 baby girls named Mary in that year. In 2018, there were 460 baby girls named Emily, 19.5% of the number of girls given the name Mary in 1968."
Check out the top five below: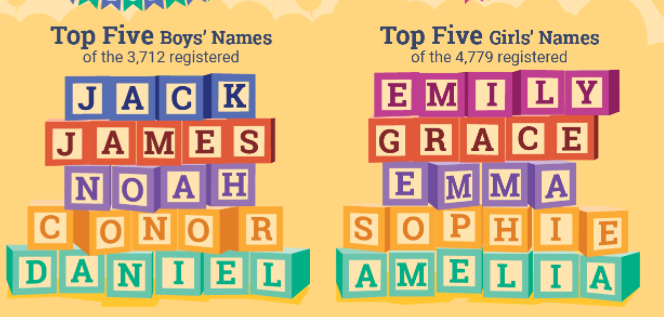 Check out if your name made the top 100, here.