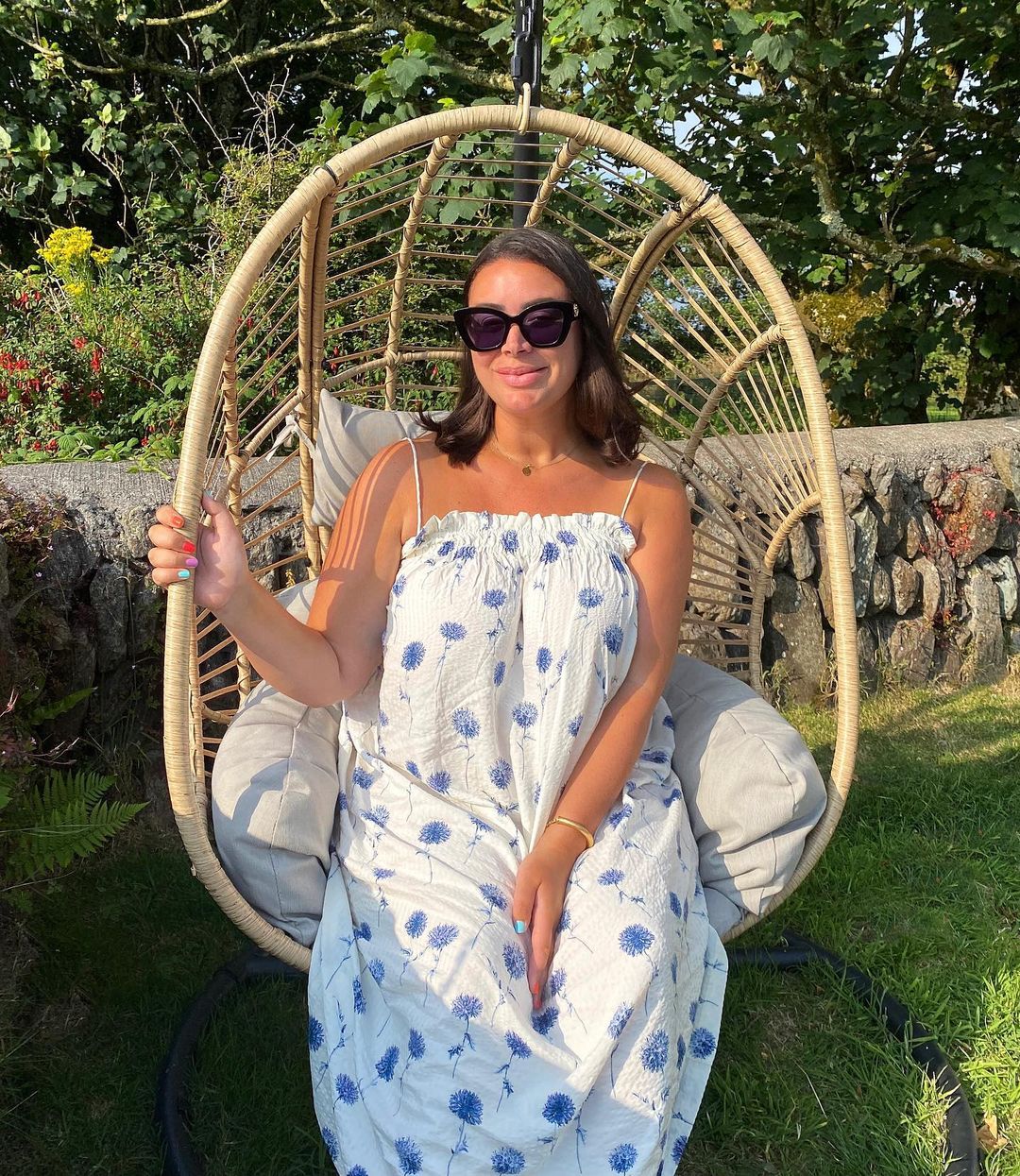 Just last week Joanne Larby announced the wonderful news that she, and her partner Adam, are expecting their first child together.
Posting a gorgeous and emotional video to social media, the podcast host and influencer shared; "The best secret I've ever had to keep. We're over the moon and absolutely elated to be expecting our first little one."
"Sharing the past few months growing our angel in nature with only close family and friends in the know has been magic, but there's no hiding this growing bump now!"
Here at VIP, we were delighted to hear Joanne's gorgeous news, and caught up with her on how she'd finding pregnancy so far, as well as if the couple want to keep the gender a surprise!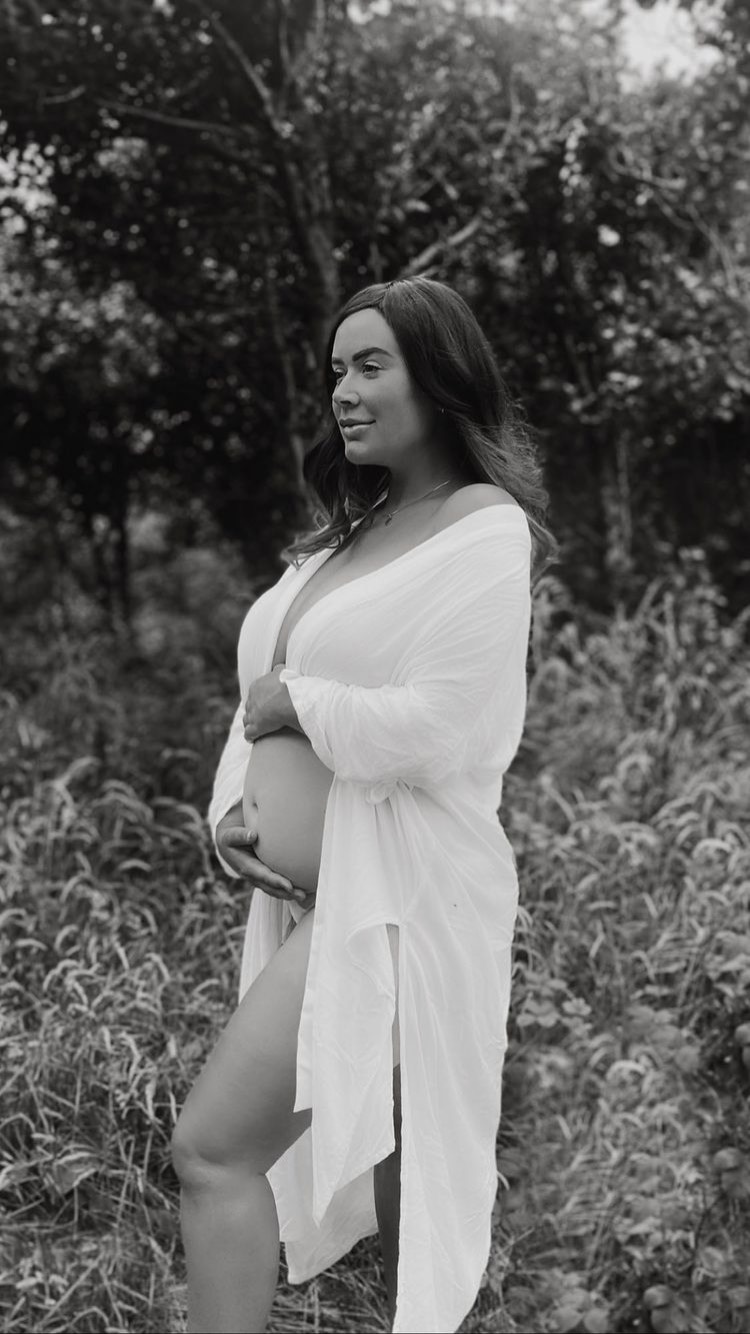 Had you and Adam been trying for a baby, and where you surprised when you found out?
We started talking about having a baby in 2020, but the height of the pandemic felt like the wrong time for us. I really wanted to enjoy and embrace my first pregnancy without hiding away, or being so far away from close friends and family. As time went on we realised although not in full lockdown, there will always be an element of restrictions so we started trying this March and were pregnant by the start of May.
I had absolutely no idea it would happen so quickly – I actually worried it may take much more time, or be a more difficult process, which it can be for so many couples. We feel extremely blessed and grateful this wasn't the case, so finding out was a really joyous moment. In terms of the actual finding out, sadly it's not the most exciting or romantic tale!
Adam was actually watching a football match downstairs when I got a sudden urge to take a test. I can't put my finger on exactly why I felt the need to do so, but I suppose you could call it maternal instinct. So I took a test in the downstairs loo on my own and two distinct lines showed up immediately. I calmly waited the advised 3 minutes, to see no change. After reading and re-reading the leaflet, that determined those two clear lines meant pregnant I took 2 more (just to be sure) to find the same result. I then came into the living room to tell Adam in disbelief and we took a final electronic scan together, the ones that tell you how far along you are, it confirmed 2-3 weeks. There was lots of happy tears and hugs that evening and we've been walking on air ever since.
What was Adam and your family's reaction when you told them?
The first person we told was my mum. I knew I wouldn't see her until I was around 9 weeks which felt too long to keep secret, so it was over video call. I suppose I wanted just one other person to share the news with, and a fellow mother to bounce questions off and experience the early stages with (which can be so nerve wracking).
We caught her reaction on camera and it's such a beautiful one – she adores Adam so was, and still is, over the moon. Adam wanted to tell his family in person and they were due to stay with us a few weeks later. It was difficult keeping the secret on the phone when they would ask if we had 'any news', but getting to tell them in person was worth the wait. Adam was at his desk, in front of work monitor screens as if he was going to show them a project he was working on. He then set his webcam, which faces outwards at whoever is looking at the screen to record.
Instead of a work project we played the babies heartbeat and scan, and it was a magical moment watching them realise what they were actually looking at. Telling friends has been a mixture of in person and video call, each and every one just as special.
View this post on Instagram
How have you found being pregnant during the pandemic, have you enjoyed the slower pace of life?
I feel lucky we aren't in total lockdown, because I can only imagine it was an extremely isolating and fearful time for pregnant women. I really admire those who have gone through pregnancies in the height of the pandemic – those mothers are remarkable.
There are so many new sensations and changes to adjust to that it's nice to live somewhat 'normally' and have a circle around you. Naturally, because we live over 4 hours from family they miss us even more now that there's an extra being to love, but I have to say I've enjoyed it all. I don't have any FOMO of travel or nights out because our collective situation means things still aren't fully back to normal yet so I can embrace this time, de-stress and focus on keeping healthy and happy for the baby – that's my number one priority.
Have you found it at all stressful due to the additional worries we all have at the moment?
When I first went to get my antenatal blood work done the HSE hack occurred so I had to wait 2 weeks to have them taken, then 5 weeks to receive the results and when they came back they lost some of the vials. Little things like that, combined with COVID restrictions meant more patience and trust was required that everything was as it should be. I really empathise with the hospitals with everything they've been faced with and all of the hard working midwives who are enduring this time too – it's far from easy.
Naturally I'm hyper aware of the virus and want to make sure our baby is safe, so we are being extra vigilant and cautious. I try to spend as much time outdoors and in nature to keep grounded and positive, and I think I'm just so grateful for our situation that I blinker the negatives out.
What are the restrictions like in hospitals now for scans?
When I first found out I was pregnant I was advised there may be delays with my first dating scan due to the hack, so it could have been around the 14 week mark. We felt that was too long to wait to see if the baby was developing ok so we booked a private scan where Adam could also attend. It was around the 7 week mark and an amazing experience to see things were going well and witness the little flickering heartbeat.
Things have progressed nicely since then and they changed the restrictions in our local hospital to allow partners attend the first dating scan. I was lucky to get this at the original 12 week mark, and again it was an amazing experience. I think having your first baby is a precious time every partner wants to be part of, so I'm really glad these changes have been made. Everyone at CUMH has been extremely efficient and friendly so far and I look forward to our next scan with them.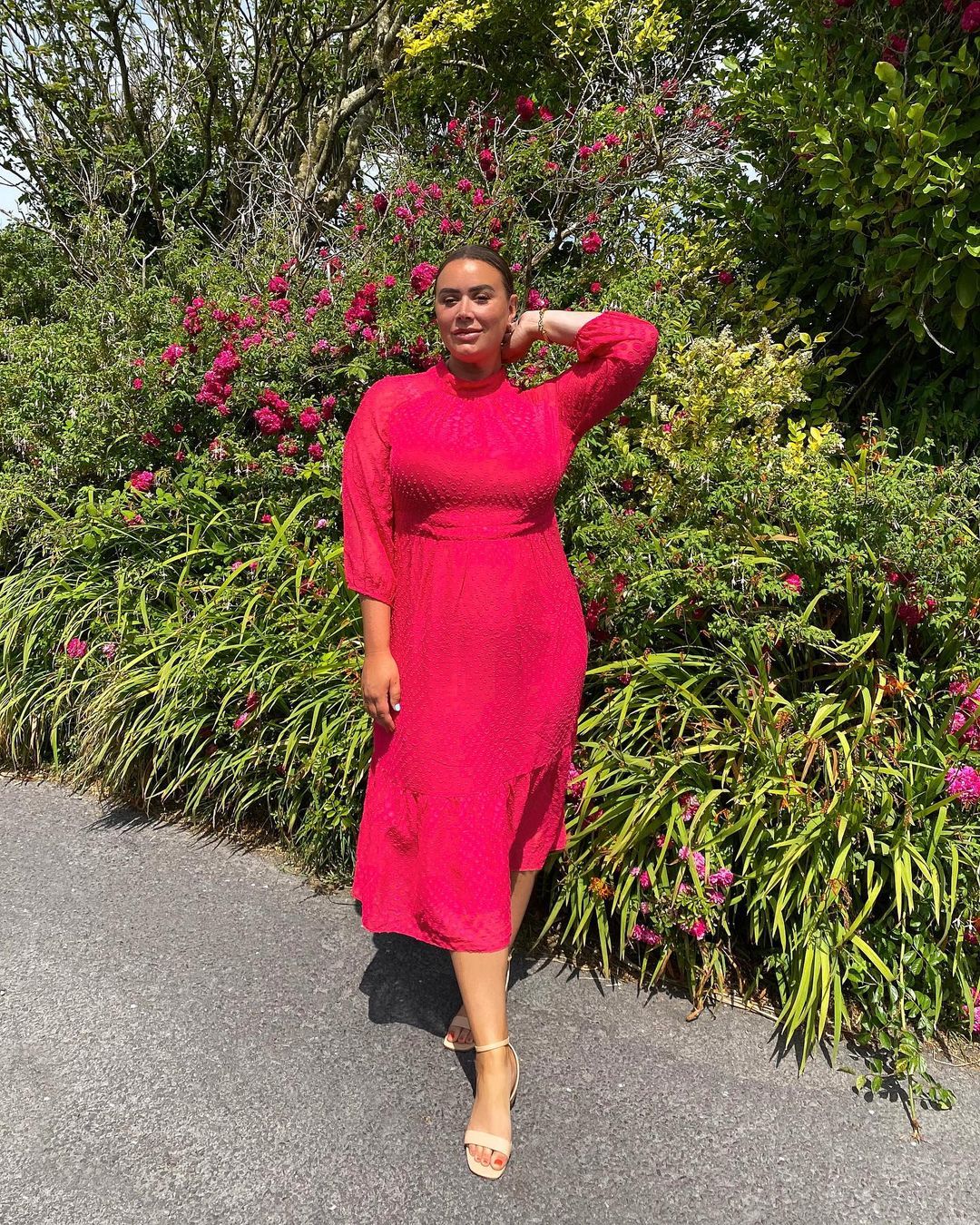 Are you planning a gender reveal or are you going to keep it private?
I know gender reveals are so popular these days and anyone we have told our plans to are shocked because they would want to know, but we don't want to find out the sex until the baby is born. For us, the most magic 'reveal' will be Adam hopefully by my side handing me our baby and telling me if it's a boy or girl. I can't think of anything more special than that in terms of a surprise. We already have names and will buy neutral baby bits and bobs until then. We truly don't mind if it's a girl or a boy – once everything continues to go well we're happy out.
What are your plans for the nursery in your beautiful home?
The soon to be nursery is currently the twin room of the house. We plan on keeping the beds in there for when we have family or friends stay but re-decorating the likes of sheets and accessories etc. The room itself is on the old farmhouse side of the house so it has beautiful high beams and thick textured white walls. It's bright and looks out onto the sea view and veg patch.
Sticking with the neutral theme, because we won't know the sex of the baby, I want a warm cosy earthy space. I'm thinking rattan elements, rust, mustard and olive green. I'll be sharing the revamp on my interiors account @highrisetohouse for anyone who would like to follow that side of things.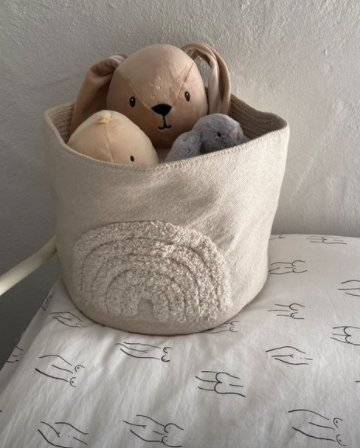 We are already a little bit obsessed with Joanne's impeccable interior style, so we are very much looking forward to following along as she decorates!