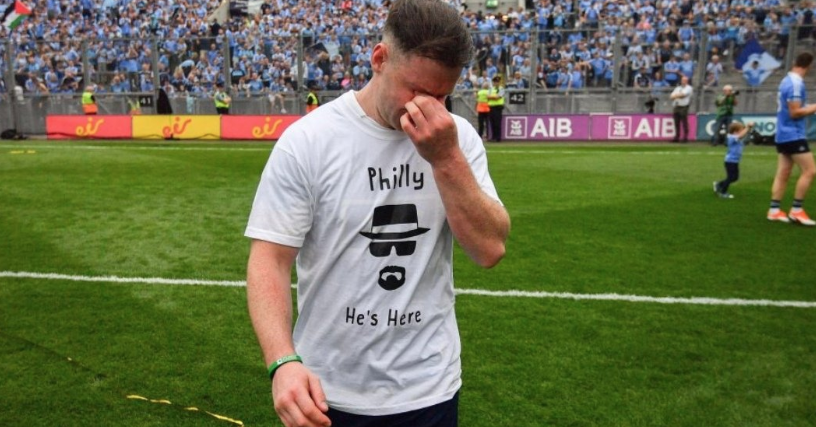 Last night saw Dublin footballer Philly McMahon's documentary The Hardest Hit air on RTE, and it has been widely praised by viewers across Ireland.
The Ballymun man, who sadly lost his brother John to a drug overdose in 2012, has been working on changing people's lives who have been affected by drugs and aims to change the stigma connected with the issue.
The Hardest Hit followed the six-time All-Ireland winner as he trained prisoners in Mountjoy's Progression Unit, in a bid to change the mindset and have a positive impact on their lives through sport.
"If I wasn't playing sport would I have gone down the same route as most of the guys who hung around on Sillogue Road, probably," the 31-year-old said.
"It just depends, it is very easy to fall into that trap because you can get a bag of drugs and walk across the road and get three or four grand for it. That's how easy it is to be trapped."
Here's how viewers reacted to Philly's important message.
Thank you @PhillyMcMahon , Thank you#TheHardestHit

— Barry Keoghan (@BarryKeoghan) October 21, 2018
Turning your heartbreak into hope for others, your experience into education. Well done @PhillyMcMahon #thehardesthit — Dearbhail McDonald (@DearbhailDibs) October 21, 2018
That was brilliant @PhillyMcMahon I hope it's shown in all secondary schools. #TheHardestHit

— Mairead Ronan (@cocomairead) October 21, 2018
Well done @PhillyMcMahonan incredibly powerful & emotive documentary on a subject that touches so many lives. #thehardesthit — Jacqui Hurley (@jacquihurley) October 21, 2018
Watching @PhillyMcMahon documentary on RTE. What an incredible emotional insight into drug use in Ireland. Outstanding production and needs to be mandatory in schools #thehardesthit

— Patrice Brady (@Patrice_Brady1) October 21, 2018
What an incredible role model and inspiration @PhillyMcMahon is. That was such a moving, educational and emotional documentary. I've no doubt his Dad and brother are looking down on him with great pride. Well done Philly. #TheHardestHit pic.twitter.com/vKH118mMeU — Hill 16 Army (@Hill16Army) October 21, 2018
#thehardesthit Education and sport. So important to keep young people involved.

— DJLinehan63 (@linny55) October 21, 2018
This documentary should be shown at every secondary assembly in the morning! Incredible young man! #TheHardestHit — Mairead McLeod (@MaireadMcleod) October 21, 2018