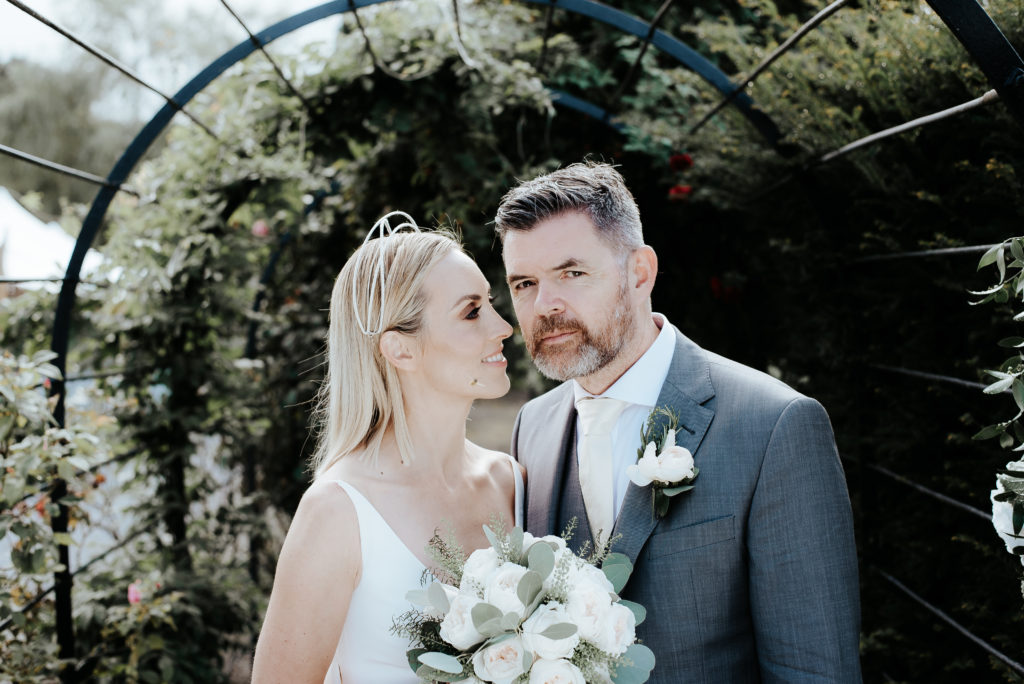 In the breathtaking surroundings of Kilkea Castle, one of the oldest inhabited castles in the country set on 180 acres of wonderful Kildare woodland, RTÉ star Kathryn Thomas and her handsome husband, restaurateur Padraig McLoughlin, celebrated their wedding in exceptional style, with their most precious little girl, 17-month-old Ellie by their side. Ellie was, Kathryn tells us, in this, her only interview, the absolute star of the show.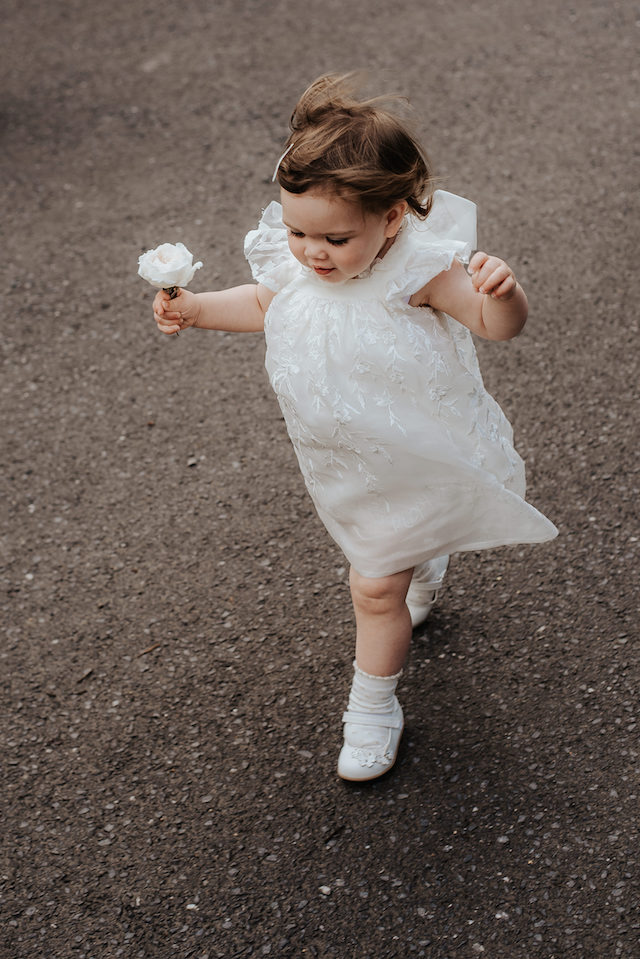 She, in her darling Helen Cody dress with hand embroidered details baring her nickname and their dog's names stitched into the hemline, and a big bow on the back, just like her mum's. "I didn't shed a tear, really, but every time I saw Ellie in her dress, it set me off," the 40-year-old bride tells us before jetting off to Puglia, Italy, on a mini-moon, her voice still hoarse from the celebrations, her emotions still high as a kite.
When VIP last spoke to Kathryn about her preparations for the big day, she was – as she always is – cool as a cucumber. Her plan, she told us then, was to host the best party ever with those she held dearest. Well, mission accomplished. The partying went on for three days. Music filled the air. Padraig's 24-year-old son, singer/songwriter Conor McLoughlin sang them into their blessing ceremony with a stripped back version of the bride's favourite song, Guns N' Roses, Sweet Child O Mine; then Brian Kennedy broke all 200 guests' hearts with his rendition of You Raise Me Up. Over the two-day wedding some eleven acts performed. The dance floor, she tells us, was never empty.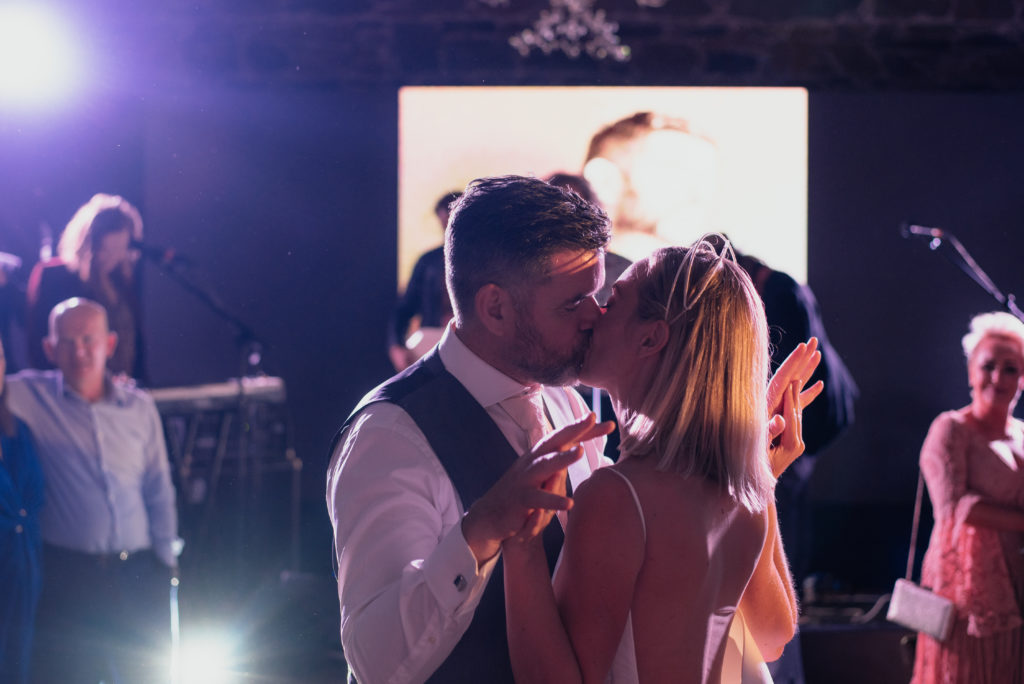 And then there were the dresses! Two ridiculously beautiful bespoke gowns, the first designed by Umit Kutluk for the blessing ceremony, which took place in the garden; the second designed by Helen Cody for the reception in the "enchanted forest".
She had, of course, nine bridesmaids, (chief bridesmaid was her sister Linda Thomas), another wrote her own reading (Barbara Ennis) and a beautiful piece of prose by Bob Marley was read by Anna Latvala starting with the lines,"He's not perfect. You aren't either, and the two of you will never be perfect. But if he can make you laugh at least once, causes you to think twice, and if he admits to being human and making mistakes, hold onto him and give him the most you can." Kathryn and Padraig's wedding may have played out like a fairytale but their love is real.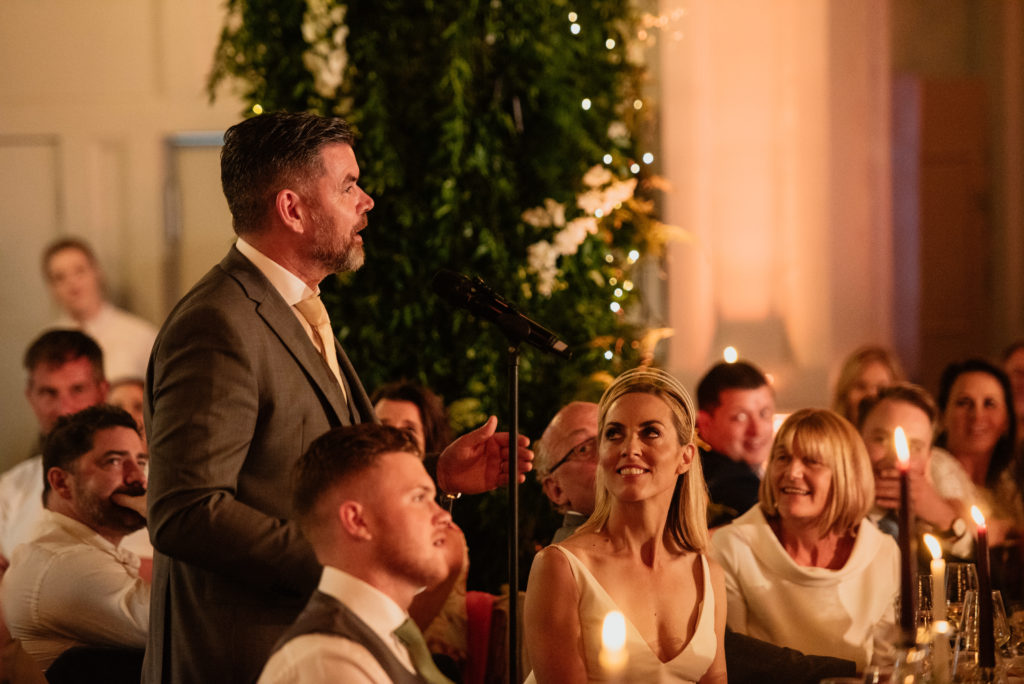 But enough. The rest you must read for yourself in the bride's own words, while pouring over these beautiful pictures taken by Shane O'Neill (Aspect Photography). So hold tight folks, as here, in this VIP exclusive, we reveal to you all the intimate details of this happy couple's epic wedding extravaganza.
Congratulations Mrs. McLoughlin! You still sound as high as a kite!
[Laughing] I still feel high as a kite! It was three days of complete and utter craic…the best three days of my life.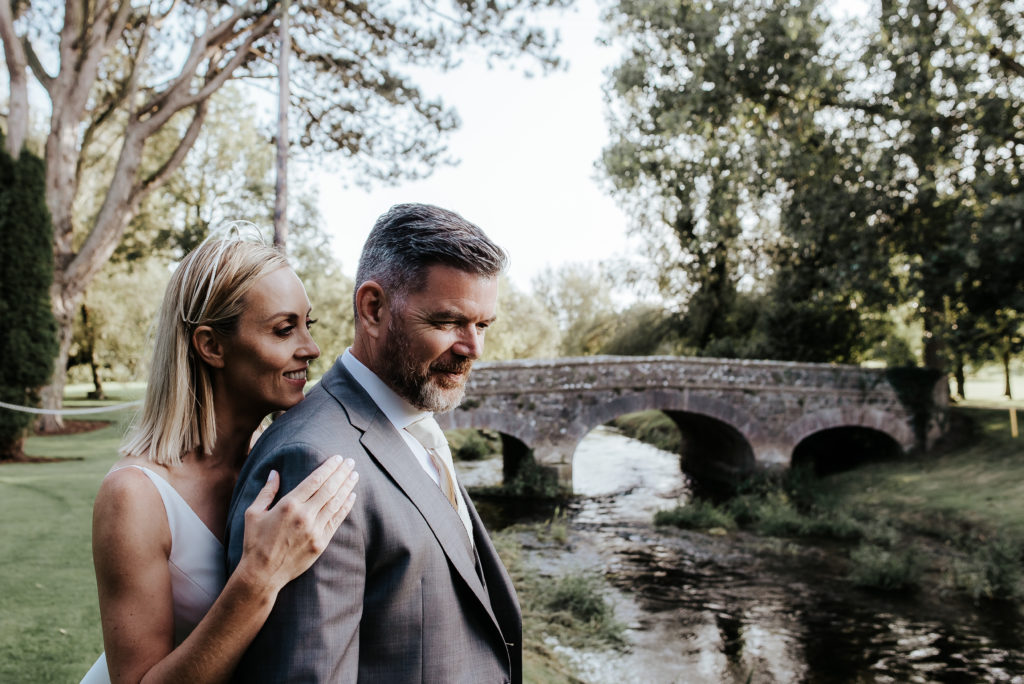 You always said you wanted a hoolie with the most important 200 people in your life. Sounds like you got what you wanted!
I did! The dance floor was never empty! In the back of my mind I also always wanted an Irish wedding, which is why I wanted to wear three Irish designers in Umit Kutluk, Helen Cody and Laura Kinsella (she designed the headpiece). We also wanted Brian Kennedy to sing and we wanted an Irish first dance which is why we chose Kodaline's The One.
Being married now, do you feel any different?
I don't feel different but I feel happier than I have felt in a long time.
It was, you have said, always going to be an "unconventional" wedding so based on this we're presuming you won't be taking Padraig's name?
Well, I actually like the name… I'll keep mine for work but I may well use both.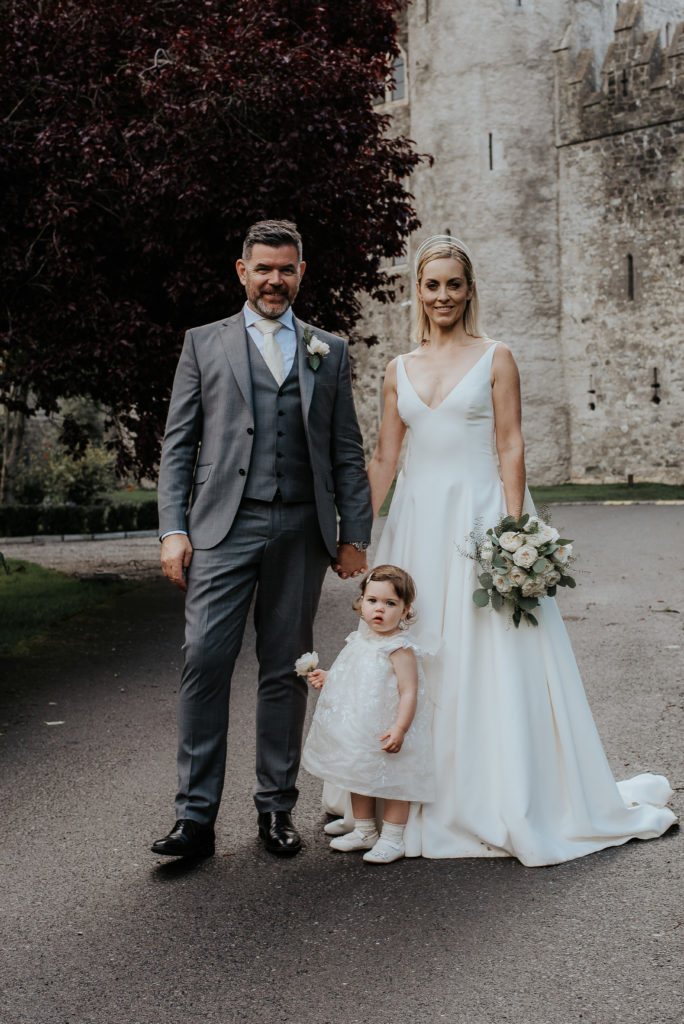 Now, before we dissect all the minutiae of detail from the day, tell us first about the dresses of your dreams. Because there were two!
Yes! Myself and Umit Kutluk designed the bridal dress. I knew exactly what I wanted as I had seen a kind of similar sort of Chanel dress from a Couture show, four years ago. I wanted something really simple with a really dramatic back and a giant oversized bow. I wanted pockets; I didn't want anything shiny – any lace, any diamanté, any adornments – I just wanted it to be really simple and pared back, a sort of architectural look. Umit is just so talented and I'd worked with him before. It was a lot of over and back in terms of getting the structure right but I absolutely loved it. It was my favourite dress I have ever worn. Fellow Carlow girl Laura Kinsella did my headpiece, which we also designed together, and it was really simple but sort of architectural as well. Another masterpiece.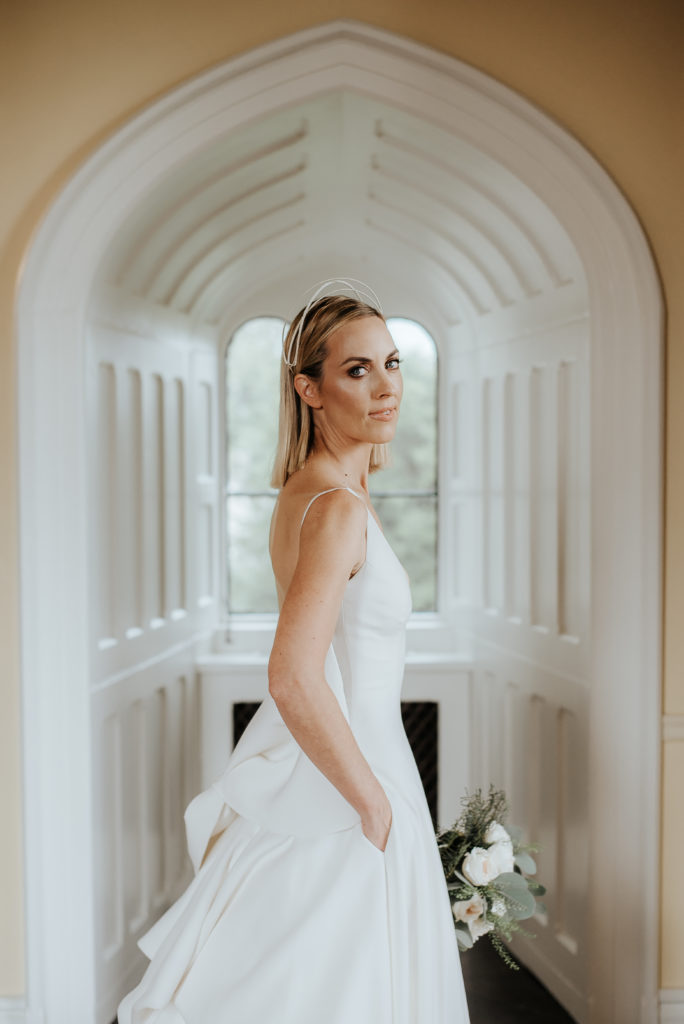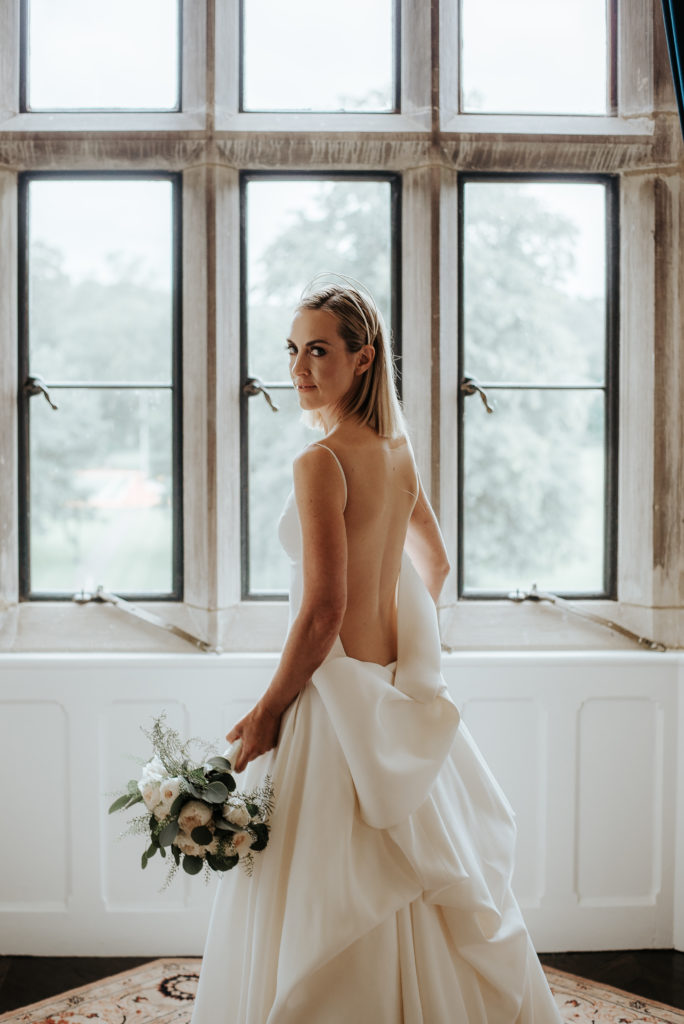 After the service you changed into another work of art, this time designed by Helen Cody.
And it was such a work of art. I wanted something I could dance in and move around in. So we came up with this creation. I loved the lace, I loved how light it was and again, I loved the pockets.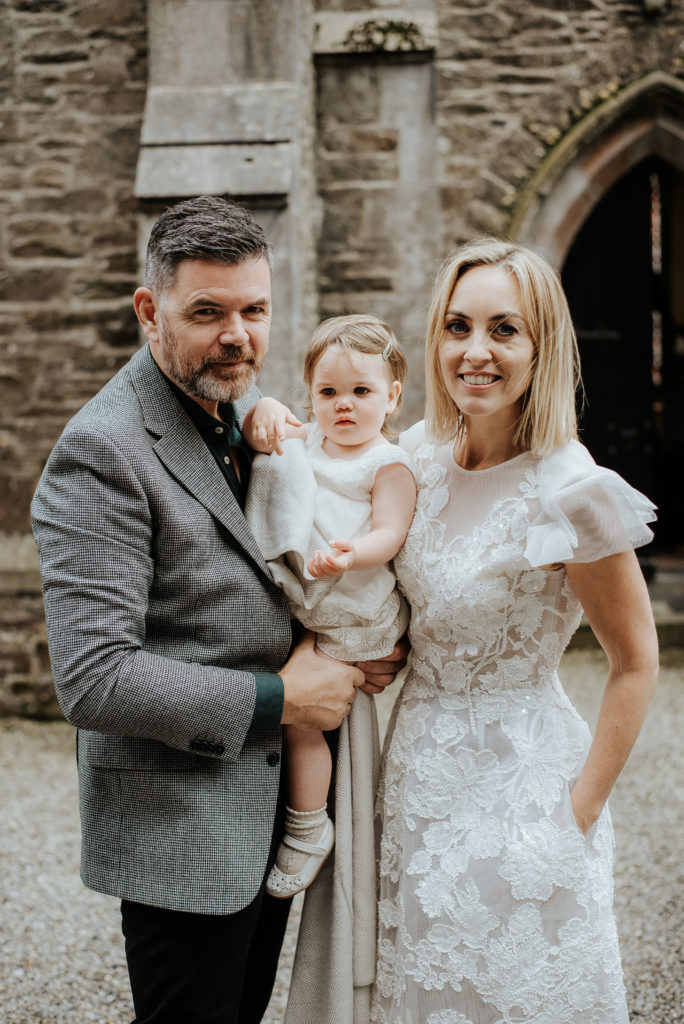 Helen also designed little Ellie's dress which had a special message embroidered into the hemline.
Oh my god Ellie's dress…I didn't shed a tear, really, well, I did when I saw myself in my own dress, but every time I saw Ellie in her dress, it set me off. Again I said to Helen you do what you want, and she said, 'Leave it with me. Princess Ellie is the order of the day'. She came up with this really personal touch and embroidered almost in child's handwriting mine and Padraig's names, Padraig's nickname for her, the wedding date, the dogs' names, and she had all this stitched into the bottom of the dress. It was so Helen, so perfect…and then she had a giant bow on the back of her dress, like mine. Ellie just looked incredible.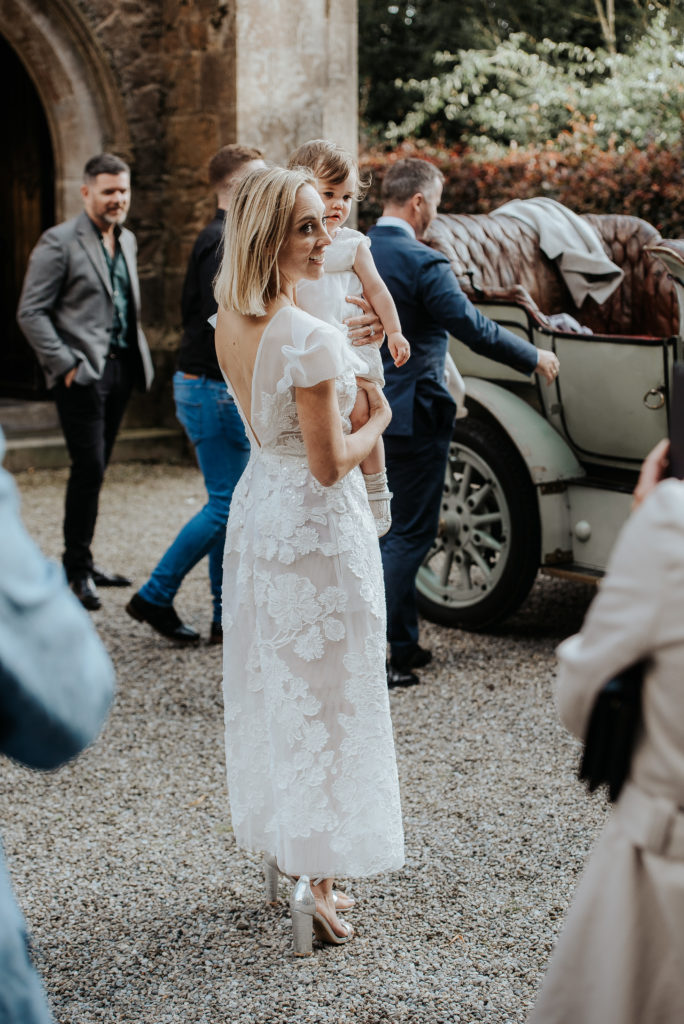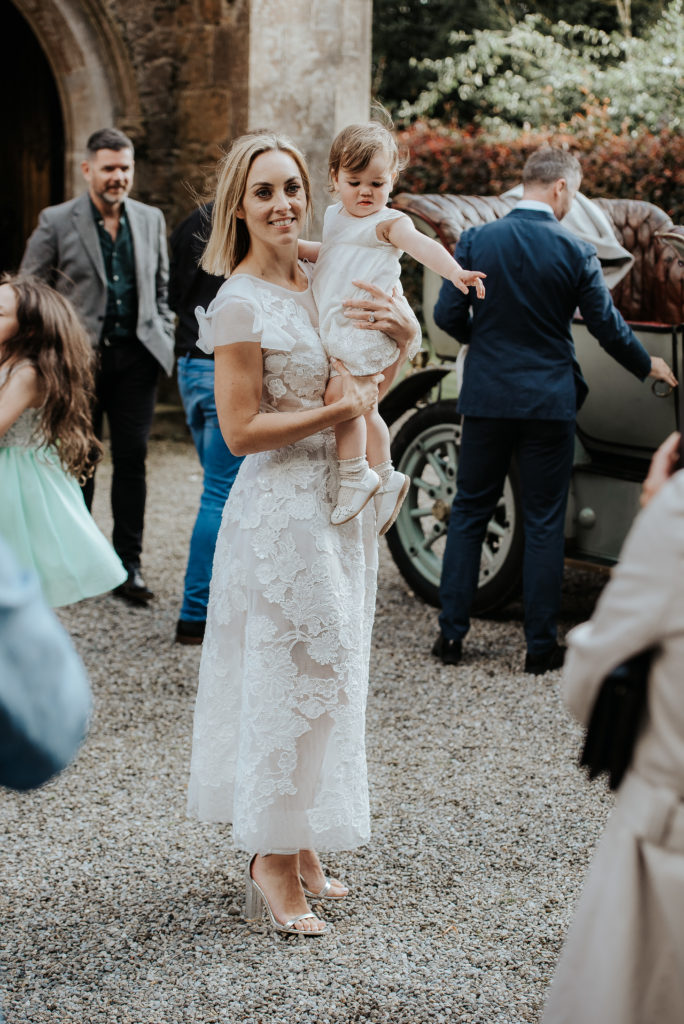 How was Princess Ellie on the day? Did she enjoy it all or was it a bit overwhelming?
Aw, she was so good. She sat on Padraig's knee for the entire 50 minute service, not a pip out of her. She was such a star. She actually was the total star of the show and completely stole our thunder, which is exactly what we wanted.
And what about the husband? How handsome was he?!
Oh my god, Padraig was the most handsome man in the whole of Ireland! The groom's party were all suited and booted by Louis Copeland, again we wanted something simple, something that complimented the girls' dresses, so it was grey three-piece suits and beige ties…sure they were delighted in their suits, down to the bar, in for a pint, they were thrilled with themselves.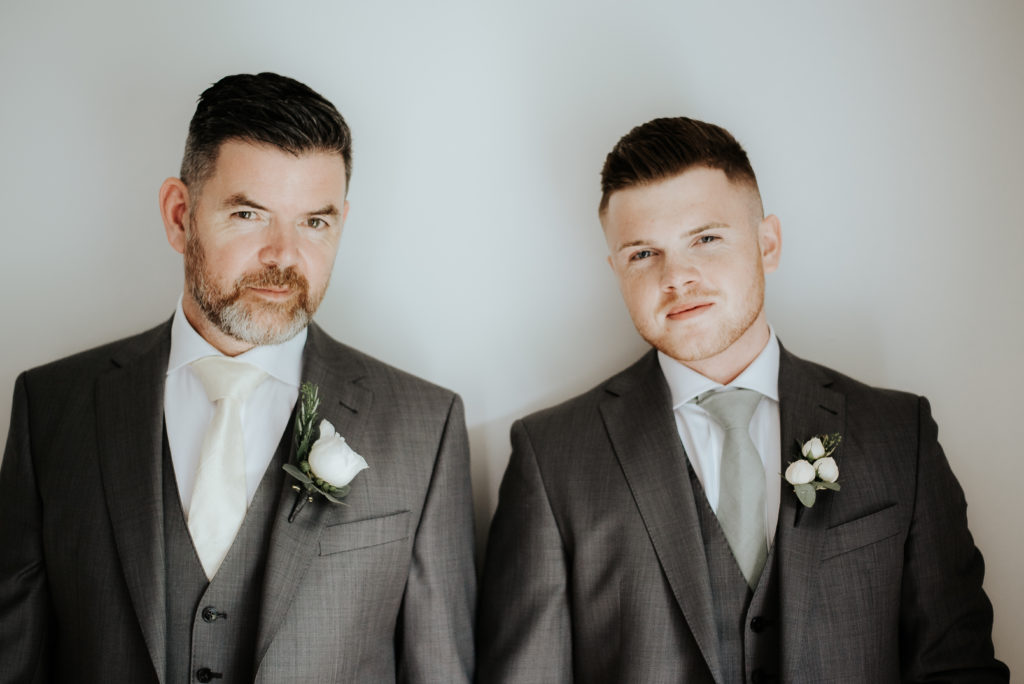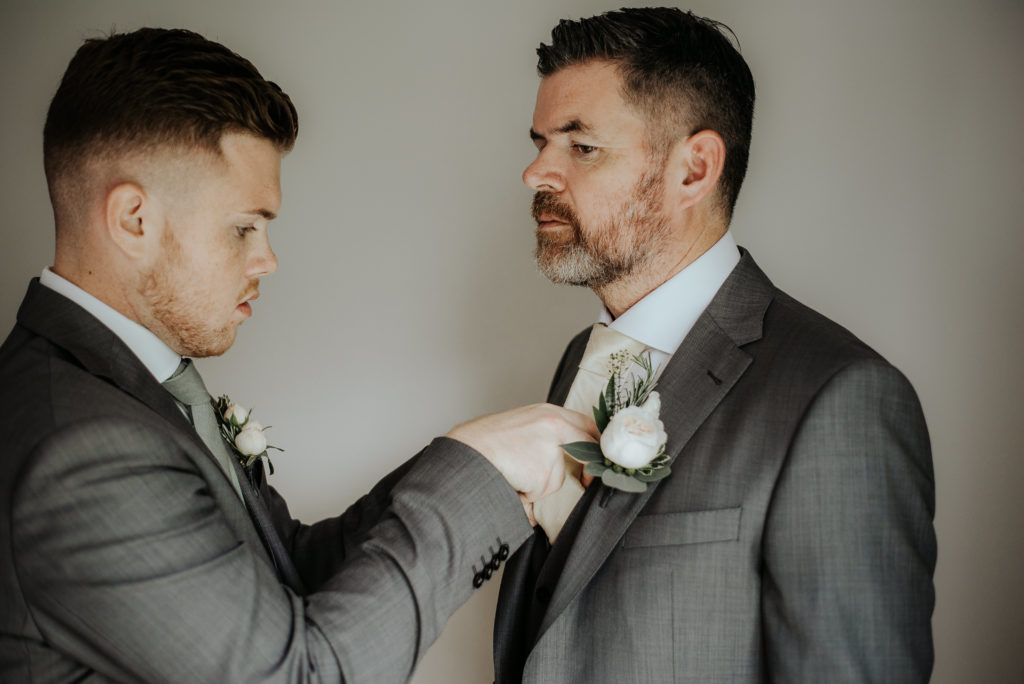 Okay, let's get into all the magical little details. Take us back to the night before – what were you like?
Busy! Well on the Friday night, myself and Padraig, Ellie and Conor (Padraig's son) travelled down to Kilkea Castle and we just had a little night to ourselves, the four of us, and it was lovely. Then on the Saturday morning we got the venue and the room ready. Me being me I knew what I wanted and we had worked really hard, myself and event organiser extraordinaire Tara Fay from Xena Productions and Anna Grant from Flowers Made Easy. The floral installations in the room were probably the key part of the whole thing. So we spent the day at it, because I knew if I was happy and if it was done right, that I could then close the door and switch off and enjoy.
The excitement the night before is part of the whole experience. And it's usually always good craic…was it?
Aw, I loved it. There were eight big pillars in the function room so we turned the whole place into a forest. We wrapped all of the pillars in foliage and leaves…I wanted it to feel almost like an enchanted forest! Peter Campion and John Vickers, two guys who do lighting and sound and who I've worked with for years on The Voice, they came on board too, so it was kind of a production to get the lights in behind the floral installations and then the 200 guests in around all that as well. We also had a giant LED screen in the room because I wanted a video montage for our first dance and we had a photograph of every wedding guest too. We also had a beautiful grand piano. By evening time our family arrived and we had a small bbq with the McLoughlin's and the Thomas' and then it all kicked off on the Sunday.
So the big day finally arrived – what were you like?
I couldn't get over how calm I was and how happy I felt. And I think it was because we'd had that really intimate night before with our families. Also because we had the castle to ourselves we were all wandering around in our pyjamas eating breakfast and it just felt like a big family event. I then went for a run before any photographers or makeup arrived and Padraig went separately and ran with a friend. It was great to clear the heads. Then hair and makeup arrived at 9am…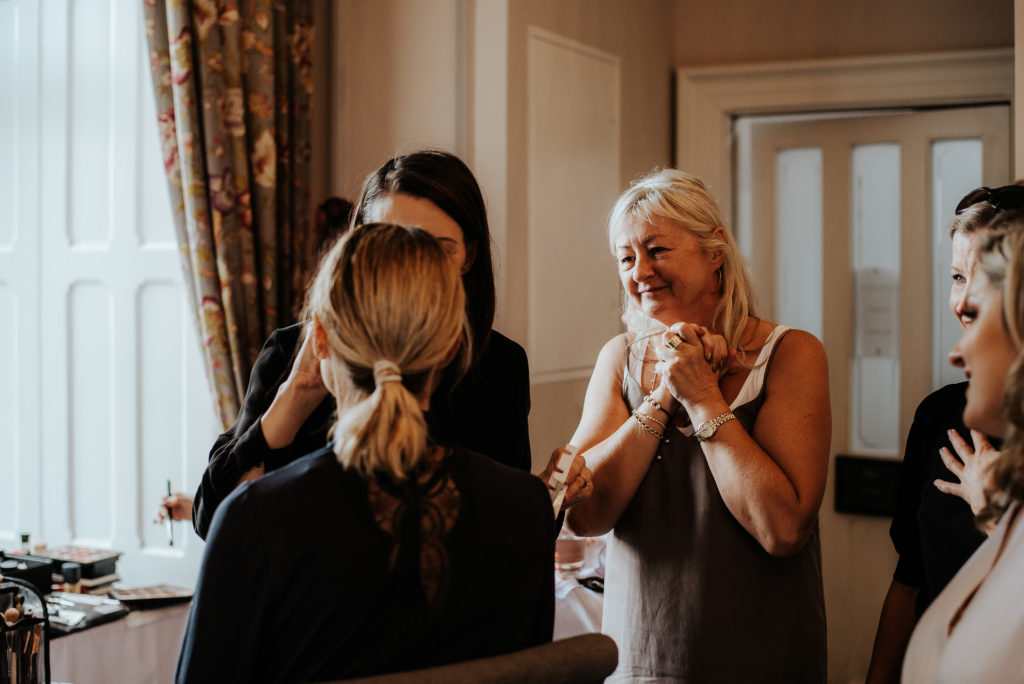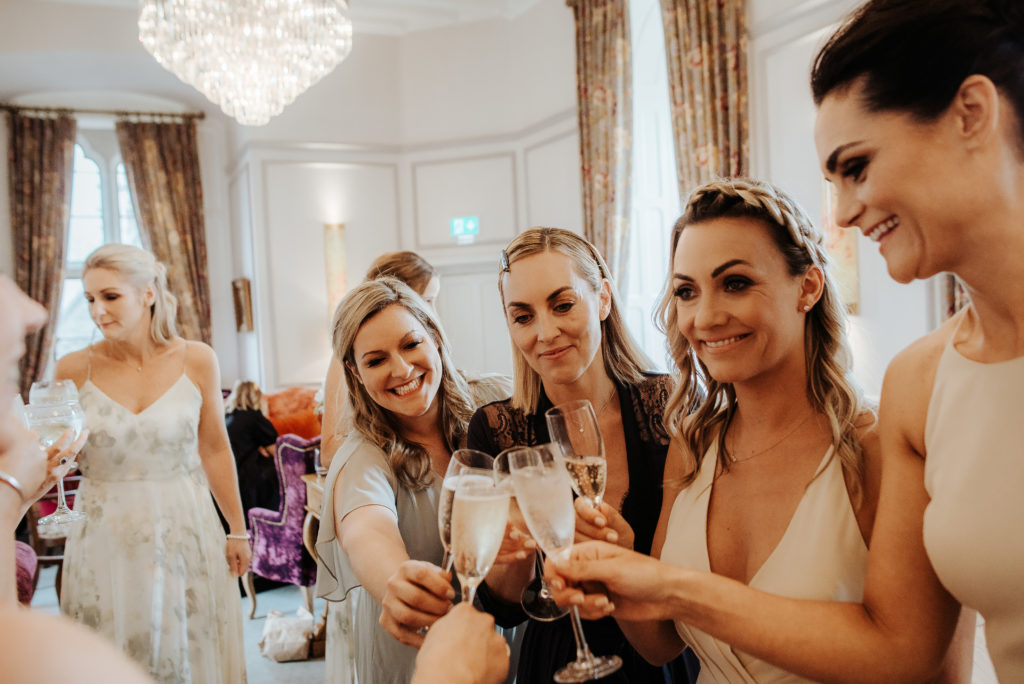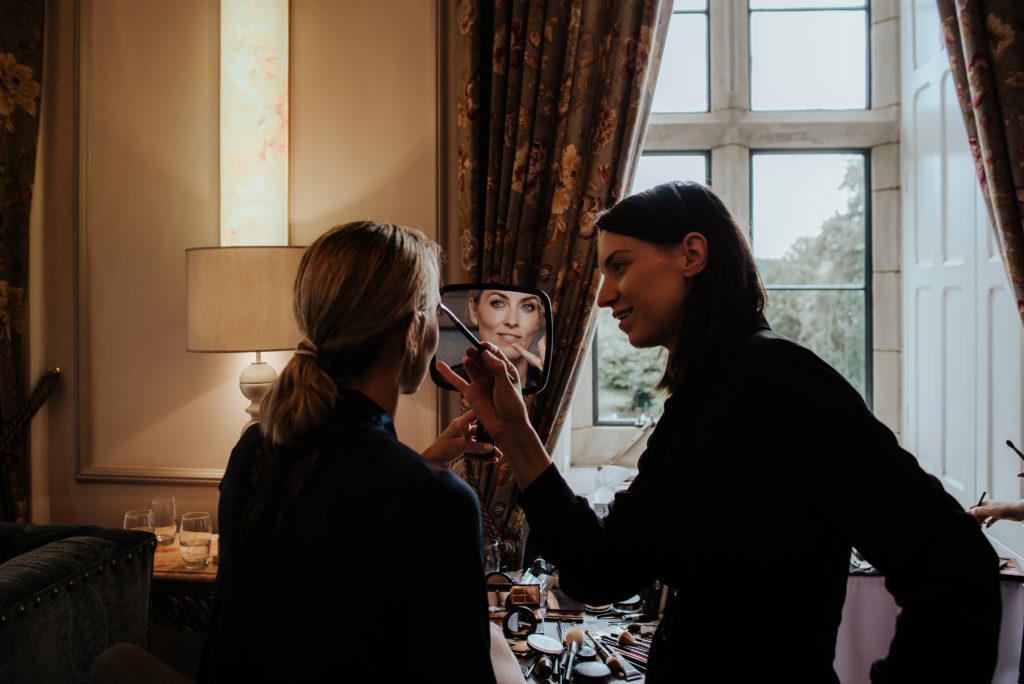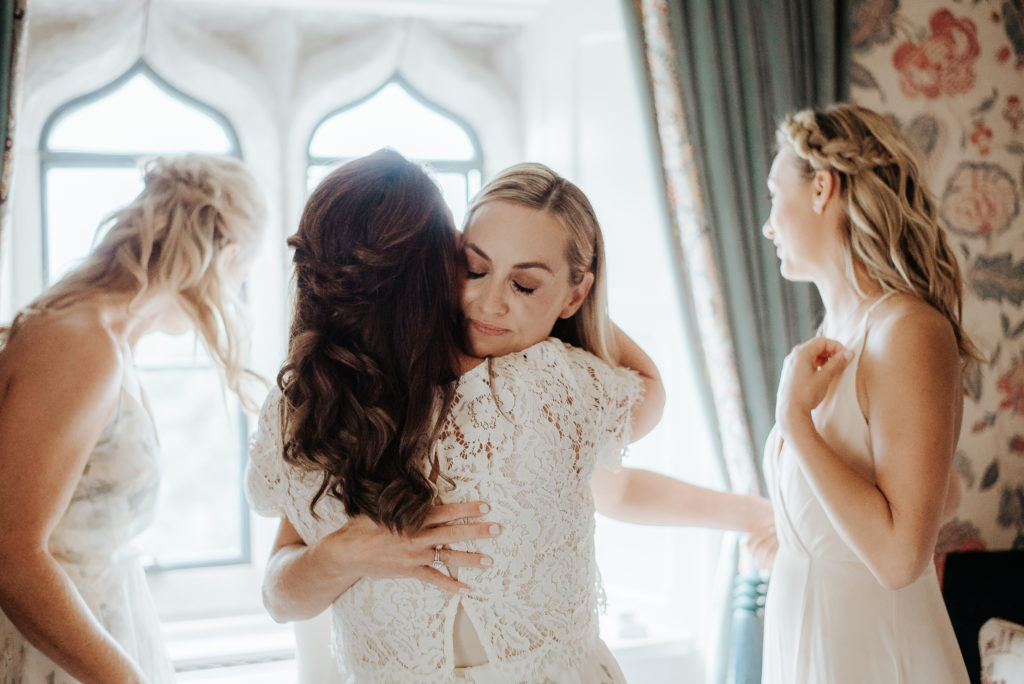 And then it all began!
Everybody was running around in their dressing gowns with hairbrushes hanging out of them so when I finally saw all my bridesmaids dressed, I fell apart. And then I kept falling apart every time I saw Ellie in her little dress with her beautiful headpiece and her little bouquet. Dearbhla the makeup artist from Brown Sugar was like, "Would you please stop crying!"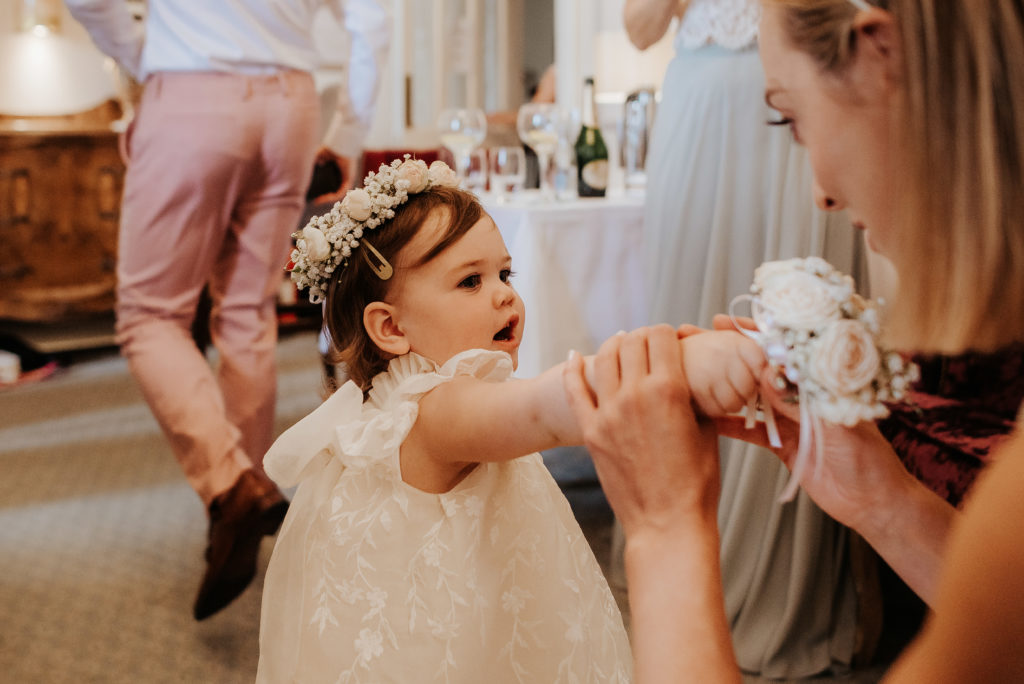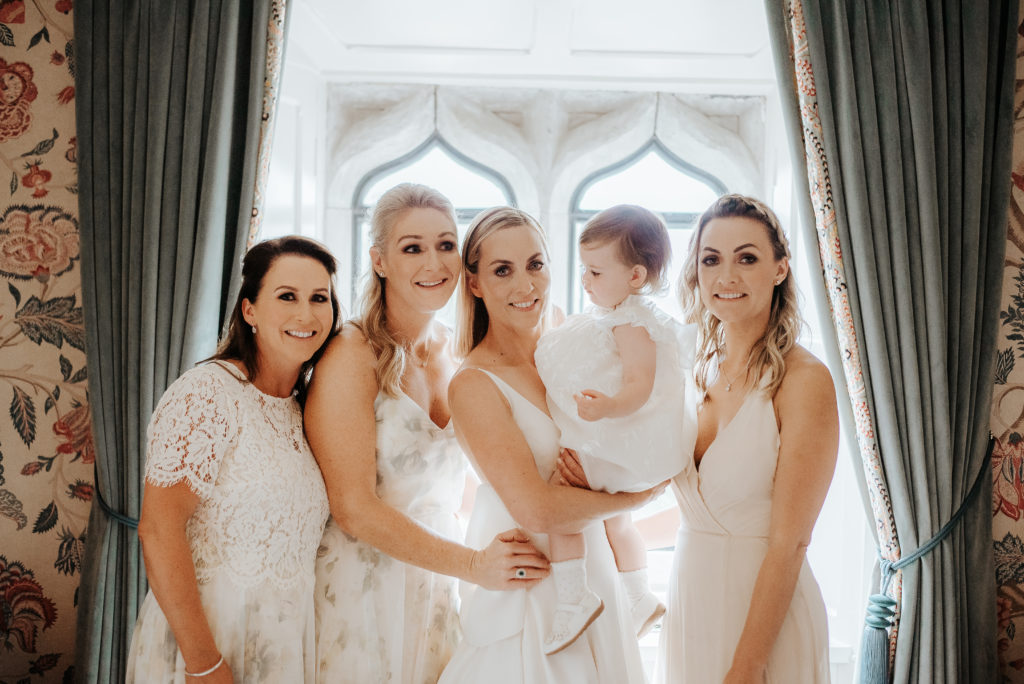 But you weren't nervous, just emotional.
Not nervous, no, I got emotional looking out the window at all our guests arriving and even though the rain was spilling out of the heavens it didn't bother me in the slightest because I saw people laughing and happy. I was just so excited to get down there and see everybody.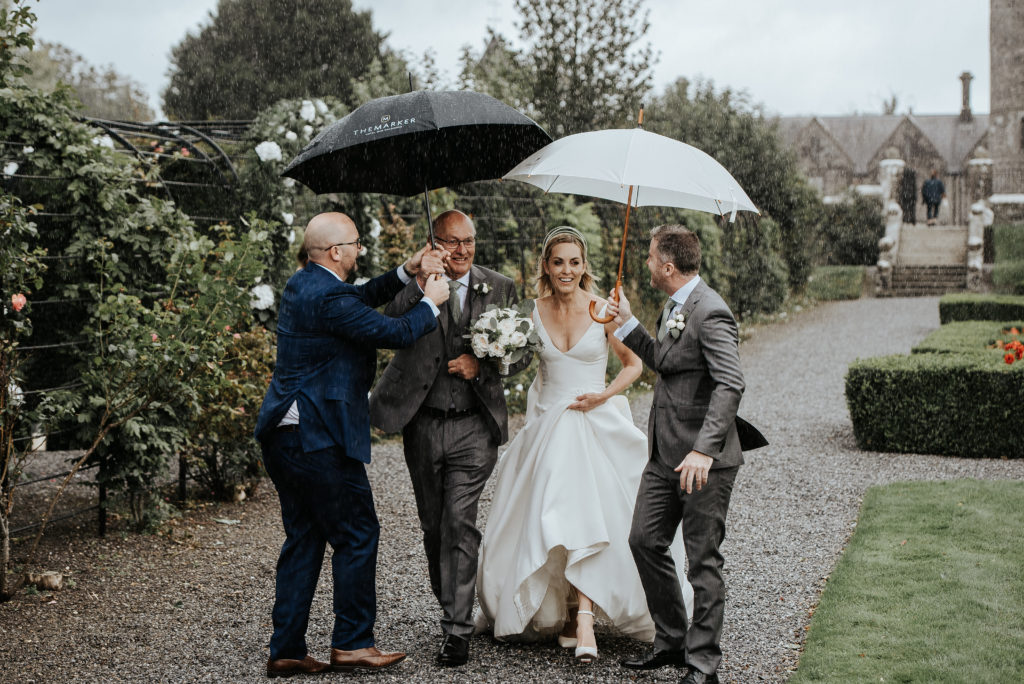 The service looked beautiful, Kathryn…
It was. It was at three o'clock in the gardens. Because the weather had been so changeable we got a big marquee, from Xtreme Structures, which meant that whatever happened we were going to be outside. We had Brian Kennedy who sang for our entire service. And we had Cormac de Barra on harp and Eamon Galldubh on uileann pipes. The surprise was Conor (Padraig's son) who actually sang us all into the garden. There were two big stone steps on either side of the castle so I walked down with my dad and at the same time Padraig and Ellie walked down on the other set of steps, and then we all walked towards our guests together.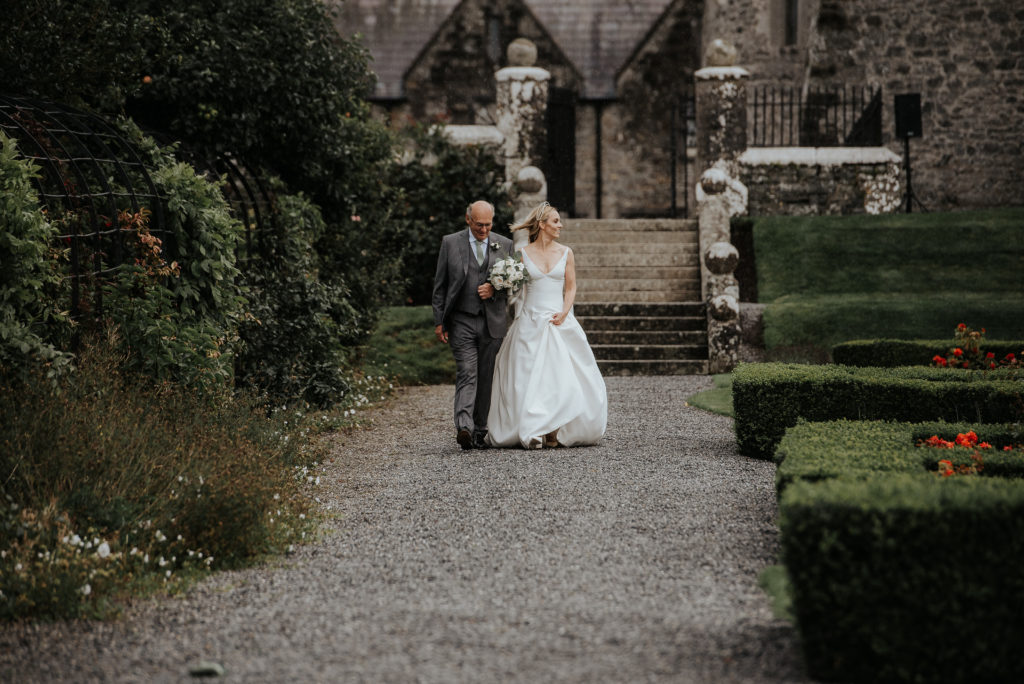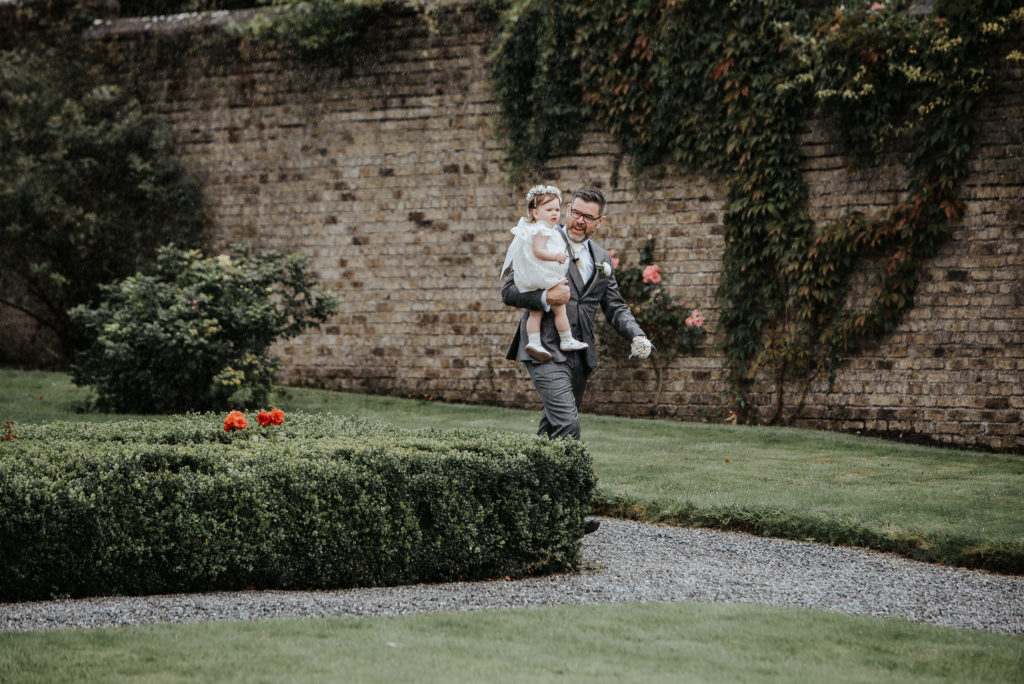 And all this as Padraig's son sang…
Conor did a beautiful acoustic version of Sweet Child O' Mine, which is one of my favourite songs in the world. It was a really stripped back version and was absolutely stunning. The sun came out and we all walked down and just before we got to the tent, the heavens opened. But actually it sort of made it….all of us trying to leg it into the tent!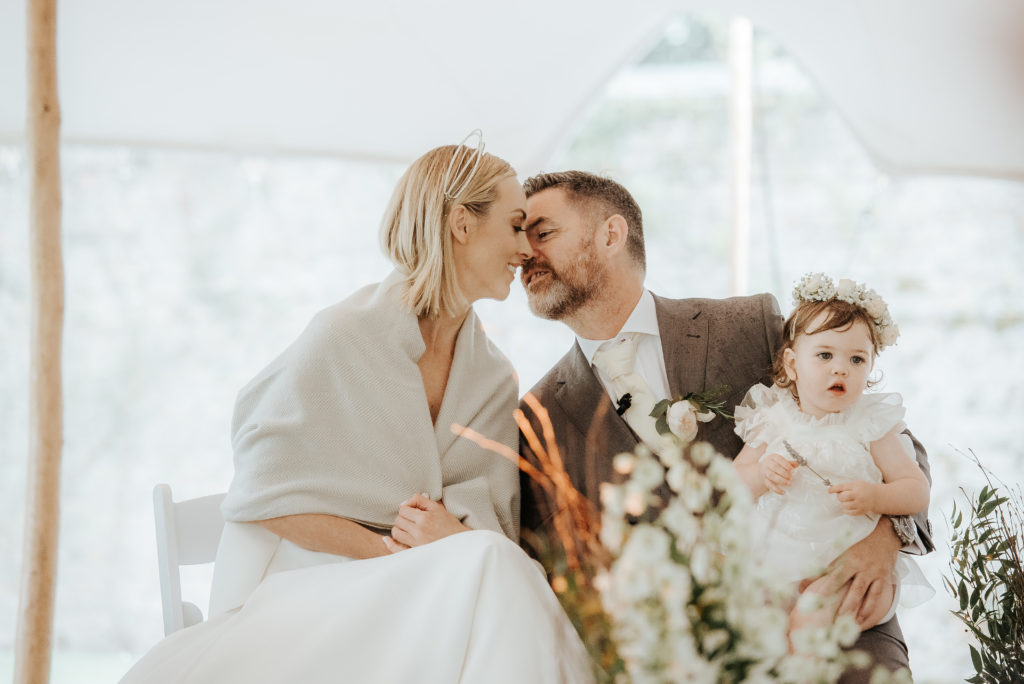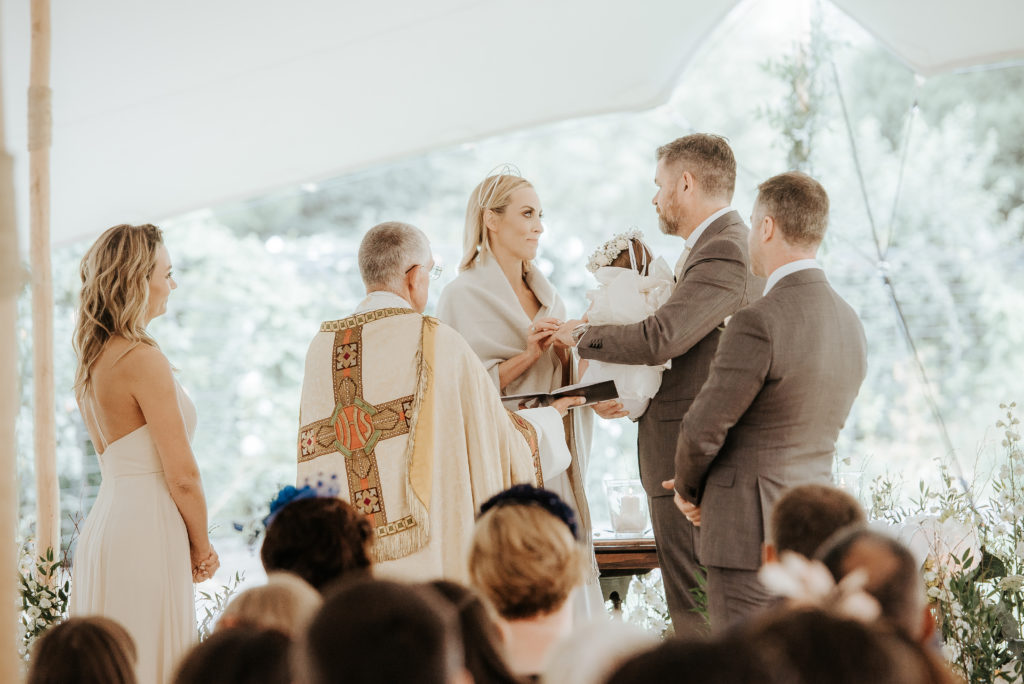 Then what happened next?
We had the Archdeacon of Dublin, The Venerable David Pierpoint who is a friend of ours, to officiate and welcome everybody. Then Brian Kennedy sang She Moved Through The Fair. Padraig's nieces Emily and Shona lit candles for Padraig's mum and dad, Joan and Pat. Then we had friends do readings; it was all very personal. Brian did a version of Brown Eyed Girl, which we changed to Blue Eyed Girl, and he had the whole congregation singing! Then he finished with You Raise Me Up.
With all that Brian has been through it must have made it even more poignant?
It did. Brian and I have been good friends since The Voice and I had always said that I wanted him to sing at our wedding, but only if was well enough. It was an honour to have him there. Ah, the whole day was all so special… and my bridesmaids…they all looked amazing.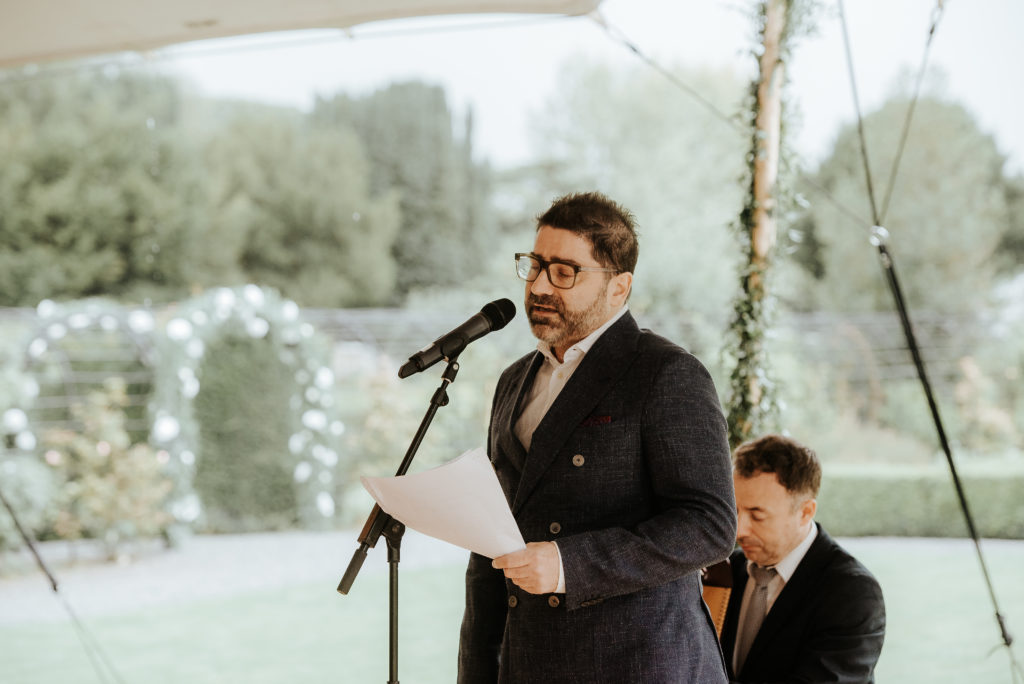 All your nine bridesmaids! Could you not stop asking?
That's it! And I kind of got slagged a lot about it but it made total sense to everyone on the day because when we were getting ready I had all my closest friends hanging out with me for the five hours beforehand. We got the dresses in Covet and they were by designer Jenny Yoo and while they were all in the same colour palette some of them wore separates, some of them wore dresses, some of them wore little skirts and t-shirts and every look was so representative of each's style. They didn't do the big formal walk in with us, they came in while a song from the Braveheart soundtrack, A Gift Of A Thistle, played out.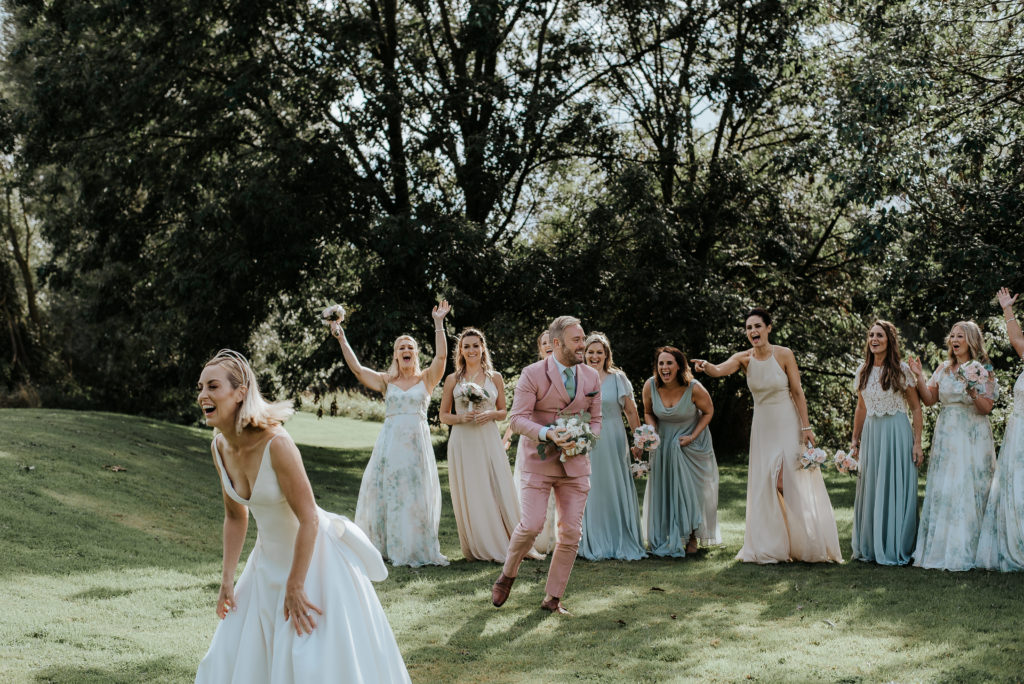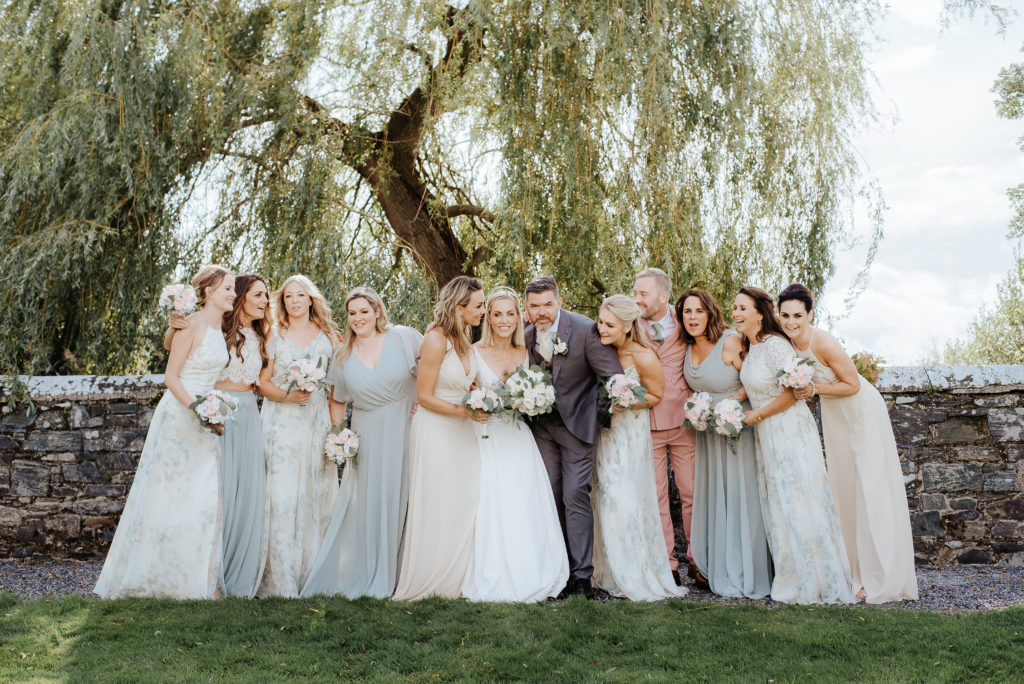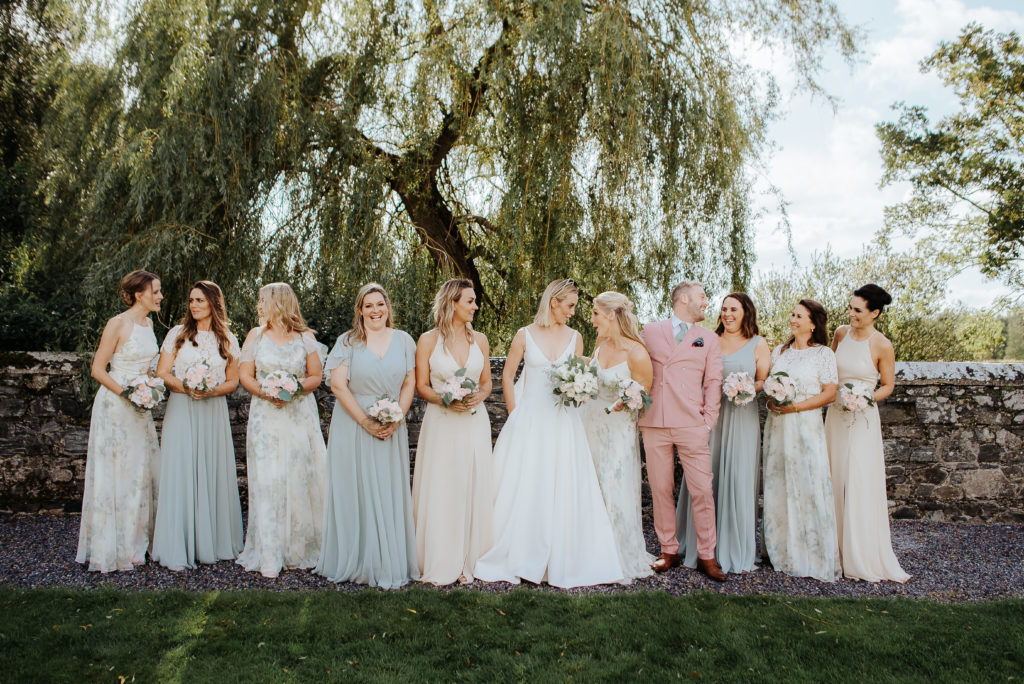 And then you and your husband walked away hand in hand, did it feel like a dream?
It felt totally right. We felt surrounded by love. We laughed in the tent when the rain bucketed down and when the sun came out and was splitting the stones. It just was a real sense of togetherness. Everybody that I loved was in that garden.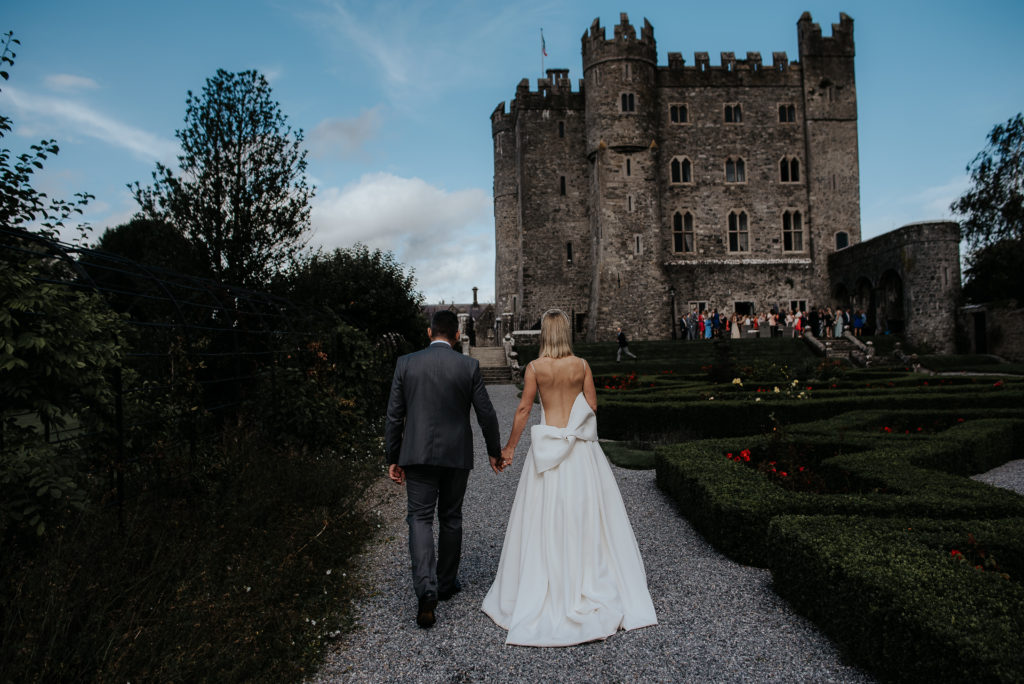 The reception then took place in what you describe as the "enchanted forest". It sounds magical.
It felt magical. The flowers by Anna Grant from Flowers Made Easy were out of this world. Music was also a massive part of the day. We had Maurice Culligan playing on the grand piano; then The Diva Singing Waiters; then the Hip Machine who are a band from Sweden who we met when we were skiing in Austria and they brought the house down. Then we had DJ Gordo and then Maurice back on the piano till 6am.
No wonder you're exhausted!
And then the following day we had a Bloody Mary brunch and we had a jazz band for that and, then at five o'clock we had an incredible duo called Blessed from Galway, two guys called Tony and Dave and they played for three hours. I'd heard them at a party before and they are incredible and, of course, they kicked the whole thing off again and then we finished with a sing-song at I don't know what time.
Tell us about the speeches? We presume you made one?
I did, but we both wrote our own vows and they were more personal than the speeches, which were mainly just thanks yous. But the vows were funny because neither of us knew what was written but a lot of what I'd written, Padraig had too. Included in my vows were things like, 'I promise to be less in a hurry, I promise that unlike my phone, my keys and my wallet, I'll never lose my love for you. I promise to never not appreciate every morning you pick up the guitar and play at random to myself and Ellie.' And so for that, Padraig had 'You're the best backing singer a man could ever ask for!' The speeches? My dad Gwynne was brilliant! He brought the house down by completely roasting me! But I don't think he meant to, which made it even funnier. He had all sorts of stories from my travel days when he had to come to my rescue or send money to far flung places because something disastrous had happened!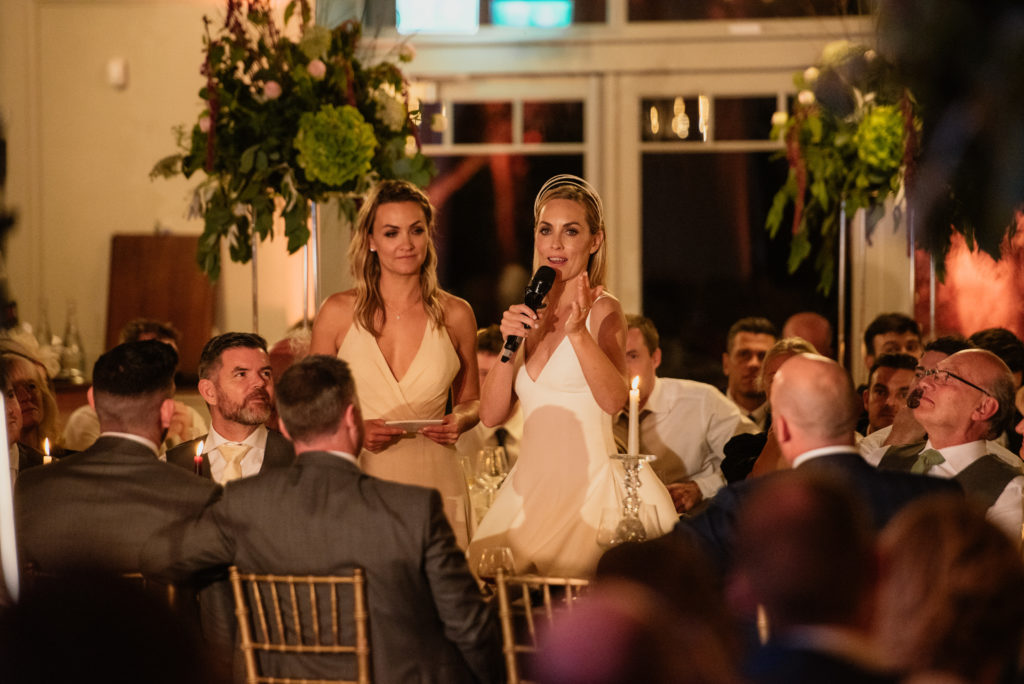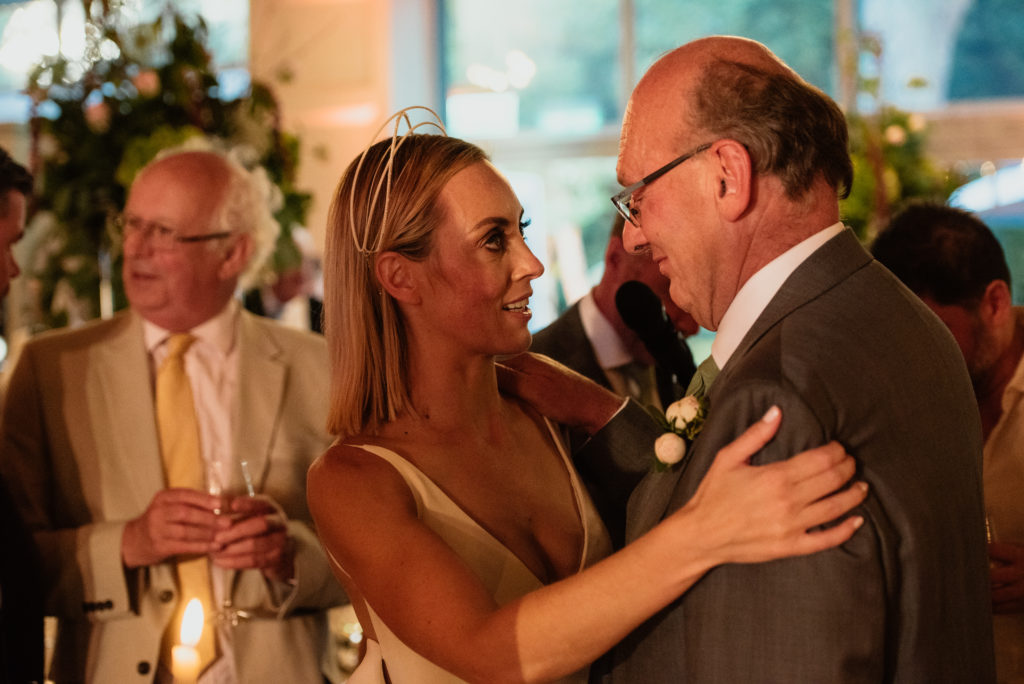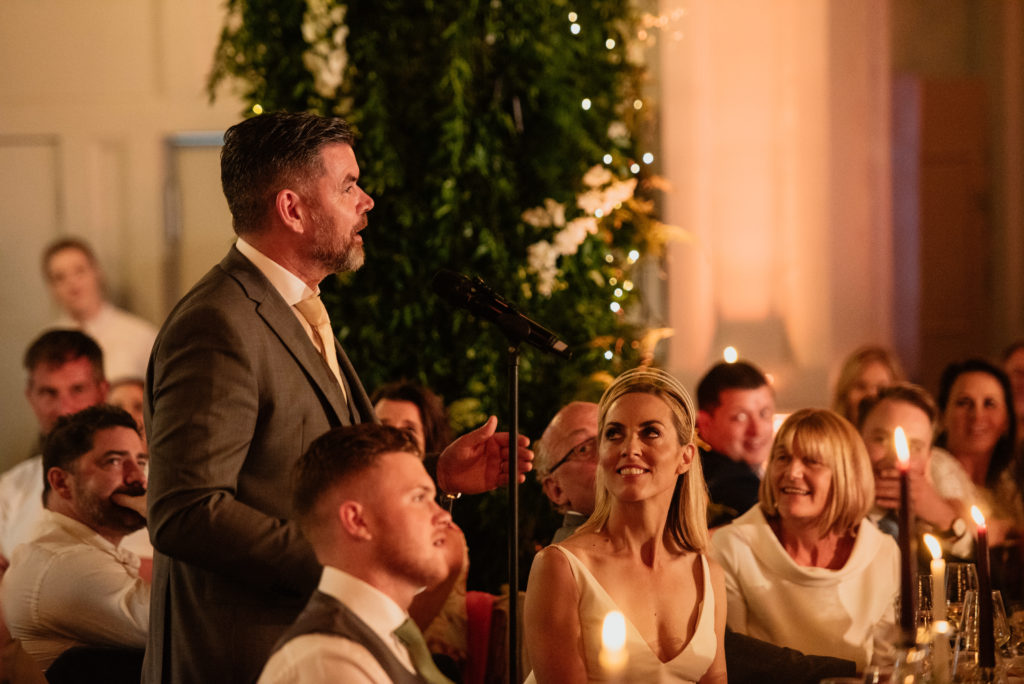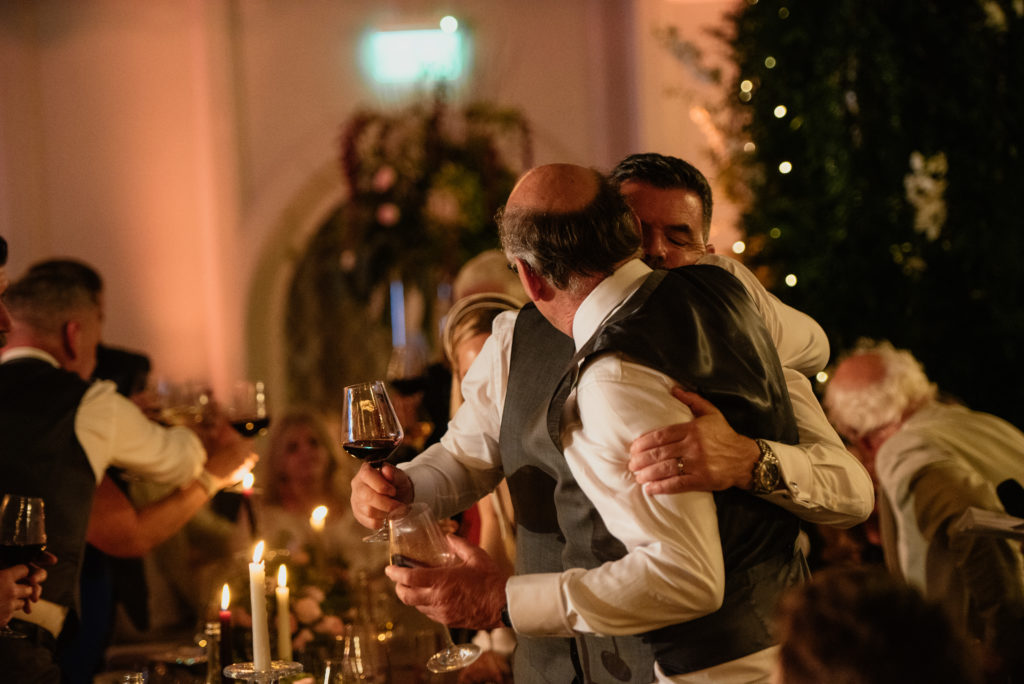 Then it was time to eat. The food was also exceptional. No surprise really given Padraig's profession.
Padraig was over the food with Kilkea Castle Executive Head Chef, David McKane, who in fact Padraig knows as they worked together way back. But also when we got engaged in Ballyfin Demesne, David cooked our engagement dinner, unbeknownst to us. Our wedding dinner, however, was by far the best food I have ever eaten. We had what we called Feast Food so it was platters of smoked salmon, crab, prawns, burrata and heirloom tomatoes, charcuterie meats on big boards with baskets of bread, all quite rustic. We also had a gin and tonic sorbet and then we had fillet of beef done on big beds of rosemary and thyme cooked rare, it was just delicious. Also monkfish, and langoustines with burnt lemon sauce and then big bowls of Eton Mess. Our wedding cake was rounds of cheese from Sheridan's, because I am a complete and utter cheese freak.
Sounds like you might have thrown the best wedding party ever.
I don't know but I had the best time of my life and I think, I hope, our guests did too.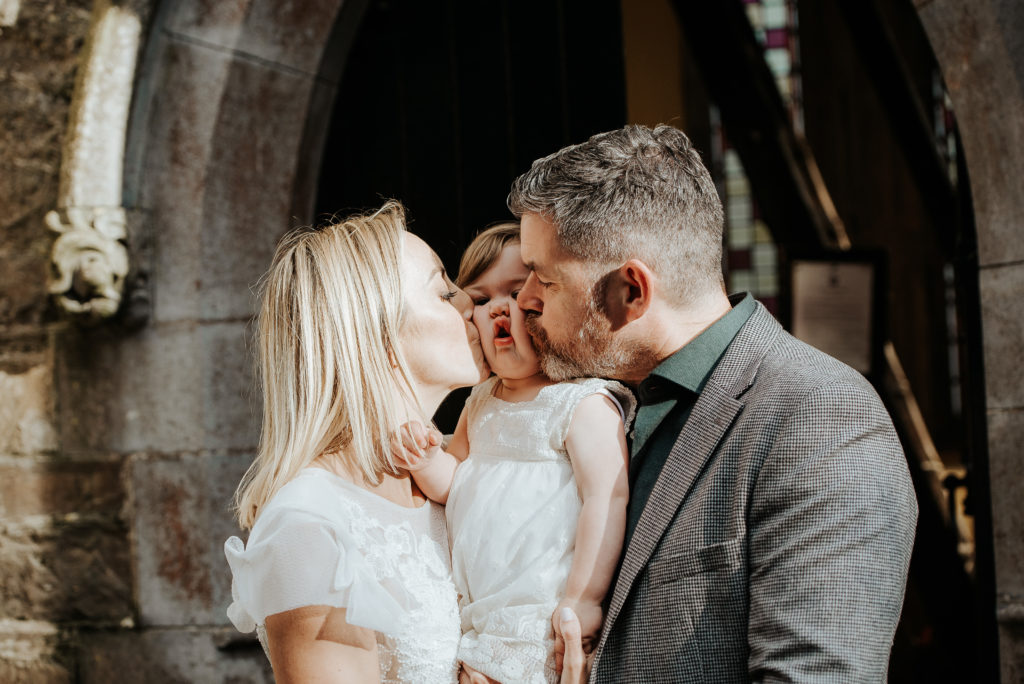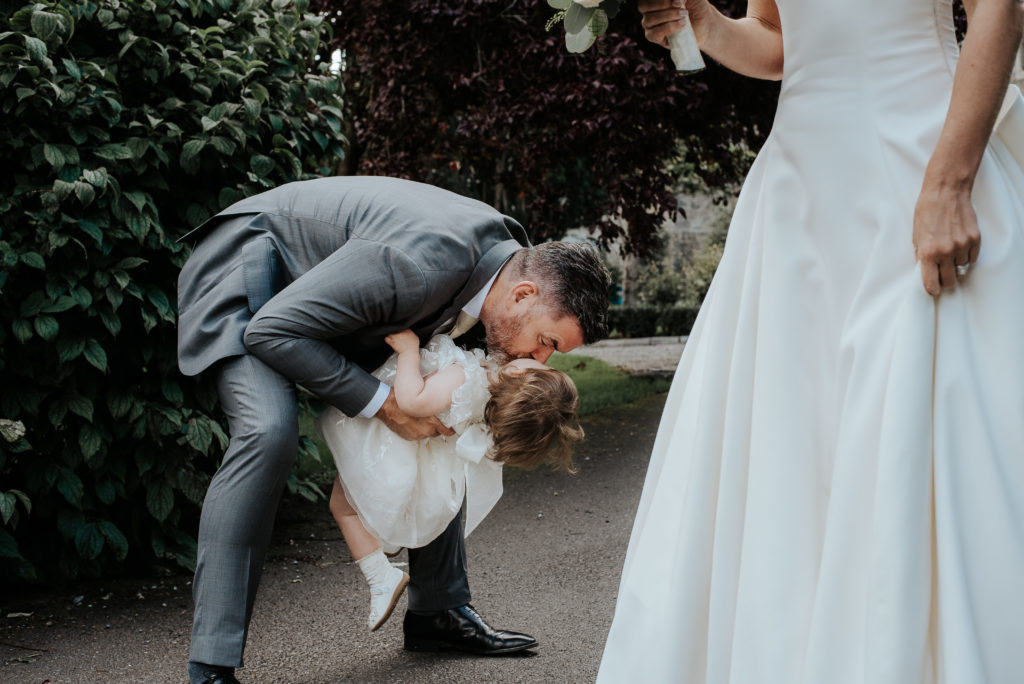 Is there a standout moment from the day?
I think the moment when I was walking down to the service with my dad, looking across the garden at Padraig and Ellie waving at me. That for me was it.
These beautiful pictures certainly capture the essence of the day.
Shane O'Neill from Aspect Photography was such a gent to work with. His work is very Irish and is all about connection and humour. We are delighted with the results and delighted to share them, exclusively, with VIP. We also can't wait to see the video (made by Gavin Gallagher, Dream Catcher Productions). We'll have to celebrate all over again!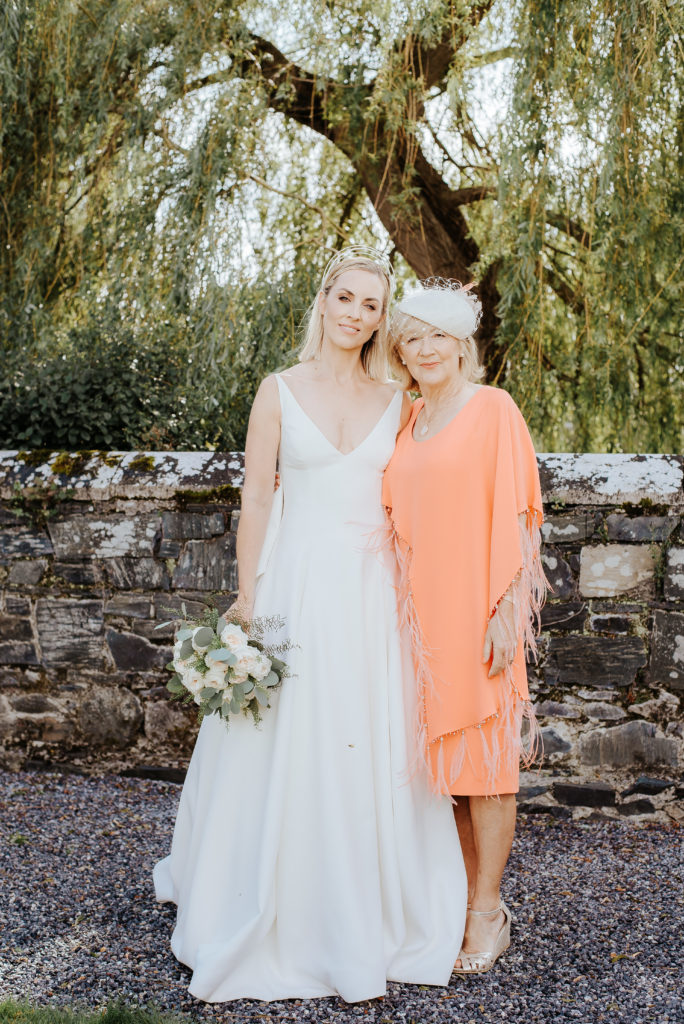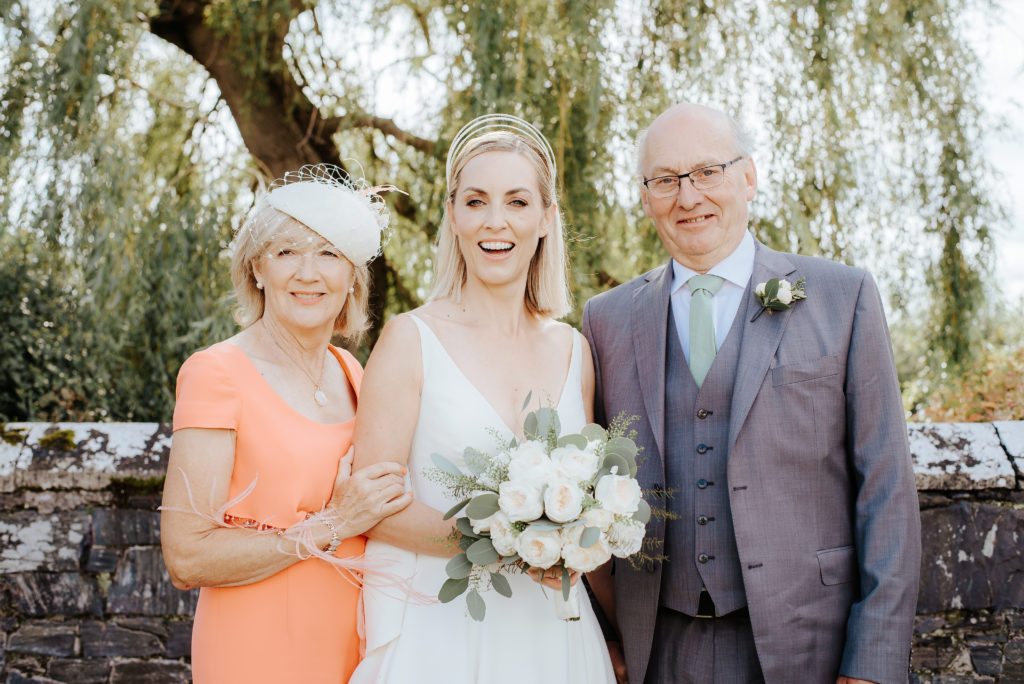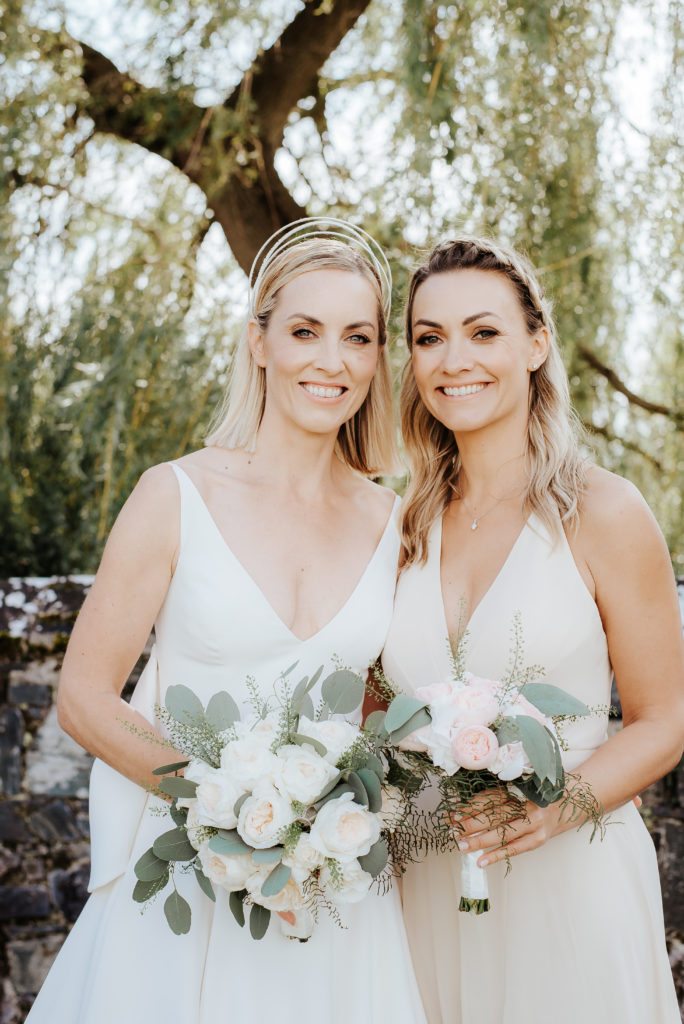 You're just back from a mini- moon in Puglia in Italy without Ellie, which we know you struggled with. But eating all the food and drinking all the wine surely helped?
We ate, drank and slept. A lot! Which was needed because for the first few days I felt flattened by a bus! But it was perfect. Next on my to-do list is organising a proper honeymoon for the three of us.
In your own words, Mrs McLoughlin, love is all you need!
Love is all you need! And we feel blessed, we really do. Because look at us, we're no spring chickens so to have our family and friends beside us as we celebrated was the best feeling in the world. Thank you everybody. We're feeling the love!
INTERVIEW: Bianca Luykx
PHOTOGRAPHY: Shane O'Neill; aspectphotography.net