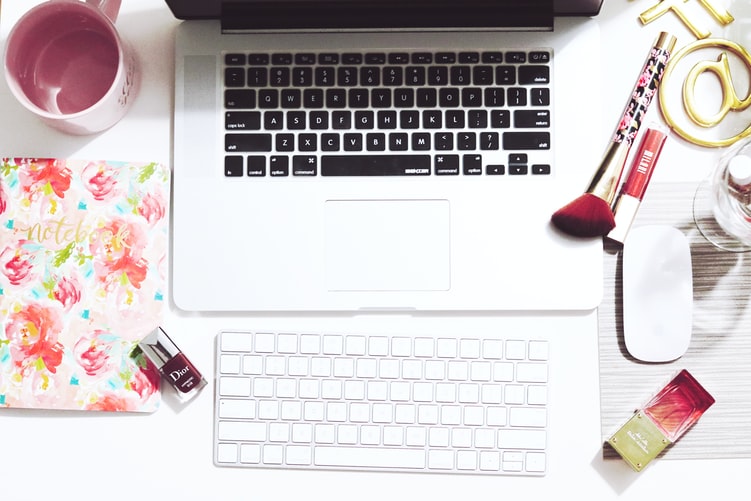 In the last year, more office workers than ever in Ireland have made the move from working in their office to working remotely.
While we're all no longer newbies to working from home, we still continue to face a number of challenges when it comes to the art of working remotely. One of those being – making the most of your workspace.
Whether you're working in a corner of your kitchen or are lucky enough to have a whole study to yourself, getting the most out of your new 'office' is paramount to motivation and productivity. Sharing her tips for getting the most from your space, interior designer Kerry Hiddleston says that your work desk should be a place of zen.
"In an ideal world, the working from home space would be a restful, uncluttered, natural light-filled space"
When putting together your working space Kerry advises you to consider the following:
Natural Light 
"I think that this is the most important- this and a comfortable chair. Ideally, you would have a desk facing a window so you can absorb a bit of vitamin D and maximise your creativity and productivity. I also think it provides a connection to the outside world, you can watch the world go by."
"If you don't have a large window in your office space to put your desk at then add mirrors to bounce the light around. Other light sources are important too. We don't just work during sunny hours, we are now working longer hours than ever and it is also vitally important that the lights you have in your office space are conducive to a good mood. I love a variety of lamps, not harsh bright overhead lights, but soft, warm glowing lamps. These add to a cosy feel in your working space, rather than the harsh glare of an overhead."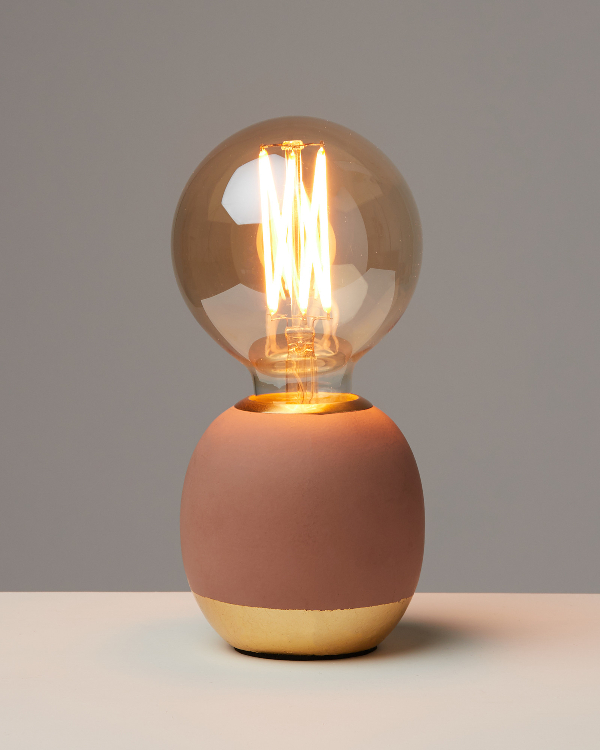 Eva Pink Concrete & Gold Foil Desk & Table Lamp – €47.50
Plants 
"Again like natural light, these are mood enhancers and a good mood = a good day's work. Plants not only soften the space and bring the outside inside, but they also improve our health, absorbing CO2 and giving out oxygen."
Comfort
"The desk, if it can be adjusted to also be a standing desk- that would be ideal. However, the most important thing is that there is space for you to work comfortably and it is at the correct height. And that it looks good, So many of us work from home in "offices" that also fulfill other functions and having a room in the house that you also want to use other times as a place of relaxation. If the space you are in looks good you will enjoy being in that space more. For the desk think natural wood, something that feels inviting."
"Ditto the Chair. Spend on the chair because you will spend a lot of time in it. You no longer have to sacrifice comfort for beauty. There are now beautifully designed chairs that are also comfortable to sit in for hours on end."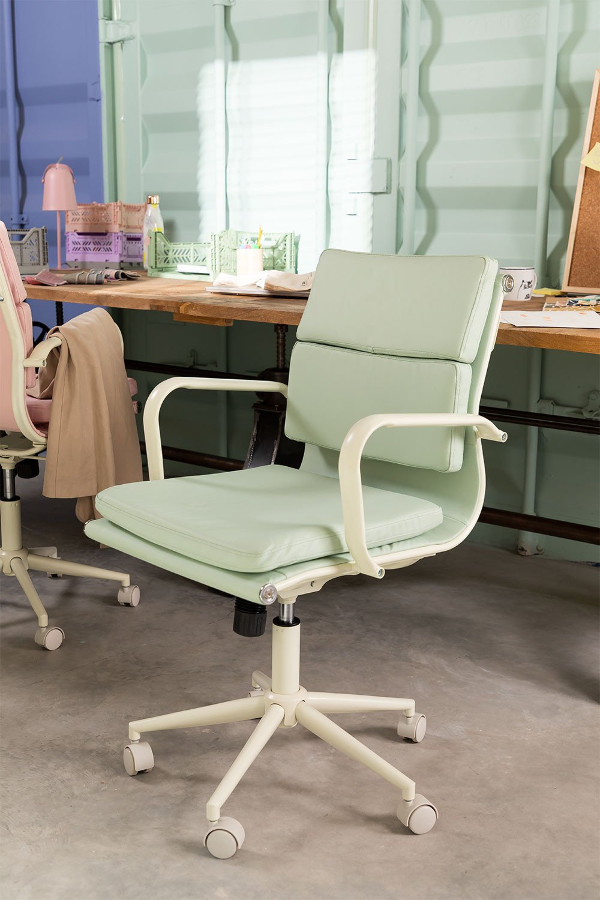 OFFICE CHAIR ON WHEELS FHÖT COLORS – €134.95
Mod Cons and Extras
"Things like cool artwork or prints to inspire you. Pretty wire trays to hold your paperwork and shelves for your folder and books. You don't need to have a large space or spend a lot of money. If you're a coffee person, think about investing in a coffee machine- you'll need it! Essentially anything that is aesthetic to your eye, or brings you small comforts throughout the working day."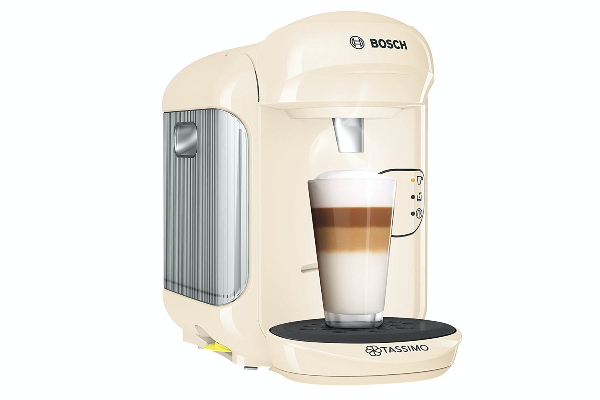 Tassimo Vivy 2 0.7L Pod Coffee Machine – Cream – €49.99