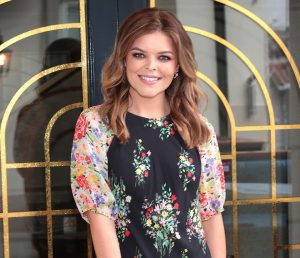 It's been a busy few months for Doireann Garrihy as the 2FM star continues renovations on her very first home.
While the project is exciting, it's a long process, with the presenter previously confessing that she won't be moving in anytime soon.
Just recently, Doireann took to Instagram stories to update fans on the latest happenings in the house.
Firstly, it looks as though painting has begun, however, there seems to be one slight issue.
"Roisin improvising without a paintbrush," Doireann wrote alongside a video of one of her architects attempting to paint a wall with a piece of cardboard!
Secondly, the radio presenter explained that her Porta door had finally arrived, which she was all too excited about.
Sharing a video of her vision for the door, Doireann said: "The whole idea of the door from Porta is that the light from the front door will go the whole way through to the back of the kitchen and vice versa.
"Cannot get over how gorgeous she is," she continued.
"And will lose sleep over how well shell be minded while the rest of the work is being done."
Revealing that's it from the Bespoke collection, Doierann admitted how happy she was with her new feature, adding: "Can't wait to see what it's like when all else come together."
Previously, Doireann also shared her excitement about getting windows.
"Never knew how much a window/windows could mean to me."
It really is all coming together nicely!