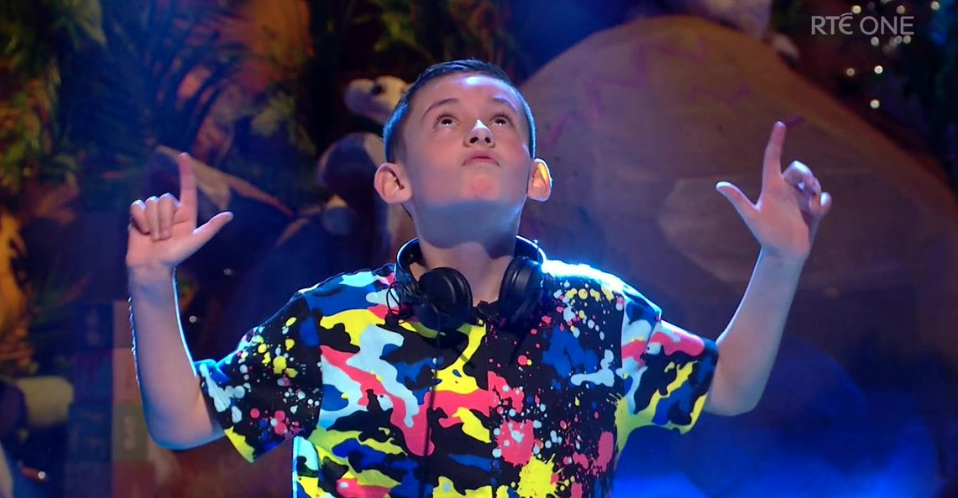 Toy Show stars Calum and Jackson, who stole the hearts of the nation with their impressive performance and big hearts on last weeks show, appeared on The Late Late Show last night.
On the show, the brother's received a surprise message from DJ Jenny Greene, who invited them to be her opening act at Iveagh Gardens next summer with the RTÉ Concert Orchestra.
Emotional Calum couldn't believe what he had been offered, tearing up and telling Ryan he was "so happy" to receive the news.
Aaaand we're crying again! ❤️️🥺️

DJ Calum and Hype-man Jackson living the dream this week after securing their first big gig next year with @djjennygreene and the @RTE_Co.#LateLate pic.twitter.com/7tdOWEokgH

— The Late Late Show (@RTELateLateShow) December 3, 2021
Calum has been swarmed with exciting offers since his appearance on the Toy Show, including FM104 inviting him to DJ, as well as on the Tracey Clifford show on RTÉ 2FM, Marty Guilfoyle also has gotten in contact with Calum about a collab! Wow!
Hi DJ Callum and hype man Jackson 👋

We'd love you to DJ and hype on @FM104 next Saturday evening from 6pm til 7pm if you're up for it!

Let us know

From the Strawberry Alarm Clock 🍓⏰#LateLateToyShow pic.twitter.com/Q3TvNGXFvy

— FM104 (@FM104) November 26, 2021
#djcallum and #hypemanjackson💗💗🙌
Want to come on @RTE2fm this week and play some tunes??#LateLateToyShow2021 https://t.co/H85MKrGQJZ

— TracyClifford (@TracyClifford) November 26, 2021
I currently have my people contacting DJ Calum's people to discuss a collab. #watchthisspace #LateLateToyShow

— Martin Guilfoyle (@MartyGuilfoyle) November 26, 2021
We cannot wait to see what's next for him!
Not only did Calum win our hearts with his DJ talent, he also made us smile with his adorable reaction to Opera singing Fergal as he gave an incredible performance of his own.
Honestly, if I'm ever asked to explain Ireland to someone from abroad – this might be the clip.pic.twitter.com/7aaqUAT0Ed

— Richard Chambers (@newschambers) November 26, 2021