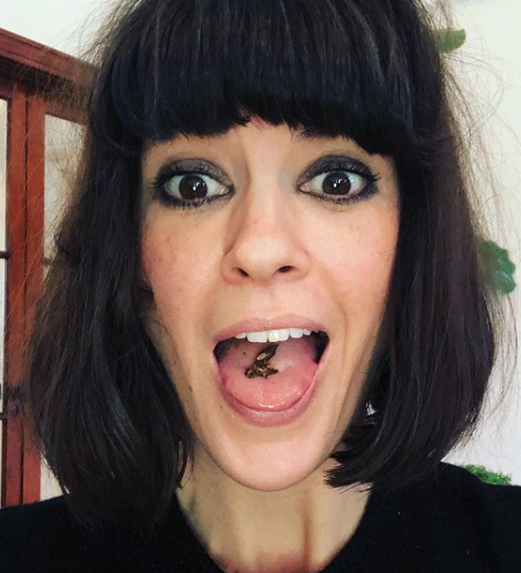 Dawn O'Porter has made it clear that she is unapologetic about eating insects.
The presenter shared various photos of herself eating bugs and praised their nutritional value.
"JUST ATE BUGS. Loved it," she said along pics of her chewing up the creepy crawlies.
"So inspired after a talk by Aly Moore at @bugible. Talking about the sustainability and health benefits of eating bugs. They use hardly any water compared to livestock, need less feed, no grotty emissions, ethical, HEALTHY! I'm sold" she said.
The tv star, who is married to Chris O'Dowd also spoke about how well they tasted.
"The ants were unseasoned and DELICIOUS. I can't get over the power punch of natural flavour. And the dry roasted crickets were yum! I'm not sure I'm ready for scorpions and spiders but I love what I tried. I'm on board with the worldly benefits of eating critters," she added.
Encouraging others to give it a go she said: "We should all at least try? I eat meat. I do. I know it's bad. I try to be good when and where I can, choose ethically sourced produce, make sure I know where it's coming from. But I do eat meat. I'd eat crickets like a mother f*cker if they were in more restaurants tho! Thank you to @thejaneclub for enlightening me once again!"
Many of her 335k followers praised her for being so daring, and others said they'd also given it a go.
However, some people took issue with the decision with one even branding her a 'silly cow'.
Not one to take things too seriously, Dawn hit right back at her crickets critics with a stern message.
"IT IS YOU NOT ME YOU WEIRD ANGRY WEIRDOS" she captioned the statement.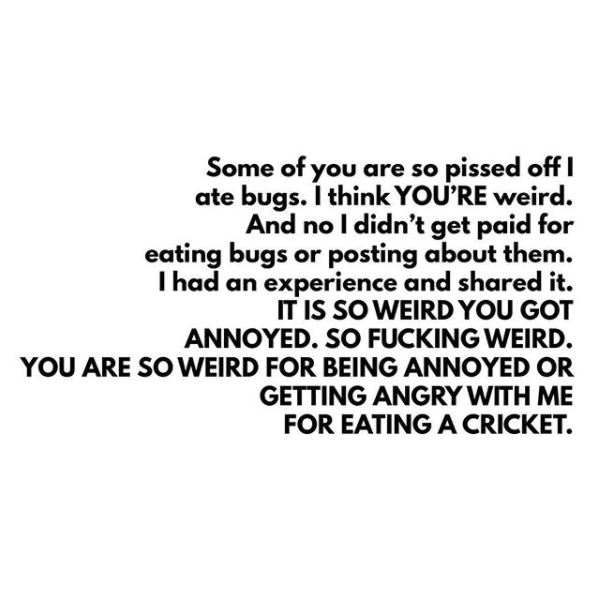 Would you ever give it a go?