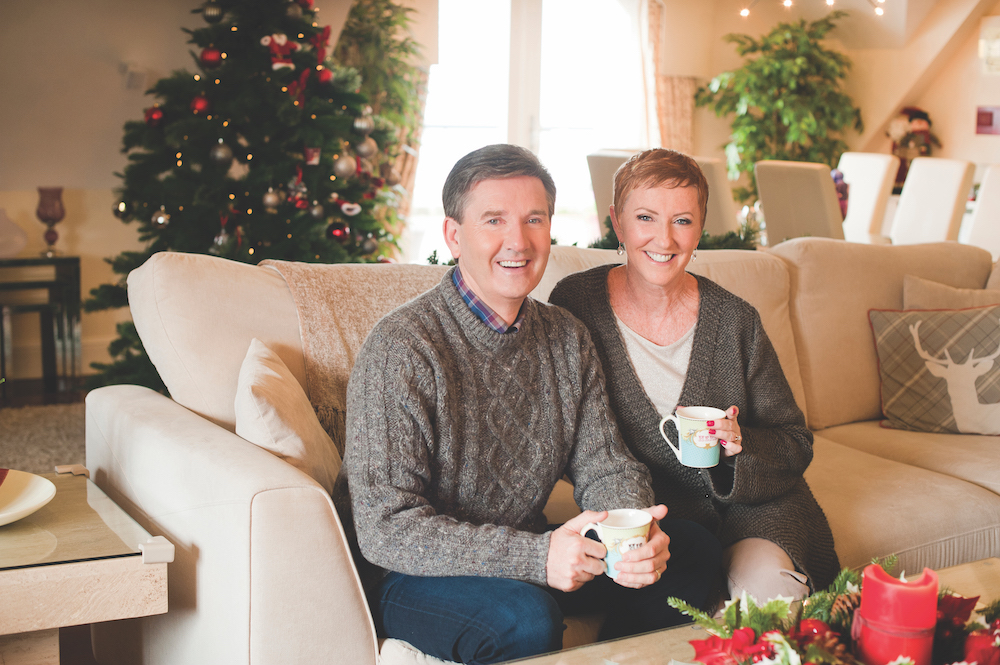 We thought we could never love Daniel O'Donnell anymore. And then in 2002 he married Majella, and we realised – we could. As we all know from their many public appearances (and even their own travel show Daniel and Majella's B&B Road Trip, which was just hilarious), these two make a brilliant double act. They are the absolute antithesis of each other, and yet, it works.
Today we're talking to them via Skype from their home in Donegal, the home that Dermot Bannon renovated last year, and which, given lockdown, they are now even more delighted with, especially since Majella's 83-year-old mum Marion has recently moved in. The video frame is tight, and so these two are forced to sit together, shoulders touching, for nearly an hour while we chat. It may sound odd to say but they look so cute, even when they squabble!
It's 10.30am in the morning and we suspect they are not out of the leaba that long. Time has taken on a strange dimension this year, and anyway as Majella tells us, sure Daniel is up half the night playing bridge online! Like a chat with old friends, we talk about the year that has been and the new year we hope for, about putting up with each other, about putting on a bit of weight and putting up the tree extra early this year, because, well, why the hell not?!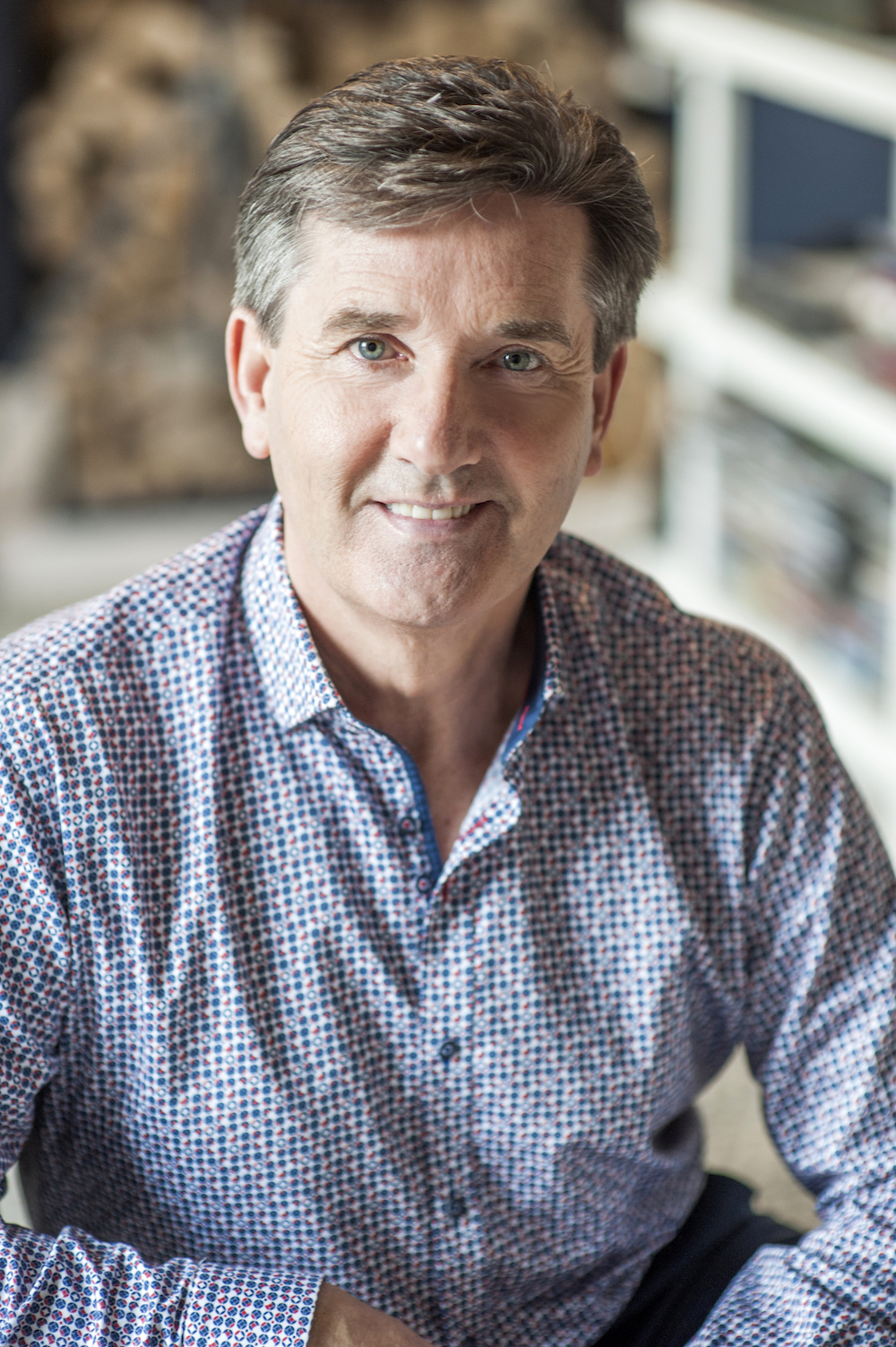 So guys, has the Christmas pudding been mixed? Are there carols playing? We can see the tree is up…
M: We do have the trees up, we put them up VERY early this year! I never ever put the tree up before December, but this year was different. D: And loads of people I have noticed have done the same.
M: It's just something to do and it looks nice at night. I'm also way ahead on Christmas presents purely because of online shopping, which I never did before. I always thought before I was too impatient for online shopping, but you buy it and two days later there's a man at your door, it's great.
Irish consumers spent €4,500 a minute buying clothes online during Black Friday. We're all at it! Now, usually it's a family Christmas for you two. How will it play out this year?
D: We don't know yet, we're waiting for guidelines!
M: My mother started living with us this year, so she will be with us, and what we'd love is if my daughter and her husband and our two grandkids could come from Co. Down, too.
Tell us, have you been scared about catching the covid?
D: I was a wee bit in the beginning.
M: I wasn't and then I was after someone said to me that I had to be careful because I had cancer and chemo. And I was like, "Why? That was ages ago?" I suppose now I am because of my mother. But we are as safe as we can be: we wear the masks, we wash the hands…what more can you do?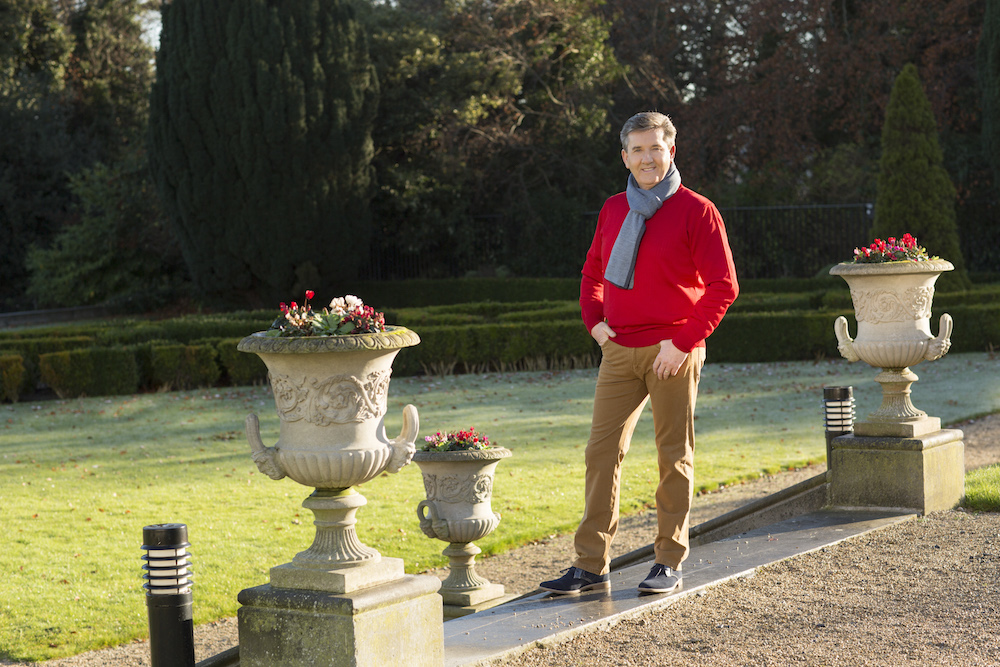 Isn't it lucky you had the house renovated by Dermot Bannon before Covid-19 hit? Because having a nice nest to lockdown in helps.
Both: Oh, we're so delighted!
M: And what I've found is that it's a far more sociable space. Where we had three rooms before is now a big open plan, kitchen, dining, sitting area, and it's fantastic because if you're in the sitting room you can talk to someone in the dining room…it's also more homely and it's so warm: triple glazing and underfloor heating, it's just a lovely space to be in.
How have you guys been occupying your time? Have you cooked, podcasted, walked?
D: We walked a bit. But I don't like cooking. And I absolutely hate cooking programmes. We watched a good show called Greenleaf about a pastor family in America, and that was brilliant. We can't remember the names of some of the things we watched…what's the name of the other one Majella, with the doctor and nurse….?
M: I don't know, I have a terrible memory, like shocking! But do you know what? It hasn't really bothered us at all being stuck at home. Because we wouldn't really be going out very much anyway, and because Daniel tours so much it's a real treat for us to be here.
Life has obviously slowed down because we've all less to do and all less places to be. But have you found yourself getting a little bit lazier? Like sleeping a little later even?!
Both: Oh god yeah!
D: Sleeping in the day sometimes even!
M: I'll even say to Daniel, "God, I better stop being on the iPad, I better get up and do something", and sure he'd be like, "You're alright, sure what's the harm in it?" But I'm just going to fade away on the settee on the bloody iPad! So yes, definitely lazier!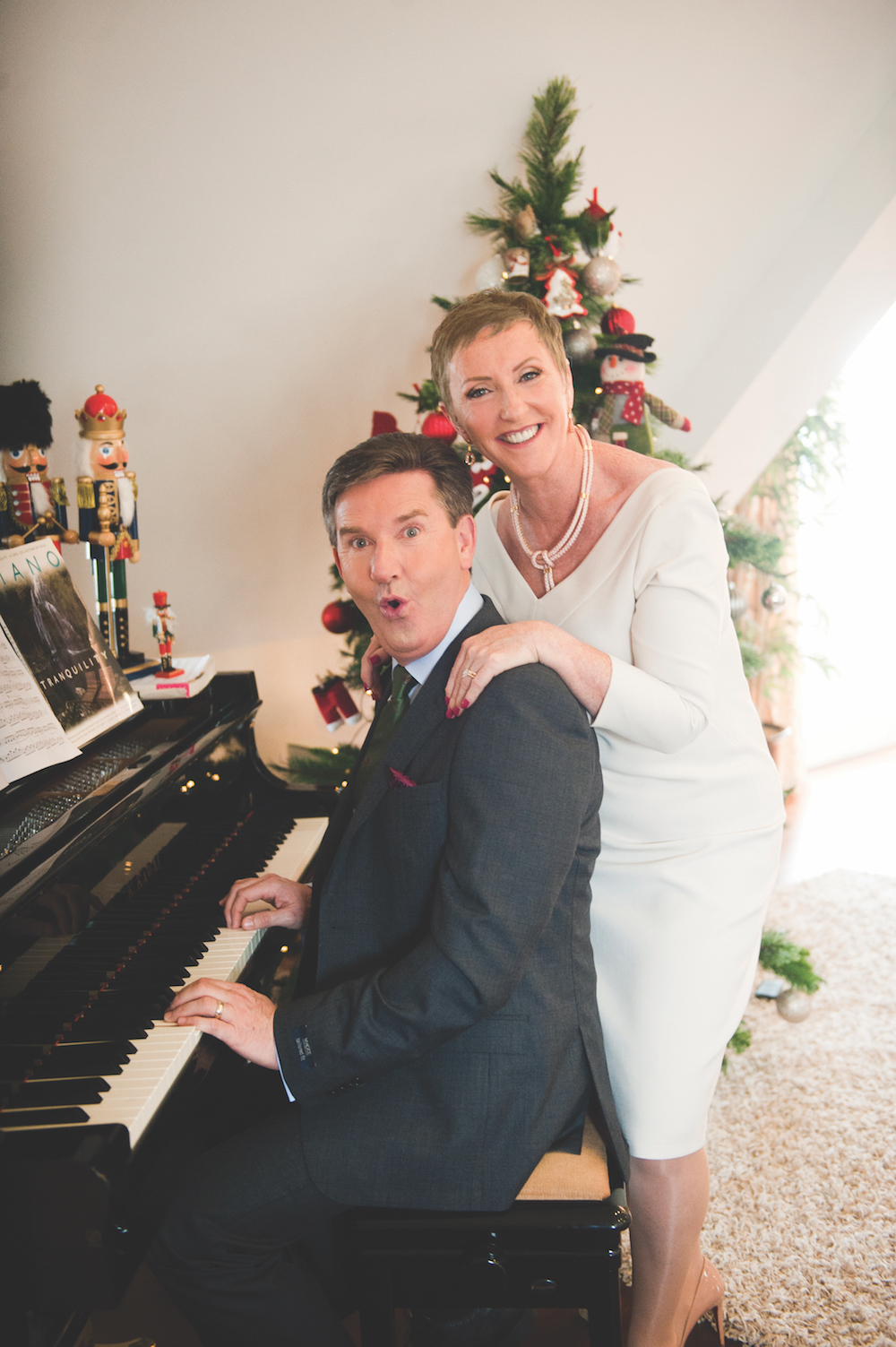 They say one in three of us have put on weight in the last eight months. We have!
D: I've put on a wee bit of weight alright. I am definitely eating more. The main thing I do is I play bridge online. I've played loads of bridge, haven't I?
M: LOADS of bridge [eyes to heaven]…
D: I love it, I only took it up about four years ago.
M: I said to him the other night, "You could become addicted to this, you know? I'm sitting here every night while you're on the bloody thing!" I said, "This is not good Daniel!".
D: But sure you're on the iPad constantly. And you were on it before I started the bridge.
Is he a bit obsessive about the bridge, Majella?!
M: He is! And if he's not playing it, he's watching other people play it! [She turns and asks him] "How many times have I gone to bed at one in the morning and you're still there playing it? Go, on what are you going to say? 'Sure what harm is it?'"
D: Yes! What harm is it? Sure I don't complain about you doing the iPad, do I? I don't think it's an issue…I don't think you should obsess about something…
M: That you're obsessed about?! [laughs] D: No, I don't think you should worry about something that's occupying your time and keeping you happy, do you know what I mean?
The two of you get on really well – this we know. However, lockdown has been tough on relationships and little irritations can become big irritations very quickly. Have you found this?
D: Not really…
M: The fact that he is home a lot more CAN be irritating – at times! [Daniel pulls a face. Majella roars laughing]
You used to get a breather from each other every few month when Daniel was off touring before. But now, no breathers!
M: Exactly. And I suppose like every couple, sometimes you just get irritated by each other. [They eyeball each other] Okay…I don't ever irritate Daniel but that's because nothing ever irritates Daniel!
Daniel are you offended now?
M: He is!
D: No, I'm not, I don't even know what she's talking about! [Majella bursts out laughing]
M: You couldn't really row with Daniel, which is quite good. He just won't react.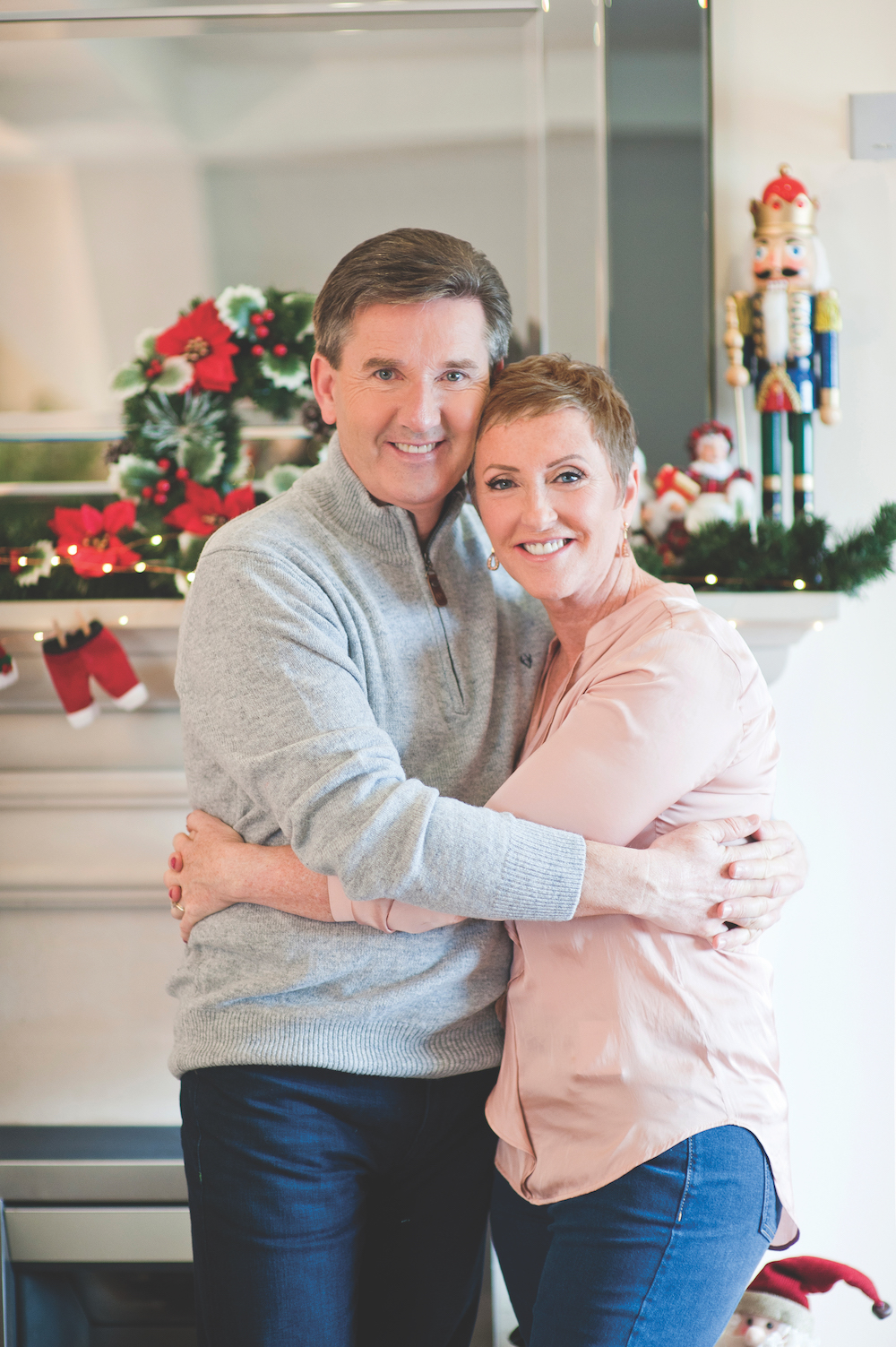 Talk to us about Donegal. Why, in your opinion, has Covid-19 really taken a hold in the county, and at the time of going to print, still had the highest incidence rate in the country?
D: They're saying that different things are causing it, like maybe it's coming from funerals, or birthdays, communions… People, I suppose, do forget in situations, and you can understand at a wake or a funeral how people can be distraught and maybe not think…
M: Sure look even at the RTÉ retirement thing. All those people who were at the retirement are aware of the regulations, they're talking on tv every day about it, but then it's like, "ah, we'll have a photo"…you just forget. It's difficult.
A momentary lapse of reason…
D: The thing I don't like about the whole situation is that people are ready to criticize very quickly. And it doesn't achieve anything. If there's a lapse in someone's judgement it may make people aware not to do it in the future, but you're achieving nothing by beating them into the wall. And I don't like either how it's all so political. The opposition is politicising everything. They're hitting at the government because they didn't do this or that. The government are doing their best. This is unprecedented. I'm not a party person but I just think they need to pull together more.
We have all learnt to stay apart, and we do for the most part do it fairly automatically now. But once we have the vaccines and some of the population immunised will we all go back to hugging and touching, do you think?
M: I wonder that myself. I wonder will we be less tactile…?
D: If you go back to the Spanish Flu a hundred years ago it probably was a similar situation. Eventually I suppose you go back to normal.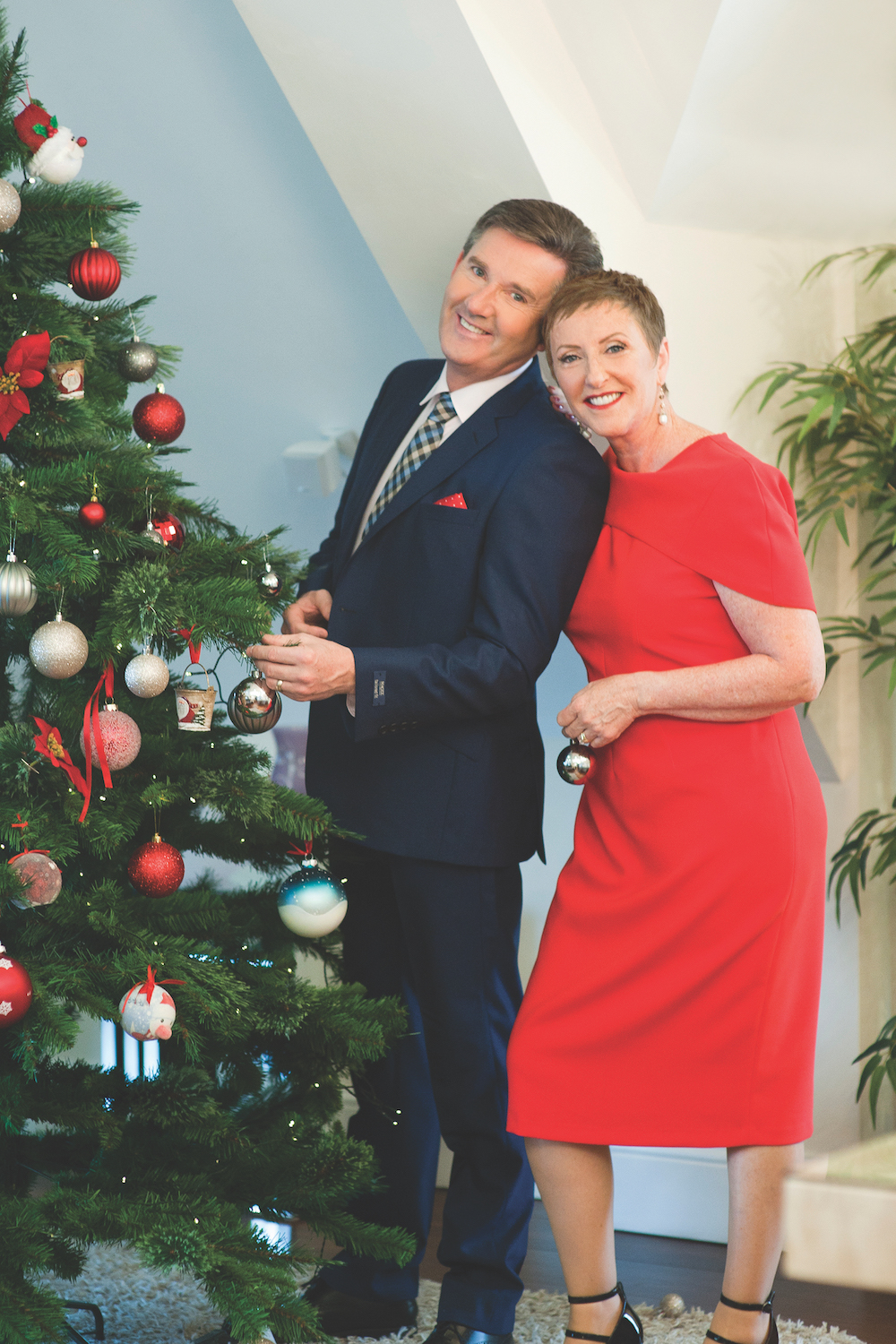 Will the music industry ever go back to normal?
M: What music industry?!
D: The music industry has no chance of doing anything until all this is over…
M: 7,000 people in a room? It's not happening.
Tell us about the fundraiser you organised recently to help support your band and crew.
D: It was a great success but a complete unknown to me. I didn't know how many people would pay €20 to sit at home and watch us, but it worked and there was 13 divisions of the profits, so they'll all get something leading up to Christmas. Because it's not easy, they're all finding it very hard.
On a governmental level what do you think could be done to support those in the entertainment industry?
D: I would like to see young musicians supported. Maybe the government could look at some type of fund, maybe like a grant that they could apply for, to start back again? And I qualify this by saying that some musicians who are successful will be a small business for the rest of their lives. In my case I've employed more than 15 people for the last 40 years. So it's not money wasted. It's money you're giving to people who will pay tax and employ others. It's money that will come back.
Prof. Luke O'Neill is quite pessimistic about the return of large gatherings next year. When do you hope to get back touring?
D: I suppose now with the vaccine you have more hope. Our first tour date is in Killarney next August so hopefully that will happen. And if we get back there in August, we'll maybe then go to Canada and some of America in September and the UK in November and Dublin in December and Australia and New Zealand in February and March. But let's see…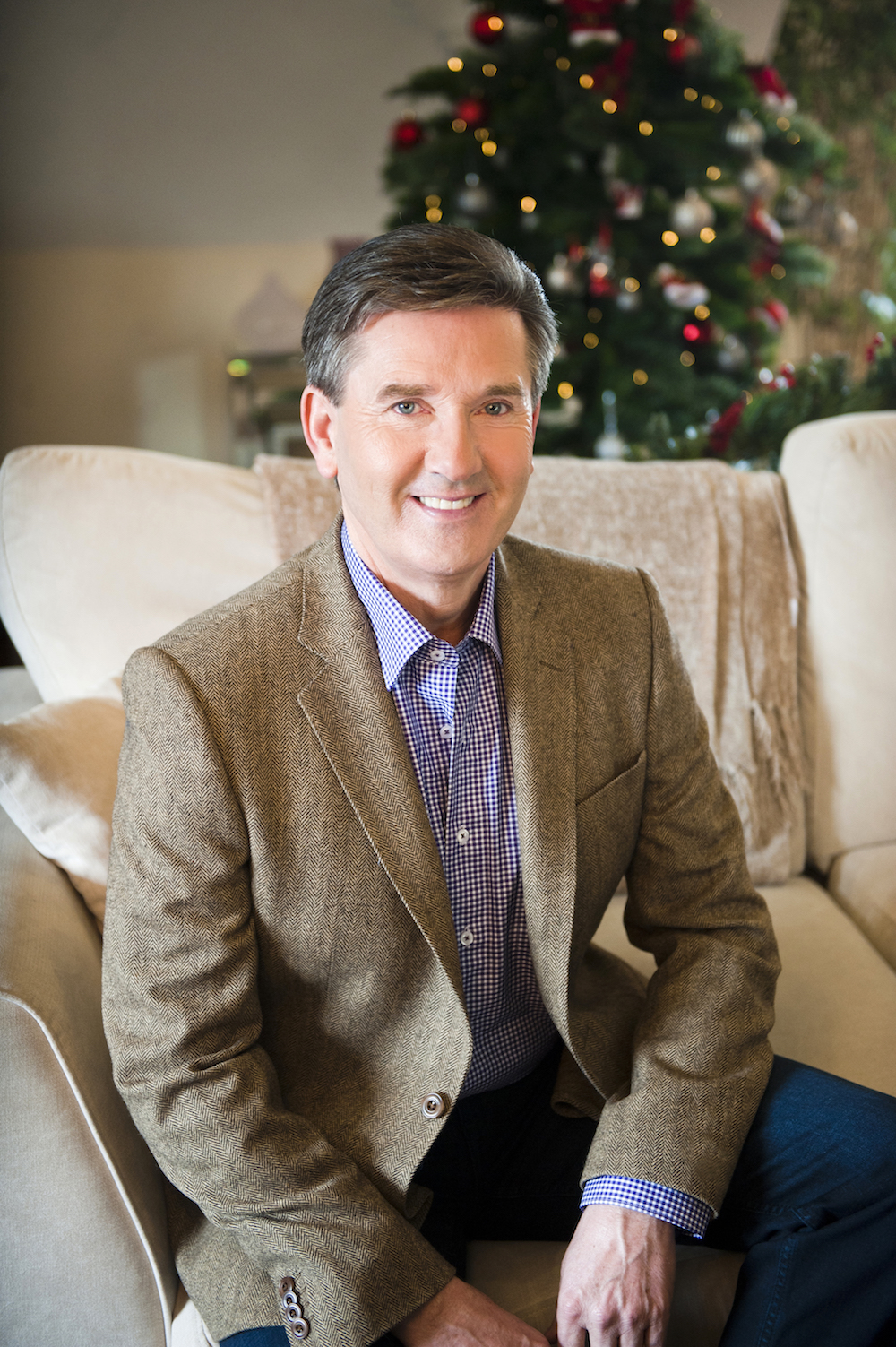 Despite the music industry being decimated at the moment, your new album, Daniel, entered the UK album charts at No. 3 in October, your highest ever Top 40 placing in Britain in your 35-year career.
D: I know, it was a great lift! When I was releasing the album I was thinking, "How are people going to get this?" because the audience that buy my album tend to buy it in the shops and not online – or so I thought. But this shows how people have moved on.
With all this extended time off for you guys, it would be a wonderful time to go off travelling – if we could travel.
D: We had a cruise booked for Majella's 60th in April. The plan was to board the cruise in Barbados and travel to Lisbon. But what Majella didn't know was that her children and their families were also coming as a surprise, too! They were going to knock on the door of our cabin – surprise!
That would have been magic.
M: I know. Instead we did a Zoom party!
D: That was a far cheaper date! [both roar laughing]
Will you ever put foot on a cruise shop again?
Both: Oh yeah, we will eventually – in a couple of years.
D: The way I would see it is: we have to look forward positively. They eradicated TB, they have a vaccine for measles and polio and all these illnesses. I would be hopeful that these brilliant scientific minds can do it.
M: And then there'll be another virus!
D: I don't think that way. I'm not one of those people that thinks like that. If you have that attitude, you're finished.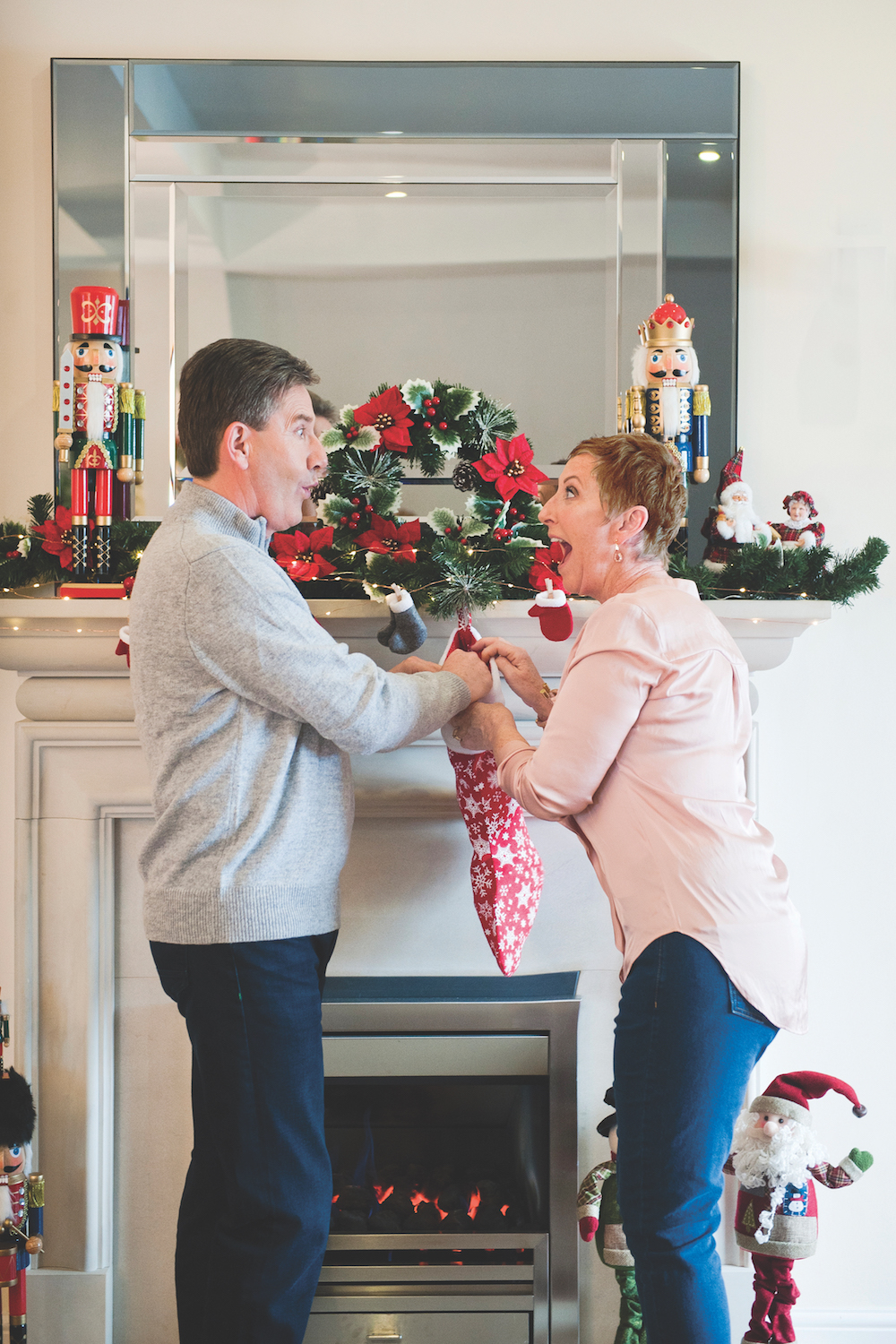 Daniel, you did in total, four weeks quarantine following work trips. How did you cope with the isolation?
D: I didn't leave the house for a month. It didn't bother me!
You don't like cooking so what did you feed yourself?
M: He'd eat mussels everyday.
D: And Avonmore soup.
M: And at night he'd have the oven chips and chicken goujons and maybe beans. That's Daniel! He'd eat the same thing every day. He survived on that!
A simple man! Okay guys – what about some happy memories from Christmases past…have you any you could share?
M: My overriding memory as a child is going to bed on Christmas Eve with no decorations up, and then waking up on Christmas morning with everything up. And, Santa had been! It was like someone had come and sprinkled magic dust. It was amazing.
Your mother must have got no sleep!
M: I know, my poor mum.
Can you remember your first present from Santa Claus?
D: I can remember getting the holster and the guns and the cowboy outfits. And a Scalextric car racing set.
What are the family traditions you both love?
M: We love watching The Late Late Toy Show!
D: I think Ryan has been super, honest to god, he's better now than ever he was. And he doesn't need an audience at all. The interviews they have been getting are incredible. It doesn't make a bit of difference if someone is on Skype or Zoom.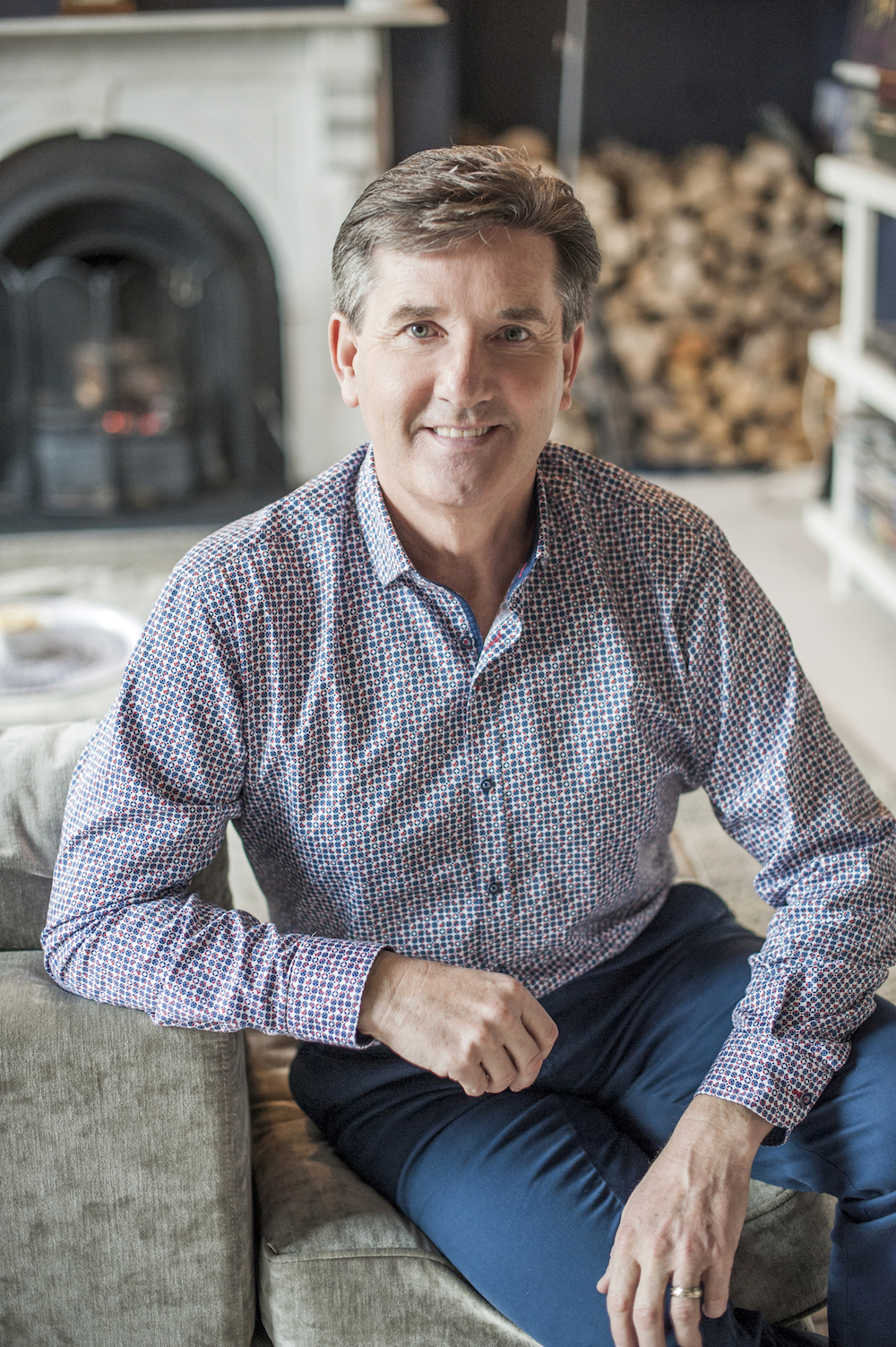 Where will you guys ring in the New Year? It's going to be a weirdly emotional one.
M:I think it will be a good new year in that it will be good riddance to 2020!
D: Yeah it's been so hard with so many businesses gone.
M: And all the people that have died too…
D: That's what I keep saying when people say it's very tough on those in the music business, it is, but we will sing and dance again, but the people that have died, are gone. And bereavement this year has been terribly hard. It's been difficult to grieve.
Tough times for sure. We're all hoping for a better year.
D: I'd like to wish everybody the best Christmas possible. I hope people can make Christmas as good as it can be and that everybody can have somebody with them that will make Christmas special.
M: And if not remember, it's just a day.
INTERVIEW: Bianca Luykx
PHOTOGRAPHY: Lili Forberg; misslili.net