The author says she's still learning a year and a half after the birth of her son Caelan.
Posting an adorable picture of her family-of-three to Instagram, Caroline wrote, "How are you getting on 1.5 years into parenthood? We're over here still v much learning to ride the waves.
"Even though I share the (very normal) challenges we have as a family, it really does get more and more rewarding with each new phase. Share below – your biggest challenge and happiest moment for wherever you're at right now."
Just this week Caroline shared an example of the realities of meal times with a toddler writing, "'Right mam, here's the deal. I won't sit in my high chair, nope not today. I will not even consider wearing a bib. I'll sit on your lap and you will bring every apple in the house to me until I have all of the apples in my line of sight. I will then take a tiny bite from each apple and only THEN might I consider eating some of the dinner you've made me. But I'm not promising anything.'
"Mealtimes with toddlers. A joy."
Followers shared their appreciation for the relatable post in the comments with one writing, "Oh man I feel this on so many levels," and another saying, "This is the most relatable post I've seen in a long time!! Standing in solidarity with you…we are doing the same here."
Caroline gave birth to her son in 2020 announcing the news on Instagram she wrote, "Our little man – Caelan Anthony Doyle – is here, safe and sound, pudgy and pretty chill too, 7.3 pounds.
"He made his entrance to the world 10 days ahead of his due date."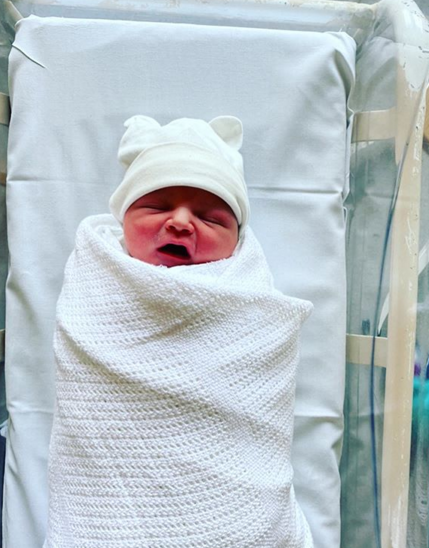 Due to Covid-19 restrictions visitors are very limited in maternity hospitals at the moment. Caroline shared; "I am extremely exhausted and totally overwhelmed to be here without Barry – haven't a clue what to do with this tiny person!"
"but I am most certainly in love."