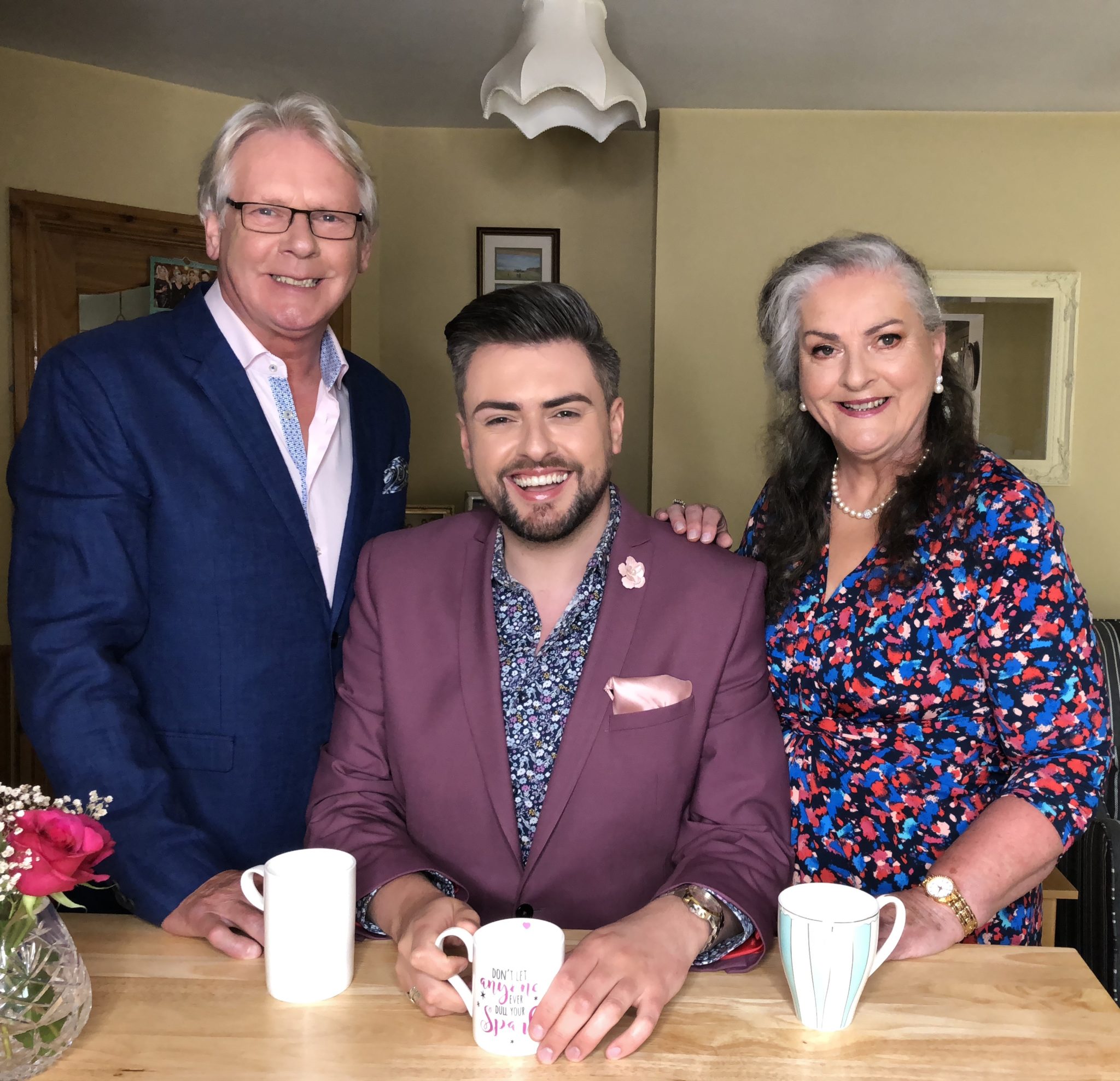 James Patrice brings us joy, now more than ever. As one of Ireland's top social media stars, a reporter for RTÉ's The Today Show and resident behind the scenes host on Dancing With The Stars, he is no doubt a familiar face. But it is during lockdown, perhaps the strangest time any of us has ever experienced, that James has made us laugh more than ever. And all of this has been with the help of his wonderful parents Jim and Fron. Whilst in lockdown, they have been churning out Eastenders sketches like there is no tomorrow. But that is James all over.
He is very clear about doing his best to enjoy life in the now because as he says, since a serious bout of meningitis as a child, he has always been conscious that life is precious. The Malahide native has been kept busy filming The Today Show in a socially distant way while also finding the time to bring these fantastic skits with his parents to us on his social media. "There were some moments where we just cried laughing." he tells us when speaking about the filming process, adding that he and his parents find making the videos as much of a tonic as we find watching them. James has experienced firsthand some of the ripple effects of the pandemic with job cancellations for his work as a host, and with his sister Vanessa's wedding postponed.
When we first approached James about the feasibility of doing a photoshoot for us – that we would not be able to attend as our usual team, that we couldn't pamper him and his parents with the glam squad treatment they deserve, oh, and would he be ok to take the pictures? We weren't sure what he would say, but we should have known. James embraced it wholeheartedly and the results speak for themselves. We later caught up with him on the phone to hear more on how he has been finding this time, what it's been like to read tweets from the Minister for Health on how his comedy is "keeping a lot of people going," and discuss the thought process and work that goes into those now beloved Eastenders sketches, his hilarious character Malahide Woman (turn the pages for James in character!) and of course how this time has shone a light for all of us on appreciating the little things in life….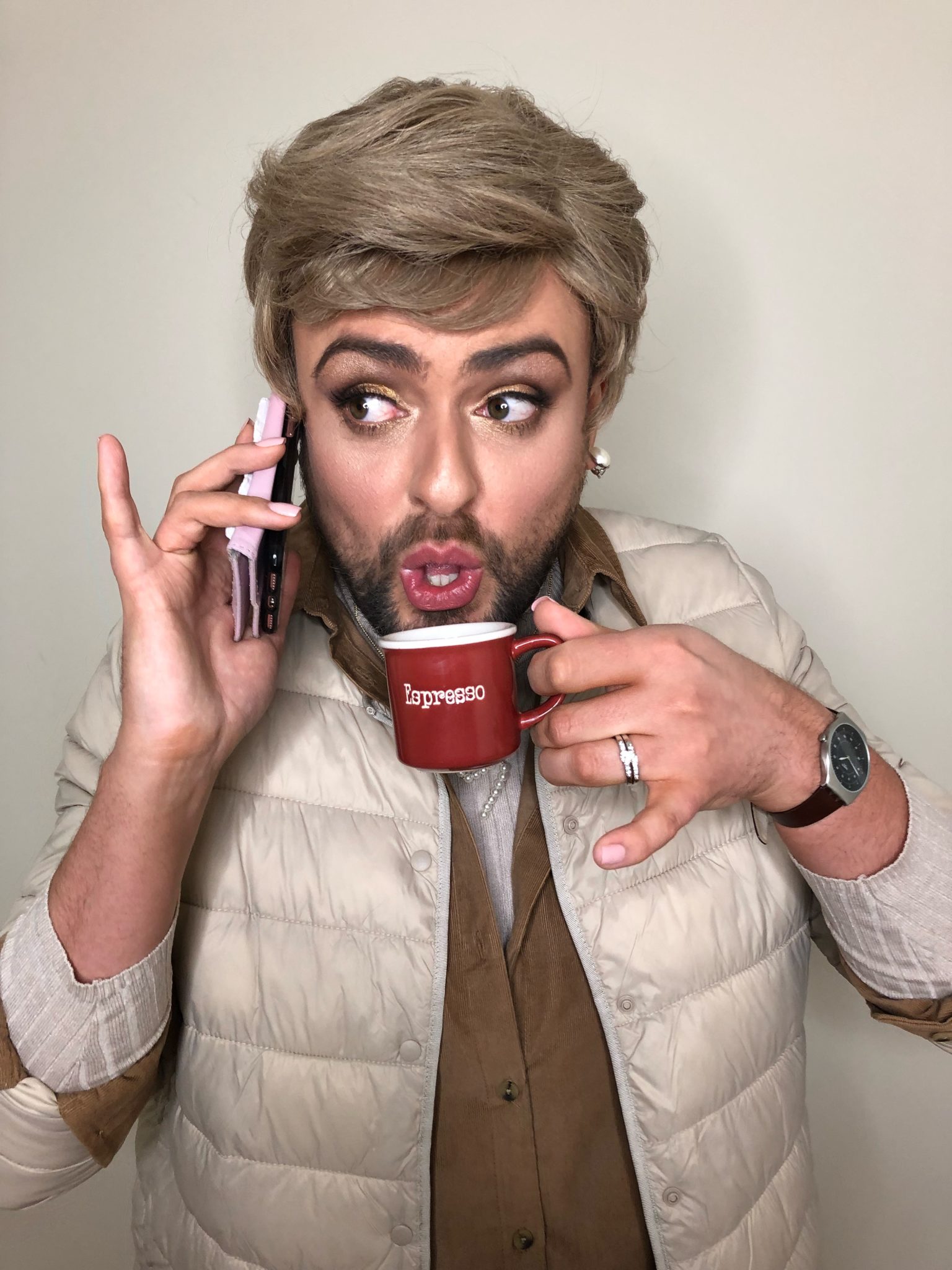 James, you have been in quarantine with your mum Veronica, or Fron as she is affectionately known, and dad Jim. How have you found this time together?
To be honest I feel very lucky. I know that a lot of people might be on their own or they might be living with partners which is great, but then they don't get to see their families. My sister for example – she lives well outside the 5k and we haven't seen her and that's been a bit of a nightmare. She will say to me, "God James – I am very lucky to be here with my fiancé and my lovely dog but I can't help be a little jealous of you because you get to be with Mom and Dad." I am definitely seeing being home this much as a positive. I think if this lockdown has taught us anything it's to be more appreciative of what we have.
You have spoken eloquently in the past about having meningitis at ten-years-old and how that experience really impacted how you view things, because as you say, life is precious. You must, in 2020 find yourself thinking of this again?
Totally. I remember when the seriousness of Covid-19 started to unfold; I was in town on a job and it was
like something changed in me and I couldn't get home quick enough to my family. But I have always been of the approach that you have to enjoy life because it is so precious and unfortunately no one knows what is going to happen tomorrow. You just have to go for it and think to yourself, "If I went tomorrow, can I say that I had a good run?" You have to try and have a good run.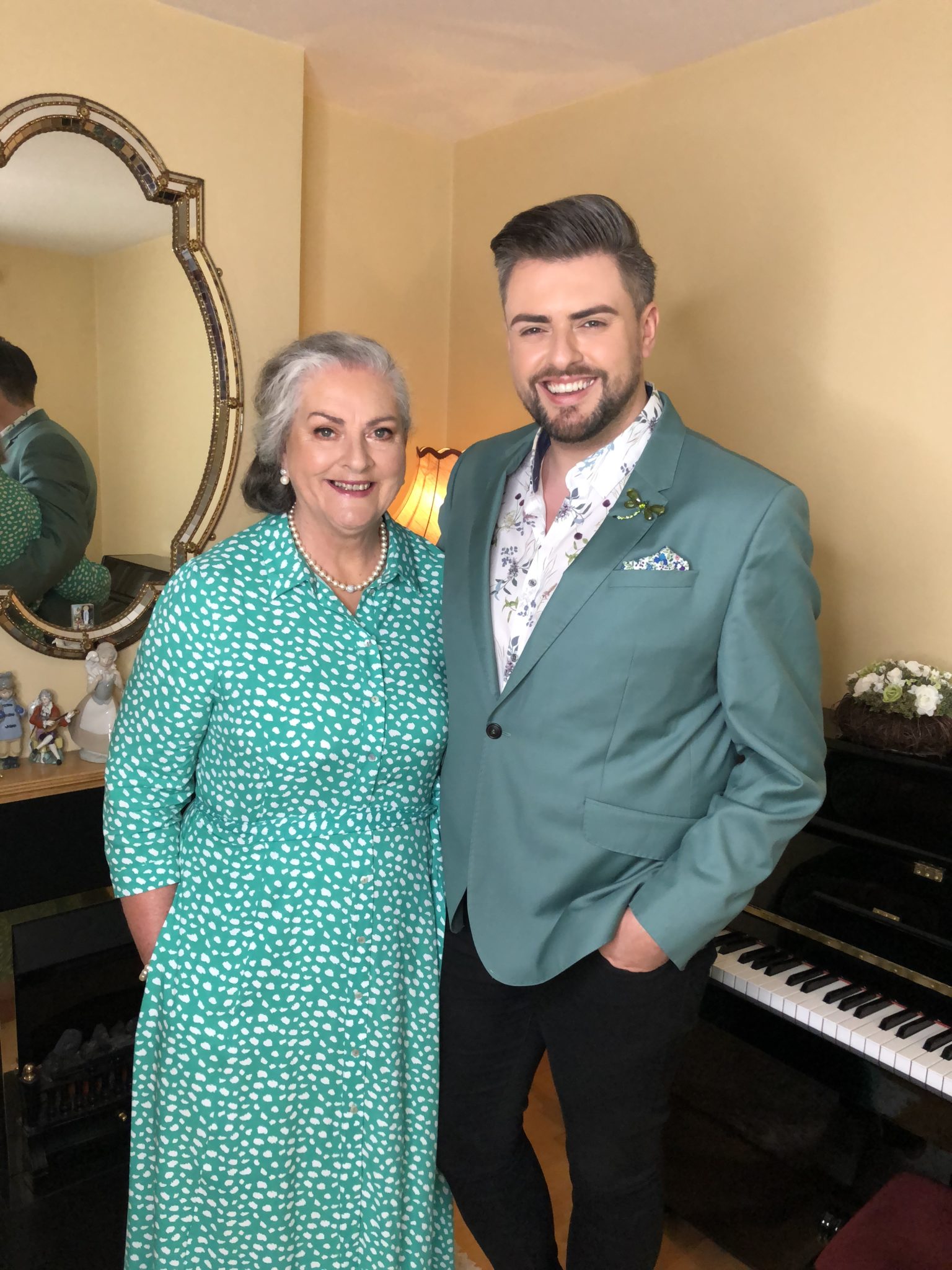 Your family felt one of the impacts of this strange time directly. You were set to be man of honour for your sister Vanessa's wedding, which had to be postponed.
Yes and I must say Vanessa and her fiancé Sean handled it all with fierce aplomb. At the end of the day you can't quantify a wedding in comparison to people losing their lives so it is small in the grand scheme of things, but the main thing is Vanessa knows that she and Sean will get married…it might be in a few months time but at the end of the day it will still be great. And I am happy enough because at the moment I don't think I would fit into the blazer [laughs]. We have the wedding rail upstairs with all our outfits ready to go – I don't think we have ever been so prepared.
How have you found staying in touch with your close friends and loved ones during this time? Are you the King of a Zoom quiz?
Would you believe that I am actually shite at Zooms? [Laughs] I am like, "Ah do I have to take the laptop out?" But the WhatsApp groups are flying it, I have to say. Vanessa calls every night here and about 20 times throughout the day! Thank god for technology to keep us in touch.
But of course you have had your parents to keep you entertained too. They have been heavily involved in all your sketches of late!
Well…over the years I would have always included Mum in a thing here or there but I suppose at the start of all this, it was a particularly weird and eerie time and so we started to do the odd sketch together here at home. The craic we would have, and a lovely sort of air of fun and forgetfulness would go through the house. We realised, "God it's really nice to sort of take ourselves out of things and be someone else for a while." It makes us forget everything else in that moment. We really enjoy that escape.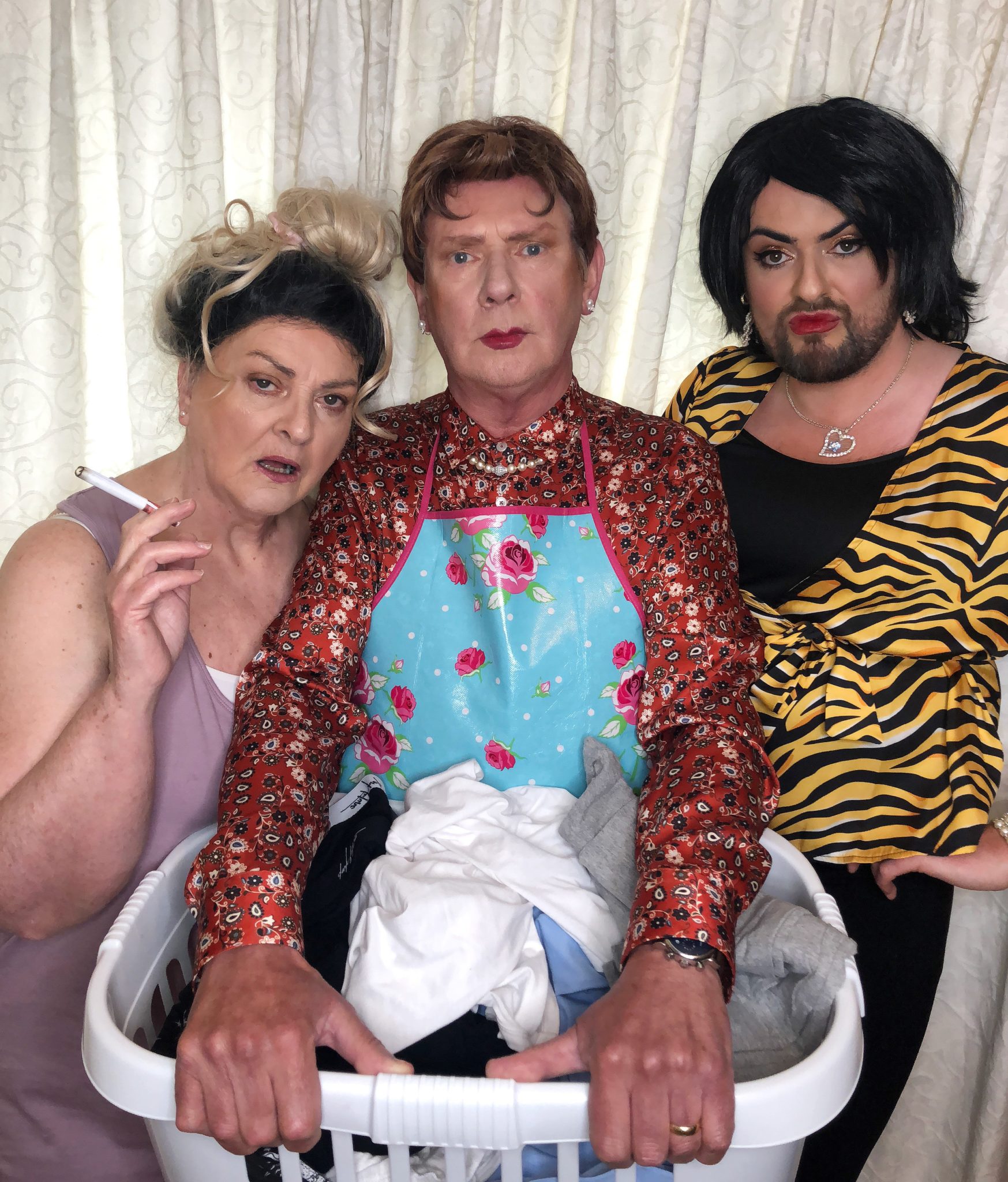 Your particular forte is a good Eastenders sketch. What was the first scene you recreated?
I was Cat Slater, Mum was Zoe Slater and Dad was Dean Slater. We did it one Saturday night, it was 10 o'clock and freezing cold but we were just crying laughing doing it. And I suppose they have just progressed from there. When we started off I'd put Dad in a little short wig, and now it's like "Right Dad we're doing a full face, a contour and a smokey eye." [Laughs] We are just enjoying it so much.
The reaction has been amazing.
The feedback I have got has been phenomenal! I have had so many messages. And Mum and Dad have been stopped in Malahide when they're out for walks with people saying to them, "God fair play, you're keeping us going." So I think any apprehension that they might have had at the start has kind of waned because they realise, "Oh wow people really do enjoy this." It brings a smile to peoples' faces and for the three of us, that's happy days.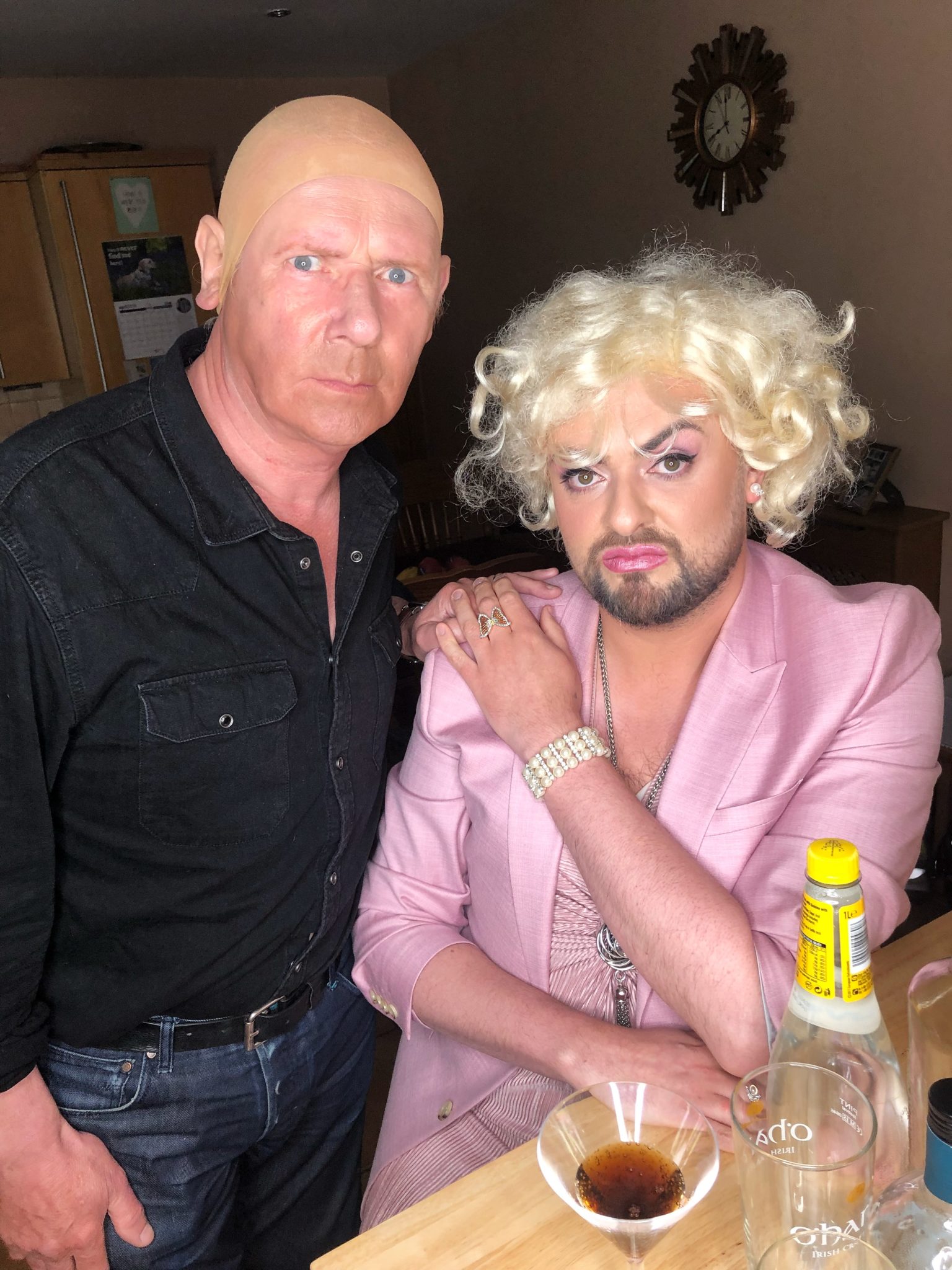 You even got the nod from the Minister for Health Simon Harris!
Yes! That was me done. [Laughs] He had been on The Late Late the night before interviewed by Miriam O'Callaghan and he was just so calm and reassuring in his message, so I had tweeted to say "Fair play to Simon Harris and Miriam O'Callaghan for being so calm in explaining things." And then he tweeted back and said, "Thanks James, keep up the videos with Fron, I know they keep a lot of people going." So that was amazing. I told Mum and Dad, they were delighted. I think I will have to frame that tweet. [Laughs]
Was there one sketch where you nearly couldn't finish it you were laughing so much?
I think it was the one where I had dad as Phil Mitchell. I put the wig- cap on him and we were just crying laughing. We couldn't breathe for laughing, I thought Mum was going to explode. I was trying to make Dad do an angry face like Phil's, and he just couldn't. He is just not an angry person, he is so gentle. So I was like "Look a bit more grr, a bit more angry." And the more he did it, the more he just looked constipated. And the more we laughed. Mum was Pat Butcher – I think since then Pat has become her signature look. I was Peggy Mitchell. Since when Peggy Mitchell is six foot two with a beard I don't know – but she is in our world and it works. [Laughs].
And aside from the Eastenders sketches, you have also been sharing some hilarious skits in character as the popular Malahide Woman. How did you come up with her character?
I was out on a walk last summer and I had my nice athleisure wear on – I felt very glam –and I was bombing it along into Malahide and I said "Do you know what? I am bombing it along here like a real Malahide woman, with her sunglasses on out for her walk." My sister and I would always have a laugh over the years looking at women walking around in the white shorts with the tennis rackets on the back. It just grew from there and she seems to resonate with so many people. I think her geographical location was kind of irrelevant because her attitude to life seems to exist nationwide.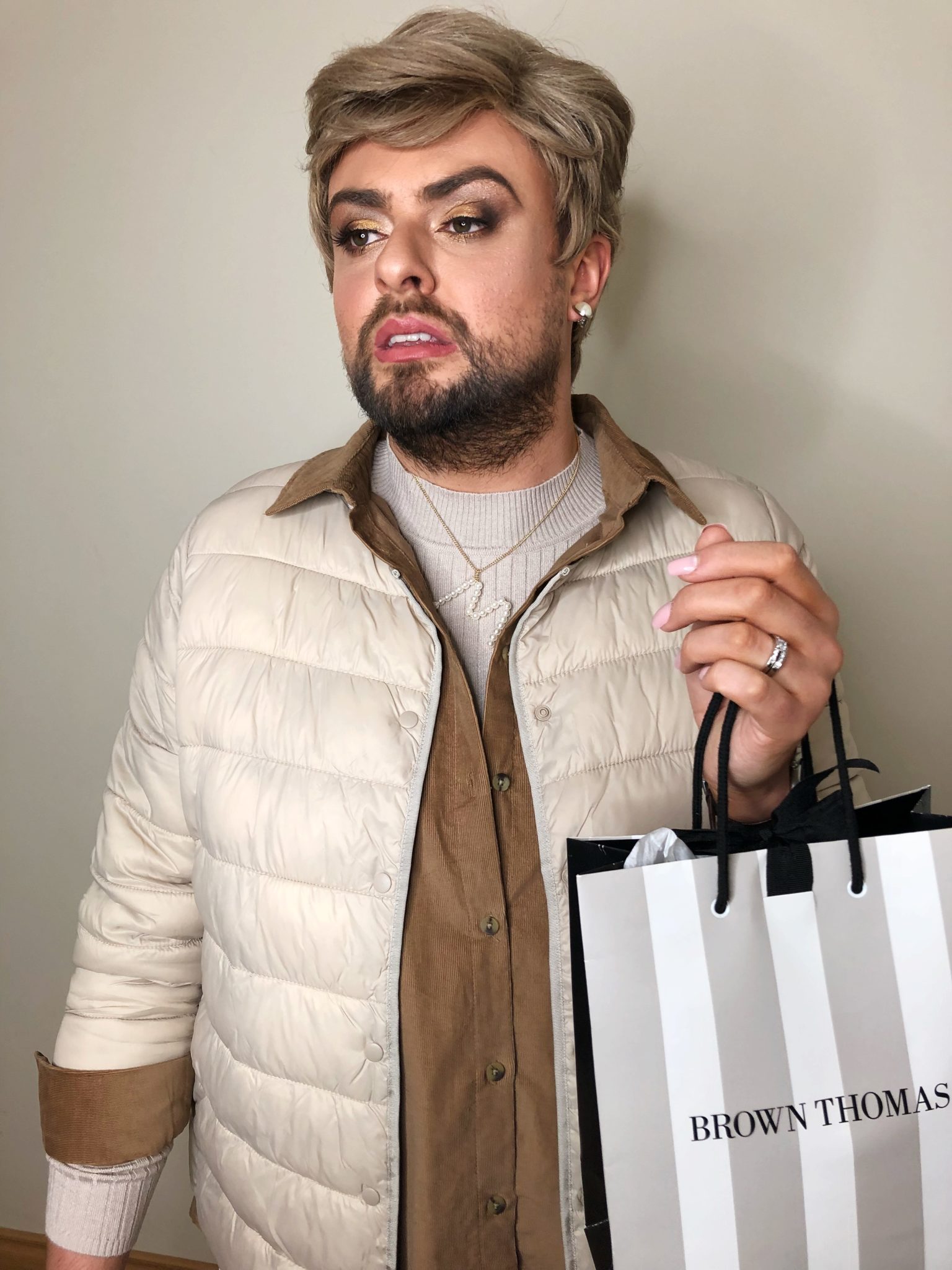 What we love about your comedy is that your jokes are never at the expense of anyone else.
I suppose when you're doing anything like this – you have to have a bit of courage and you have
to go for it, but I have always believed that a true representation of someone or a true character shouldn't need to rely on smut or on being mean to be funny. Sometimes I think in comedy you can overstep a mark. I try keep it nice and fun.
Well you certainly do that! Malahide Woman has been so well received that she's even had a taster of life as an influencer with a collaboration with no contract streaming service, NowTV. Do you enjoy things like this which allow you to exercise your creative juices?
Yes. And I am always very protective of any kind of character or skit that I have created. I take time to think about it before I do it and I am always trying to think how to make my ideas organic and fun. Asking will my followers enjoy it, is always the most important thing for me to achieve. I always say you have to kind of treat the people who follow you with a bit of courtesy because you want them to enjoy it and it's great when you hear such positive feedback.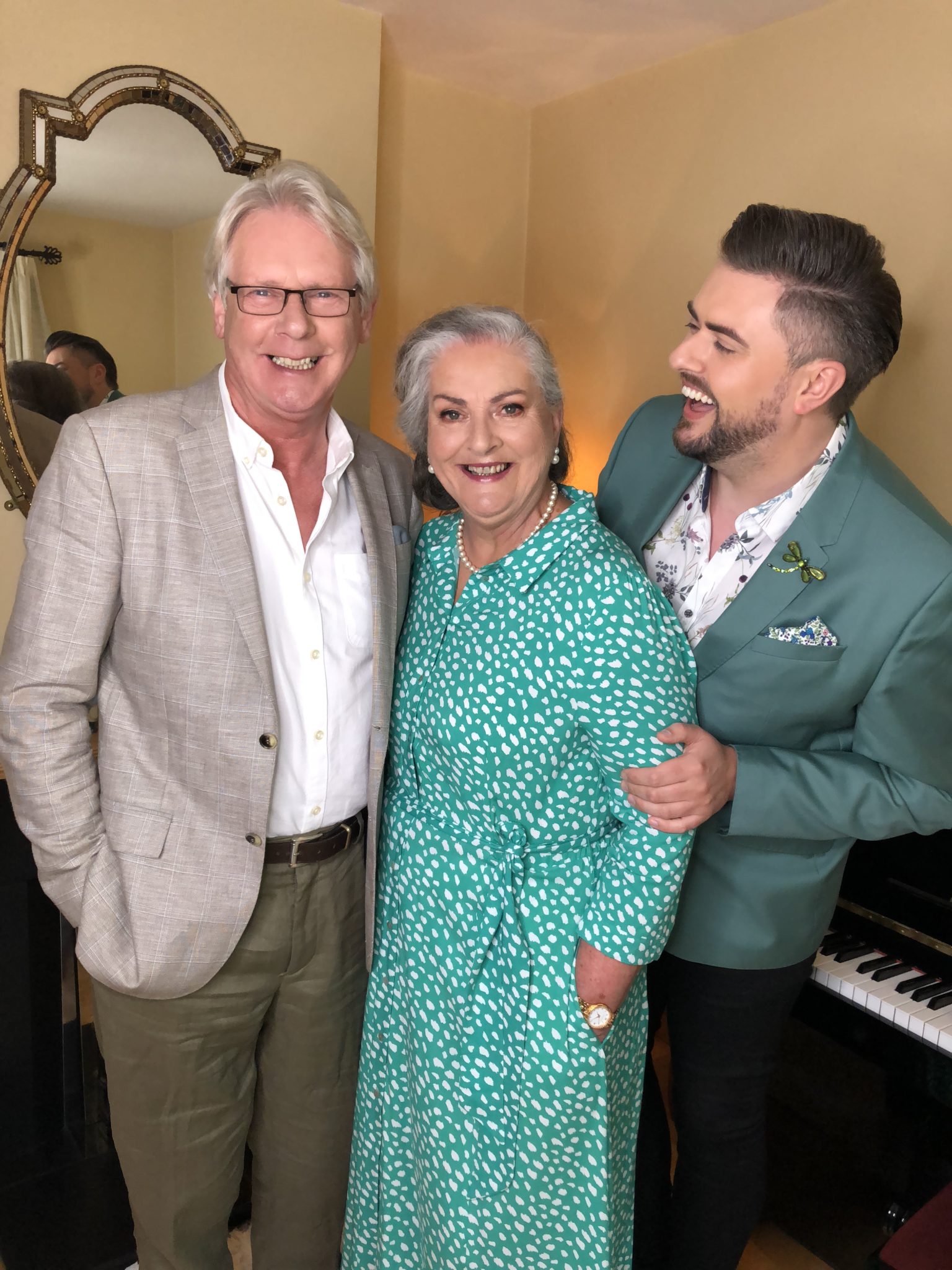 And given most of us are appreciating our comfy couches and streaming services more than ever…. what would Malahide woman recommend we binge on for the months ahead?
Sex And The City. Oh, she loves a little bit of Sex And The City. And of course, she loves tuning into Eastenders; she loves the drama and she loves Sharon. She appreciates a strong female lead.
Laughter, now more than ever is so crucial in our lives. Creating funny escapist moments like these sketches clearly brings you joy, what else does?
There are lots of things, I mean The Late Late Show has been amazing. For me, I still do The Today Show every week filmed in a socially distanced way and it's those little things that are great fun. It's very kind to get messages from people to say things like "I am off to work now under the cover of a PPE mask and you have given me a great laugh on the bus." Those messages are amazing, to get a compliment from people like that who are literally saving peoples lives and all I am doing is making them laugh, whether on the tv or on my own social media. It's very humbling.
What about the days where you feel hard-pushed for laughter?
I definitely get those days where I am low or I miss people but I always just go back to perspective. I'll remind myself how lucky we are that we get to stay at home. And don't get me wrong, it is still very troubling and a lot of people would rather be out working in terms of financial support and looking
after themselves, but I suppose you just have to try to see the positives. And hey, some days you don't want to see the positive and just want to stay in bed watching movies and if you need to do that – do that. When all this started I had a lot of work cancelled, I am a host that's my thing, so there was definitely days at the start where I thought "Oh dear – this isn't great at all…" But again you think to yourself, "Just keep going through it, and keep her lit." A quote I love from Desperate Housewives is, "You can't prevent what you can't predict". That is my motto for life always.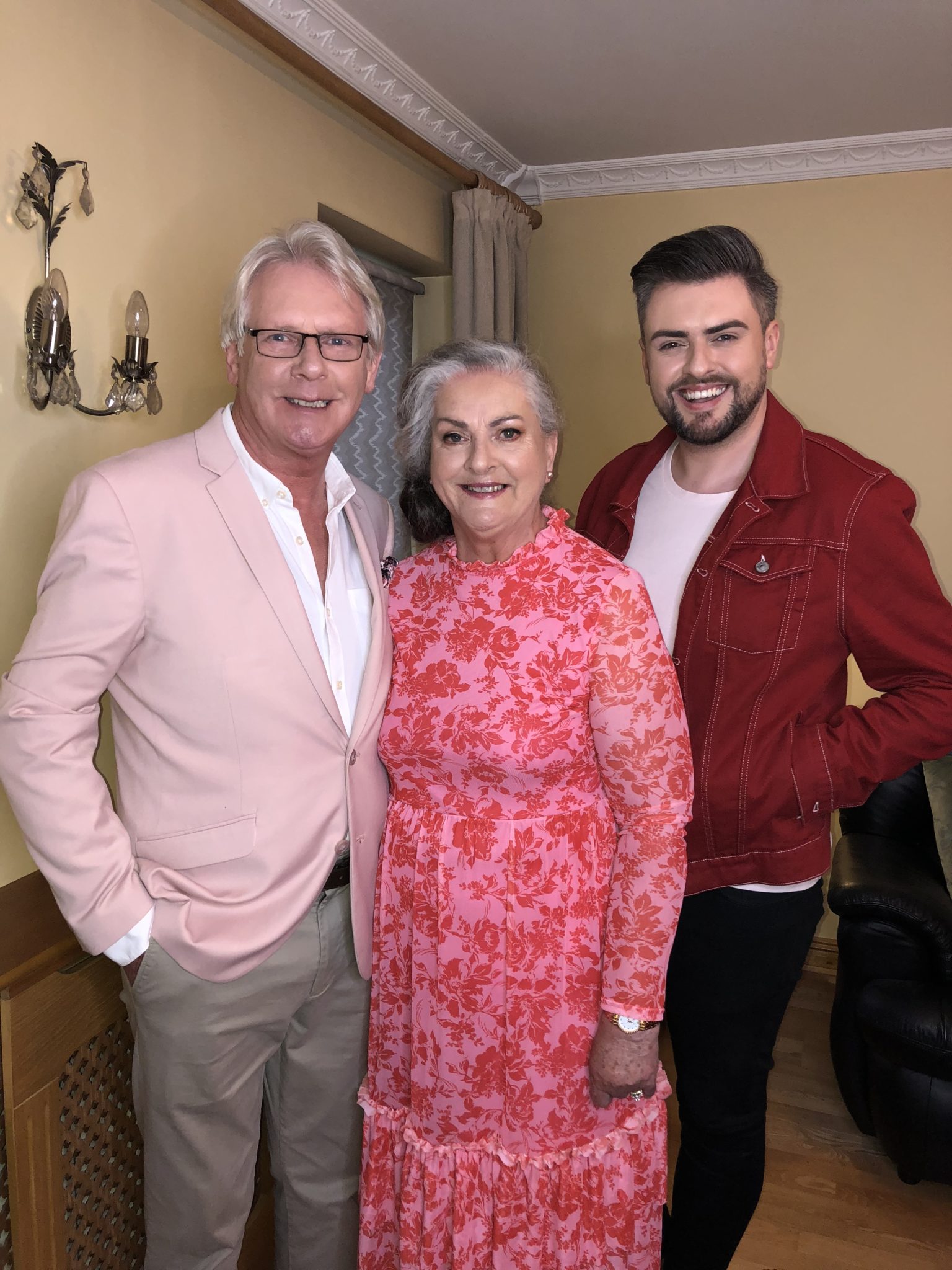 Is there anything you will do differently when we as a nation reemerge?
It does make you think. I will definitely slow down because I would have been rushing around here, rushing around there, trying to please everyone… just trying to be here there and everywhere. You have to ask yourself really does it matter? I will try to worry less, slow down a bit and enjoy things.
Have you found yourself appreciating more than ever the simple moments in life?
For sure, I have been going for loads of walks. Before this, I couldn't tell you the last time that I had actually stood on Malahide beach and looked out into the sea and enjoyed the moment. In the last few weeks the coffee shops in Malahide have been able to open again and the other week I got a coffee from Insomnia and browsed around Supervalu and honestly… I felt as though I was in Paris. [Laughs] It was so exciting to have the coffee in the hand – it must have lasted me two hours because I was savouring every mouthful. That's what its all about really. The big things that come and go are great, but they're not the constants in your life. The constant is your family and friends and savouring the moments with them.
Although it has to be said James, what with churning out all your skits, you haven't been sitting around waiting for life to begin again – you have been really going for it.
I think I have. I suppose you start to adapt and I think Irish people in general are good at adapting. I guess you just have to go for it and try have a bit of craic when you can and still see the fun in life, definitely.
What plans are you focused on now?
I think writing more for Malahide woman. The dream would be for Malahide woman to become something more concrete, be it in media or print. I think 'The Adventures Of Malahide Woman' is something that I want to explore!
Interview: Elle Gordon