Summer is officially here which means one thing, its holiday season! But those dreamt about voyages abroad aren't always perfect, something Arthur Gourounlian and hubby Brian Dowling know all too well.
The pair are current in Marseille, France visiting Arthur's family, but while the reunion was, of course, joyous, it was also a challenge as the pair were left stranded in the airport in the middle of the night, after a mishap with the car hire company.
Their holiday got off to a rocky start, after their flight was delayed, and as a result their arrival time was pushed back until the middle of the night. Upon landing, the family headed to the car hire, only for the business to be closed, something avid traveller Arthur found very unusual.
Sharing the cautionary tale on his Instagram story, Arthur explained: "All my life I've been you know, hiring cars and we booked the car with a car company. It was around like about quarter to one already. So we go to our car company and guess what the place was close!"
Leaving the pair stranded in the airport, and adding to the stress as it was baby Blake's first time travelling abroad.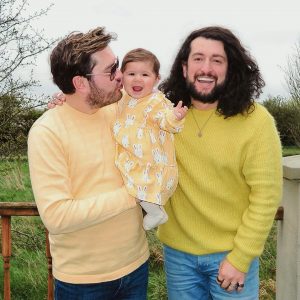 Continuing on the dancer explained: "Certainly. I've been hiring renting cars since I can remember. I never, ever in my entire life experienced this. The reason when you actually rent a car or book a car, you give your flight details and then they should normally you know [When your landing]. I know they're closing at like 11 they said, but I told them are landing around quarter past 11 and surely they have to wait for you maybe now I'm wrong."
"I'm going on a rant, I never do rants," he laughed. 
"But generally it was annoying because it was baby Blake's first you trip and Brian, Blake, and I literally stood for a rental company. There was no one, we didn't know what to do. There was hardly any taxi. So we were stranded."
"I don't really get annoyed but I was so angry. I was so angry. It was so late. I booked a car and there was no one there."
Sharing how unusual the situation was, the Dancing With The Stars judge explained: "Before when I was renting cars, when I arrived late, there's someone waiting because they know we were delayed."
Luckily Arthur was able to contact his sister, who came to collect the stranded family. 
But he was acknowledge how that wasn't part of their holiday plan, and left his sister travelling in the middle of night.
"But thank God I called my sister,  at the time it was like quarter past one am and because obviously she's working very early this morning. She has to drop Yohan in to the school and bless her she came all the way to collect us," he gushed. 
"She saved the night." 
Stressing how he liked to keep his social media positive, but was so annoyed by the situation.
Explaining: "I'm very annoyed, I'm not gonna lie I'm actually very annoyed. I don't really do rants, we stay positive. I try to stay positive. Last night I keep saying 'it's okay let's stay positive. What can we do?' But there was nothing to stay positive about because it's close. That's it, were stranded. So I was a little bit annoyed. But you know what? Nothing will stop us from enjoying our holiday!"
Otherwise it was a great trip, as Arthur was reunited with his family and baby Blake enjoyed her first ever flight. As the proud dad explained: "She wasn't crying or unsettled. She started smiling at everybody. We all know our daughter is very nosy, she loves staring and smiling at people. So, she was full of beans and full of life!"
Here's hoping they enjoy the rest of their getaway in peace.