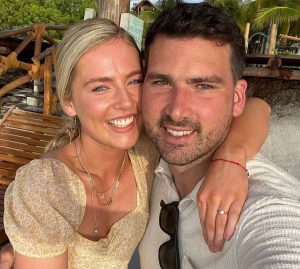 Aimee Connolly is one busy woman.
Between running her very own business, Sculpted by Aimee and planning a wedding, it's safe to say it's been all go for the makeup mogul.
So, before she finishes up with work and jets off to tie the knot, the soon-to-be- bride took to Instagram to give her followers a little update on life.
"It has been mad," Aimee began.
"Trying to finish up on work, get ready for a wedding abroad and everything in between.
"I've been working until like midnight or one am the last two nights. My eyes are like little beads," she joked.
Aimee then shared that she was hoping to finish up with all work-related business today for the next two and a half weeks.
Adding: "I don't think in my entire six or seven years I've ever like fully checked out."
View this post on Instagram
"So the team have bets on how long before I'll be back on Slack. But yeah then we head off next week to go and get married which is insane."
Before signing off, Aimee shared that she was feeling equal parts nervous and excited.
The beauty entrepreneur got engaged last summer, with her soon-to-be hubby popping the question during a sun-soaked trip to Mexico.
Opening up to VIP Magazine about their relationship, the business women revealed: "I met him in my final year of college…so he's actually been there for the whole journey."