Things are taking a sad turn for Yewande on tonight's Love Island!
The Villa's latest love triangle sees Danny and Arabella grow closer in tonight's challenge – leaving Yewande contemplating where she stands.
The Dublin decides to confront her beau, and when she doesn't get the answer she wants, rethinks her future on the show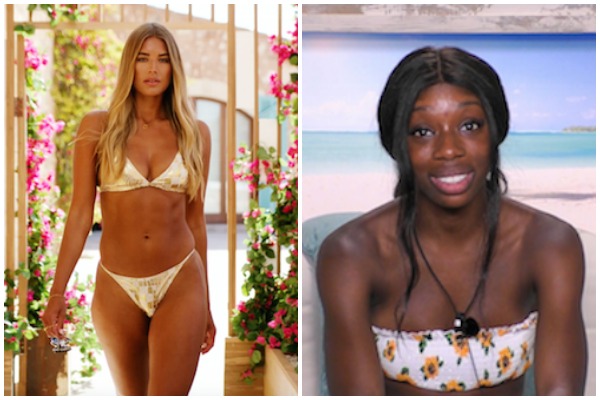 Speaking to Danny, Yewande says "But you told me that you wanted to progress things with me. You failed to mention that you want to get to know her even though you already told me that you're not interested in getting to know anyone else. Am I right or am I wrong?"
Yewande continues "Did you or did you not say that no matter who walked in your head wouldn't be turned?"
Danny says "Yes. I said that. She came in and we had a really good date and I can't deny that."
Arabella leaves the conversation to allow Yewande and Danny to talk one-on-one.
Yewande asks Danny "What do you want from me? I don't really get it. Do you know what you want?"
Danny says "I want me and you to continue talking and I don't want it to be awkward. In regards to Arabella, I just want to get to know her. That's it."
Danny asks Yewande "Can I ask what you want?"
Yewande says "It's hard for me to know what I want knowing I am now in competition with someone else."
The next day, Yewande is still upset and speaks with Amber and Anna on the terrace.
Anna asks Yewande "What did you wake up thinking?"
Yewande says "At first, I thought 'I can do this' and then now I don't really want to be here and I want to go home."
Anna says "You're going to let him win by going home!"
While Yewande contemplates her future in the villa, Arabella wants to speak with Danny and see where his head is at.
Arabella says to Danny "I think you need to make a decision. If she comes down today and starts fighting for you, what are you going to do? Are you going to ignore the fact that there is a connection with us?"
Danny says "No. She knows that I want to get to know you more. I don't want to fall out with her."
Arabella asks "But do you want to patch things up with her romantically?"
Danny says "I don't know. What are you thinking?"
Arabella says "I want to pursue things with you."
Danny says "You want me to say to Yewande 'this isn't happening'?"
Arabella says "Yes. In an ideal world."
Make sure to tune in at 9pm on Virgin media Two!