If you're not already talking about Kerry Condon then you need to hop on that bandwagon, as she's one of five brilliant Irish actors nominated for an Oscar this year.
That's right, Kerry is up for Best Supporting Actress, alongside her costars Colin Farrell, Barry Keoghan, and Brendan Gleeson who were also nominated for their roles in the hit film The Banshees of Inisherin.
And although you may only recognise Kerry as Siobhán Súilleabháin, she has in fact been acting for years.
Here's everything you need to know about the Irish actress.
Early life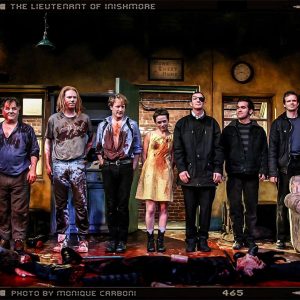 Kerry was born on January 9th 1983 to her loving family in Thurles. She secured her first acting job at just 16 years old in the film Angela's Ashes which she credits for "changing her life."
Two years later, she secured the role of Mairead in The Lieutenant of Inishmore at the Royal Shakespeare Company.
Later that year, she went on to become the youngest actress to play the role of Ophelia in the Royal Shakespeare Company's Hamlet.
"Nobody ever really put the connections together of me having done the plays and things and I do like that being known because I did get started very young," she told Indiewire back in November of last year.
Kerry and Martin McDonagh go way back
As previously mentioned, Kerry starred in The Lieutenant of Inishmore, which was actually written by none other than Martin McDonagh who also wrote The Banshees of Inisherin.
However, that's not their only connection as the pair have previously collaborated together in the play The Cripple of Inishmaan (2009), and the film Three Billboards Outside Ebbing, Missouri (2017).
Martin also told Vanity Fair in an interview how much he wanted to capture Kerry's brilliance onstage and translate it to the screen.
Revealing: "I don't think I'd quite seen how brilliant she was onstage really captured in the movies. So I wanted to make sure that we did that this time."
TV & Film credits
It didn't take long for Kerry's talents to shine on both the big and small screens as she soon made a name for herself in the HBO/BBC series Rome, The Walking Dead, and Better Call Saul.
While her film credits included: Avengers: Quantum Encounter (voice work), Unleashed, Intermission, and Ned Kelly, among others.
In an interview with Vanity Fair last September, Kerry admitted that she felt grateful for the decades-long journey of acting she has been on so far.
"Different jobs give you different gifts—that's what's great about being a working actor. If you got famous very young, you'd miss all these nuggets. You can learn so many things," she shared.
Personal life
As far as Kerry's personal life is concerned she is very much happy seeing where life takes her and isn't too pushed about getting married or having kids at this point.
"I don't really care if I never get married. I don't really care if I never have kids," she previously told the RTE Guide.
"There's loads of things I've planned for my life. So I've gone on and made plans for my life regardless of those things happening to me."
As well as that, Kerry couldn't care less about fame and everything that comes with it.
"I've never really given a shit about being famous, or if I'm going to a party I don't want people to know who I am. I really always just wanted to be an actress and get paid for it."
Recognitions
It should come as no surprise that Kerry has been recognised and honoured for her talent for many years.
Previous nominations include the Academy Award for Best Supporting Actress, the BAFTA Award for Best Actress in a Supporting Role, the Golden Globe Award for Best Supporting Actress – Motion Picture and the Screen Actors Guild Award for Outstanding Performance by a Female Actor in a Supporting Role.
We wish her all the best in this year's Oscars and can't wait to see what she gets up to next!