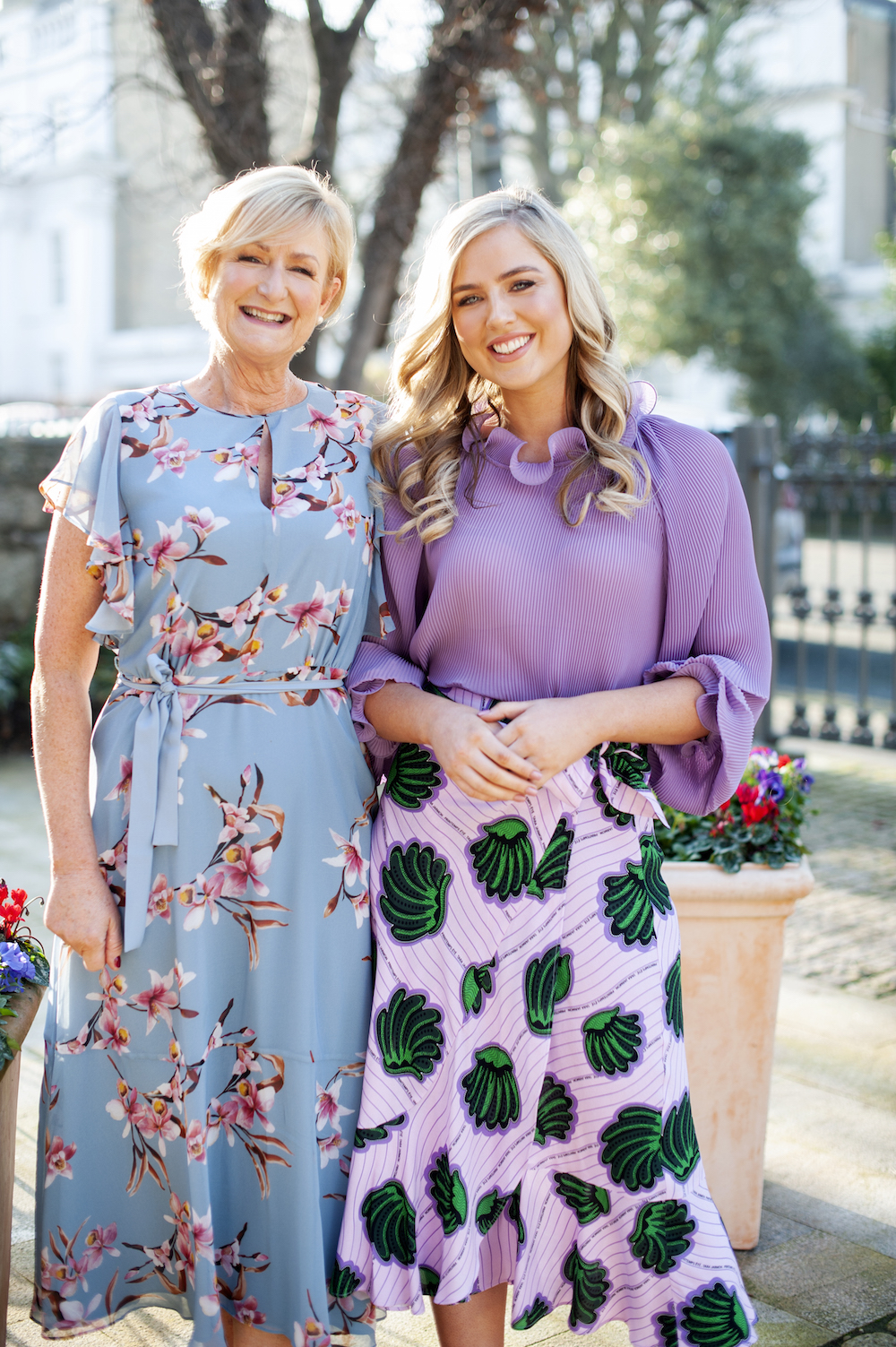 Aimee Connolly, at 27 years of age, has achieved more in her relatively short time on earth than many of us could dream of. She has grafted her way since the age of 16 to create her now beloved makeup brand Sculpted by Aimee, a business that continues to blossom. And a business that did not get to where it is without her hard work and dedication behind it. In the early days of her career, she honed her skills as a makeup artist, working on counters for Urban Decay, Benefit and MAC.
During this time she started a Facebook page 'Makeup by Aimee', a tool she used to build her stellar reputation and showcase her work, all the while putting in the extra hours to make her dream business become a reality. And so it did. Sculpted by Aimee celebrated it's third birthday in late 2019 while also launching its much-loved mineral foundation, Second Skin. Now Sculpted by Aimee products are stocked on her own website, on Irish beauty retail website Cloud 10 Beauty and in over 500 retailers nationwide. Oh, and there's a shop in Dundrum as well as an academy to train makeup artists. This is only the beginning, too, as Aimee has set her sights on global. And we have no doubt whatsoever that she will get there.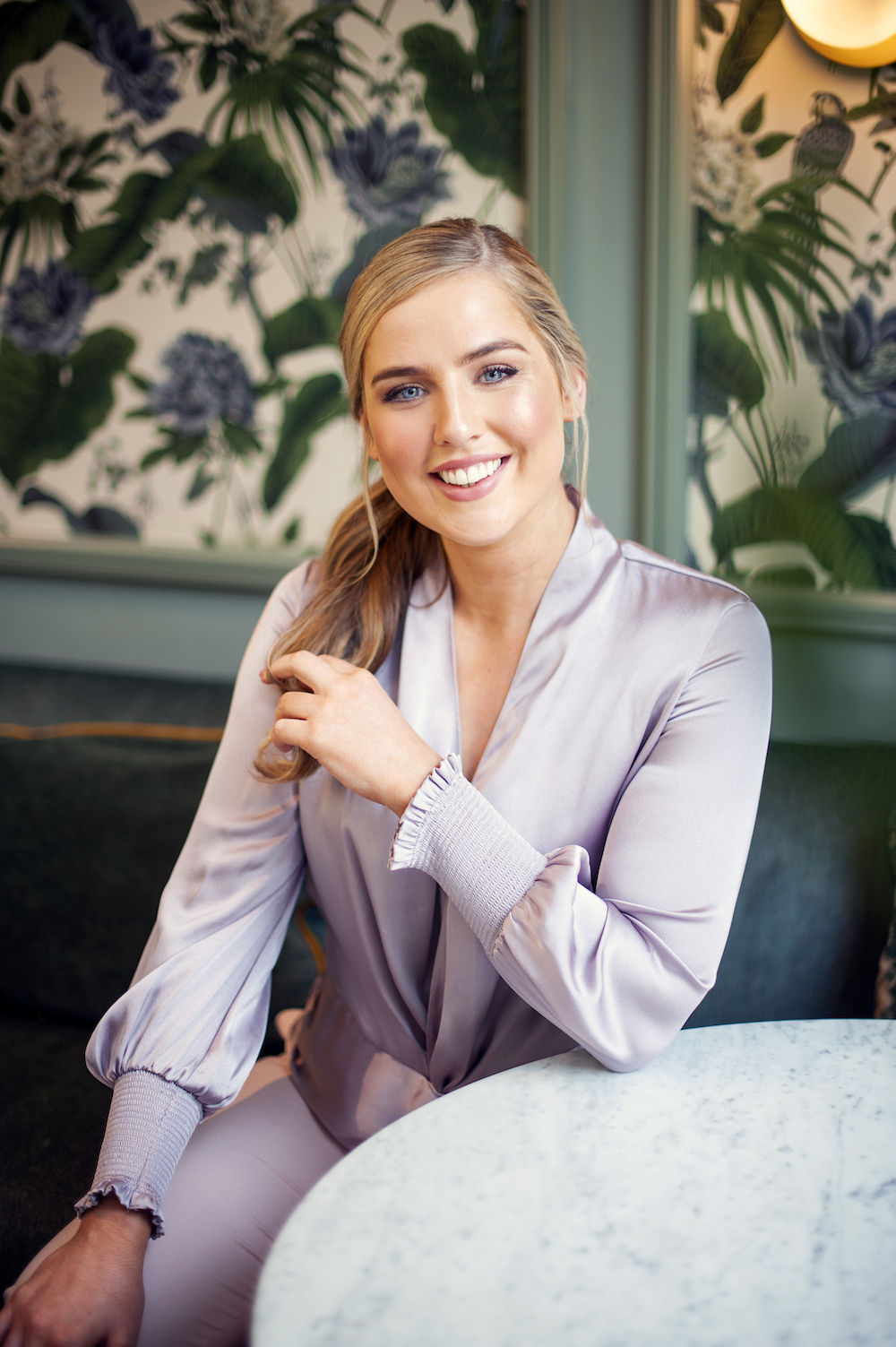 She arrives to our photoshoot in the beautiful Dublin hotel, The Wilder Townhouse, with her equally lovely mum Claire in tow. Upon chatting with her mum, who is also an entrepreneur, having started her own real estate business a few years ago following a career switch from Pharmaceuticals at the age of 50, we can see where Aimee gets it. Ingenuity is clearly in the genes. Now, this mum and daughter both work out of neighbouring offices in Dundrum.
Is there anything she can't do we find ourselves thinking? Aimee, we know, would be the first to laugh and point out that while everyone sees the glitzier bits, and that yes the great moments are great, the box packing on hands and knees, and late night phone calls to check on production are definitely the less visible sides to running her business. It's a graft for certain, but clearly a graft she adores, and that in itself is so inspiring to see. We sit down to chat with this businesswoman on the highs and lows, savouring successes, while ensuring to learn from the failures, and find out what her definition of true beauty is…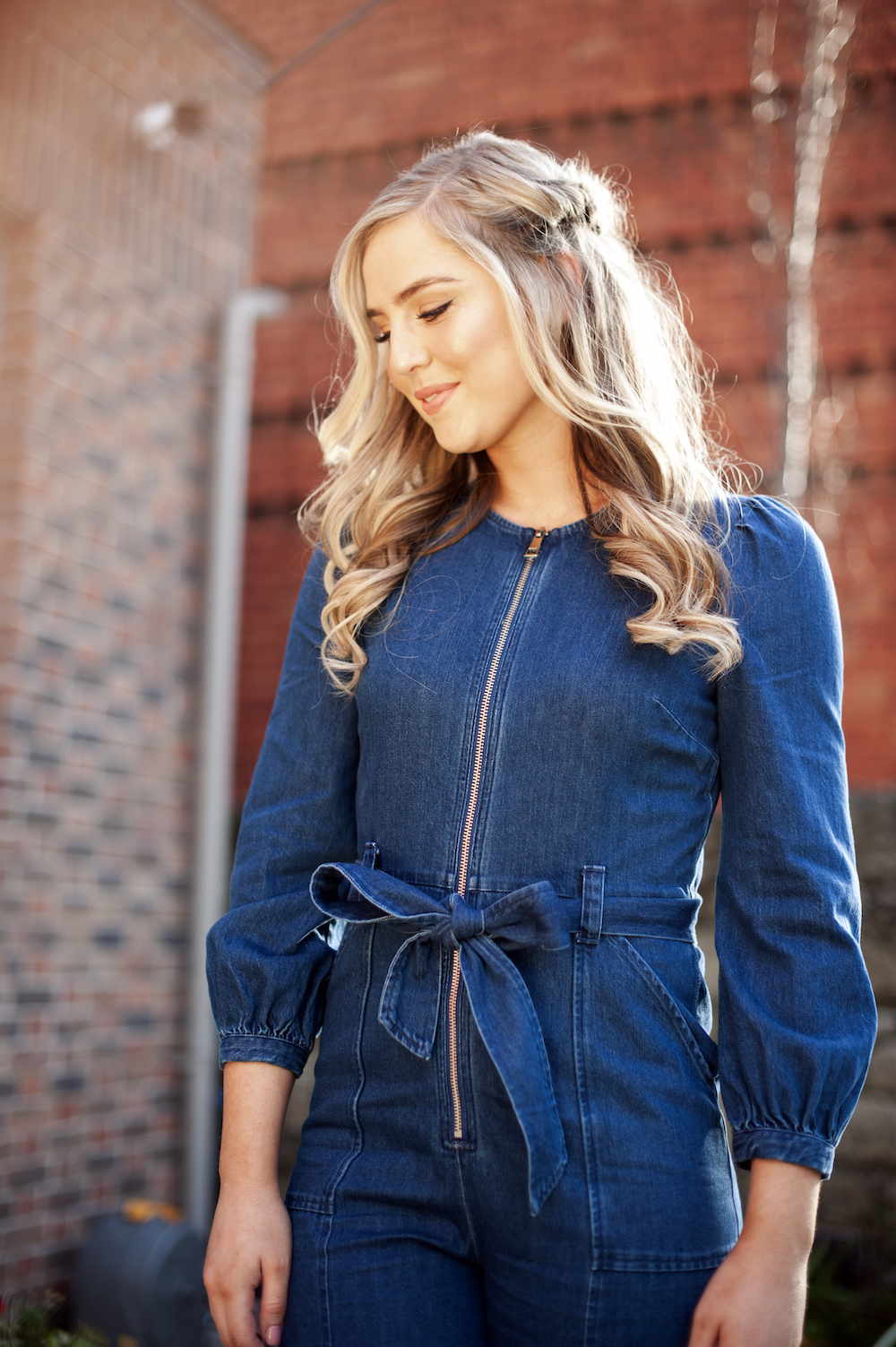 Aimee Connolly, you have a shop on the main-street in Dundrum, Dublin with your name on it. That must still give you the tingles to see what you have accomplished. What does success feel like?
[Laughs]. Thank you for saying that. I have always had very high expectations, even when I was in school… I wanted all A's, when I was in college, I wanted a first, that is just how I am. The funny thing is, I think when you're in the midst of it you're always looking to the next thing. I would rarely step back and think, "Wow, I am successful." When we launched the foundation before Christmas, I did have a moment of "Okay, I am really proud."
So let's take it right back to the beginning. Your first memory of makeup?
I was about four and my family thought I was in bed asleep… actually, I had found my mum's red lipstick thinking "this is so much better." [Laughs] They found me with red lipstick all over my face, I had literally drawn everywhere! I was delighted with myself, and thought I was the most amazing princess there was going! It definitely started early!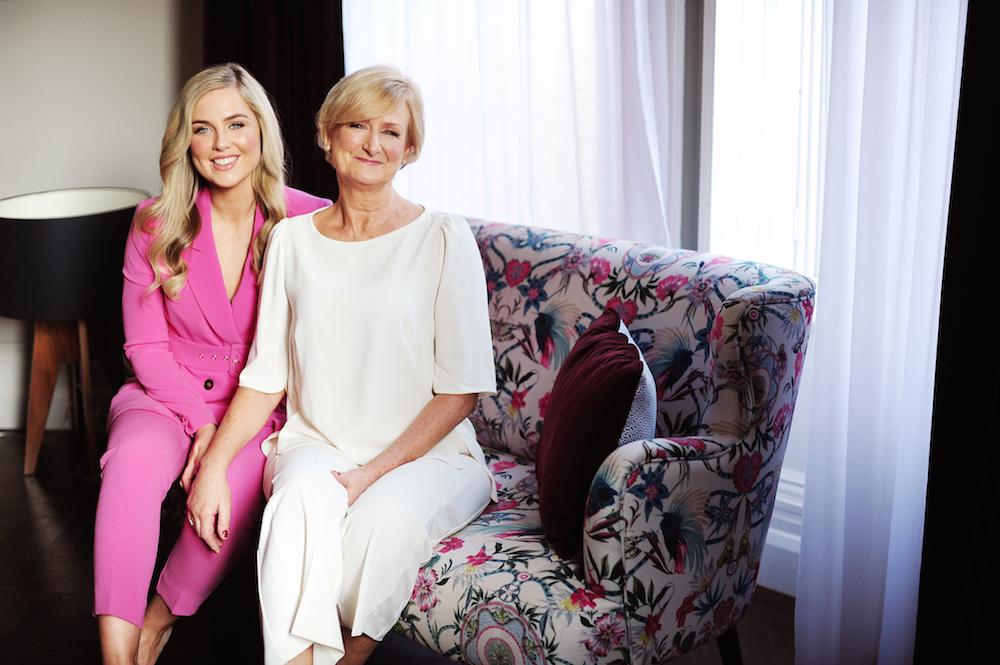 And your fabulous mum Claire is here with us today. She must have been hugely influential on your love for makeup?
I think the main thing that I think of about mum is how she would never leave the house without makeup. Makeup was just her way of feeling good. And also how she could always put on her lipliner without looking in the mirror!
We are sure, given you are both entrepreneurs, that she always gave, and still gives you great advice in business?
Yes, she is definitely a role model and would always remind me that, "You can do whatever you put your mind to!"
And it's not just practical experience in makeup that has made your business what is it is, you have a business degree?
Yes I did a four year degree – Bachelor of Commerce International – so basically Business and French. I majored in accounting and digital marketing, so it was quite random and so different. I was able to save money from working on makeup counters as well during college to be able to invest in the brand itself and not have to rely on an investor.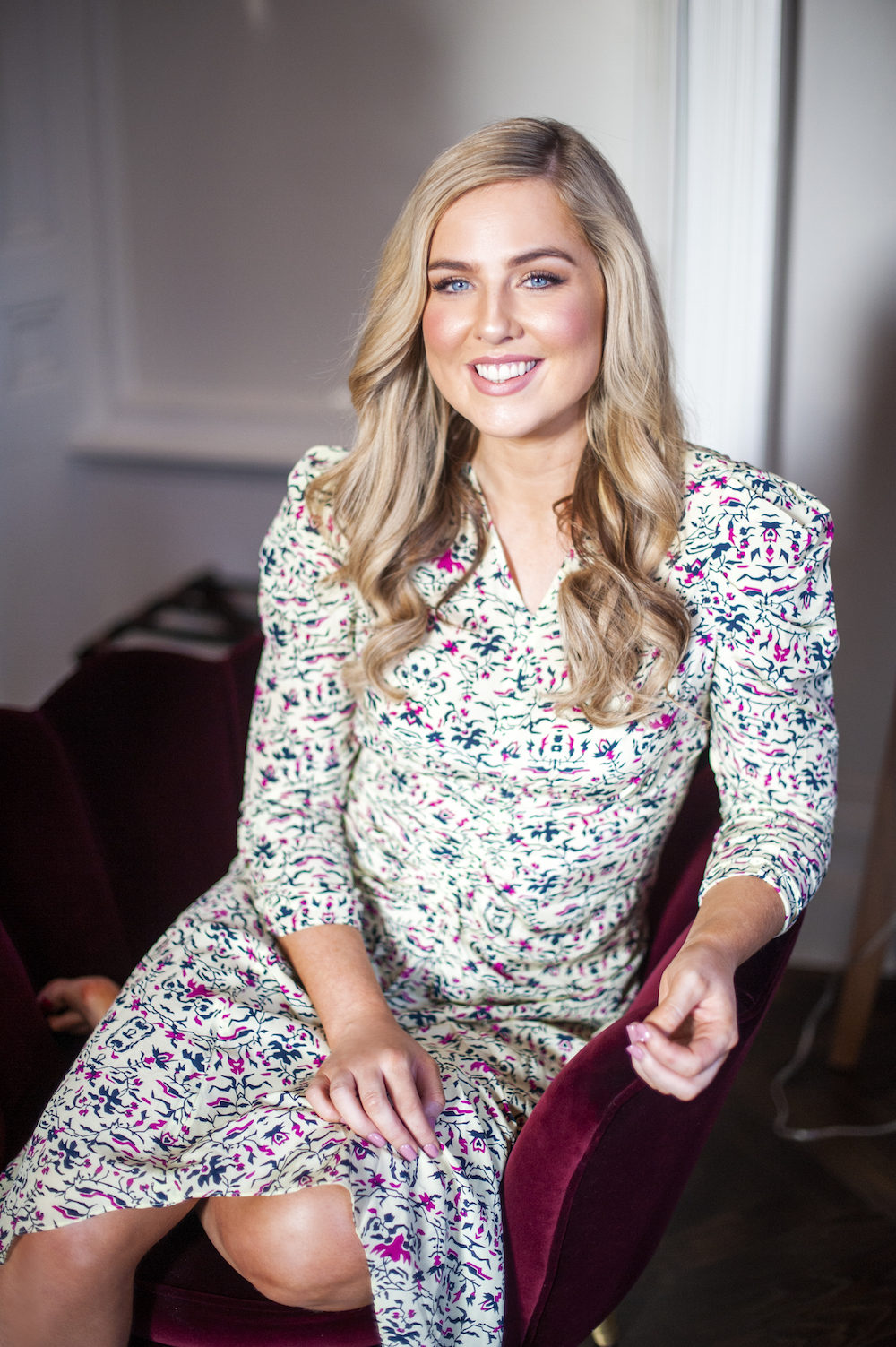 Speaking of investment. We can tell you love what you do… but the financial risks and the pressure must have been huge. Would you have had sleepless nights in the early days?
The honest answer is I just didn't overthink it. If I had thought about the risks I probably would have freaked myself out, but it was a little bit blissful ignorance! I had many meetings at the start where I totally bluffed my way through it. [Laughs] I remember Googling things after a meeting being like "Oh crap, I need to know what that means." It was an amazing experience because unless you throw yourself into it, you don't learn as fast. I learned a multitude in that first year, way more than any college could teach me.
What about now?
Nowadays, I have sleepless nights for different reasons. It's not so much the risk of things, because you're on the treadmill now, it's more, "Will that production be okay? Will it arrive on time?" So my worries are more operational-focused because logistics is the hardest part by far. Whereas, at the beginning, I just didn't consider what was ahead of me!
You did what entrepreneurs do, went for it.
Yep, I jumped in!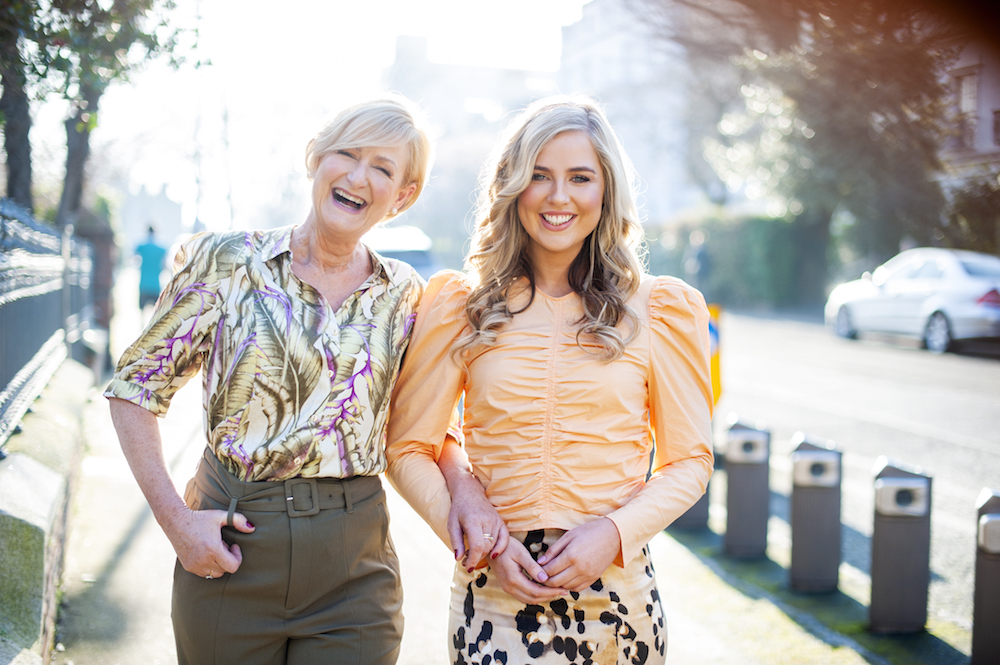 Do you enjoy being your own boss?
I really like being my own boss, but unfortunately, being your own boss means you're also the boss of other people. I find that hard sometimes. No one trains you to be a manager, no one trains you to sit down and have meetings and that kind of thing. I love my team, and I'm definitely a people person, so sometimes I find it hard when I have to be the tough boss. That's the hardest part of everything.
You are a fantastic example of someone who utilised social media to the best of its potential in business.
Yes and back then having a Facebook page wasn't really a done thing. I used to run simple competitions where you could win a palette and overnight I could gain 3,000 followers. It was totally organic back then. And it was definitely fundamental to my freelance career; that was where I used to post about my courses and then came Instagram.
Another amazing tool for businesses. Love or hate social media.
Yes. I think there's something you can't deny, that marketing/social media posting is such a big part of business. With my team, we endeavour every day to have a post and stories on Instagram. I don't know how businesses used to run without that! Obviously, it has its downside: I'm always on, so people are always messaging me, whether it's good or bad, hopefully mostly good!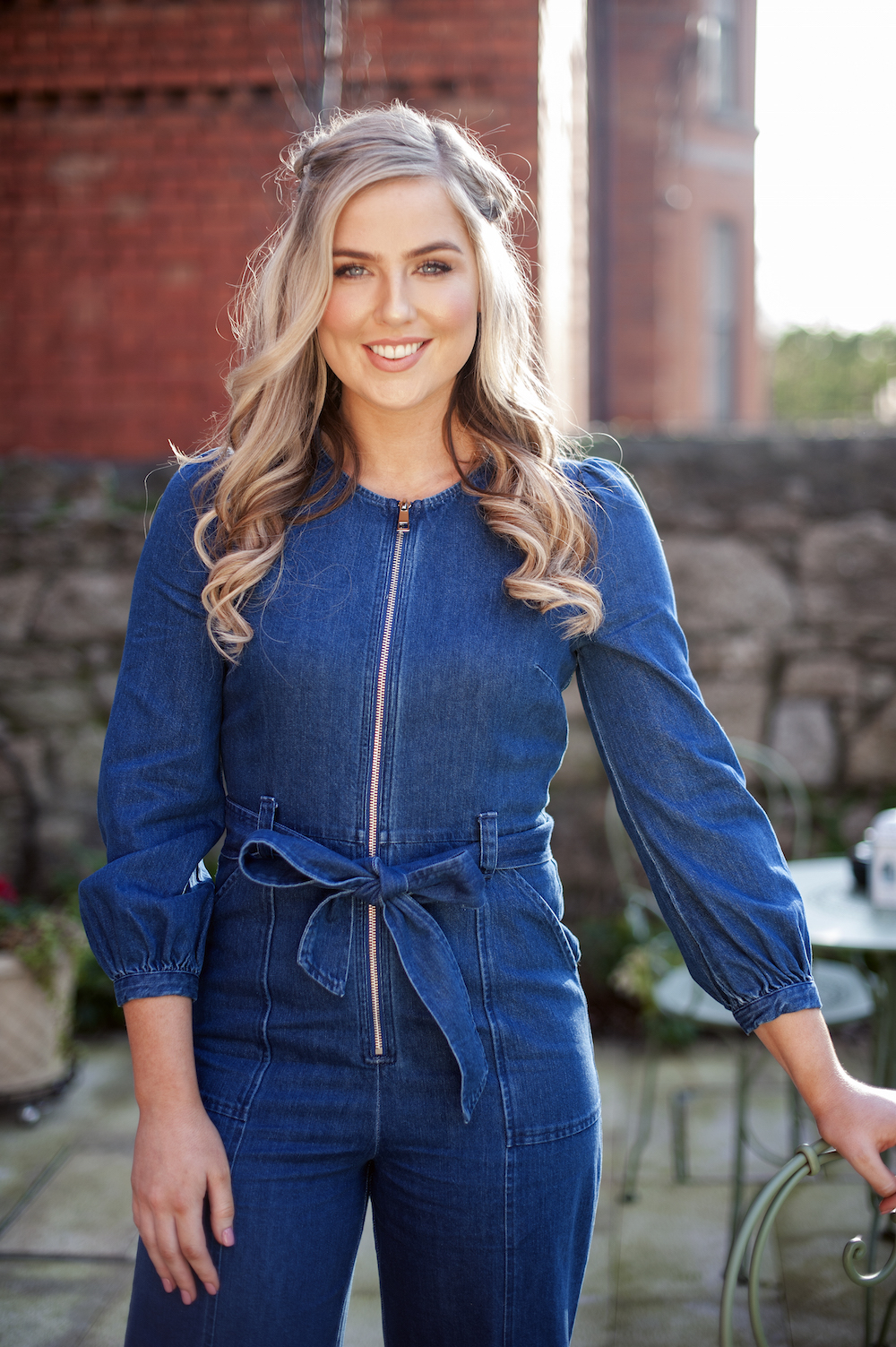 Being online, as we all know can certainly have its downsides, if you wanted a weekend away to switch off from everything…could you do it?
Oh yeah… but I don't ever do that! [Laughs] My boyfriend is often like, "Would you put your phone away!" while I'm sneaking it under the covers!
They say in business you should look to someone excelling in their field for inspiration. Who is yours?
Without a doubt it's Charlotte Tilbury. I know she is on the global scale, but I just think she's amazing. I feel like she just totally came and shook the game up, went head-to-head with brands who have been around for years, and triumphed.
And in Ireland, are there women in business you admire?
So many women. Donna Ledridge, she worked in brand start-ups but now her current brand is Vitropics,. Then of course there's Pippa O'Connor with POCO and Una O'Hagan from Meaghers Pharmacy. They are women I know, and are people who have given me their time, and it's been so valued.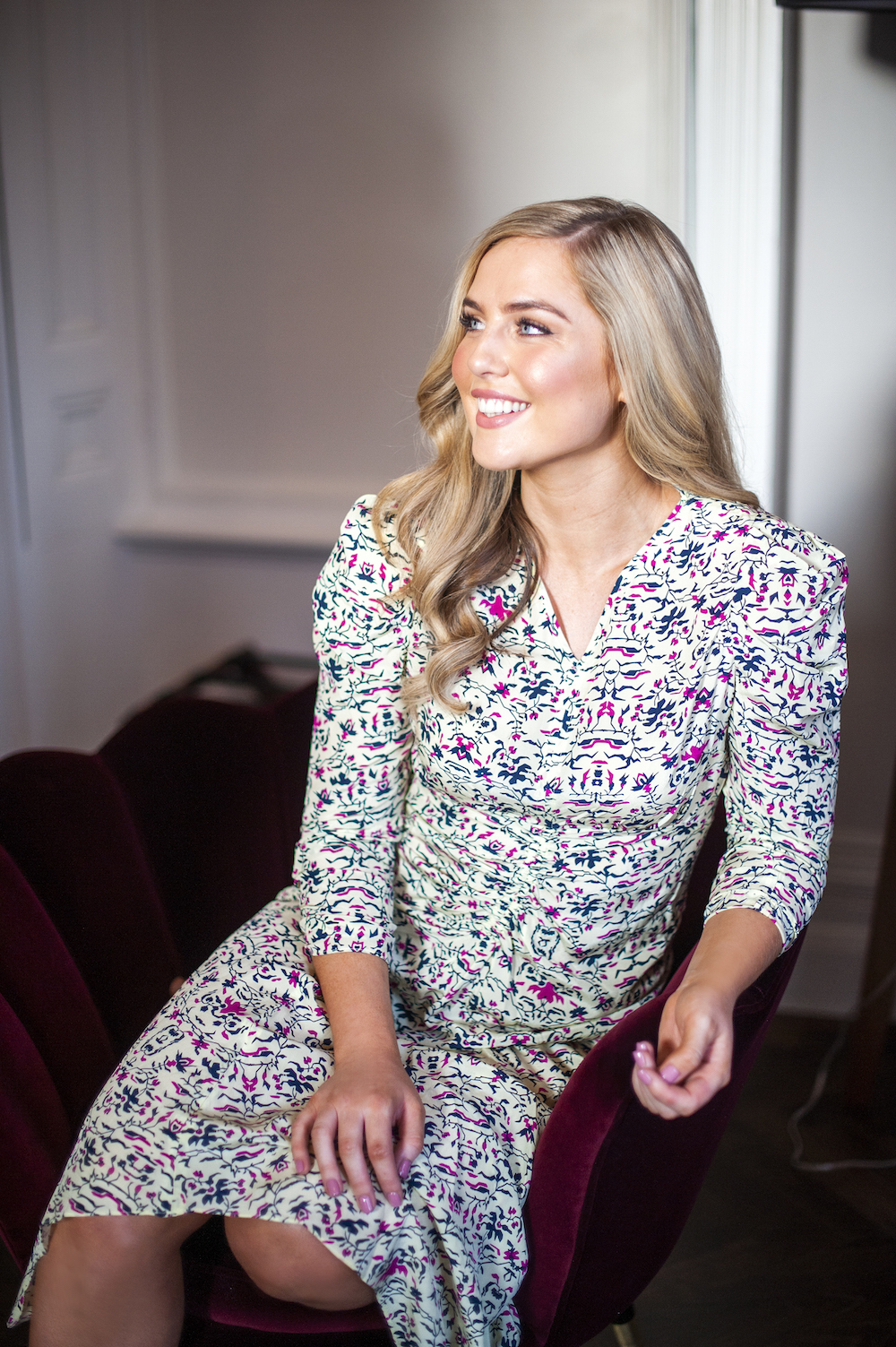 There was a lot of talk as we moved in 2020 of the decade challenge, reflecting on the past ten years as we move into the next. How do you feel looking back?
I don't have any regrets in terms of the trail that I took. It's exactly what I would do again, but I think the main thing I would say to myself is try not to care so much what people think. When you try and satisfy everyone the only person you can't satisfy is yourself. I really believe that if you work hard you can achieve anything.
Rozanna Purcell wrote an amazing post recently on Instagram about failure. We loved the candour of her words speaking about the things in business that hadn't gone right. Did it resonate with you?
Definitely. One of the biggest learnings for me is that without a doubt mistakes and issues will always happen, and it's all about how you respond to them. That was probably my biggest learning from 2019 because from the outset we had a great year with launches and of course we opened a shop, all things which I am really proud of. But nobody sees what goes on and what goes wrong. Our main production is in South Korea so I was setting my alarm for 2/3am every night for close to two weeks to try and speak to them and rectify any production issues or delays. It's insanely stressful because you've got everyone's weight on your shoulders. But all these experiences teach you.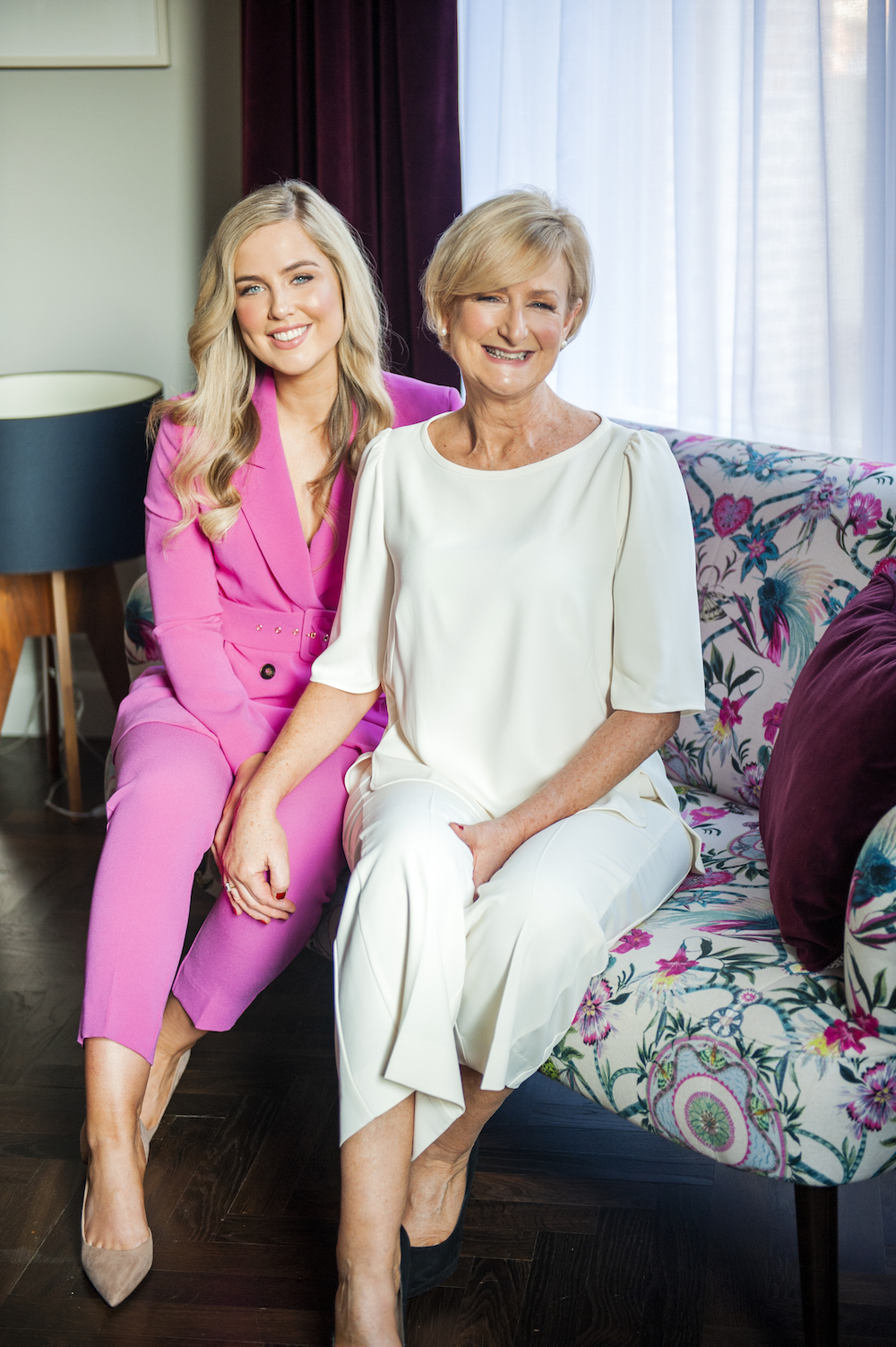 The people in your life who have navigated those highs and lows with you like your Mum…how important are they?
Mum is just amazing. She is so proud of anything I do. [Laughs] But also like any mum, she gets worried about me when I get stressed and stuff, so she is always there and she has gone through it herself with different things, even though the property market is such a different industry. It's great having that really sound network like Mum and my boyfriend John, to have a cry when I need to. Not that I would be scared to show my emotions to the team, but I am the boss at the end of the day, so I am trying to keep it up for everybody. Everyone has days where they just want to go to the bathroom and bawl their eyes out, in my case it could be a particularly disappointing phone call or email, so if there are days like those, it's great to have them.
Speaking of John, you seem like a very happy couple. John makes an occasional appearance on your Instagram?
An occasional yes. [Laughs] I have been with John since before the brand was born; I met him in my final year of college…so he's actually been there for the whole journey. I think it is so important when you work for yourself and take these risks that you're with someone who believes in what you're doing and believes in what you're capable of. It means you never meet that barrier of "Oh, do you think that's a good idea?" It's literally just "Yep if you believe in it, let's go for it." That's been so important as well.
Before you leave us, tell us, what's the best piece of life advice you think you have ever received?
Go with your gut. I know that's a simple one but I always think simplicity wins. You can do all the high-end expertise ever, but if you don't listen to the feeling in your stomach, something is wrong.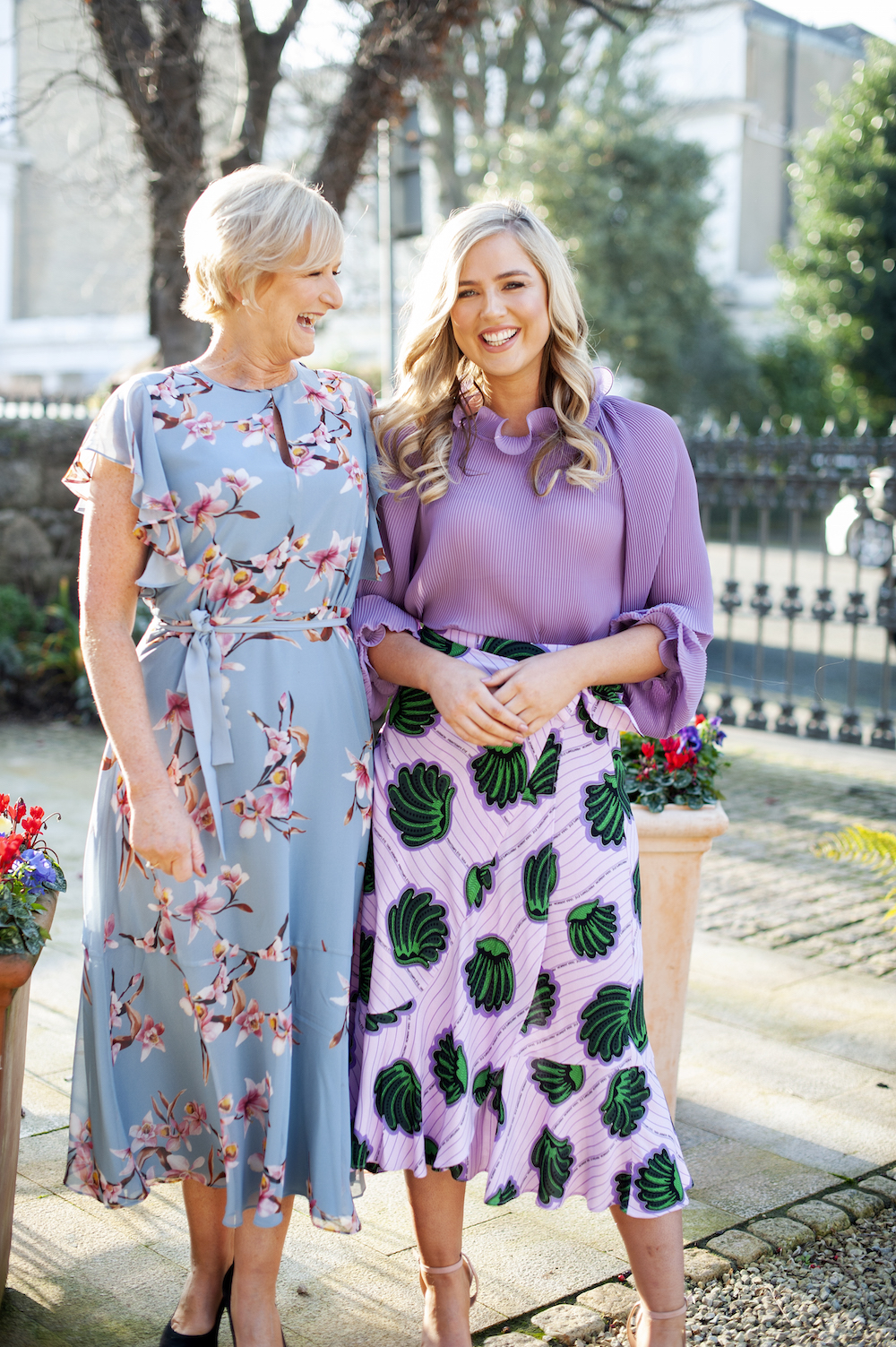 What about the best piece of business advice you ever received?
I think its just inevitable there will be failures, and it's all about how you react to them. Remembering to keep level-headed in those situations can really shape how you progress. If you crumble and fall, everyone will around you. Remember to stay solution focused.
What is your definition of beauty?
For me definitely less is more. I don't think makeup should be used as a mask, it's all about enhancing the natural you.
Finally, doing a shoot with your Mum must feel like a very special moment?
Oh yes. I think the older you get the more you appreciate your Mum. She will be getting copies for everyone. [laughs]