Vogue Williams is one busy woman, between hosting her two podcasts, raising her adorable three children and juggling everything else in between it's safe to say she has her hands full.
This morning, however, she spared some time to chat with Tommy Bowe and Katja Mia on Ireland AM where they covered some pretty interesting topics.
While discussing which of her hit podcasts she prefers – Spencer & Vogue or My Therapist Ghosted Me, Vogue admitted that her husband Spencer Matthews has in fact stormed out of their podcast in the past.
Resulting in My Therapist Ghosted Me being the clear winner, despite stating her love for both shows.
"I actually did Spencer's Big Fish podcast yesterday and he asked me the same question and I was like I am going to be honest with you," Vogue told Tommy and Katja.
"I love recording both of them and I get on really well with both of them, Joanne has yet to throw a strop and leave the podcast, Spenny has thrown two."
Vogue also added that she's left to do all the work whereas with My Therapist Ghosted Me, both her and Joanne share the workload.
"He doesn't do any of the work, Joanne and I are quite collaborative on the pod and Spenny is like, 'no you do the topics.'"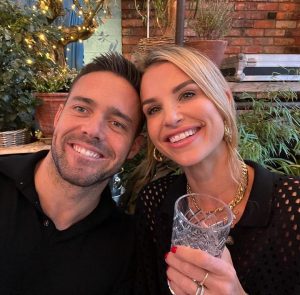 Vogue also noted that Spencer denies it, to which Emma, their producer will back her up.
"We've had to re-record two podcasts," she added.
However, Vogue did reveal it may be her Irish tendency to slag her partner that eventually got too much for him, admitting that sly digs may just be her love language.
The mum of three is currently on a come-down following her recent skiing holiday to an undisclosed location.