Vogue Williams and Spencer Matthews tied the knot nearly four years ago. But now model Vogue is opening up about the beginning of their romance. Sharing how Spencer's big proposal actually had to be changed last minute.
Speaking to Giovanni Fletcher on Disney's new podcast, Journey to the Magic, Vogue shared how the pair got engaged on a night at the theatre while seeing Lion King the musical.
But the magical night didn't go as Spencer had hoped. As Vogue explained; "He proposed to me at the show. But it's Spencer's all-time favourite Disney film and it is the only thing he's ever cried at, and he loves it."
"So, it was kind of like he did his best proposal for himself. He could have taken me to Beauty and the Beast! He asked them, 'can I go on stage and propose to her at the end?' and they were like, 'well, no, it's a West End show and other people are watching it.'"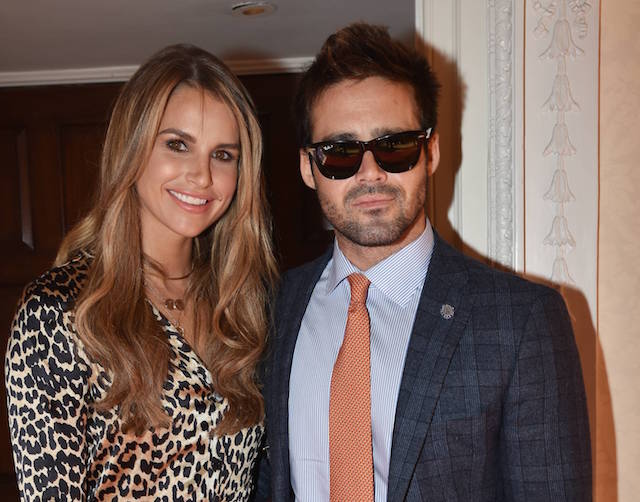 But while Spencer's dreams were dashed, Vogue's weren't as she actually hated the idea of a public proposal, and was glad the theatre had said no.
Explaining; "That is my worst nightmare." Instead the Dublin native was thrilled with the private proposal which took place backstage instead.
As she revealed; "In the end it happened backstage, and we met the cast and stuff, and it was really nice because it's a really cool stage and you've got all the pride rock background and all that kind of stuff which was really cool."
While it wasn't what Spencer had in mind, the former Made In Chelsea star is also very happy with how it turned out. With Vogue saying; "He doesn't really have any regrets, no he thinks it was great, it was quite nice. He had a great time."
The couple has come along way since that proposal, having three children together, with their newest bundle of joy arriving last month.
They welcomed their son, baby Otto, into the world on the 18th of April . Announcing the news with a sweet snap of her three children, she said:
"We are so happy to announce that our beautiful boy arrived safely on Monday evening. Bursting with love, he is the perfect addition to our family."
Spencer also shared the news to Instagram saying; "And then there were three…"