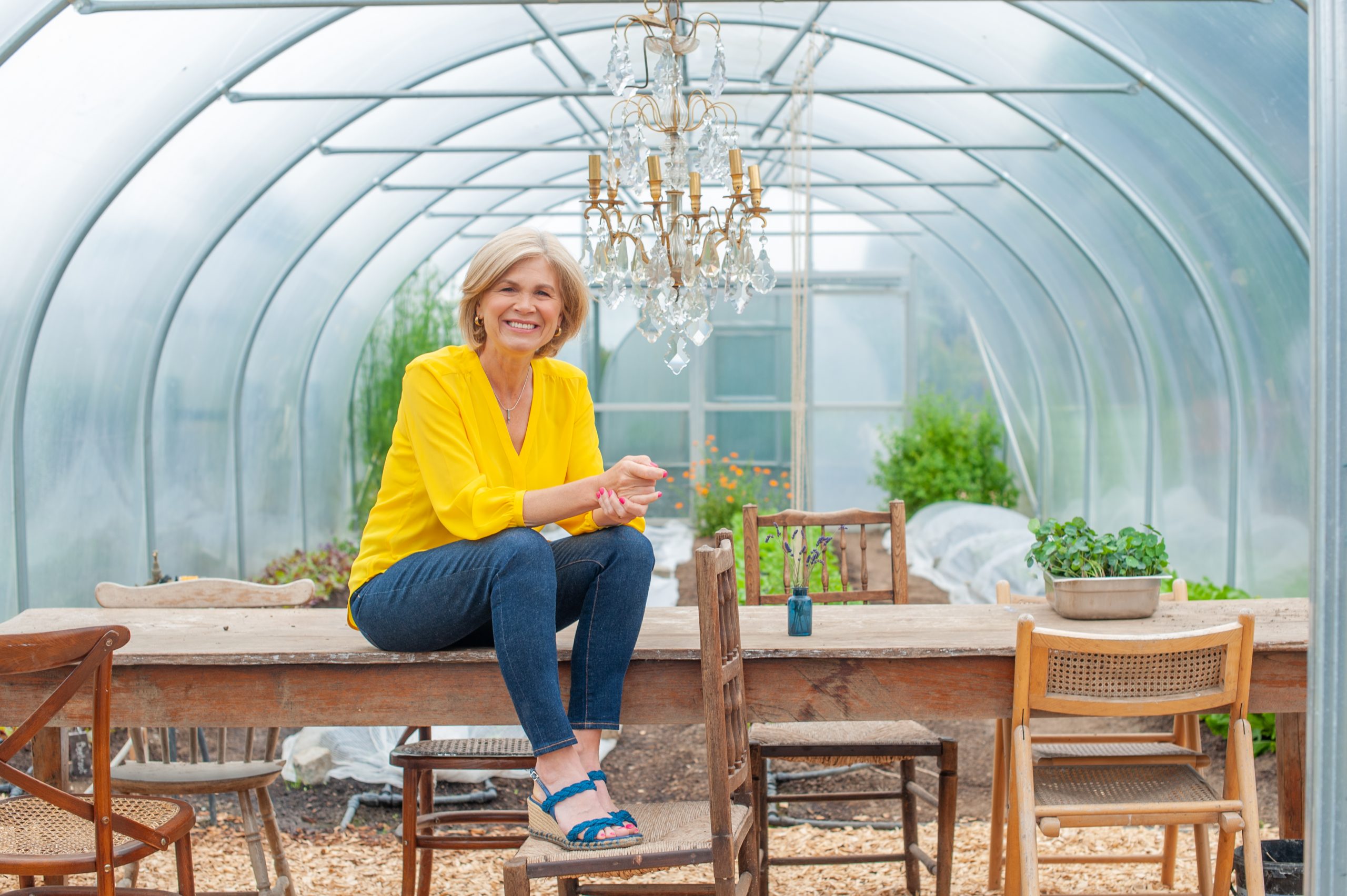 She's a lady. A real proper lady. Elegant, poised and perfectly presented RTÉ's Anne Cassin never has a hair out of place. However, last year, just before Lockdown 1, when she trekked to Everest Base Camp with her husband, RTÉ colleague Donagh McGrath, you would have seen a very different side! "At the end it was so flippin' cold we slept in our clothes", she laughs. Many a hair out of place then!
Stepping out of the limelight and allowing others to shine has always been Anne's prerogative on Nationwide, which she co-presents with Bláthnaid Ní Chofaigh thrice weekly. "Our job" she tells us, "is to tell other peoples' story". A career which began in the newsroom sowed these seeds of impartiality, she says. "You would never reveal who you vote for, your religion even."
So today when we met at the divine Spa at Cliff at Lyons in Celbridge, we truly didn't know what to expect. What we got was a dry witted, full of chat, easy to love mother-of-three whose practical professionalism resulted in the fastest shoot in VIP history. No faff, no fuss, all fun. Job done!
Having trekked the nations highways and byways (since replacing Michael Ryan in 2012), talking to folk this island over, we asked Anne about the mood on the ground as we attempt to emerge from the ashes of this pandemic. We also talk about finding love in the newsroom and how she needs to work for self expression.
To be a journalist you must be curious, and curious you are. It's why you enjoy telling people's stories on Nationwide three days a week. But we too are curious about you! You're in our living rooms thrice weekly but yet we know little about you.
I am private; I am low key; I live a very ordinary life! I am a full time mother. Two of my three children are in college. I also have a 16 year old who is going into her Leaving Cert year. My family life is very busy, but fulfilling. I would absolutely concur with you that to be in broadcasting you must be curious. Because while it's flattering and great to be the face of a show like Nationwide, my job really is to make people comfortable and draw their story out.
I don't give my opinions too much and I think that's because I come from the newsroom where you didn't offer your opinion – that would be sacrosanct! You never revealed how you voted or your religion. I suppose if we have a mission statement on Nationwide it would be to shine a light on others achievements.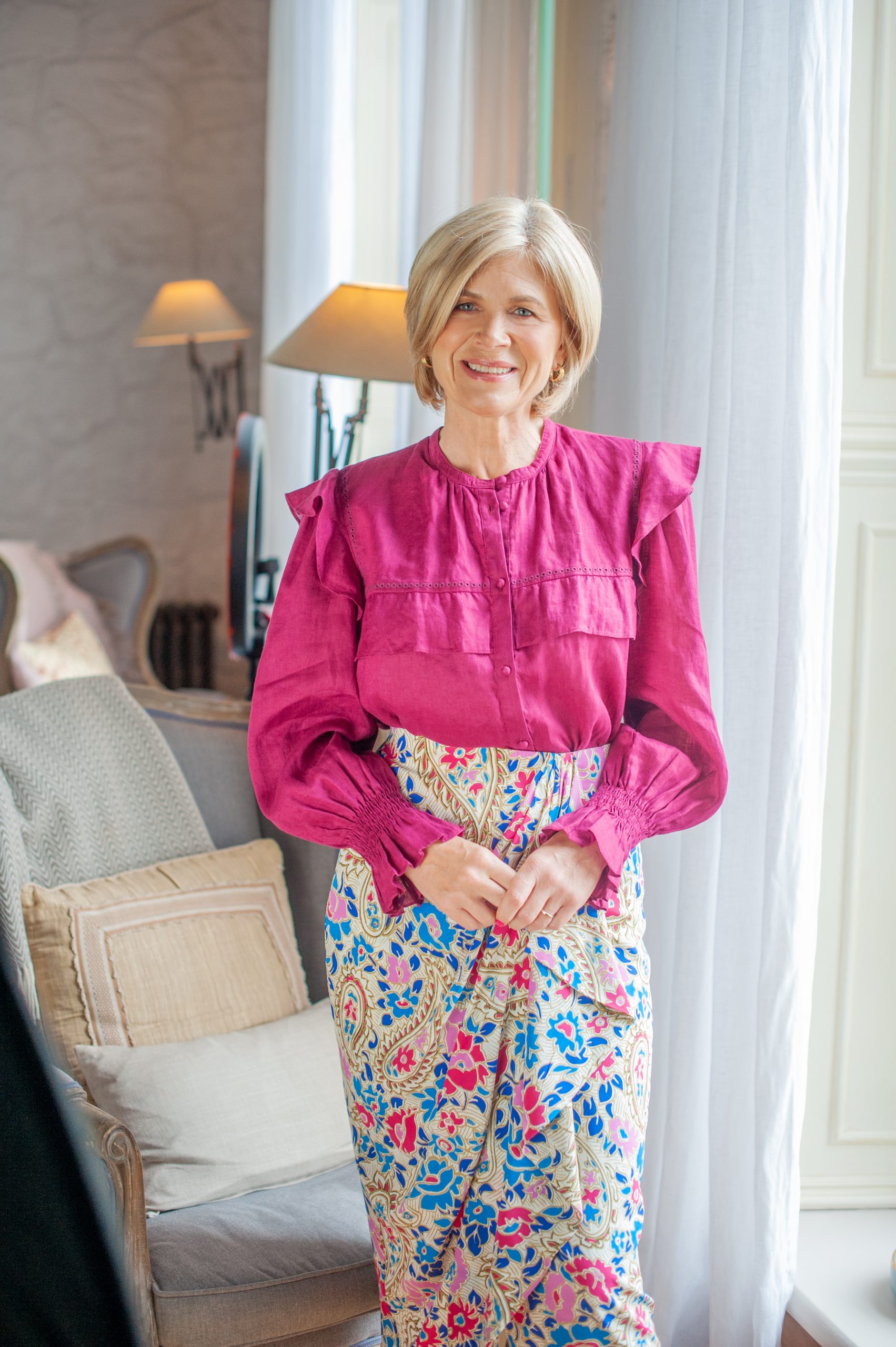 When you say your life is "ordinary", aren't all our lives ordinary though?
I suppose they are. I have a job where I get to dress up and visit fabulous places, but yeah I still have to do the hovering, walk the dogs or, commander the kids to walk the dogs! I still have to do the dinners, the parent teacher meetings, the standing on the pitch sidelines. It's all the type of stuff everybody else does.
How would your family and friends describe you?
[Thinks] I think my friends might say I'm easy to get on with? My family mightn't alway say that though! They might say I worry a bit. That I can get uptight about stuff. I worry about life and kids and other people. But I also like to have a laugh! I think Covid has tested us all though. Personally I found it really difficult. Myself and my friends made a concerted effort to meet up outside regularly. That helped for sure.
We here at VIP consider it a great privilege to visit and talk to people all across this country. And everybody we meet teaches us something. Does your work enrich your life?
Big time. I would agree that it's a real privilege to get access to people, and sometimes they share very personal and very sad stories. Two recent interviews that stand out: Seamus O'Rourke the author who wrote his book during lockdown. And Colm Toibin who brought me around Enniscorthy. I also met a great woman recently called Orla Byrne who's an ambassador for Breast Cancer Ireland and she shared her story. You do indeed take nuggets from every interview.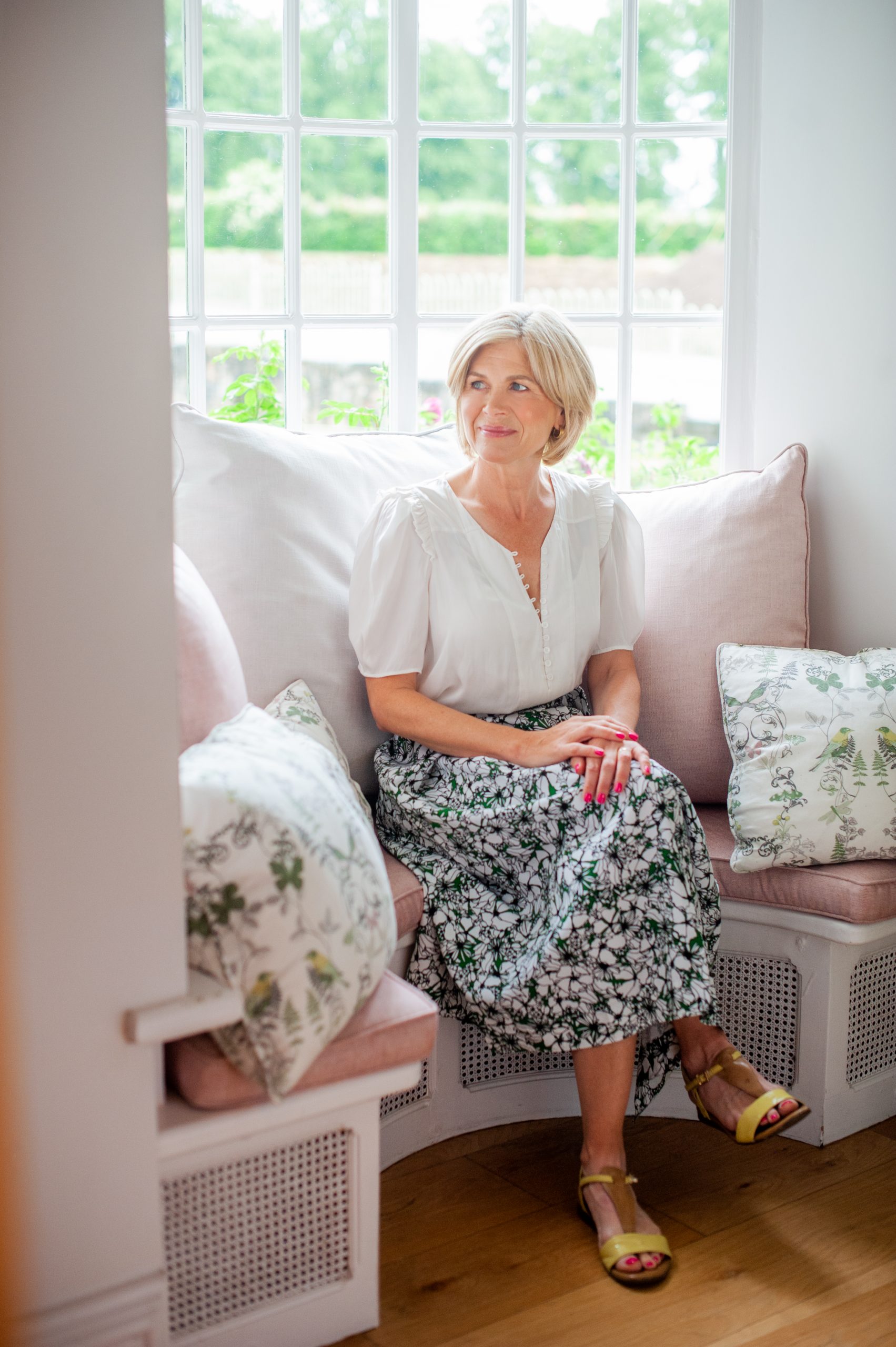 One nugget of info we know about you is that you love to run…
Urgh [laughs]…I don't really love it! I do it!
Well, also, that you trekked to Everest Base Camp with your husband, RTÉ colleague Donagh McGrath, and were lucky to get out of Nepal just before lockdown!
Yeah, we went at the end of February 2020. The walk to Everest Base Camp took us nine days. I didn't get any altitude sickness, we encountered interesting characters along the way, slept in our clothes near the end of the trip because it was so flippin' cold! And then we flew back to Dublin and walked into the house to hear Leo Varadkar saying we were going into lockdown. 15th of March it was and the country closed down, so we were just really lucky to get this amazing experience under our belts because I do think it will be quite a long time before I get on a plane for a long haul flight again.
Did you find enlightenment on top of your mountain, or was it a lesson, simply, in endurance?
It was Donagh's dream always to do this. He is stronger and fitter than me. But I have some type of endurance thing in me. I am fairly determined, fairly dogged. But I ain't no sportswoman! It was just an amazing experience, although pretty hard, especially when you're used to home comforts! After my two weeks of isolation on return I got in the car and hit the road for Nationwide.
Donagh, as well as being the husband, is an RTÉ colleague!
Donagh is Deputy Head of Radio Sports and News. We met in the newsroom where all great love stories begin!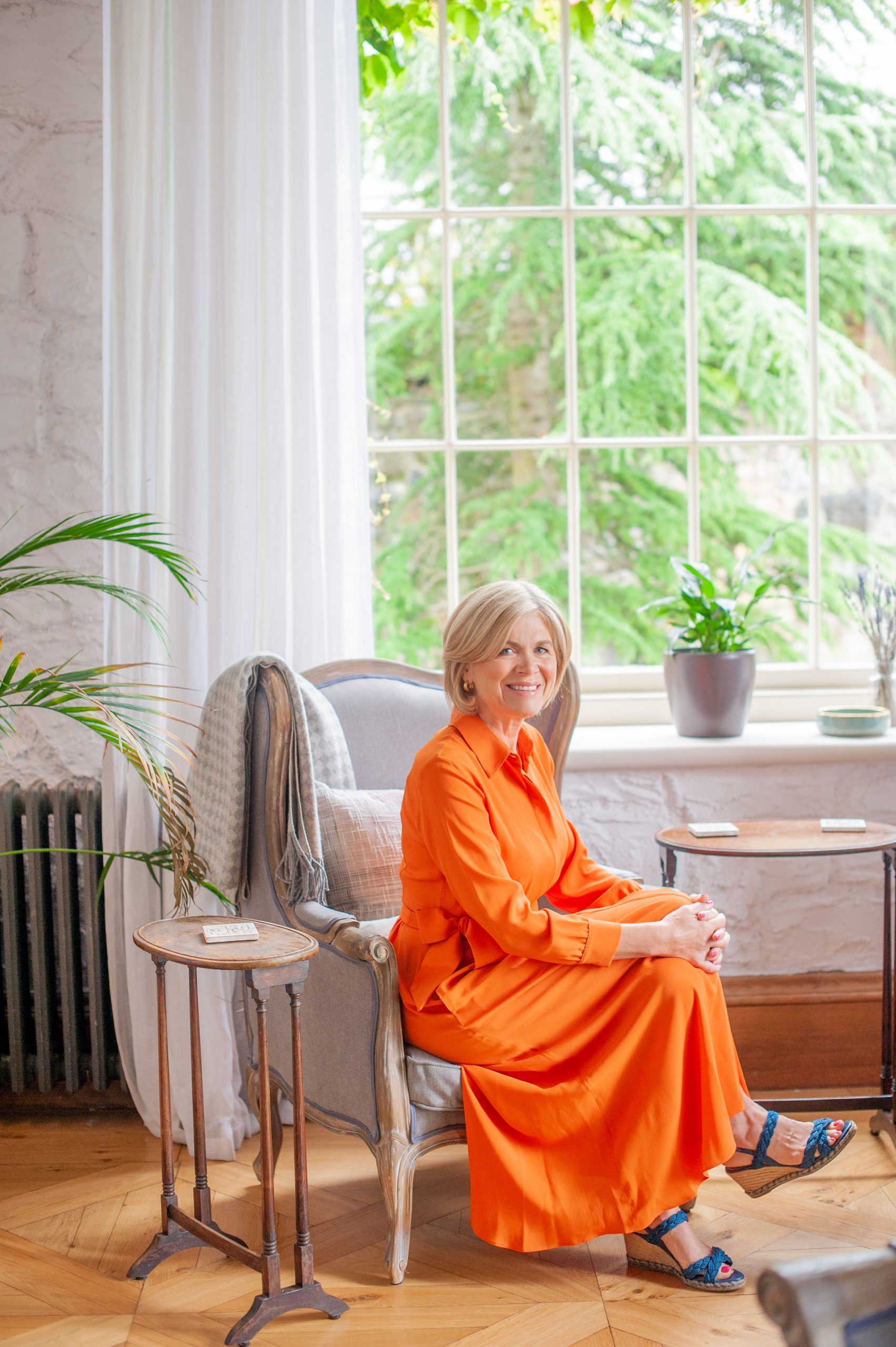 The romance!
[Laughs] It was a long time ago now! I was the sportscaster and he was in the news division as a reporter.
It must be nice to be with someone who totally gets what you do?
Well, we're very different. He's behind camera and I'm sort of front of camera. But we do understand each others world. I understand his working day starts early and finishes late because he's following bulletins. I think it's healthy though that we don't work in the same area. I think that would be hard.
This shoot went down in history as our fastest ever! Of course, we shouldn't be surprised with a broadcasting veteran like you who researches/records/edits five days a week. You're well used to getting the job done.
I think that's fair. I like to be considered professional. I had wasting people's time.
Throughout the pandemic Nationwide has remained on air. For someone who likes to work, you must have been delighted for the distraction and also, that you could offer viewers that distraction too.
I do like to work, I like to be occupied. And yes in the very early stages it did feel a real honour to be on the road when the country was in strict 2klm lockdown. A couple of programmes really stand out, we did a programme on Good Friday 2020 and I remember doing a PTC [piece to camera] in front of the Catholic Church in Waterford and I remember thinking that for the first time since famine times people were not able to come to worship on Easter Sunday. It felt like an extraordinary time to observe. But it certainly gave me a focus, and it was a privilege to be able to drive places when so many were stuck working online at home – and with kids.
The travel we are sure at times is draining. But it's also a private escape!
There is that sweet moment when you've all your gear, you're on time and you're heading away full of optimism, feeling slightly like you're off on holiday! Then contrast it to being at the other end of the country and you need to get back home and are fighting the clock. As a mother you can angst about that. So it cuts both ways.
Who do you call and what do you listen to when on the road?
If I'm traveling at night I'll listen to RTÉ, or podcasts. I'm not a great podcaster but I did listen to S Town, Dolly Parton's America and The Irish History podcast by Finn Dwyers. But a lot of the time it's radio.
Are you a slave to Google Maps?
Yeah, but manys the time I've been brought on circuitous routes so much so that when I was doing some filming about the Royal Canal I had to go and buy a map, a physical paper map, because the Internet went on my phone! I was so stressed that day because I couldn't access the Internet and Google Maps that I put petrol into the diesel car! That was awkward!
To go back to the work ethic for a moment, we're guessing it wasn't licked off stones. Your late father, the actor and stage director Barry Cassin wrote in his 2012 memoir about your mother Nancy who ran the family farm, "She drives tractors. She reaps. She sows. She dehorns cattle".
Yeah, I think you must absorb work ethics unconsciously at a very deep level at a very young age. I would be pretty diligent, pretty conscientious and I've always worked and always been proud to work; proud to be a working mother. I don't always think it's the easiest option, neither do I think is it easy to stay at home. I personally just needed self expression and that is why I have always worked. I think at this stage in my life I would be open enough to admit that work is part of my identity. But I wouldn't be a slave to it either, I'm not a workaholic. I'm looking forward to my leave in two weeks time.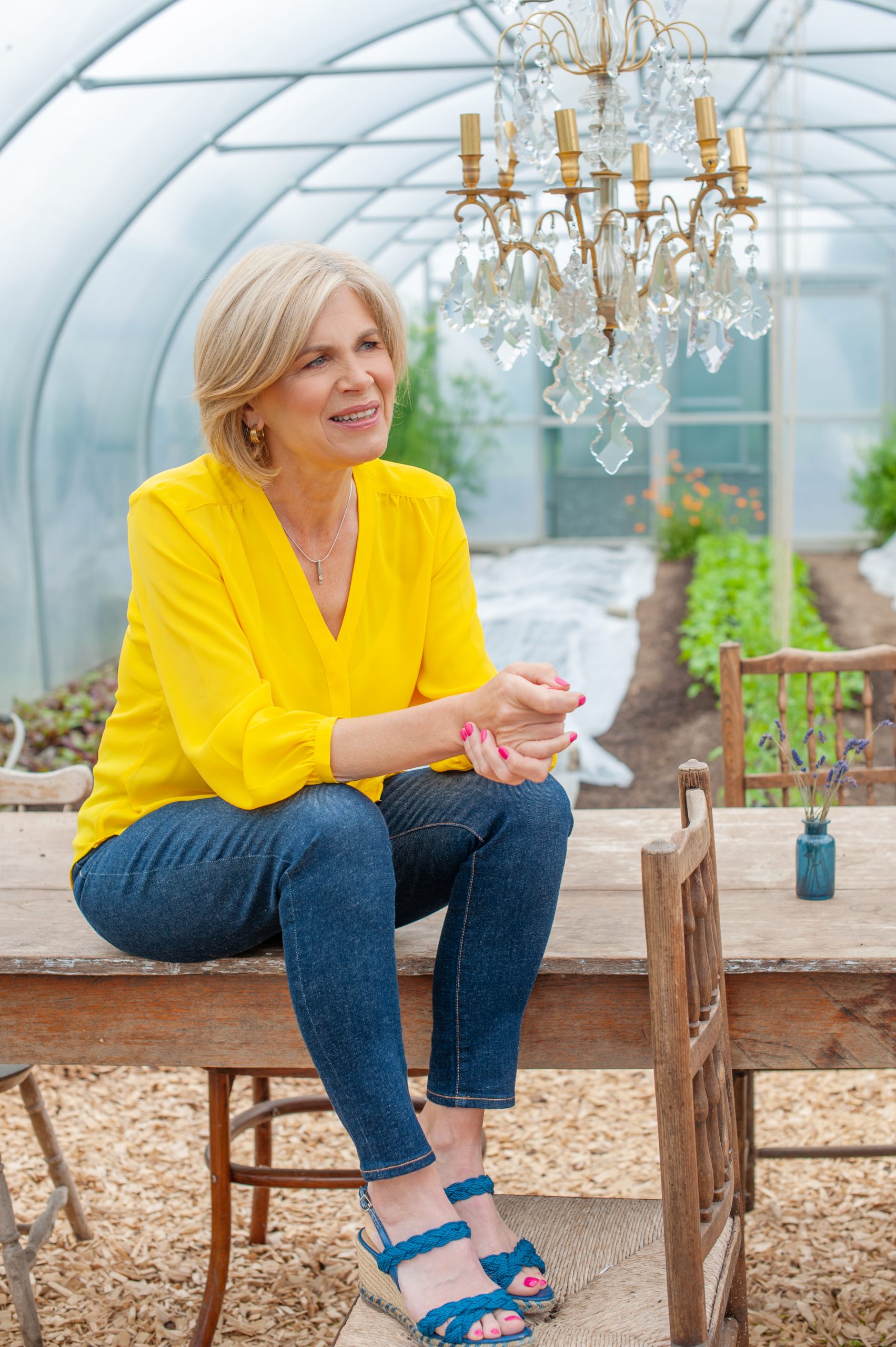 With an ear to the ground on a show that has been a window and mirror to the nation since 1993, what do you think is the mood of the nation as we – hopefully – emerge from the ashes of this pandemic?
The feeling is one of a huge desire to get back living fully again. A need to move, to open up, to express. That's what I would get. My sense is that people have been hugely adaptable but now they want to get past this pandemic.
We see you here in the polytunnel getting your hands (sort of!) dirty. Tell us about your work with the Epilepsy Care Centre.
Well I'm not much of a gardener but I am growing my own tomatoes after visiting the Malahide Allotments! There are over 300 plots on the site, 75 of which are reserved for people with epilepsy. As Ambassador for the Epilepsy Care Foundation, which runs the allotments, the aim is to fundraise and build an All-Ireland Care Centre to provide assessment, respite, care and education for people with epilepsy and related conditions. There are 50,000 people with the condition on the island of Ireland and there's great need for such a facility.
With the knowledge you have of this great land of ours, where will you staycation on your upcoming leave?
We staycation every year in west Kerry. We have done it for the last 16 years. We went down there when my youngest child was six months old. We've got great friends who always holiday with us. All the solidity, the rhythm of doing the same thing ever summer has been quite grounding for us, hopefully for the children too.
INTERVIEW: Bianca Luykx
PHOTOGRAPHY: Lili Forberg; misslili.net
STYLING: Megan Fox
MAKEUP: Michelle Field; michelle_field_makeup
HAIR: Jodie Murray; The Room, Sandymount, Dublin 4, theroomd4.ie
Nationwide airs Monday, Wednesday and Friday, RTE One, 7pm.