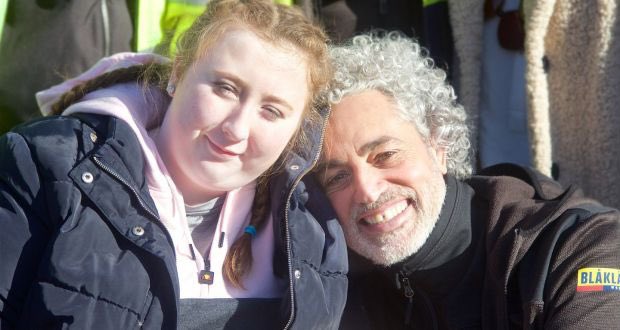 Viewers were overcome with emotion as they tuned into Baz Ashmawy's new show, DIY SOS.
The programme, which aired on RTE last night, saw a group of volunteers help renovate a home, after an accident left teenager Amy Mulcahy wheelchair bound.
She could no longer sleep in her upstairs bedroom, had to move into the family living room, and struggled to move through her Limerick abode.
In just under two-weeks, Baz and the team transformed the home, leaving the Mulcahy family, and viewers alike, blown away.
People from all over the country flocked to social media, sharing their praise and adoration:
Bawling Baz. @bazashmawy That was just so perfectly done. @DIYSOS @motivetele #diysosirl

— Anna Daly (@daly_anna) October 18, 2020
Bawling after watching #DIYSOS what an amazing girl Amy is, and wrll done to all volunteers 👌 #NíNeartGoCurLeChéile

— Clíona Ní Cheallacháin NicChárthaigh (@niccharthaigh) October 18, 2020
@bazashmawy Well done to everyone involved in DIY SOS. I have seen similar shows on american and uk tv but there is no comparison with tonights show. It was real and very emotional , a credit to all who contributed. Great job with the nails .💅

— Susan T. (@ruby_leffe) October 18, 2020
Really enjoyed the show tonight and looking forward to the next. Perfect Sunday tv but also perfect for reminding ourselves that there is good out there! #DIYSOSIRL #diysos #diysosireland

— Jennifer McCormack (@jenniemc94) October 18, 2020
Take a bow @bazashmawy and the volunteers and crew from Limerick #DIYSOS Splendid show. pic.twitter.com/87V5fGPVvq

— Jonah Roche (@Skillshop) October 18, 2020
In floods watching #diysos .. while trying to explain to three children why we cry when happy, hurt and sad! Defo happy tears! Amy is the better for the show & we're all the better for Amy sharing her journey with us. @bazashmawy @RTEOne #diysos #kindness

— Adelle Nolan (@adellemac) October 18, 2020
Ah lads #diysos should be played at the start of the news to show that hope is alive and well in every local community. Well done @bazashmawy another triumph. I await my rose.

— Eoin Murphy (@eoinmurphy22) October 18, 2020
#DIYSOSIRL I am ugly crying here on the couch, my ❤. What an incredible young lady Amy is @bazashmawy fantastic volunteers & work carried out. Tnk god for those firefighters 🙏This is us, community. Oh, god this is just Ep1 😭😭😭 @rte @DIYSOS @TempleStreetHos @edsheeran

— Cathy Murray (@MurrayInc101) October 18, 2020
Love @DIYSOSIRELAND, have always been a huge fan of @DIYSOS , great to see an Irish version and @bazashmawy and his team are just brilliant.. Very emotional episode and well done to all involved..

— Fiona Halligan (@fih2) October 18, 2020
@bazashmawy omg just finished watching DIYSOS. Amazing was so uplifting to see what you did for Amy and her family. She really is one in a million what an inspiring young girl. Huge thanks to you and al the people who may this possible. #hardworkisgoodwork❤️

— Edwina Hardy (@EDBLSS) October 18, 2020
@bazashmawy fantastic job on DIY sos great show great cause great presentation by you. Huge applause to the team and army of volunteers inc fire service. Good people still exist👏👏

— Mary Sheehan (@maryfsheehan) October 18, 2020
We need more shows like this on @RTEOne What a beautiful practical home for Amy and her Family! Hats off to all the volunteers👏 Hard Work is Good Work!! #DIYSOS

— Sinead_Minchin_Amond (@minchinsinead) October 18, 2020