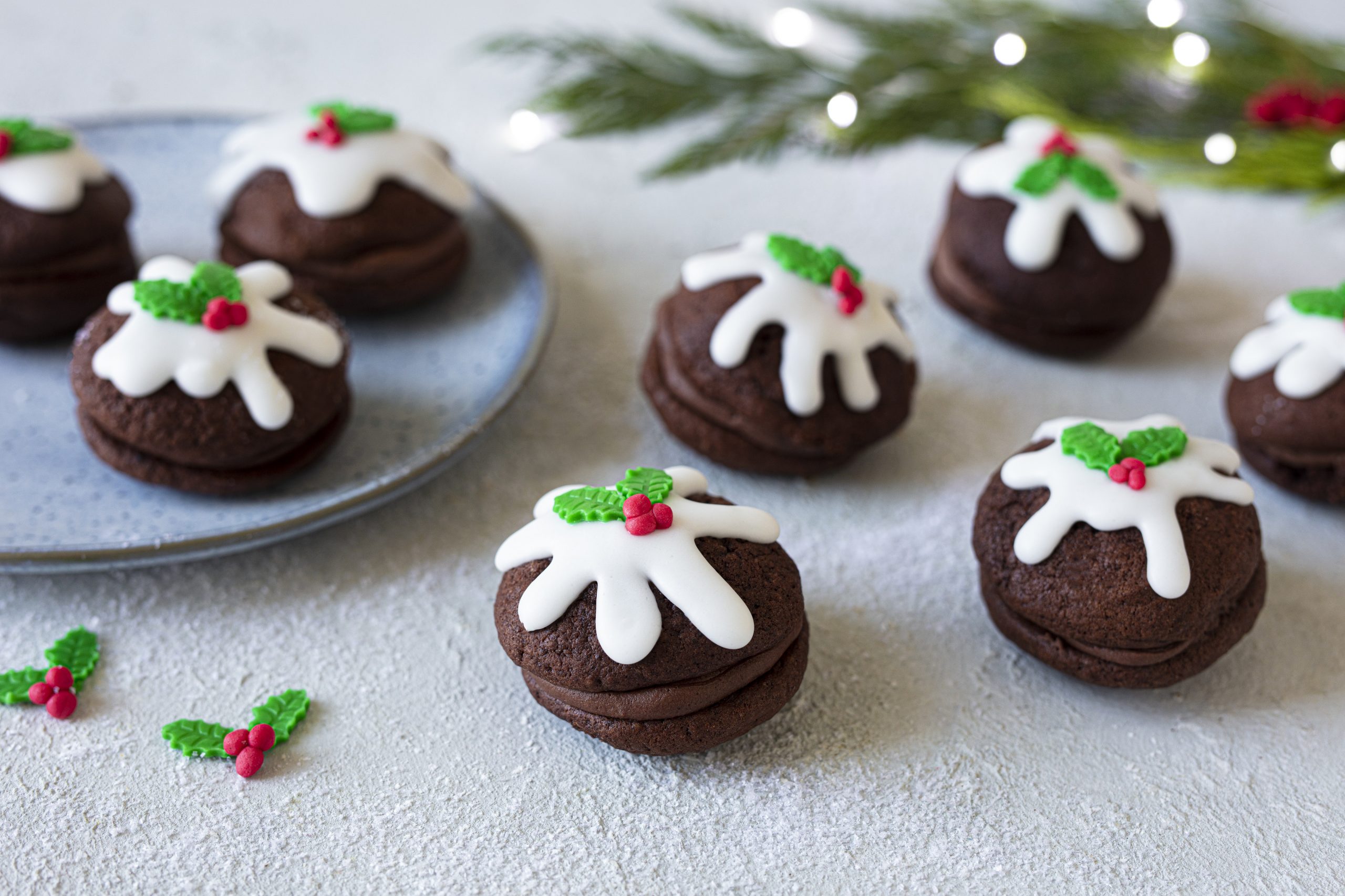 At Christmas, Siúcra recognises the importance of creating memories that last a lifetime. Whether it's spending time in the kitchen with the kids or at the table with family, Siúcra has you covered for all your sentimental baking needs this festive season.
Now that we can embrace our loved ones, it's the perfect time to show off your creative baking and cooking skills for entertaining guests over the festive period. Gift your family and friends with homemade goodies or a festive centrepiece dessert using an iconic Irish household brand, like Siúcra.
Siúcra Christmas Pudding Whoopie Pies
Chocolate cakes topped with Siúcra Roll Out Icing Sugar holly make up the perfect bite-sized Christmas pudding whoopie pies! Filled with chocolate buttercream, these will fly off the table at your holiday bash!
Serves 8-10
For the whoopie pies
125g unsalted butter, softened
200g Siúcra Caster Sugar
1 large egg
1tsp vanilla extract
350g plain flour
50g cocoa powder
1tsp bicarbonate of soda
240ml buttermilk
For the buttercream
320g Siúcra Icing Sugar
30g cocoa powder
175g unsalted butter, softened
To decorate
60g Siúcra Roll Out Icing
A few drops green food colouring
A few drops red food colouring
20g Siúcra Icing Sugar
350g bag Siúcra Instant Royal Icing
Method
Preheat oven to 180°C,160°C Fan, Gas mark 4. Line 2 large baking trays with non-stick parchment paper.
To make the pies, in a large bowl, beat together the butter and Siúcra Caster Sugar, until light and fluffy.
Add the egg and vanilla and beat until combined.
Add the flour, cocoa and bicarbonate of soda and mix. Gradually add the buttermilk and mix until combined.
Add 1 heaped tablespoon of mixture per whoopie pie onto the prepared trays, leaving space between each.
Bake in the oven for 12-15 minutes or until golden and baked. Allow to cool.
For the buttercream, beat together the Siúcra Icing Sugar, cocoa powder and butter until smooth.
Spread onto the flat side of one whoopie pie and sandwich with another. Repeat until all whoopie pies have been filled. Set aside.
For the decorations, take 50g of the Siúcra Roll Out Icing and add a few drops of green food colouring. Knead the icing until the colour is fully dispersed.
Dust your work surface with some Siúcra Icing Sugar. Roll the green icing to 5mm thick, using a small holly leaf cutter, stamp out multiple leaves and set aside.
To the remaing 10g of Siúcra Roll Out Icing, add the red food colouring. Knead the icing until the colour is fully dispersed.
For the berries, take small pieces of red food colouring and roll into balls and set aside.
Make the royal icing according to package instructions. Spoon into a piping bag and cut a small hole in the end.
Pipe small drizzles on the top of each whoopie pie. Allow the icing to set for 5 minutes before adding 2 holly leaves on the top of each pie and 2-3 icing berries. Repeat until all the pies have been decorated.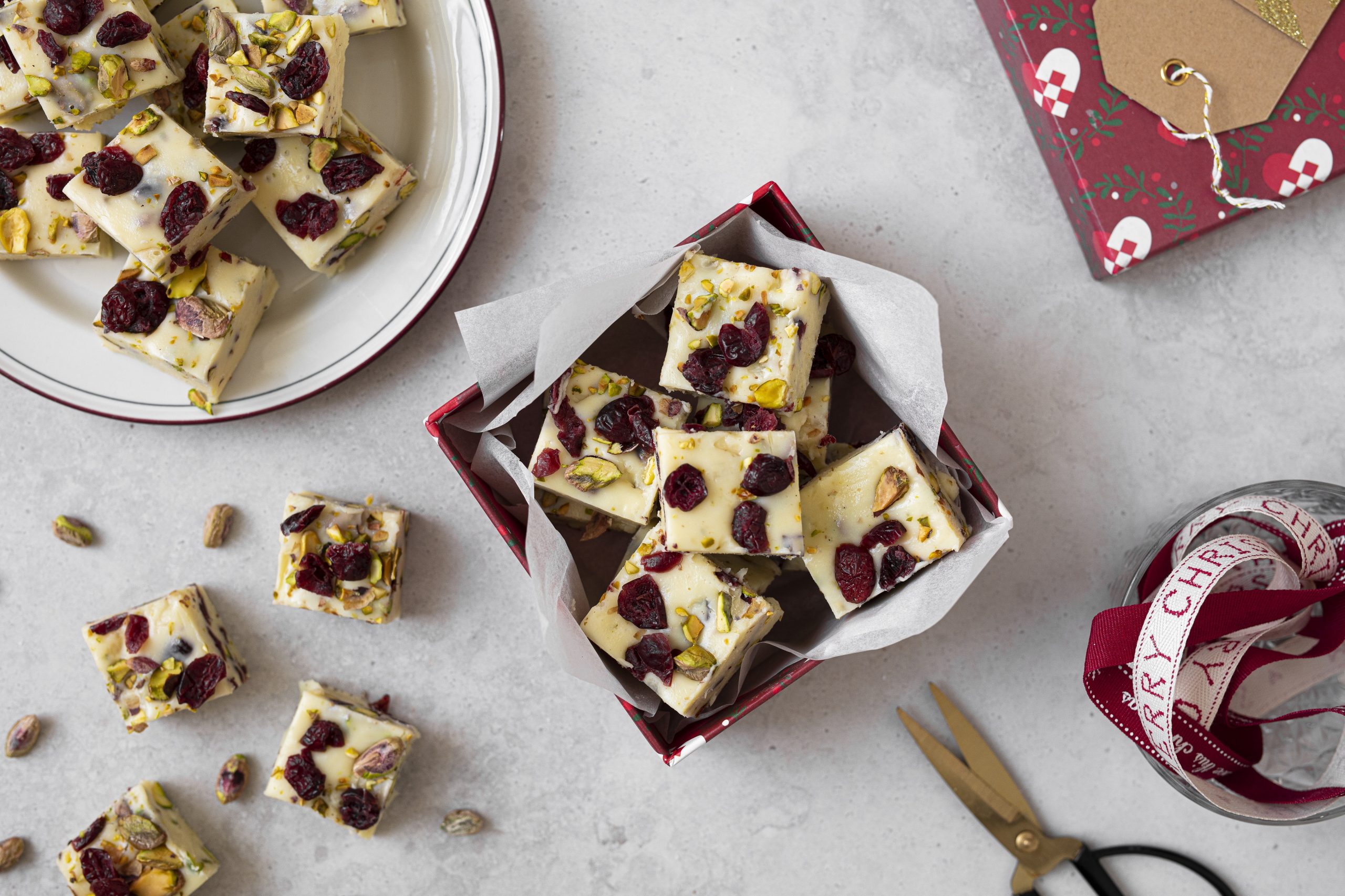 Siúcra Cranberry and Pistachio Fudge
Spread good tidings with this gorgeous Christmas fudge! Dotted with nutty pistachios and tart cranberries, this sweet treat from Siúcra makes for the perfect gift!
Makes 20-25 pieces
Ingredients
100g pistachios
x2 397g tins condensed milk
220g Siúcra Caster Sugar
40g butter
400g white chocolate chips
120g dried cranberries
Method
Line a 20cm square tin with non-stick parchment paper.
On a tray, toast the pistachios in the oven at 160˚C for five minutes. Allow to cool.
In a large pot, add the condensed milk, Siúcra Caster Sugar and butter. Over a low heat, whisk the ingredients together for 8-10 minutes or until the sugar has dissolved.
Increase the heat to a simmer and continue whisking until the mix starts to thicken.
Remove from the heat and whisk in the chocolate chips, stir until they have melted. Fold in the cranberries and half the pistachios.
Pour the mix into the prepared tin and sprinkle on the remaining pistachios. Allow to set in the fridge for 1-2 hours, the fudge should be slightly soft.
Once cooled, cut into squares and serve. Wrap in cellophane bags to create a nice edible gift for friends and family.