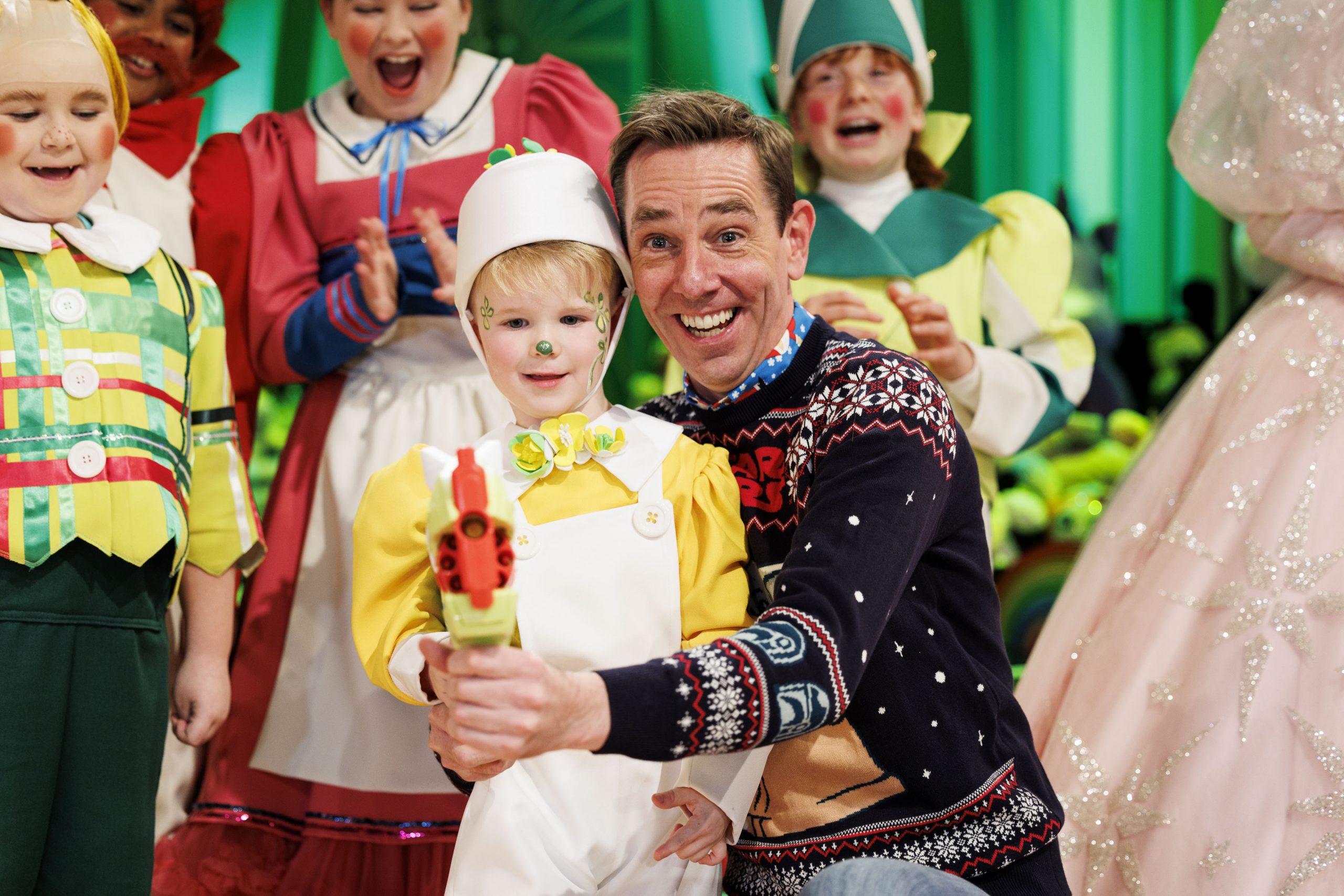 The Irish Christmas season has officially begun, as the country gathered together to kick things off with the iconic Late Late Toy Show.
This year, we headed over the rainbow, with the theme being Wizard of Oz. Complete with their own Yellow Brick Road, plenty of Munchkins, and some gravity defying.
Audiences absolutely loved this years festivities, especially the first surprise celeb guest.
A staple of the show, every year a celeb will surprise one of their fans, and normally make us cry in the process. Dermot Kennedy warmed hearts during the pandemic when he joined a fan for a surprise duet, while Ed Sheeran has joined the show twice to surprise his fans.
This year, it was Liverpool and Ireland footballer, Caoimhin Kelleher, who made a super fans day. Playing a little match against little Cealan. He also gifted the Liverpool supporter his goalie glove, a jersey signed by the entire Liverpool team, and invited him over to watch a match.
Needless to say audiences absolutely love it!
That was a great #LateLateToyShow.

Young Cealan was my favourite. Scored blindfolded penalty v Caoimhin Kelleher, looked thrilled to meet him and even though he called him a sub he still got presents. 😅 pic.twitter.com/YzOSs5n4mc

— Michael Clarke (@MClarkeShow) November 26, 2022
What a man Caoimhín Kelleher. Surprising young Irish Liverpool fan who was blindfolded, giving him his gloves and Jersey signed by the team and a trip to a home game. Would fill ya with joy 🇮🇪❤#CaoimhínKelleher #LateLateToyShow #Lfc pic.twitter.com/uBKWJJoP5v

— Durnzy (@Cormac_Durnzy) November 25, 2022
Caoimhín Kelleher on The Toy Show giving that child his Gloves and Jersey, signed by the team and a trip to a home game is just heart warming🇮🇪❤#LateLateToyShow #CaoimhínKelleher #Lfc

— Darwin Nutmegz (@DarwinNunez32) November 25, 2022
Although some did wonder how his stop at the Toy Show might impact his training?
Imagine Caoimhin Kelleher explaining to Jurgen Klopp that he can't go to training Saturday morning cause he has to go home for the toy show #LateLateToyShow

— ãîłîśh😋 (@fxntalemon) November 25, 2022
But Caelan wasn't the only one to met his hero. Dubliner and Harry Potter super fan Caitríona was sent a heart-warming message from Hermione Granger herself, Emma Watson.
Emma sent her a heartfelt video message, thanking the ten-year-old for raising awareness around autism.
"Hi Caitríona, it's Emma Watson here," she started.
"I wanted to send you a message to thank you for all that you do to spread awareness around autism and for speaking about it so eloquently and in a way that empowers and educates other young people."
"Thank you for picking me as your favourite Harry Potter character! You just seem like such a special and amazing young woman."
View this post on Instagram
Caitríona was absolutely thrilled, saying:  "Tomorrow, I'm going to watch a Harry Potter movie!" After which Caitríona, make a speech about living with autism.
Saying: "I have this thing called autism. Now, I don't think of it as a superpower; I think of it as an ability. It's actually classified as a disability, but I think it's more of an ability."
"I just want to send a message for kids out there. If you are neurodivergent or just feel different and just, like, don't feel good, I just want to say you are so, so special, and you are amazing and you can just try your best and you can do it."
But that wasn't the last surprise of the night.
View this post on Instagram
Closing of the show, was Dubliner Emmie, who was celebrating her 12th birthday on the night. So naturally, it was only right she get a birthday surprise on the show.
After performing her own stand-up routine, Emmie confessed her love for the World Cup qualifying Irish women's team. Only for it to be revealed the team were there to surprise her.
With Katie McCabe, gifting Emmie a signed jersey, before the team invited her to Australia next year for the Women's World Cup.
Emmie O'Neill and her heroes the Girls in Green who let Emmie know on the Late Late Toy Show that she'll be travelling to Australia to see the girls at the World Cup next year. You see, dreams do come true. ☘️ #coygig #LateLateToyShow pic.twitter.com/WPaVDaO2iE

— Éire Guide (@eireguide) November 26, 2022