As one of the most in demand actresses, Saoirse Ronan has plenty of fans, including some of Hollywood's biggest names.
Sure her co-stars like Florence Pugh, Timothée Chalamet, and Ryan Gosling have all gushed about what a delight it was to work with her. But one A-lister has taken it a step further and is hoping the Carlow girl would portray her in a biopic.
Actress Naomi Watts, revealed to People Magazine, that Saoirse is her top choice when it comes to playing Naomi on the big screen.
Saying: "Saoirse Ronan! Because she's fantastic in everything she does."
While we'd love to see Saoirse portray Naomi as she took on some of her most iconic roles in films like Mulholland Dr. and Birdman, it doesn't seem likely as Saoirse has plenty of projects on her plate at the moment.
In fact, the 28-year-old is so busy, she even had to turn down one of her dream projects.
Saoirse was rumoured to be starring in to upcoming live-action Barbie adaption, but had to refuse a part in the film due to scheduling conflicts.
"I was supposed to do a cameo because I live in London and they were [filming] there," she told PEOPLE Magazine.
"There was a whole character I was going to play — another Barbie. I was gutted I couldn't do it."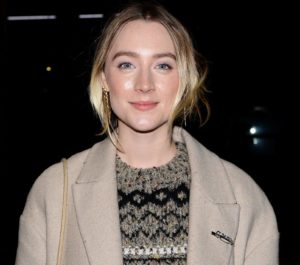 Most recently, she has landed a role in an upcoming period drama.
The Carlow native landed the leading role in Apple TV+'s Blitz. Directed by Steve McQueen, the film follows a group of Londoners during the bombing of the British city amid the war.
Not only is Steve directing the film, but he also wrote the script, and will act as a producer. Filming on the project will begin later this year.
Not much is known about the cast, but it was reported that Saoirse will be starring alongside an unknown newcomer to the industry.