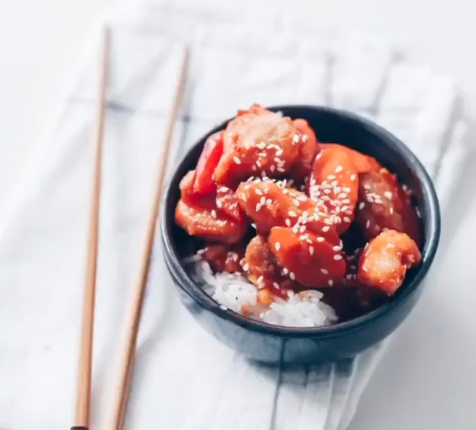 Since we started working from home in early 2020, one of highlights of these difficult time is the lunches! We said goodbye to sad supermarket sandwiches and have instead been able to cook delicious lunches from scratch as we WFH.
We love to follow Lilli Forberg for her gorgeous, easy to make recipes. This Sweet and Sour chicken looks particularly delicious and we'll definitely be adding it to our weekly menu!
View this post on Instagram
Ingredients

Chicken 350 g
Cornflour 1/4 cup (30g)
1 shallot (or onion. And you can put more if you like)
1 chopped garlic clove
Sliced carrot
Sliced pepper
2 tbsp Olive Oil
For the sauce
1 tbsp soy sauce
Ketchup 1/4 cup (80g)
Apple cider vinegar 1/4 cup (60g)
Brown sugar 1/4 cup (50g)
Watch Lilli's video above for the instructions on how to cook this delicious dish!