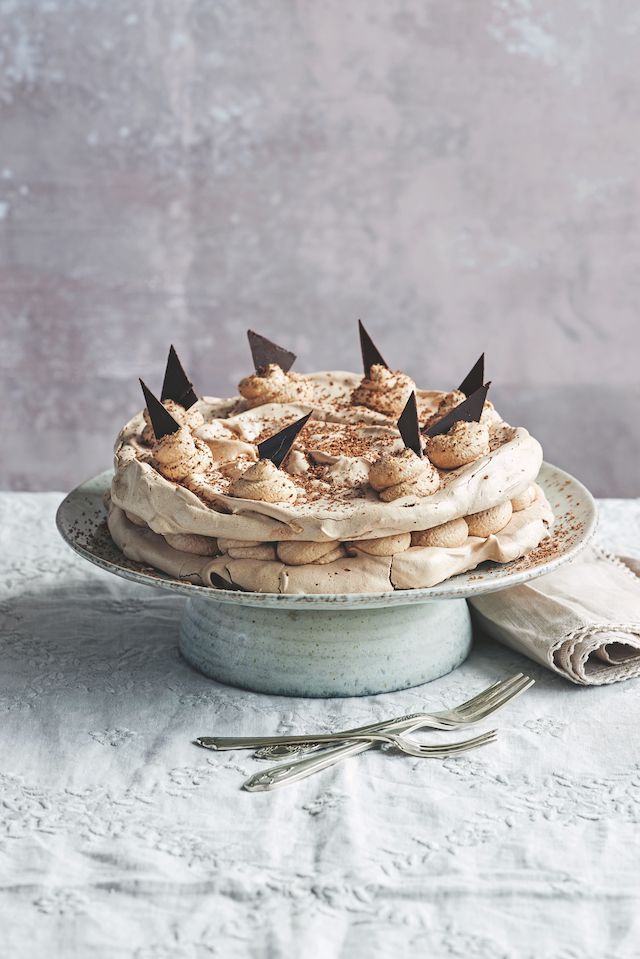 CHOCOLATE MERINGUE GATEAU
– Serves 6
This recipe makes two layers of meringue but you can double the ingredients for a celebration cake or to make individual little meringues.
INGREDIENTS
2 organic, free-range egg whites
125g icing sugar
2 rounded teaspoons cocoa powder  (I use Valrhona)
For the chocolate & rum cream
30g best-quality dark chocolate
15g unsweetened chocolate
1 tablespoon Jamaican rum
1 tablespoon double cream
300ml softly whipped cream
For the chocolate wafers 55g best-quality dark chocolate
METHOD
Preheat the oven to 150°C/gas mark 2.
Mark 2 x 19cm circles on parchment paper. Check that the bowl is dry, spotlessly clean and free of grease. Put the egg whites into the bowl and add 110g sieved icing sugar all at once; whisk for about 10 minutes until the mixture forms stiff, dry peaks. Sift together the cocoa and the remaining 15g sieved icing sugar and fold in very gently. Spread into circles with a palette knife and bake immediately in the oven for 45 minutes or until just crisp. Leave to cool completely then peel off the paper.
Meanwhile, very gently melt the chocolate with the rum and 1 tablespoon of cream, or in a bowl over simmering water. Cool and add 2 tablespoons of whipped cream into the chocolate. Mix well, then fold that into the remaining softly whipped cream; don't stir too much or it may curdle.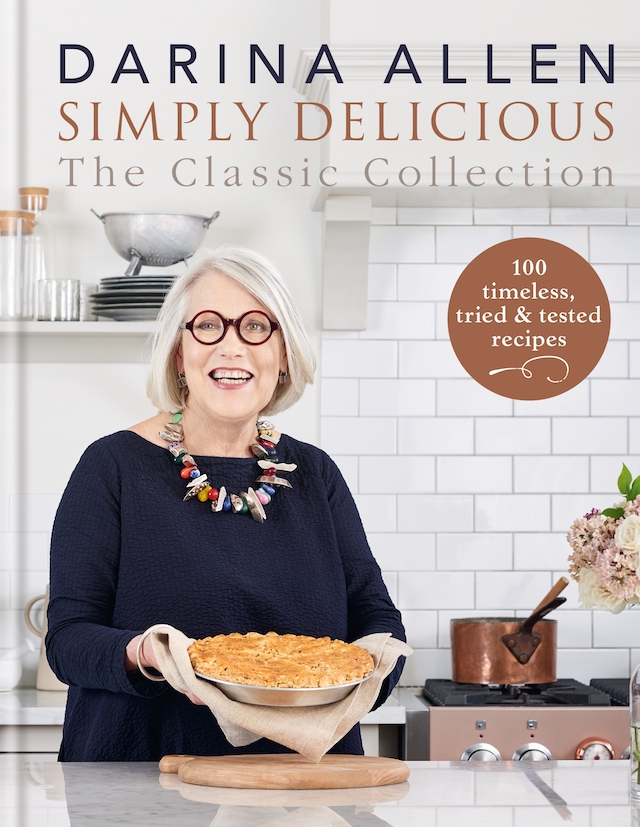 To make the chocolate wafers, melt the chocolate in a bowl over barely simmering water. Stir until quite smooth. Spread on a non-stick baking mat or heavy baking tray. Put into a cold place until stiff enough to cut into square or diamond shapes.
Sandwich the two meringue discs together with most of the chocolate and rum cream and add rosettes on top. Decorate with the chocolate wafers and a sprinkling of cocoa.
Simply Delicious the Classic Collection: 100 recipes from soups & starters to
puddings & pies, by Darina Allen is published by Kyle Books in Hardback, 27th
September 2018, €27. Photography by Peter Cassidy