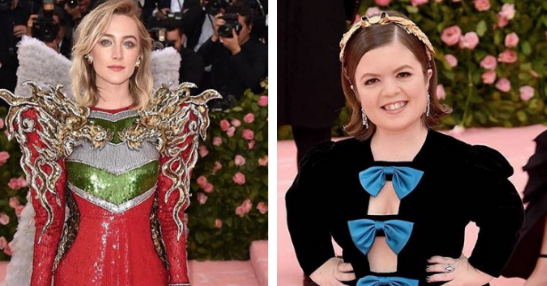 Extraordinary, extravagant, glamorous, and sensational are just a few words used by Susan Sontag as she defines the word CAMP, the theme for Met Gala 2019.
Held at The Metropolitan Museum of Art, New York, the Met Gala 2019 featured a mythical pink carpet and was graced by many familiar Irish faces amongst some big celebs. Samantha Barry, Michaela O'Shaughnessy, Saoirse Ronan, Sinead Burke and Ruth Negga raised the bar for Irish fashion and reminded the rest of the world that Ireland, though small, packs a punch when it comes to constructing outfits.
Samantha Barry
The Editor-in-chief of Glamour Magazine, Samantha Barry, brought serious 70's vibes to the Met Gala wearing a golden structured power-suit designed by Jason Rembert.
With pointed shoulder pads, wide flared trousers and a deep v-neck Barry had all eyes on her as she strut down the pink carpet for the first time.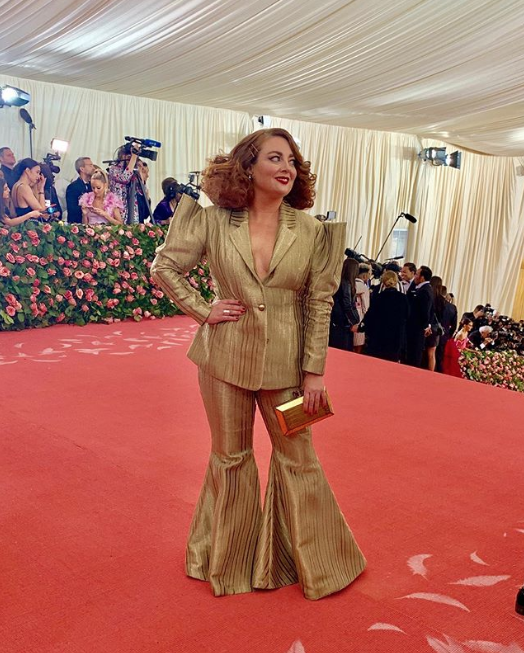 Michaela O'Shaughnessy
Following close behind Barry was Social editor of Glamour, Michaela O'Shaughnessy wearing a flowing silver low-cut shoulder midi dress designed by London-based designer Rejina Pyo.
O'Shaughnessy topped off her pink carpet look with some fierce red lipstick and sleeked back hair for a very high fashion, classy CAMP look.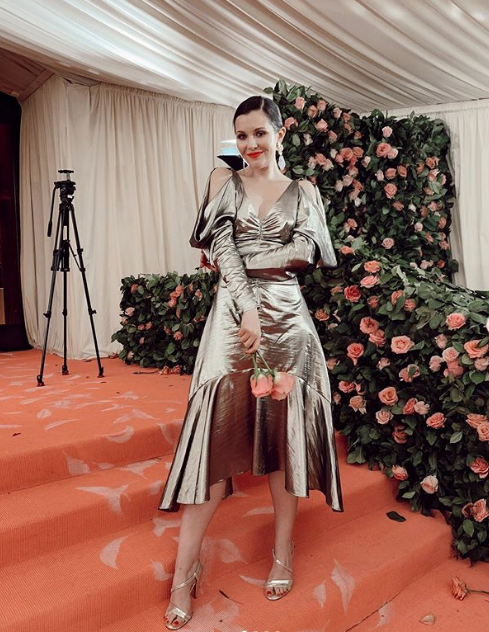 Saoirse Ronan
Saoirse heated up the scene in a body hugging full length Gucci red sequinned gown with gold flaming shoulder pads.
The Carlow woman completed her very romanesque inspired look with gold accessories and wavy shoulder length hair. Her fiery presence was something not to be missed.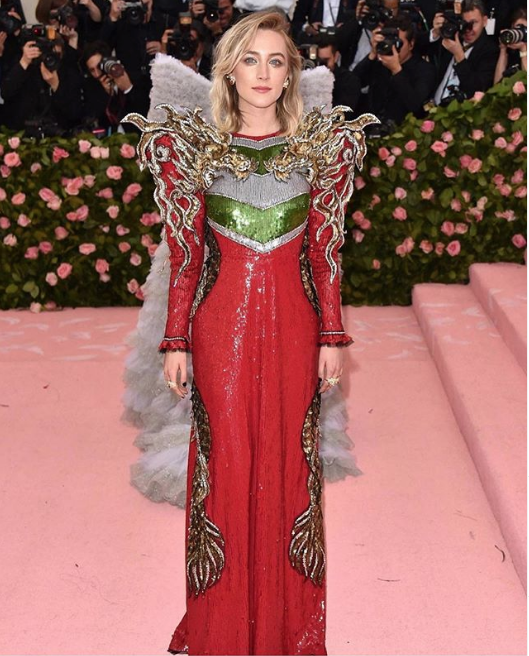 Sinead Burke 
Breaking records and revolutionising the fashion industry making it more open and accessible for everyone, Sinead Burke graced us with her presence on the pink carpet. Burke was the first ever little person to attend the Met Gala and was very thankful to everyone who put tireless thought and effort into her accessibility needs.
Wearing a custom made Gucci black velvet gown with three bright blue bows over a deep v-neck, Burke focused everyones attention on her as she glided down the carpet.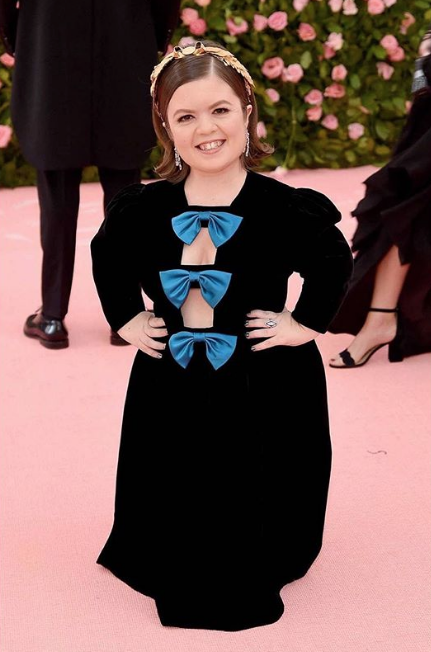 Ruth Negga
Bringing some fiercely structured fashion inspo to the Gala was Ruth Negga. Wearing a white structured diagonally floral printed top and black studded trousers by Louis Vuitton, finished off with jewellery by Irene Neuwirth and a golden head piece. Negga brought her own spin to the theme of the night as she walked the pink carpet.
For more incredible designs worn at the Met Gala 2019 check out https://www.instagram.com/themetgalaofficial/.
Words by: Rachel Paige