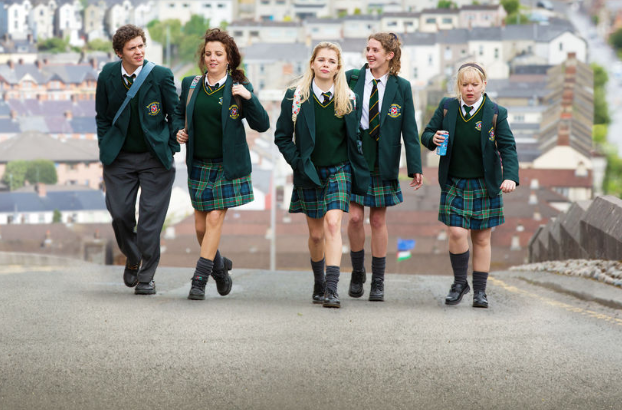 The final season of Derry Girls has landed on our screens, and although it's bittersweet for fans, seeing the gang back together on our screens overrides any feelings of sadness for the show ending.
In the show, the main cast is comprised of Saoirse Monica Jackson, Nicola Coughlan, Louisa Harland, Dylan Llewellyn, and Jamie-Lee O'Donnell, all of who play school-goers on screen. However, to some people's shock the actors are actually far from school age, play characters much younger than their real-life ages.
We've rounded up each cast member along with their current age and on-screen age – so you can show off your Derry Girls trivia knowledge whenever you want.
Saoirse-Monica Jackson
As the group leader who always thinks she knows best, 16-year-old Erin is the ambitious and one which we can definitely relate to when she finds herself in certain situations.
It may be hard to believe but Saoirse-Monica is actually 28 years old since November, which means that she was over 10 years older than the character she was playing in season one!
Louisa Harland
Orla is the free spirit in the group, truly marching to the beat of her own drum. Her whimsical ways and hilarious one-liners make her a seriously loveable character and one that the show wouldn't be the same without her.
While it is quite tricky to find an exact age for Louisa online, it's believed that she is a similar age to much of the other cast members, making her around 27 years old. Long story short – Louisa was not 15 like her character Orla.
Nicola Coughlan
The wee Galway Girl who's doing the country proud at the moment with her breakthrough role on Netflix show Bridgerton. Nicola plays Claire, the one always trying to do the right thing and never wanting to break rules!
Claire in the show is 16, just like her friends, but Nicola in real life has recently turned 35, in January.
Jamie-Lee O'Donnell
The rebel of the group, Jamie-Lee's character Michelle is always up for getting into some trouble.
But unlike her character, Jamie-Lee actually has a history of theatre and dancing, and is even the patron of of a youth theatre group based in Liverpool.
Also not a teenager, Jamie-Lee is 34 years old. We know, we can't believe it either.
Dylan Llewellyn
"The wee English fella" makes up the full completion of the group. As Michelle's cousin, we see him take some slack from his cousin and her friends on the show, but without him, we're not sure where the show would be.
Dylan is a former soap star, playing the role of Martin in Hollyoaks amongst other acting roles. Playing a school-kid in Derry Girls, it's been a while since Dylan sat his exams, as he's now 29-years-old.