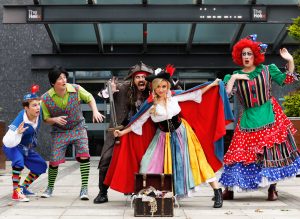 Yes, it's almost that time of year again.
Can you believe it?
And to get you into the (dare we say) holiday spirit, the Helix has revealed the cast of Treasure Island this year's Christmas panto!
The pantomime will run from Friday, November 24 until Sunday, January 14 as part of this year's festivities.
Joining the cast, is Britain Got Talent singer, Leah Barniville, West End performer, Barry Keenan who will take on the role of Long John Silver, AIMS award winner and funnyman, Chris Corroon will return to the panto spotlight as Dame Lola, while panto favourites including Aidan Mannion and James Deegan will also be making appearances.
With an exciting new script including plenty of twists and turns, Treasure Island promises to be yet another hilarious production for all the family to enjoy with eye-catching sets, songs, and dances.
Speaking at the launch, Leah said "I'm thrilled to be joining The Helix Panto cast and taking the leap onto the panto stage this Christmas.
"Going to the panto is such a beloved tradition with audiences of all ages and I look forward to being part of that Christmas magic.
"Here's to a great run with the wonderful cast and the TheatreworX team," she added.
Tickets for this year's panto are priced from €27.50 (plus booking fees) and are available to purchase from www.thehelix.ie and at The Helix Box Office.
Rest assured you'll be guaranteed a night of wit, magic and fun!
So, will you be getting tickets?