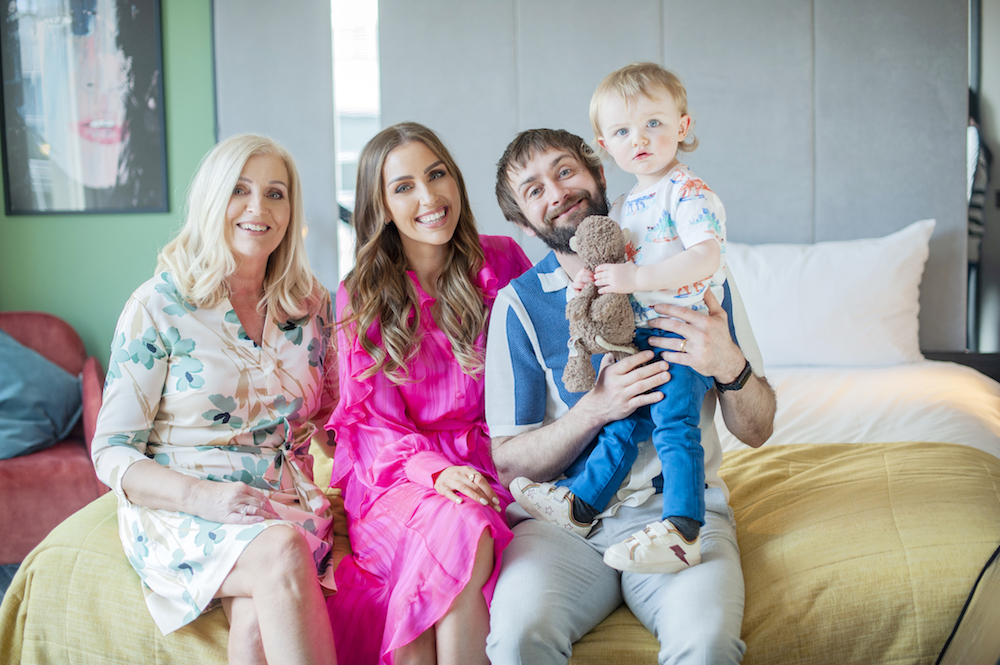 The smile – it's the first thing that strikes us when we meet top makeup artist and beauty influencer Tara Anderson, AKA Tara Makeup. The woman literally beams, while her gleaming skin is the second thing you note. True, it is her area of expertise, but still, what a beauty. For Tara's first ever family shoot with husband of three years musician Daniel, their toddler Gene and her mum Mary, we meet at Dublin's city centre's cool new hotel The Marlin. Back then, we were all so naive of what was coming down the line. It was weeks before lockdown and it felt like the storm was coming.
Nevertheless, we had a lovely day playing dress-up. While Tara did her own makeup, along with her mum's, her lovely husband ran around the hotel lobby after their almost two-year-old who was adorable and full of chat. Tara whizzed through our photoshoot like the true professional that she is. With the beautiful shots done, we then sat down to chat.
Tara talks us through her career, explaining how she built a business from a love of makeup that was never intended to become what it has, and how she turned her teen struggle with acne and self-esteem into a love and appreciation for cosmetics. She talks about building her online presence and using it for good, how it has helped her thicken her skin and the ways that social media has helped her in these now unsocial times.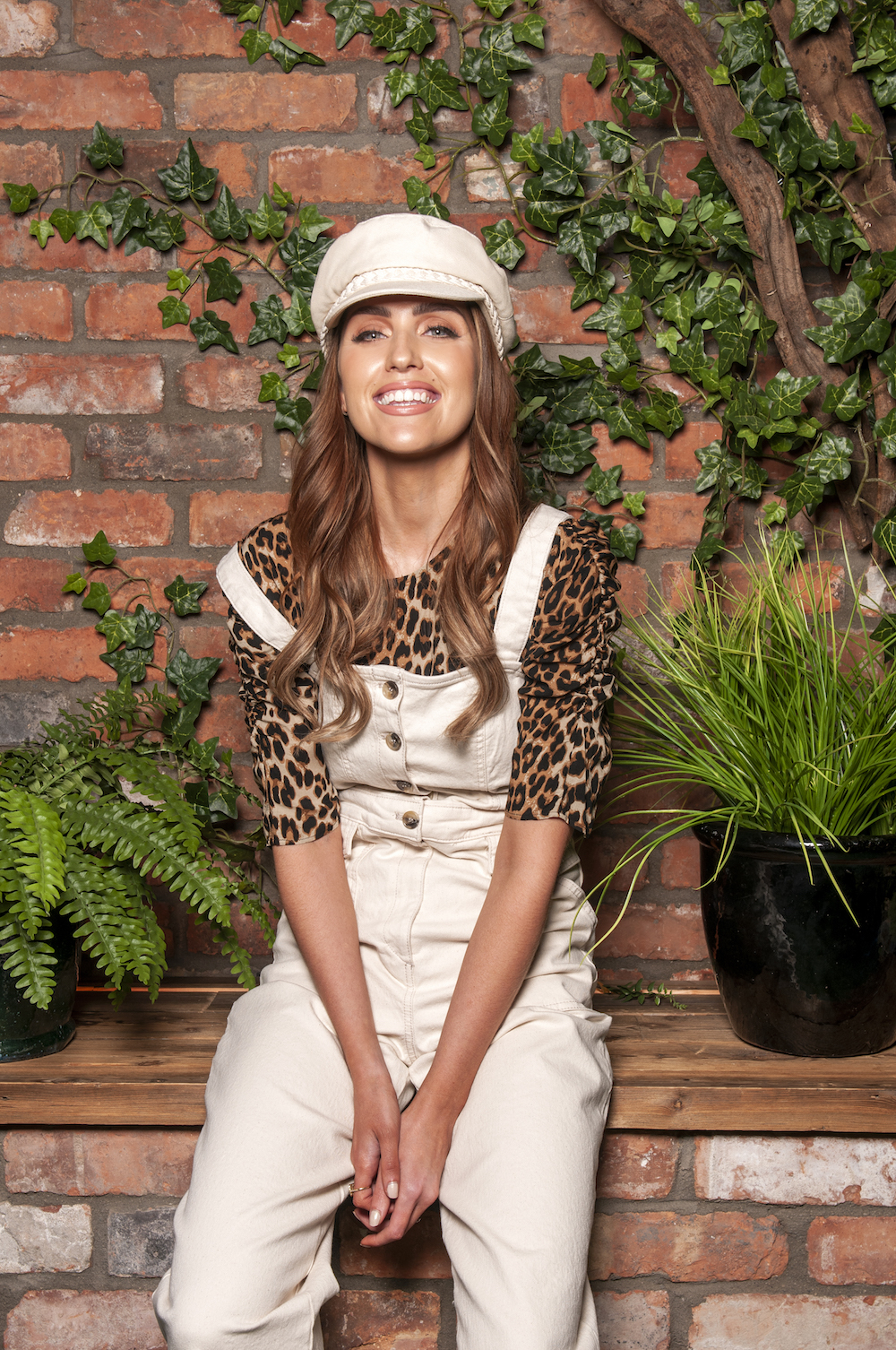 Tara, so, how is all in your world? You love to be out and about, has staying indoors been challenging for you these past weeks?
I usually spend most of my day walking! Gene and I love being out and about. We are still getting out for a walk each day but obviously miss the freedom of being out and going to playgrounds.
You were due to move into your new home. Has the move been put on hold?
Our house is pretty much finished and the majority of our furniture arrived before all of this happened. It's only a short walk away so we are gradually moving our stuff in and Daniel is finishing the last few bits that he can do. It is looking absolutely amazing and it still doesn't feel real that it is ours.
What are you missing most from our days of freedom, which we all took for granted?
We are really missing seeing lots of our friends and family. I find it particularly hard being away from my three nieces. We are going to have a huge housewarming with all of our friends and family when this is over. For now, we are catching up as much as we can on FaceTime.
We're all struggling with our beauty regimes during this period of lockdown. Give us some DIY beauty hacks that we can do at home?
Home eyelash and brow tints are brilliant and really easy to use. Tinting your brows and lashes and giving them a quick groom makes a huge difference. I am staying away from box dyes but I am treating my hair to some nice treatments. I have also been spending more time in the evening on my skincare and my skin has never been more hydrated.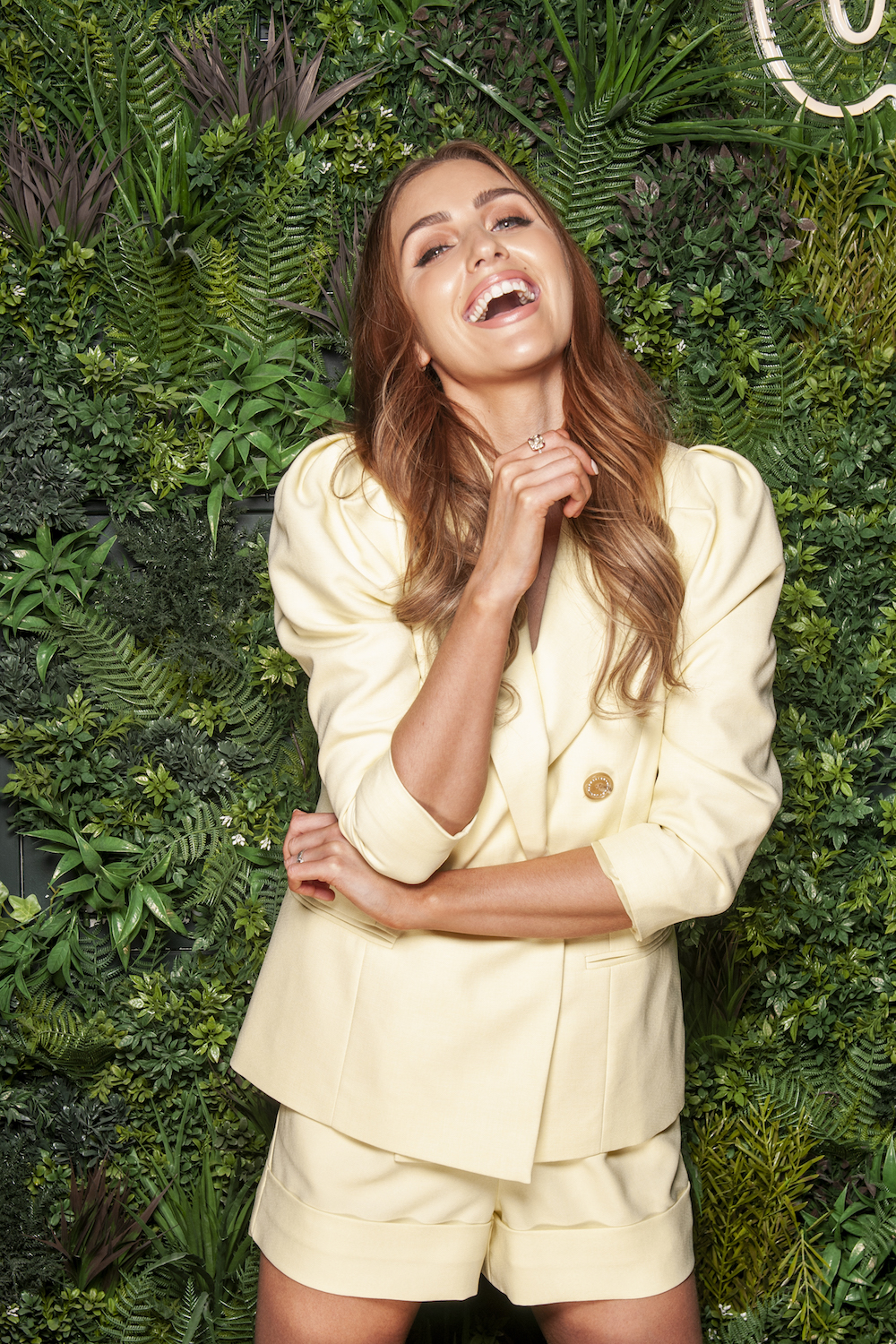 You are one of our top makeup artists and beauty influencers. Did you always have a love for makeup?
Yes, my love for makeup probably started in my early teens when I began to experience acne. Makeup became my crutch. I loved experimenting with it, but then it became a comfort blanket as well. I got a buzz when I would do other peoples makeup and they would be so happy when the saw the finished result. It's a very gratifying job, it was never meant to be my job but it became my job and I'm lucky.
You attended the Billie Barry stage school and were in a band in your late teens, was that the path you thought you might go down initially?
Yes, I was in Billie Barry from the age of four and I loved it. They were the best days ever. I auditioned in my late teens for a rock chick band with about 2,000 other people so I was delighted when I got in. I played the bass. We toured the UK and Ireland and we played in Wembley and 02 in The Park.
That sounds incredible. So tell us, what does a day in the life of Tara Anderson look like nowadays?
No two days are ever the same and life is very different now than it was before I became a mum. Before I became a mum I thought I was busy [laughs]. Usually my day starts early as Gene is wide awake at 5.30am and ready to play, I am not. I'm not a morning person! I'm at home with Gene a lot, and I like to get out and about and I have always been like that. I remember coming home from the hospital after just having Gene and saying to my husband Daniel, "Right, where's the buggy lets go for a walk".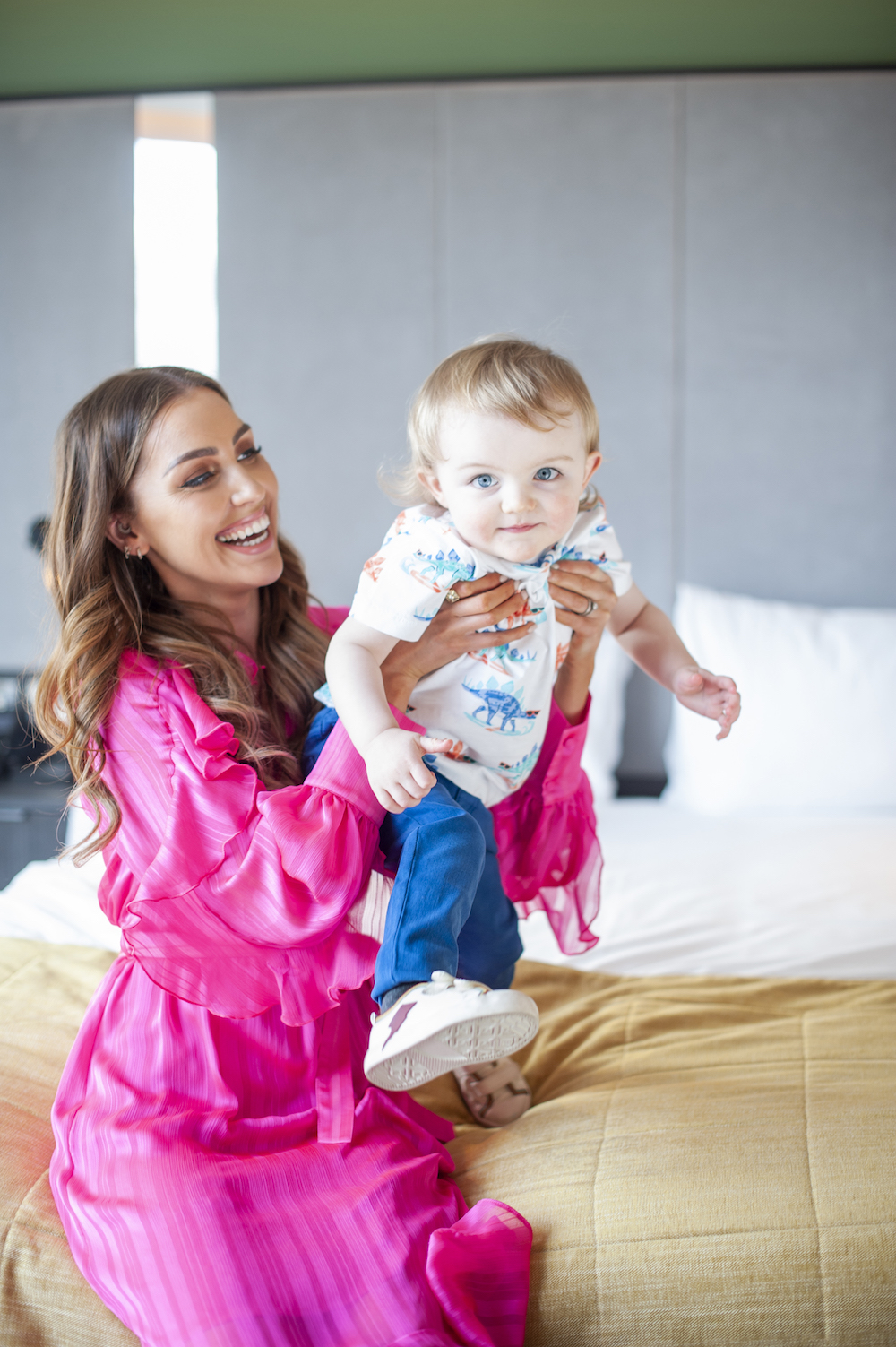 You have quite the online presence on Instagram with over 150 thousand followers. How do you navigate life online?
My following grew very slowly, so I consider myself very lucky because I have had years to prepare for this and for people recognising me if I am out and about, which has only really started to happen in the last year. I keep a lot of things private and that really works for me. If something is going on in my personal life, I would rarely show that online, it would be my last thought to share it online. My husband is private and he would like to keep our family life private enough, so I respect that.
Your social media presence is predominantly positive, but we can recall a time when you did come out and talk about how people should be mindful of what they say and comment.
I have received messages in the past that haven't been nice. But years of modelling have toughened me up. However, I know a lot of women are not as thick skinned as I am.
Some of your followers had been commenting on your appearance, is that how it started?
Yes, after having Gene I lost a lot of weight and I had been unwell at the time and really stressed. There were people commenting that I was too skinny and that I looked awful and I remember feeling terrible. Fast forward to a few months later; I posted a picture, and later in the evening. I saw some comments asking if I had an announcement to make or if I had some news. Basically asking if I was pregnant. I wasn't pregnant and it really upset me.
Of course, it can be an incredibly sensitive subject for a lot of women. Just look at Rosanna Davison, who was going through such a tough time with infertility, which nobody knew about.
Exactly. I would have been with Rosanna all around that time and I would have never guessed what was going on behind the scenes. On reading the comments on my post, it upset me, not because of my appearance because I'm so far beyond that, but because I thought, "I wouldn't mind being pregnant". But I wasn't. Then I was thinking of all of the people who are always asked these types of questions about when they are having a baby or when they're giving their child a sibling, and how we never know what is going on in somebody life. I spoke out about that and I'm so glad I did because I've never had so many messages from people who are struggling to conceive. My dad always says, "Do no harm, take no shit" and I try to stay true to that.
You married Daniel in August 2016 after being together for quite some time. Can you tell us a little about your wedding?
I love a wedding. And as a makeup artist I would have been to quite a few weddings! I had my Filofax at the ready as soon as the ring was on my finger! So, we booked our wedding fairly quickly because I knew exactly what I wanted and thankfully Daniel left me
to it. I loved every minute of it. We didn't have a first dance, instead we asked our guests to join us on the dance floor for our first dance and then we all stayed up dancing for hours. The atmosphere was amazing.
You then welcomed your lovely little man Gene in June 2018. How have your lives changed since becoming parents?
[Laughs] Nobody could have prepared me for it. I was just thinking only about all the magical things that were going to happen, and I didn't really think of the reality of it that no one can prepare you for.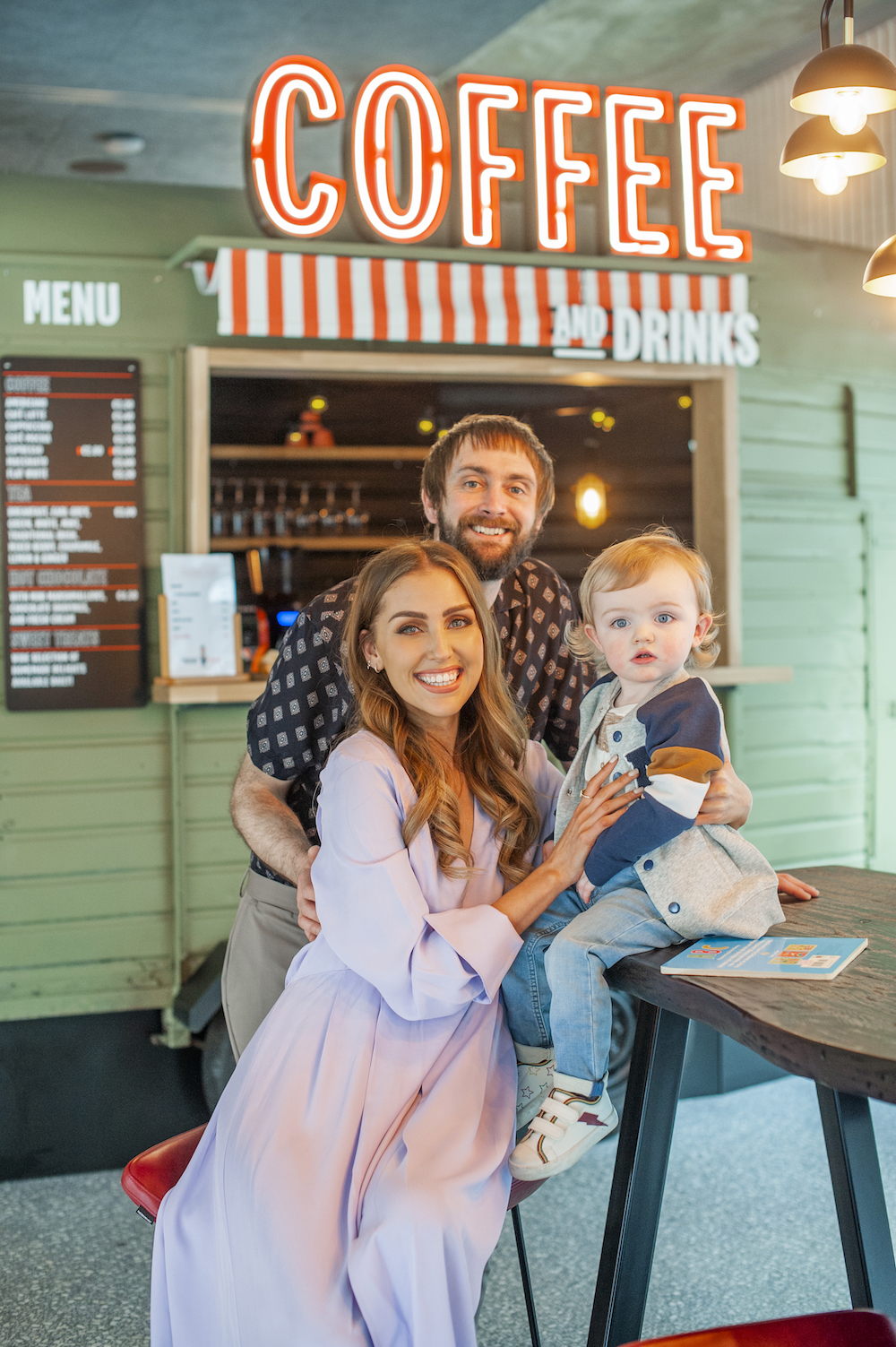 Has becoming parents changed your dynamic as a couple?
Gene was a few months old and my mum said she would take him and we could have a date night. I remember coming online and saying we are going to do this now every month, make it our monthly thing, our date night, and how it is so important. Then I think seven months passed before we had another [laughs].
You have mentioned that you have learned a lot from your mum who was here with us on the shoot today. What is the best advice your mum has ever given you?
My mum wouldn't be a flapper and neither am I. We do get stressed, obviously, but she doesn't panic and I've definitely learned that from her. I've learned from her to keep it cool and do what is right for you.
You launched your own masterclasses and then started in Pippa's fashion factories doing makeup demos, which were very successful. You now have your own girly day out events planned. How does it feel to have come so far?
I did my own masterclass about eight years ago and I remember thinking that was amazing because I couldn't believe people actually wanted to pay money to come see me give a masterclass. Pippa's were not like work at all for me, everyone is so lovely and there is such a lovely group dynamic, we always just had the best fun.
You're nominated for a Peter Mark VIP Style Award for Best Online Influencer. The awards may be postponed for now, but they will be back.
I know and I can't wait. I've been going to the awards for years so I am delighted to be nominated in this category and I am in great company with very fashionable women.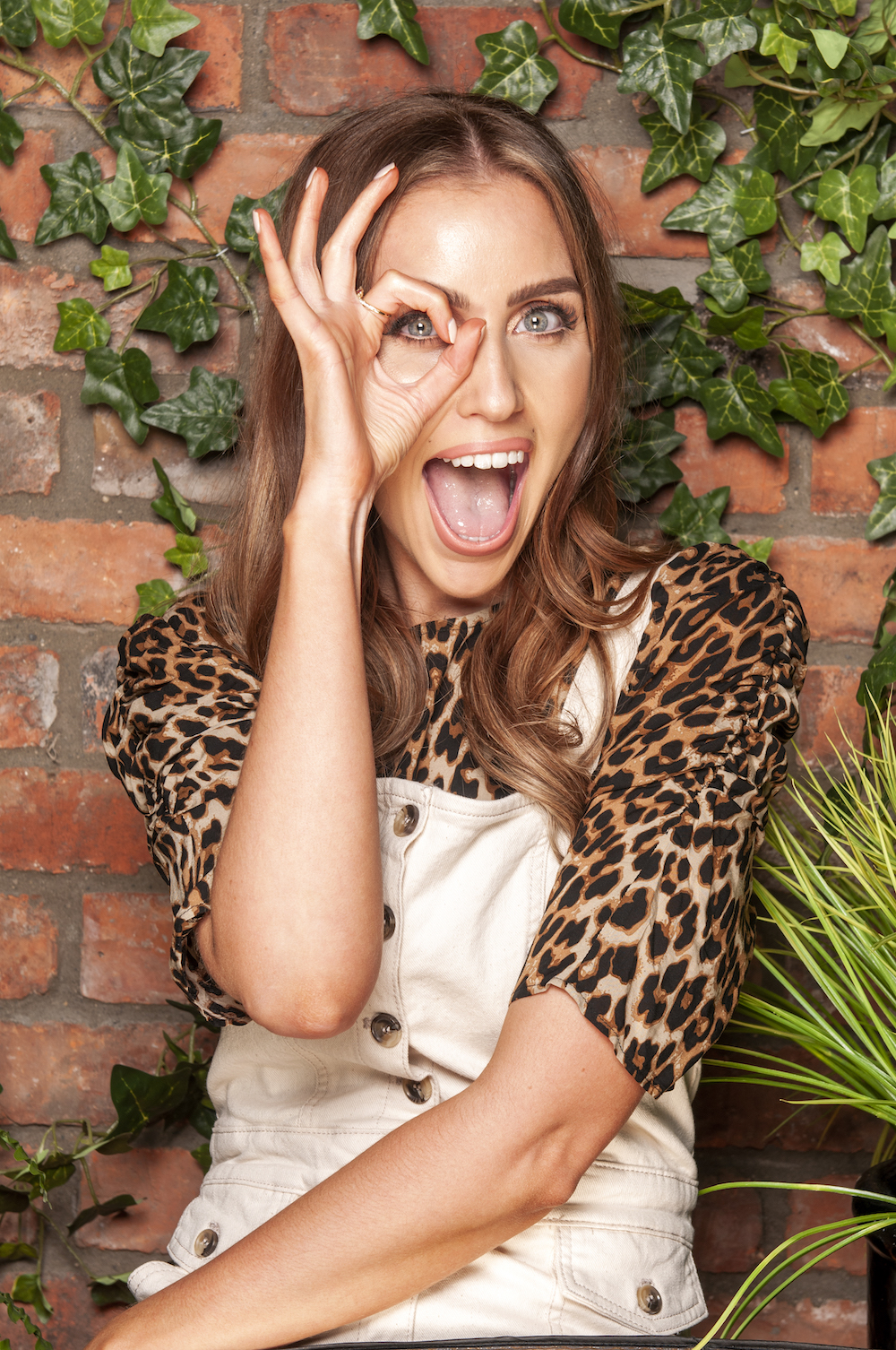 How would you describe your style?
Fashion is not my 'thing' per se. I love fashion and I love clothes but my style is usually whatever I feel like. I don't stick to fashion trends, if something on trend looks good on me I will buy it but I wouldn't wear something just because it's in fashion. I know some bloggers stay on top of fashion trends, but I am not one of them. I am usually wearing jeans and a t-shirt but I do like getting all dolled up for an event like The Peter Mark VIP Style Awards where you can go a little bit over the top.
How do you stay motivated with so much competition in the industry?
I stay true to myself. I don't take it as seriously as some, I think. It is my job but I am very selective about what I do and I only work with brands that are genuinely a good fit for me. You won't hear me talk about something random. I take it very seriously in that way.
You and Daniel are both self-employed. Being your own boss must be stressful. Are there ever times when you can both totally switch off?
[Laughs] No! Daniel's mind, like mine, never fully stops. If we go on holidays I may still have jobs to do. I have to keep on top of emails. But, I switch off at night time. I sit down, put my phone away, have a cup of tea and watch something crap on TV.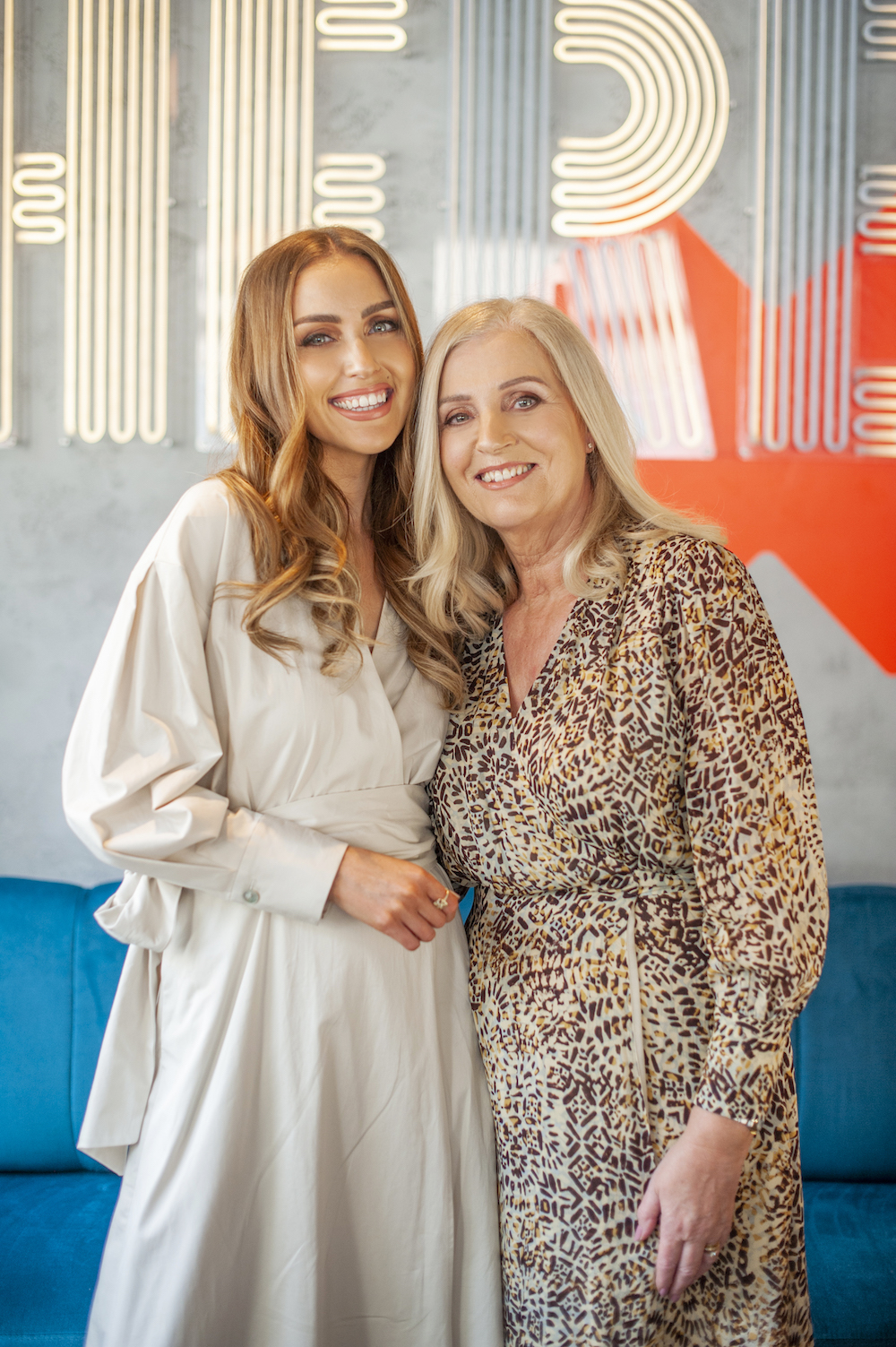 What is next for you once we get our lives back to normal?
There is a lot happening this year. I started this year uncertain about a lot of things. But things have fallen into place over the last few months. Something is coming…!
Exciting! Before we leave, if you had to pick one thing that is keeping you sane right now, what would it be?
My way of switching off is either creating content or meditation. I have been meditating much more than usual lately and it has been really helpful. This is a difficult time for us all and mentally I have struggled a bit, so meditating in the evening before bed really calms me.
INTERVIEW: Laura Doyle
PHOTOGRAPHY: Lili Forberg; misslili.net
STYLING: Megan Fox
HAIR: Martin O'Hagen at Peter Mark's Grafton Street Salon
Shot on location at The Marlin Hotel, 11 Bow Lane East, Dublin 2.