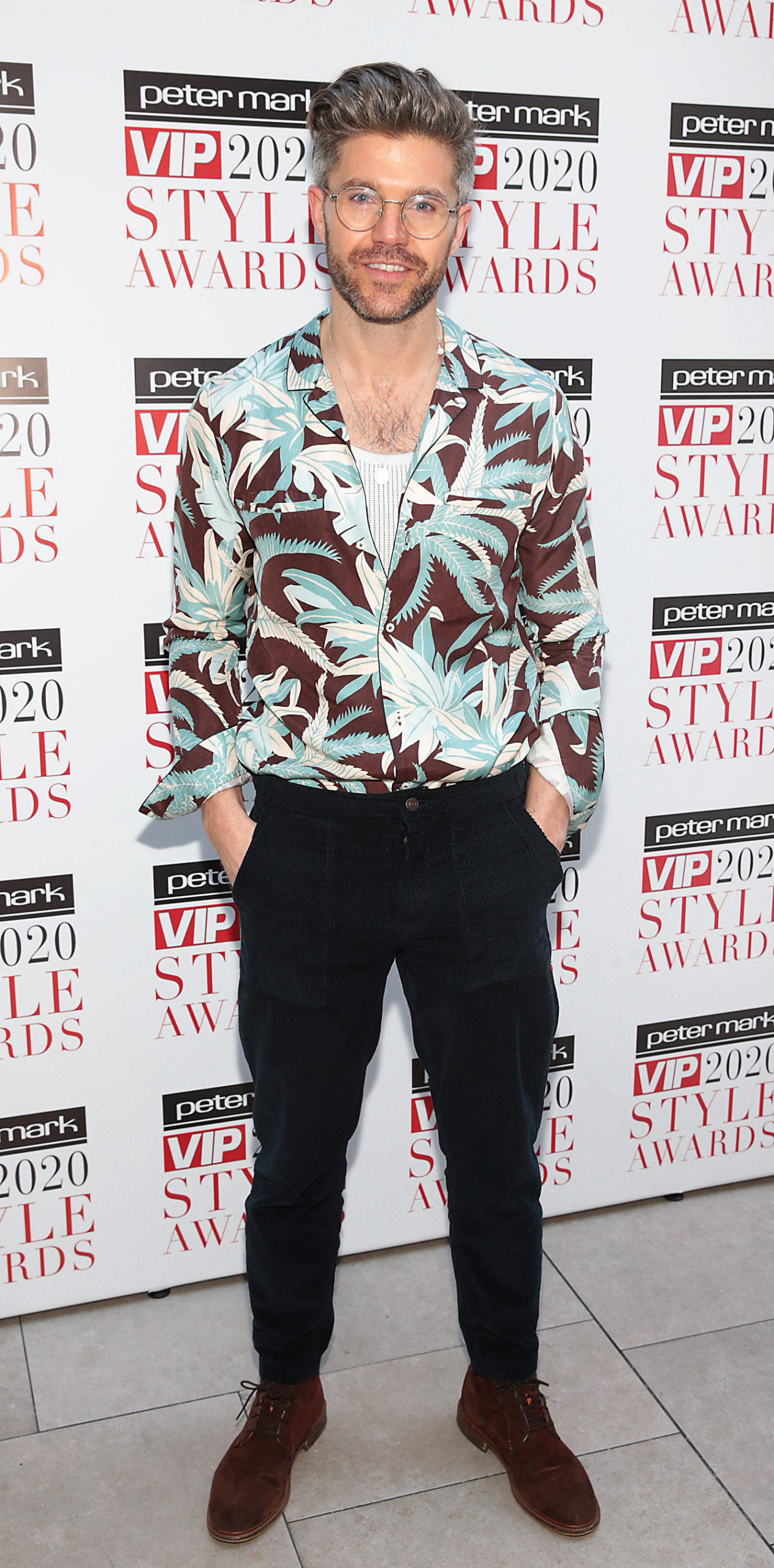 We've been digging through the closets of our fave celebs, finding out the secrets behind some of their most iconic looks. From where they get their inspiration, to their favourite places to shop, we've asked the stars all the burning questions you've ever wanted answers to.
This week we're speaking to Darren Kennedy.
What's your most worn piece of clothing?
Right now, it's a multi-coloured North Face jacket. It's actually a vintage style called the Nuptse that they had out back in the '80s. It is the most comfortable jacket to wear, it's super cosy, super warm, has loads of pockets – plus an inside pocket with zips, which is key for me because I like to keep all of my bits and bobs safe. Right now, that's the piece I'm wearing to death!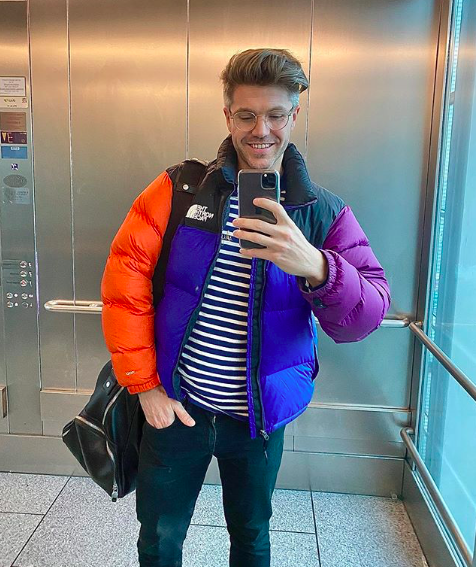 What's the most sentimental piece in your wardrobe?
It's probably a suit that I designed myself when I did my collaboration with Louis Copeland. It's a double-breasted window-pane check suit, it's a two-piece. That was a great turning point in my career in terms of getting into design and launching a business. But also, I've worn it to so many important occasions like friends' weddings, so it evokes lots of happy memories. It's the type of suit that I'll always go to, even though I have a wardrobe of about 60 suits.
You have 5 minutes to get ready for a night out. What is your go-to outfit?
Ok, so it depends on the occasion. If it's a dressy occasion, I will literally pull out one of my suits, depending on the mood and what colour I want. If it's something where I have to be fairly casual and classic, I have a dark navy two-piece flannel suit. And I would wear a white t-shirt underneath that and a pair of brown leather brogues, and I'm just done. I know that I can turn up anywhere. And if it's something a little bit more casual, I might slip out the blazer and wear a butter-soft black leather biker jacket that just goes with everything.
What are the staple pieces you think should be in everyone's wardrobe?
Oh, a biker jacket for sure! A classic leather biker jacket without a shadow of a doubt. A really nice, crisp white t-shirt – I mean ones that you take care of. Levi's do some really great white t-shirts, so do Hugo Boss, but actually, some of my favourites are the David Gandy collection in M&S – they're the most beautifully soft and thin white t-shirts. Every couple of months, I buy them new in black and white.
Then, of course, a good pair of trousers. I think that every man should have a decent suit, not just one he's keeping for a wedding or funeral! On top of that then, every guy needs a good pair of classic Stan Smith trainers. The white trainers are great to have because they'll go with everything, and of course, a good pair of boots. Right now, I'm loving a pair of Penelope Chilver's boots, which funnily enough, is the brand that Kate Middleton was wearing on the royal trip to Ireland! I'd say it's coincidental.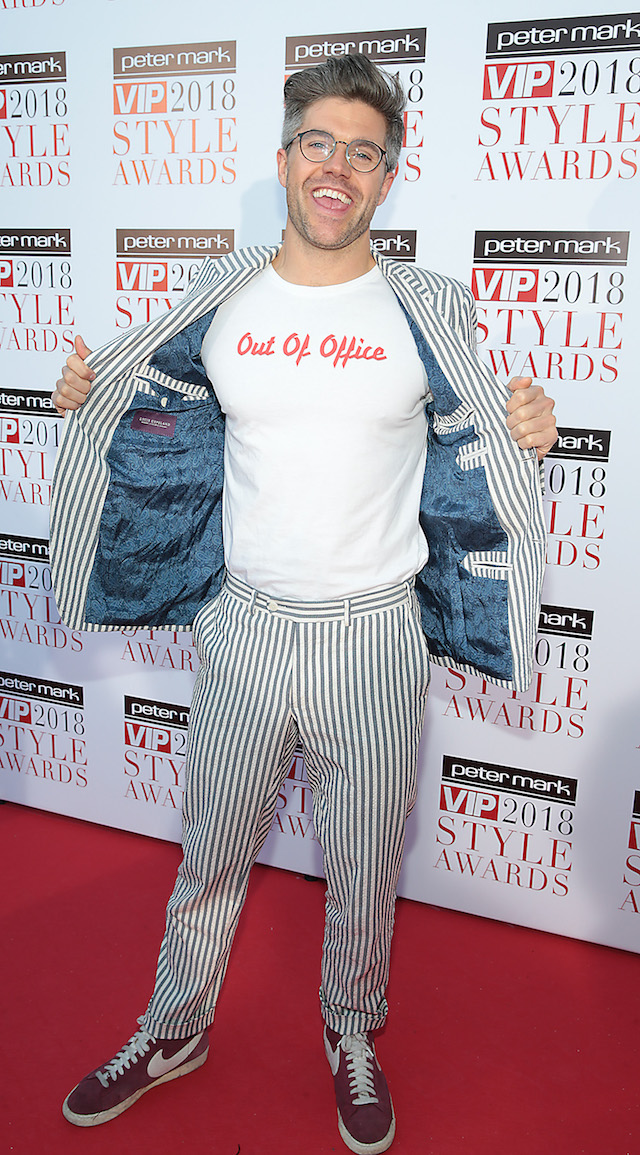 What are your holiday wardrobe essentials?
Ok, shorts, shorts and more shorts! So i love shorts; two of my favourite brands are Orlebar Brown, and they do really nice printed shorts. They were the first to do the imagery printed on your shorts thing and of course the high-street has followed suit. And also, CDLP, it's a Swedish label stocked in Brown Thomas and online. Then I will always have a selection of cuban collar shirts; I'll always have one with a print that I can wear over shorts to the beach. Again, it's breathable, it doesn't stick to me and it's not going to take my suncream off, but I can put it on with a pair of shorts for a nice lunch somewhere and still feel appropriately dressed. A pair of sliders, obviously. Mine are as old as the hills, they're a pair of Nike sliders, but I love them. I'm probably a bit funny, I'll always bring a suit, because you never know where you're going to end up or who you're going to meet! So, I have a cotton linen-blend suit, and it's great for travel because it doesn't crease easily at all. It has the lightness of linen for warm weather, but the structure of cotton. But I'll always have a pair of denim shorts as well!
What's been your biggest investment buy?
I don't really like to spend a lot of money on clothes if I'm being totally honest, so my biggest investment buys are definitely shoes! I spend money on footwear. I've got a beautiful pair of Burberry loafers which I love and I wear to death, and again, they're a wardrobe staple. I take care of them and they've lasted me for years.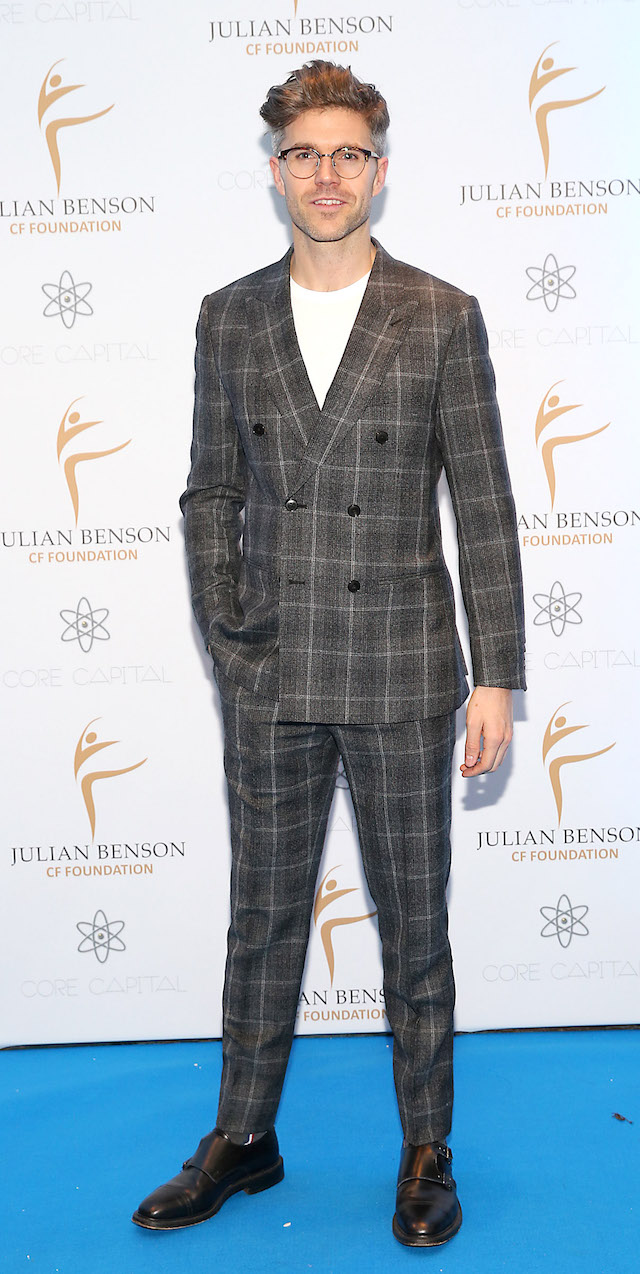 Are there any outfits/trends you regret wearing?
I have a very clear answer – yes, wearing quadruple denim when I was a teenager. It came in the form of a denim flat cap, a denim shirt, denim jeans and a denim jacket, because triple denim wasn't enough! And it was all in one wash, so I was head-to-toe light blue, and it was pretty horrendous but I thought I looked great. Live and learn from your mistakes. I was about 13 years old, looking like all the members of B*Witched rolled into one!
What is your favourite brand to shop with?
I do shop and wear a lot of Reiss. They have some really nice pieces, it tends to be on the slightly more classic side, so I know if I'm buying something, it'll be an investment that I can wear time and time again. It's about getting value for money; I find if the quality has really upped its game over the past few years and the designs are really on-point. So, nine times out of ten I'll always find that I might be wearing a Reiss piece. Sandro is another favourite brand of mine, and I don't buy it, but I do love Gucci and a little bit of Prada. But as I said earlier on, I don't typically spend money on expensive clothes. I place value on other things.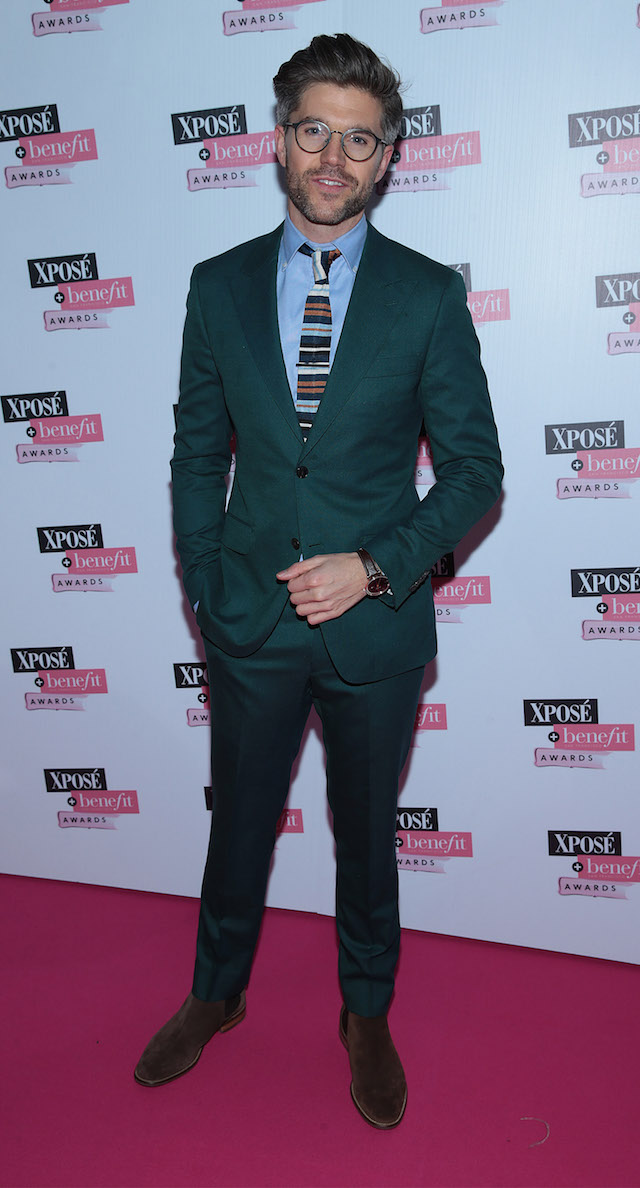 What's the best style advice you've ever received?
From a very young age, my mother said "Don't be afraid to try new things, what's the worst that can happen?" I think we should just have fun and not limit ourselves.
What outfit makes you feel the most comfortable?
I love casual dressing; a really nice Cuban collar shirt with a bit of colour or print in there, a nice pair of relaxed fit, slim cut jeans or chinos and a pair of my favourite trainers is definitely my most comfortable outfit. I have an addiction to footwear, so my place is bursting at the seams with shoes, trainers, boots, all sorts of things. I do try to re-home them, but there are certain pairs that I absolutely love and I can't part ways with. So that's my favourite baze for an outfit, then just a nice bomber or biker jacket and I'm ready to go.
What is your next buy/what are you lusting after?
I'm lusting after a beautiful YMC coat. It's multicoloured and so gorgeous. YMC is another one of my favourite labels. There is also a beautiful Prada bomber that I have my eye on, it's pink and blue and it's stunning, but I'll probably be admiring it from afar!
Is there a particular piece of jewellery or an accessory that you wear all the time?
There actually is, and I'm not big on jewellery, but I always wear these two little love lockets from Louis Vuitton. They release them every year in association with Unicef, and they go towards helping children in Syria. They're really cute, I have a blue one and a white one, you can probably see them in every picture you see me in because I never take them off! They're my favourite pieces of jewellery, I tend to keep my jewellery very low-key. I do wear a watch from time to time, not always, and obviously my glasses! They're my favourite accessory and they're always from Specsavers. I have a glasses wardrobe with about 30 different frames but please each season I tend to rotate between two/three different styles. Right now, I'm very committed to a gold rim round frame from the Will.i.am collection at Specsavers – they go with everything!
Who is your biggest style icon?
That's a tough one. My style icon really should be the love child between Tom Ford and Steve McQueen. If you can imagine what that produces in terms of visual identity for clothing, that's my absolute favourite style. I love having a tailored edge; it elevates a look if you're wearing clothes that have a tailored touch. But they don't have to be classically tailored; I think that's what we see in the athleisure trend, it's taking pieces that are traditionally associated with sportswear but injecting tailored elements. It elevates the look, it's comfortable and it gets my sartorial juices flowing!