Whether you've been following a vegan diet for some time or you're simply trying to introduce it bit by bit, these recipes are perfect for everyone.
From dinner-time meals to afternoon snacks, these plant-based foods will keep even the toughest critic happy.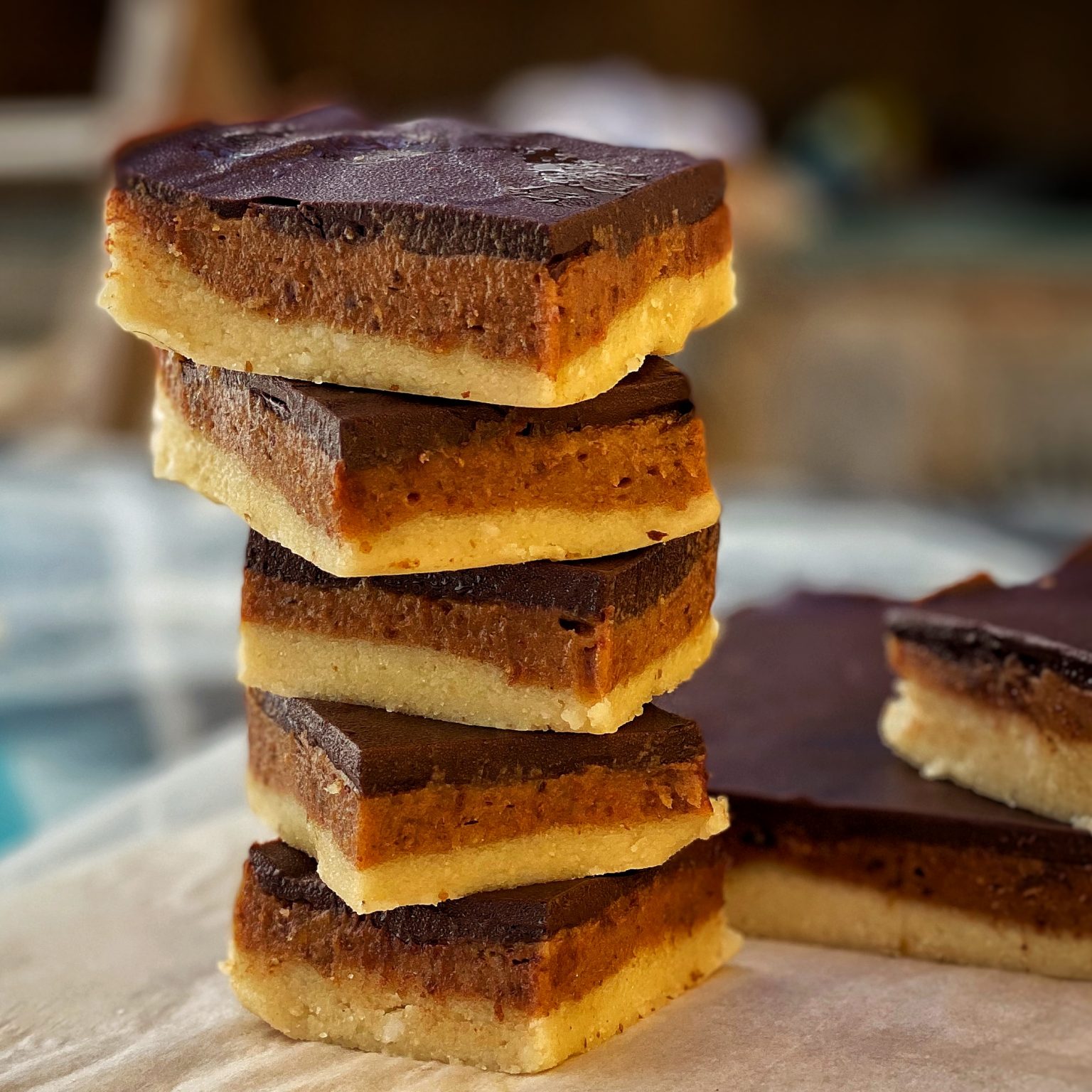 A yummy treat for the whole family to enjoy!
Ingredients:
Shortbread:
200g ground almonds
100ml agave syrup
60g coconut oil
Caramel Layer:
300g pitted dates
150g almond butter
1 tbsp vanilla extract
1 tbsp coconut oil
6 tbsp water
Top Layer:
Method:
Blend your almond flour in a food processor to a fine texture and add the agave and coconut oil into the blend.
Line a baking tin with baking parchment and spread the shortbread ingredients in, patting it down to compact it so that it's firm and will hold its shape when cut. Leave in freezer while you make the caramel to set the base.
In a food processor blend together the caramel ingredients until smooth. Give it plenty of time to ensure that you get a super smooth caramel. Depending on your food processor this will take between 3-8 mins. Spread this mixture on top of the shortbread in a smooth layer.
Melt your dark chocolate and spread over the caramel layer.
Put in the freezer to set and chocolate to harden for 15 minutes. Then cut into squares and demolish. These are best served from the fridge to ensure that they hold their shape
Who doesn't love brownies?
Ingredients:
210g plain flour
30g cocoa powder
300g sugar
120ml olive oil
2 tsp vanilla extract
Big pinch of sea salt
360ml heated non dairy milk (like oat, soya whatever you fancy!) just heated a little so it doesn't harden the melted chocolate
270g melted chocolate (Divine Chocolate 70% recommended)
70g white chocolate chunks (iChoc recommended)
Toppings: handful strawberries washed and sliced, 30g melted white chocolate.
Method:
Preheat the oven to 160 degrees celsius fan assisted.
Mix the flower, sugar and cocoa powder together in a bowl and then add the olive oil, vanilla extract, milk and melted chocolate to mix.
Mix until almost lump-free then add sea salt and white chocolate chips.
Line a baking tray and pour the mixture in evenly.
Bake in your preheated oven for 45 mins and let cool down for 30 mins.
Drizzle melted white chocolate all over, and place sliced strawberries evenly on top.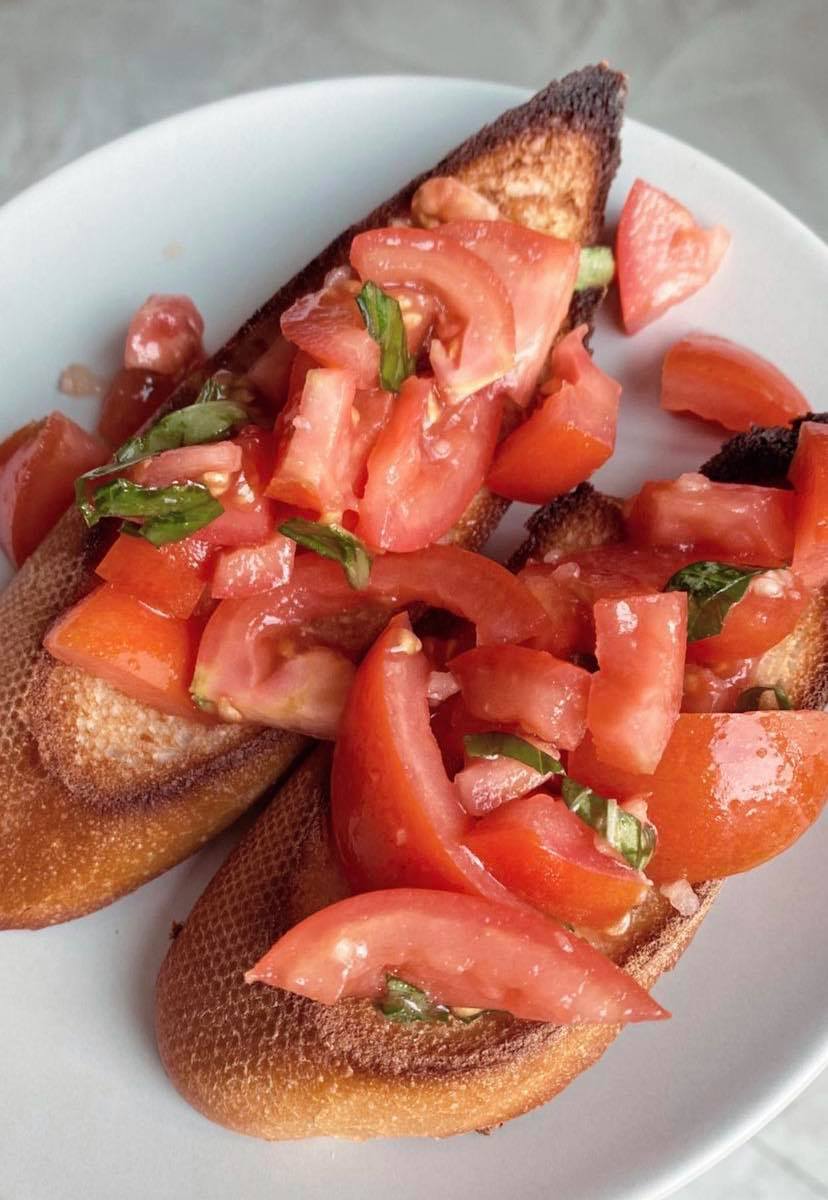 Such a satisfying and healthy snack.
Ingredients:
1 clove garlic
3 large tomatoes
3 large basil leaves
1 tbsp extra virgin olive oil
Toasted bread-roll
Method:
Crush garlic into a bowl.
Chop up the tomatoes and basil, and add them into the bowl along with the oil.
Mix around and place onto of toasted bread-roll.
View this post on Instagram
Give a little kick to your potatoes!
Ingredients:
1kg new or baby potatoes
1/2 tsp salt
1/4 tsp peper
Sauce:
4 tbsp olive oil
1tbsp Sriracha (optional)
1 bap tamari
1/2 tbsp maple syrup
1 tsp garlic powder
Sriracha Mayo To Serve:
2 tbsp of Sriracha sauce
5 tbsp of vegan mayo
Method:
Preheat oven to 200 degrees Celsius with fan
In a saucepan boil the potatoes for 15-20 mins. They are cooked when a knife pierces easily to the centre, but not falling apart.
Transfer the cooked potatoes to a baking tray, gently smash them to crack open slightly by flattening with the base of a glass/mug or pot. Be careful here not to smash them to much but to ensure that they open up. What you are trying to do here is to get them to release some of the starchy insides as when this gets coated in a little oil and is baked it goes so wonderfully crispy.
Drizzle the oil mixture evenly over the spuds, giving the tray a shake to coat the potatoes in the oil, sprinkle evenly with the salt and pepper. Roast for 25 – 30 minutes in the preheated oven until golden and super crispy. Serve with a spicy sriracha mayo.
For the Sriracha mayo simply mix together, this makes a great dip to accompany the crispy potatoes!
View this post on Instagram

Another huge hit from Purcell. Delicious!
Ingredients:
1 tbsp olive oil
1 onion diced Findlay
2 cloves of garlic peeled and crushed
2 sprigs thyme (discard the stems)
2 sprigs tarragon
750g button mushrooms
50 ml water
1 tin lentils rinsed and drained
2 tbsp red wine vinegar
1.5 tbsp tomato paste
1 tbsp Worcestershire sauce
200ml veg stock
100ml oat milk
1.5 tbsp corn starch
1 tsp ground pepper
Topping:
1 tsp ground pepper
2 leeks diced
2 cloves of garlic peeled and crushed
100g spinach
1 dollop vegan butter
2 tbsp oat milk
Method:
In a large pot add the onion and oil and cook for 2-3 minutes until soft and lightly golden.
Toss in the garlic and herbs cooking and stirring for 2 minutes.
Add the diced mushrooms and cook for 5-6 minutes adding a little water if the pan gets dry. Add the lentils.
Toss in your red wine vinegar, Worcestershire, tomato paste and stock, milk stirring to combine.
Add the corn starch and let simmer for 3-5 minutes until the sauce thickens.
Season with pepper. Spoon into an oven proof dish.
Topping:
Cook your spuds until tender. Mash with some vegan butter and oat milk.
In a frying pan add the oil and leaks and cook until soft lightly coloured.
Add the garlic and greens and cook for 1 minute. Tip this mix into your mash and combine.
 Top your mushroom gravy bash with mash and set into the oven.
Bake at 200 for 20 minutes.
View this post on Instagram
Creamy, light, fluffy, and mouth watering.
Ingredients:
500g of cooked chickpeas (2 x 400g tins drained and rinsed)
6 clove garlic – 40g
4 tbsp lemon juice (juice of 2 lemons approx)
1/2 tsp baking soda
4 tbsp tahini
8 tbsp olive oil
1.5 tsp salt
1 tsp ground cumin
Pinch of sumac to garnish
Method:
Fill and boil the kettle. Peel the 6 cloves of garlic. Drain and rinse the chickpeas.
Add the rinsed chickpeas to a pot with ½ tsp baking soda and fry on a medium heat for 3 minutes stirring all the time.
Cover with just boiled water and bring to the boil, reduce to a simmer and cook for 10 mins.
Drain and rinse the chickpeas and soak in a large bowl filled with cold water and really try to get rid of the chickpea skins that came loose during the cooking. You can rub them together or use a small sieve to help with this. Discard the skins. By removing them it will give you a creamier hummus.
Now the garlic and lemon step. In a blender or food processor, combine the juice of 2 lemons, the salt and the 6 cloves peeled garlic, and blend till smooth, it will almost goes milky and white. Transfer the blended mixture to a sieve and using the back of a spoon press out the remaining liquid into a jug leaving the concentrated garlic and lemon juice without the pieces meaning that the flavours of the garlic and lemon will be much better spread throughout your hummus. Discard the contents of the sieve leaving only the concentrated garlic and lemon juice.
Add 4 tbsp runny tahini to the jug with the garlic and lemon juice and fold and mix it together until it emulsifies and forms a creamy paste. Add 2tbsp of water to this and combine till the tahini mixture starts to resemble a creamy batter.
Add all ingredients to a food processor and blend till super smooth.
Taste and adjust seasoning to your pallet.  Serve with some hot chickpeas on top and a glug of olive oil.
Words: Brian L. Cummins