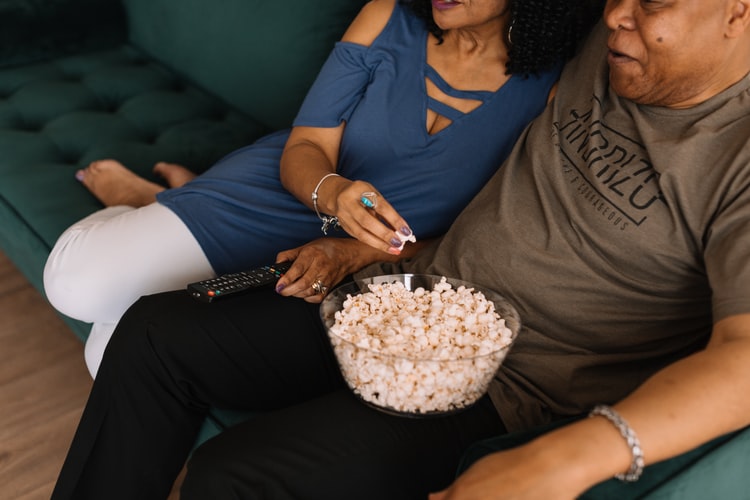 Planning a movie night but tired of having the same old snacks? If you've had enough of the same old crisps, jellies and chocolate, why not spice up your snacks with these quick and easy treats, with simple to follow recipes.
A delicious classic that will never let you down when it comes to tackling your cravings. It can be easily made (and paired) with things you already have at home. Plus, as it'll be ready in under 10. minutes it's the perfect addition to your movie night snacks.
Ingredients:
2 tablespoons of salted butter
2 tablespoons of all-purpose flour
1 cup of milk
8 ounces of cheddar cheese
1/8 teaspoon of cayenne pepper (optional)
Method:
Melt butter in a saucepan over medium-high heat.
Whisk in flour and cayenne pepper and cook 1 to 2 minutes.
Whisk in milk and bring to a simmer.
Reduce the heat to low and add in cheese
Stir until cheese is melted.
View this post on Instagram
Indulge your sweet tooth cravings with these tasty Nutella donuts that are so tasty and easy to make! Whether your company is 5 years old or 55, they'll also enjoy them!
Ingredients:
Nutella
2 eggs
6 tablespoons of plain flour
1 tablespoon of oil
Method:
Preheat oven to 160C and grease your donut pan with flavourless oil OR turn on your donut maker (you won't need any oil if you use the latter).
In a mixing bowl, combine the Nutella, eggs and flour together until mixed thoroughly.
Transfer mixture to a medium snap lock bag and cut the corner tip cut off. Pipe the mixture into the donut pans until each is approximately 2/3 full.
If using a donut pan, bake in the oven for around 10 minutes until they spring back when pressed. If using a mini donut maker, bake for 2-3 minutes.
Allow donuts to cool completely before icing with extra Nutella.
View this post on Instagram
Make the usual rice crispy cakes a bit more flavoursome than usual with only one extra step! Trust us, it makes all the difference.
Ingredients:⠀
3 cups Rice Krispies
3/4 cup peanut butter (or other nut butter)⠀
1/3 cup honey (or maple syrup)⠀
1 tsp vanilla⠀⠀
Method:⠀
In a large bowl, pour in dry cereal. ⠀
In a saucepan, melt the peanut butter, honey, and vanilla on low heat, just until melted.⠀
Pour the peanut butter and honey mixture into the cereal. Mix until incorporated.⠀
Pour mixture into an 8×8 pan lined with parchment paper and pat down until flat.⠀
Add in optional topping, if you wish!⠀
Put the mixture into the freezer for at least 25-30 minutes before cutting into squares.⠀
View this post on Instagram
These loaded fries are the perfect 'fake-away' for a movie night. We can't wait to try them during the week!
Ingredients:
2 large russet potatoes
1 tablespoon of olive oil
1 tablespoon of chilli powder
1/4 tablespoon paprika (optional)
Salt and black pepper
1 cup shredded Pepper Jack cheese
4 slices bacon cooked and crumbled
5 chopped scallions
Jalapeños (optional)
Method:
Preheat the oven to 220 degrees.
Toss the potatoes with the olive oil, chili powder, smoked paprika (if using), and salt and pepper.
Spread out on a rimmed baking sheet and bake for about 20 minutes, until deep brown and crispy on the outside.
Top with the cheese, bacon, and scallions, and return to the oven.
Bake until the cheese is fully melted and beginning to brown.
Garnish with pickled jalapeños.
View this post on Instagram
Does this count as one of our five-a-day? The jury is out… but regardless, these are delicious and you'll definitely want to try them. 
Ingredients:
2-3 tbsp smooth peanut butter
4 bananas
1 cup dark chocolate chunks
1 tbsp melted coconut oil
1 tbsp maple syrup
1/2 cup chopped nuts
2 tbsp edible flowers ( to decorate)
Method:
Split each banana in half. Then slice each piece longsided into half.
Spread peanut butter to one side of the banana place your popsicl stick and cover with the other side of the banana. Gently press down. Repeat with all bananas.
Place bananas in a baking sheet and pop in the frezeer for at least 4 hours or over night.
Melt chocolate by heating it up in the microwave in 30 sec intervals until completely melted. Add melted coconut oil and maple syrup and mix.
Once bananas have set dip them in chocolate roll them in nuts and flowers and pop them back to freezer for 10 min to set. Enjoy!
View this post on Instagram
The great thing about avocado and guacamole is that it's good for you, full of flavour and extremely versatile. Share this as a dip or use it on toast, whatever you fancy.
Ingredients:
2 1/2 ripe avocados
2 tablespoons of sour cream
Juice from 1/2 a lime
1/2 tablespoon of minced garlic
1 tablespoon of kosher salt
Freshly ground black pepper
3 tablespoons of chopped cilantro
2 tablespoons of finely chopped red onion
Method:
Cut the avocado into cubes and place in a large bowl.
Add the sour cream, lime, garlic, salt, and pepper. Mash with a fork, but keep the texture chunky.
Fold in the red onion and cilantro, and stir to combine.
Words: Brian L Cummins