Roz Purcell opened up to followers after injuring her hand, whilst taking her dogs for a walk.
Telling followers about the incident, Roz explained how it was a normal walk in the park with her pups, but when one of her dogs got excited and ran off, the lead wrapped tightly around her finger, and bent it to the side.
Sharing a picture of her hand, the influencer wrote: "I was walking the dogs and my dog Myla went from being at my feet still to full force run at a ball in the park and the lead wrapped around my finger and pulled it fully to the side. It's so sore. I knew I should have just stayed inside."
"Almost certain I broke my finger."
Later on in the day, Roz decided it was time to head to the hospital and get her finger checked by a doctor. Writing: "Ok I went to A&E the fingers gotten worse."
Hours later the Tipperary native shares a snap of her bandaged up fingers, captioning it: "She's not looking well this AM"
The next morning Roz updated followers on how her hospital trip went. Saying: "So my finger, its only a little bit f**ked. Its broken but its only a tiny bit broken. So there just a little nugget off the side."
Gesturing to the x-ray in the background which showed a piece of her finger bone chipped off to to the side.
"That's exactly what it felt like when it happened. I was fishing around, and I was like 'there is a nugget of bone moving around' I definitely made it worse. So its as I suspected," she told followers.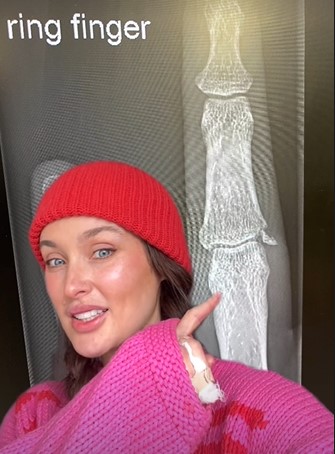 Unfortunately, the author was advised that there is little chance of the bone fuse back together.
As she explained: "I have wrapped it up, I have to have it wrapped up for like five or six weeks, and they're gonna hope it fuses back. They said, chances are it may never fuse back, and I will just have a massive part of that finger, just here.
Sarcastically ending with: "Which is just fantastic, isn't it? And like my ring finger and all."
Here's wishing Roz a speedy recovery.