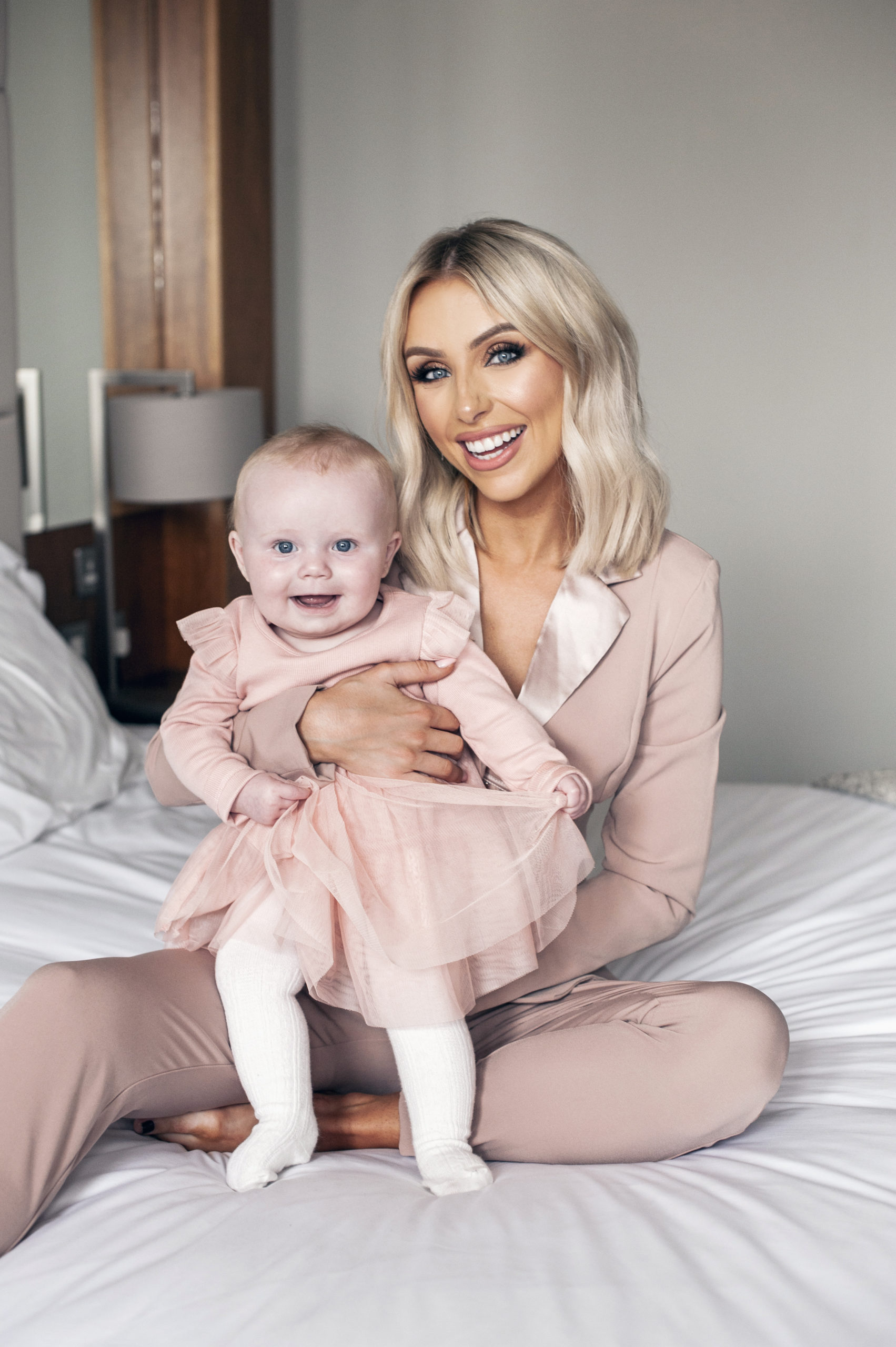 It's always interesting meeting someone whose career is based on them being online. This is a very unique type of celebrity, one whose life you quite literally get to peek into, the window being your phone. We watch this new wave of famous faces do their makeup in the morning, interact with family at dinner time and share their ups and downs in life – although let's be honest, it's usually the ups.
One of Ireland's biggest online stars, Rosie Connolly is someone who posts glamorous content to her 280k Instagram followers, whether it's a beautiful selfie or outfit picture, or a snap of her ridiculously photogenic family – husband Paul and their gorgeous kids Harry (5) and little baby Remi, pictured here – but she also keeps it real, and has never hidden the downs.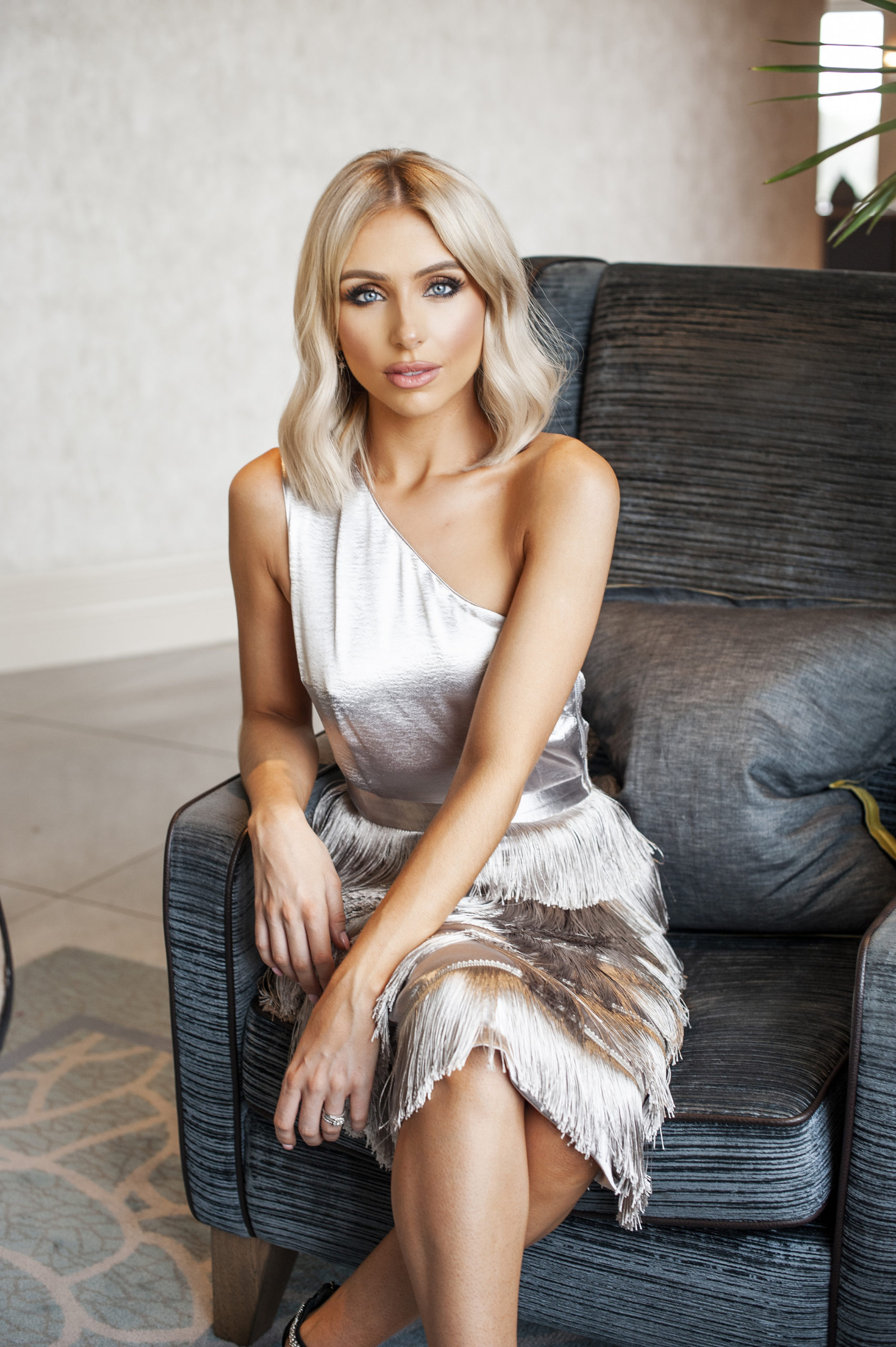 Whether it's opening up about her dad's tragic loss when she was just 18, and the ensuing issues with anxiety that followed, or talking candidly about the confidence-destroying chronic acne she has suffered with, Rosie is not just the picture-perfect pretty blonde you see before you. She is a resilient, empathic, smart woman, who has achieved so much in her 29 years thanks to her drive and work ethic, as her career continues to skyrocket.
She may have given birth just a few months ago but here, Rosie is pictured wearing her very own new fashion line with A-list-loving label Lavish Alice (by the way, as well as styling herself, she also did her own hair and makeup, a VIP first!). We can't wait to see her continue to grow.
Rosie, your line is stunning. What an exciting time for you!
Thank you! It has all been very exciting. The process is so long, I've been looking at these designs for ages, so I'm really happy that it's finally here and that it's been really well received.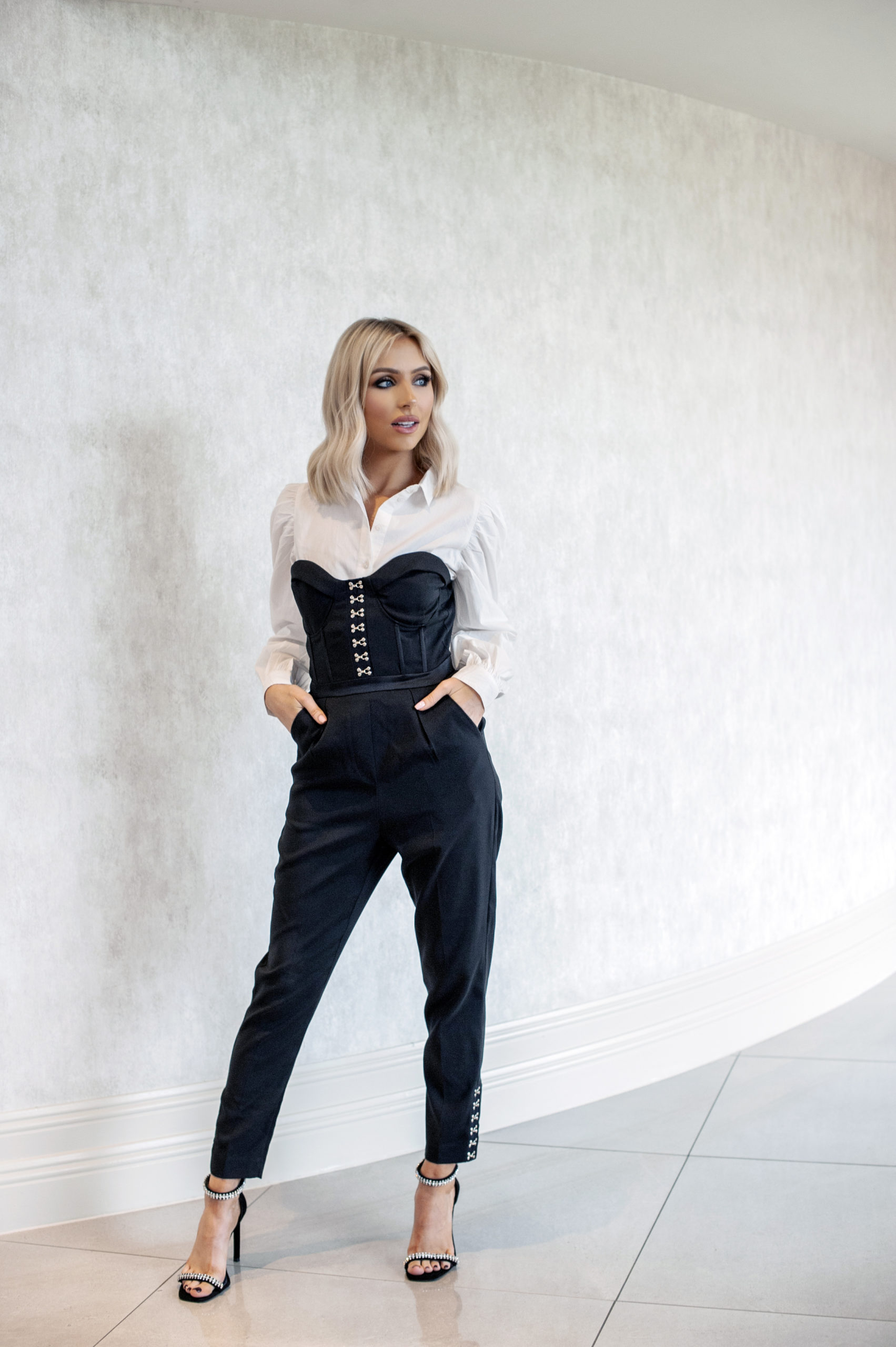 Can you imagine back when you were a personal shopper, before the blogging, if you'd told yourself that you'd have your own collection?
I would've been like, "Not in a million years!" Fashion is definitely where my heart is. I absolutely love it.
It must have been pretty cool seeing Katy Perry wearing one of your designs recently…
I nearly died! That was literally my dress. The morning of our launch, we woke up and the owners messaged me to tell me she'd worn one; I was like "Send me the link, is this a wind-up?" But she [Katy] had! We didn't even pay her, it was picked out of a showroom, so to see her wear it was mind blowing.
With having a baby this year, and taking on this fashion line, how have you managed to balance it all?
As you've seen today, between me and my husband we just try to balance it all. I always say, I'm not busier than anyone else, we just have a different type of busy, you know what I mean? There are days where I drop the ball and I can't manage it all, but it's important not to beat yourself up about it too much. At the end of the day, being a mum is the most important thing and then you try and fit everything else around that.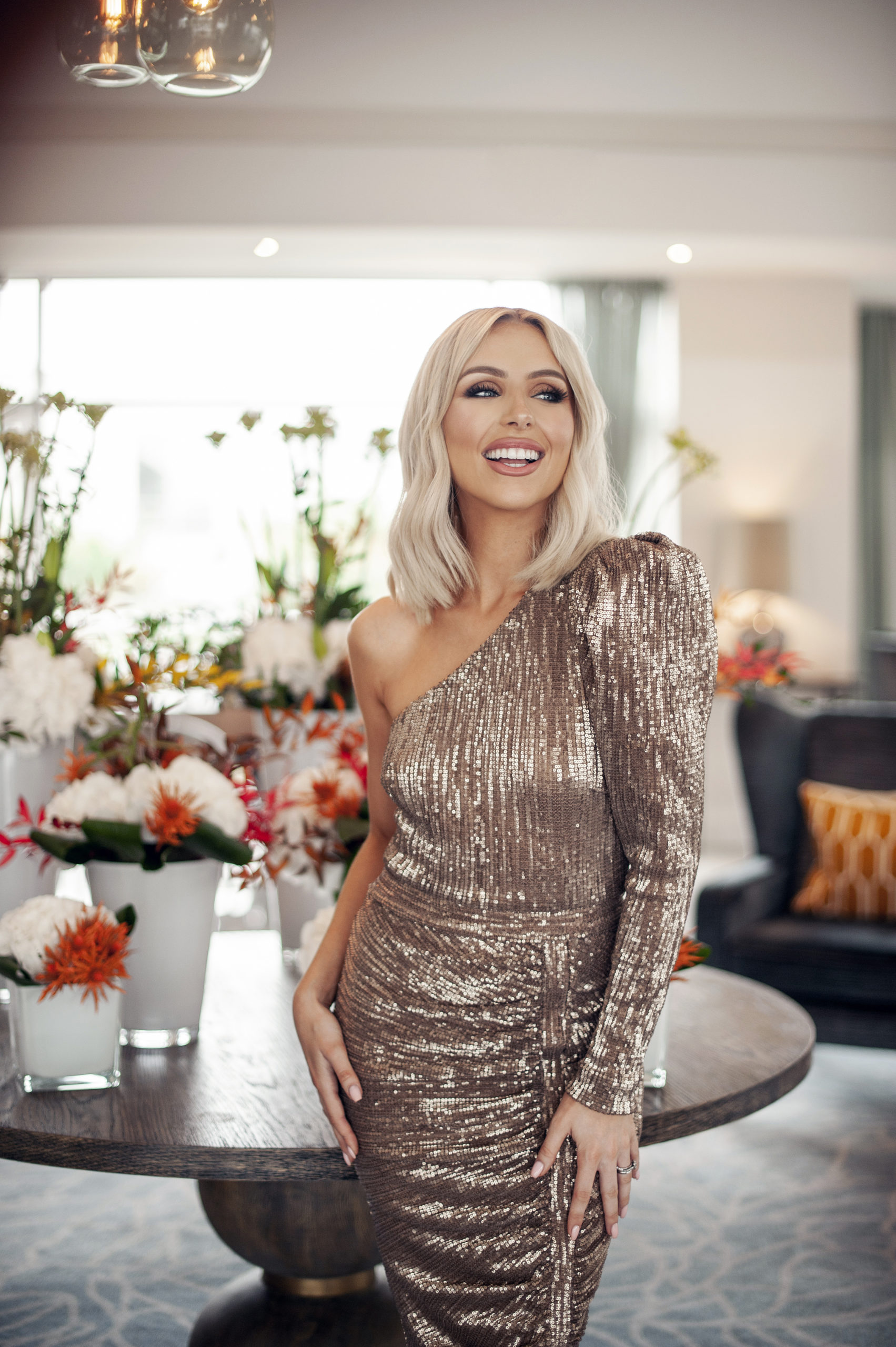 Having a little girl must be such a magical addition to the family.
It is, and I never thought I'd have a girl! It's all boys on my husband's side of the family and I remember thinking "No way, I'll have lots of boys if we have kids." And then I was happy with that because Harry is such a good boy, such a gentle kid. When I got pregnant again I thought, "Oh I'd love to have a second boy." I never let the thought cross my mind that I would have a daughter. And now, I'm still like…I can't wait to bring her to get her nails done! Just to do girly things together. We're so lucky to have a boy and a girl, I literally couldn't wish for more. And they're both healthy, that's all that matters.
How's Harry getting on with her? Are they best pals?
Oh, he loves her. He's so protective of her, he's always like "Mama I'll run up and get that for you, I'll run up and get her dodie". He loves being that bit older and more responsible, he's like, "I'm a big brother now!"
He just started school – is he getting on OK?
He's settled in really well now, thank God. He had a really rough start to the school year, he was quite unsettled because as I said before, he's a sensitive kid, but he's loving it now. He runs in the door and there's something really lovely about waving them off and knowing that they're happy.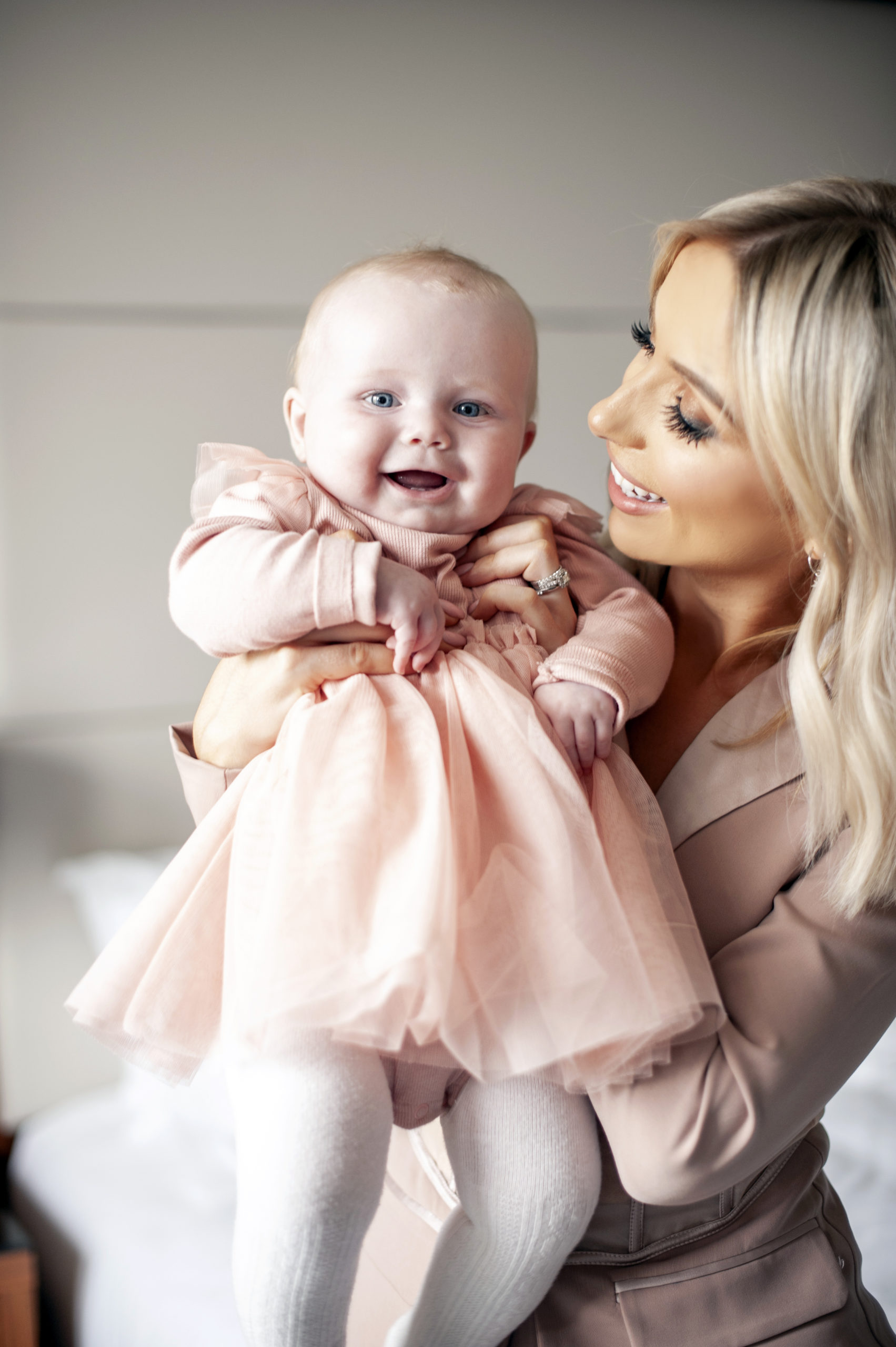 Being a mum to two young kids, do you have a newfound respect for your own parents?
Yes, I think about them in a totally different light. You just don't realise all the sacrifices they make. Like, my mum was only 30 – I'll be 30 now in January – and she had three young kids. I was the youngest, I had just been born, and my dad was really sick, he'd had a brain haemorrhage then a stroke and he couldn't look after himself, because he was paralysed on the left side. She was only my age and I'm like, "How did you deal with that?" And she said, "I didn't have a choice!" I have so much respect for her. I always did, but I think now with that perspective, even more.
With what you have gone through, with your dad then passing away when you were 18, you've said that you have a fear sometimes of things being too good to be true, of losing people. Does that fear increase when you have your own kids?
I'm a worrier in general, but [regarding my kids] my worry goes through the roof! I've heard that that doesn't go away no matter what age they are. But I do try to suppress that feeling. I try to just live in the moment because, it could go wrong but it also might not, so why not enjoy the good times? There will be ups and downs but at the moment things are really, really good and I don't want to ruin that and not enjoy it by worrying about something that might not happen. I'm getting better at it, it takes practice. If my husband sees me slipping into that "what if?" attitude, he says that if something does happen, we'll deal with it, we'll handle whatever is thrown at us.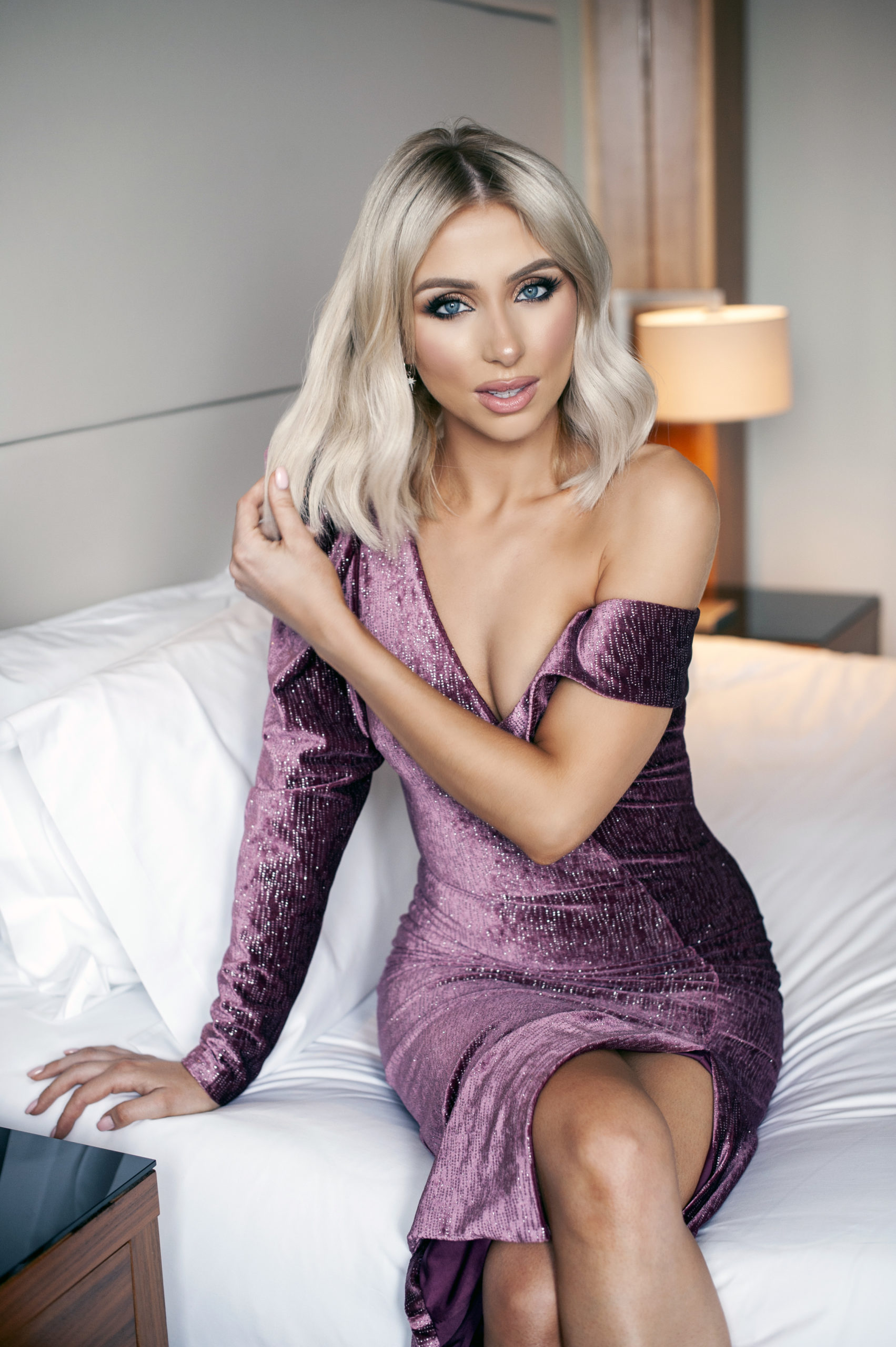 Is Paul a real calming influence in your life then?
Oh, so calming. I'm a worrier, I stress and I panic about a lot of things and he is very chill, he goes the opposite way. He's just like, "It's grand, life will just happen." He's been through a lot himself over the years. He lost a child, my stepson was a twin, so he lost a baby and I think things have been put into perspective for him. He just lives life, embraces every day and lives in the moment moreso than I do so he's great at telling me to switch off and stop worrying!
That's probably how you bonded in the beginning, because you've both been through tough times.
Yes, we've both been through our own stuff. My mum was going through breast cancer at the time as well, she's just five years over it now and she's doing amazing. She has a whole new lease of life. She was like me: she used to be so worried and stressed, like all of us, and now she just loves life. She goes to everything, says yes to anything. She did the Dip in the Nip in the sea and she would never have done that before! As much as I wouldn't wish cancer on anybody, it changed her life for the better, in a way. I just love seeing her so happy and embracing everything!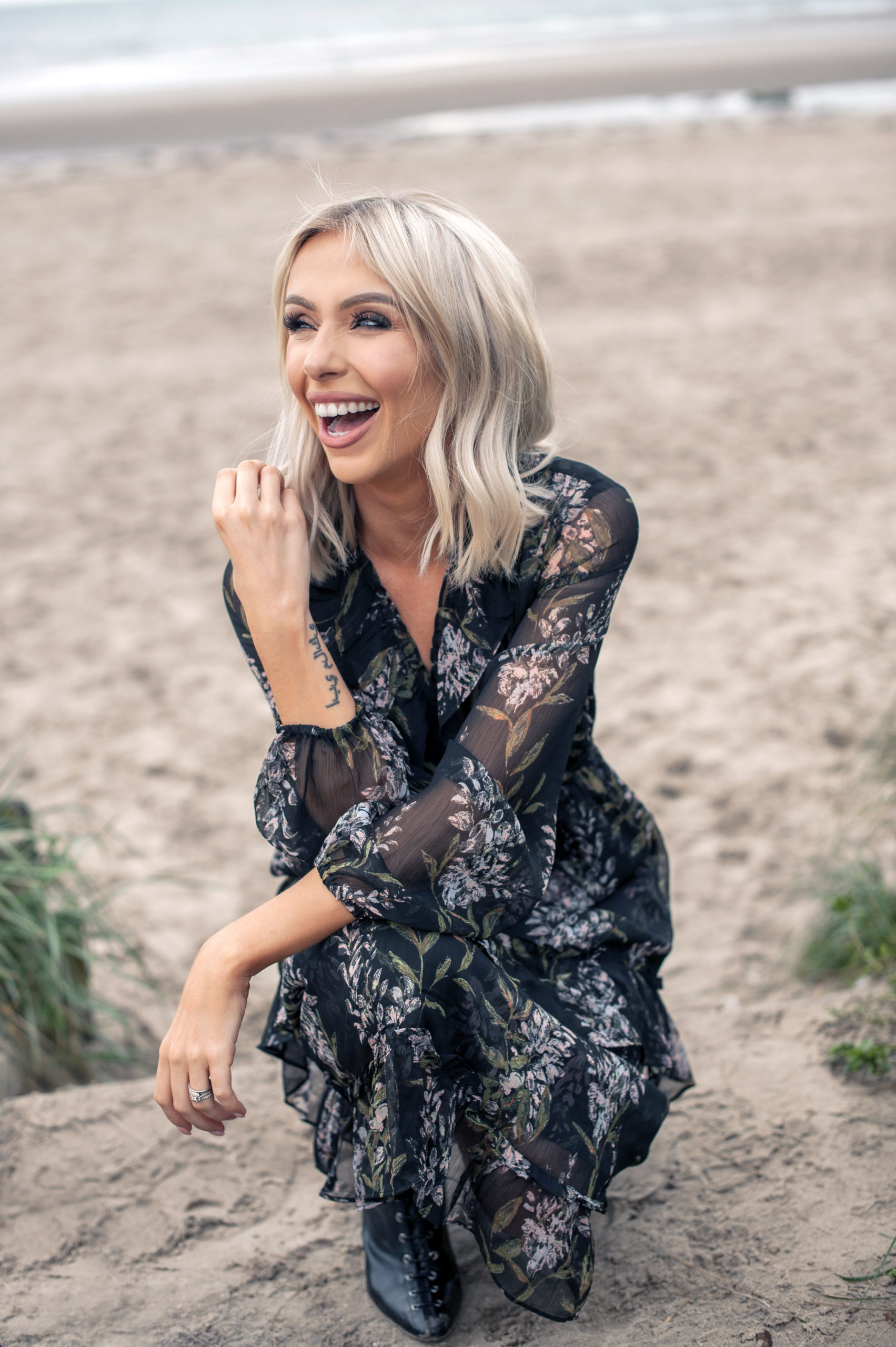 You seem like you're very close with your family.
We can literally read each other like a book! Mum will send a text and I'll know straight away what's up with her. We're very close, I have two sisters and we get on so well. We were always close, but when my dad passed away that just stuck us together like glue. We're a family of talkers so if there's something going on we're like, "Everybody sit down, have a cup of tea, let's talk it out." My mum is very open and my Dad was a big softie who was very transparent with his emotions, he would never be like, "Men don't cry!" I've seen my dad cry a million times, it was just normal for us.
That's a great attitude to instil in your kids.
Yeah, and with Harry too, if he falls and cries, I'd never say "You're a big boy, man up" – boys have emotions, just like us, it's no different. Being the mother of a boy I want to make sure that he knows it's absolutely fine to be vocal on how he feels, and to show when he's upset… I don't want to raise Harry and Remi any differently, I want them to be treated the same. There's no gender boxing-off in our family.
As you said, you're 30 next year. You've achieved a lot already; you have a house, two kids, a husband, a big business…
It's just been mad. My thirties is where I want to focus on my career…I've spent the last four or five years with the kids and really focusing on settling into being a mum because it's a huge adjustment.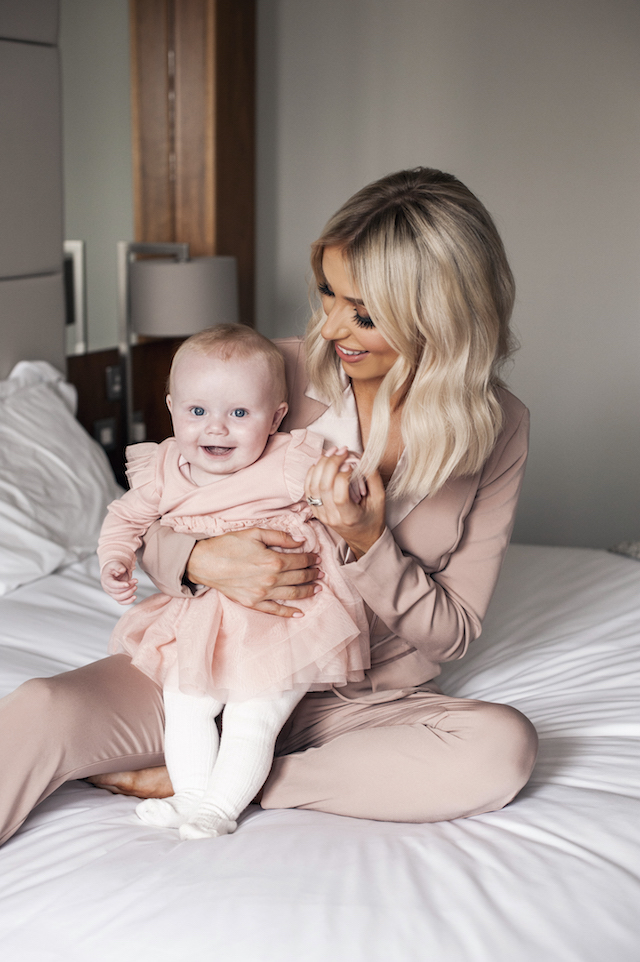 Having Harry probably sped- up your twenties!
Yes, it's like you go from drinking at the weekends, having fun and only thinking about yourself, to "Right I'm a mum now." It was brilliant though, and I wouldn't change it.
You look incredible for someone who gave birth seven months ago…
I'm the worst for diet and exercise! That's why I never talk about food or anything because I do not exercise and I eat rubbish. My dad had such a fast metabolism, he ate around him. He was really tall and slim, my whole family is. I've had the body of an eight-year-old since I was 15! People don't like to believe that, they're like, "No, she must be doing something on the side" but I honestly don't. I would love to be fitter. That's the thing; people think that slim equals fit and it absolutely doesn't. There are plenty of people that could outrun me in a second! I need to introduce exercise into my life. It gives you energy I've heard!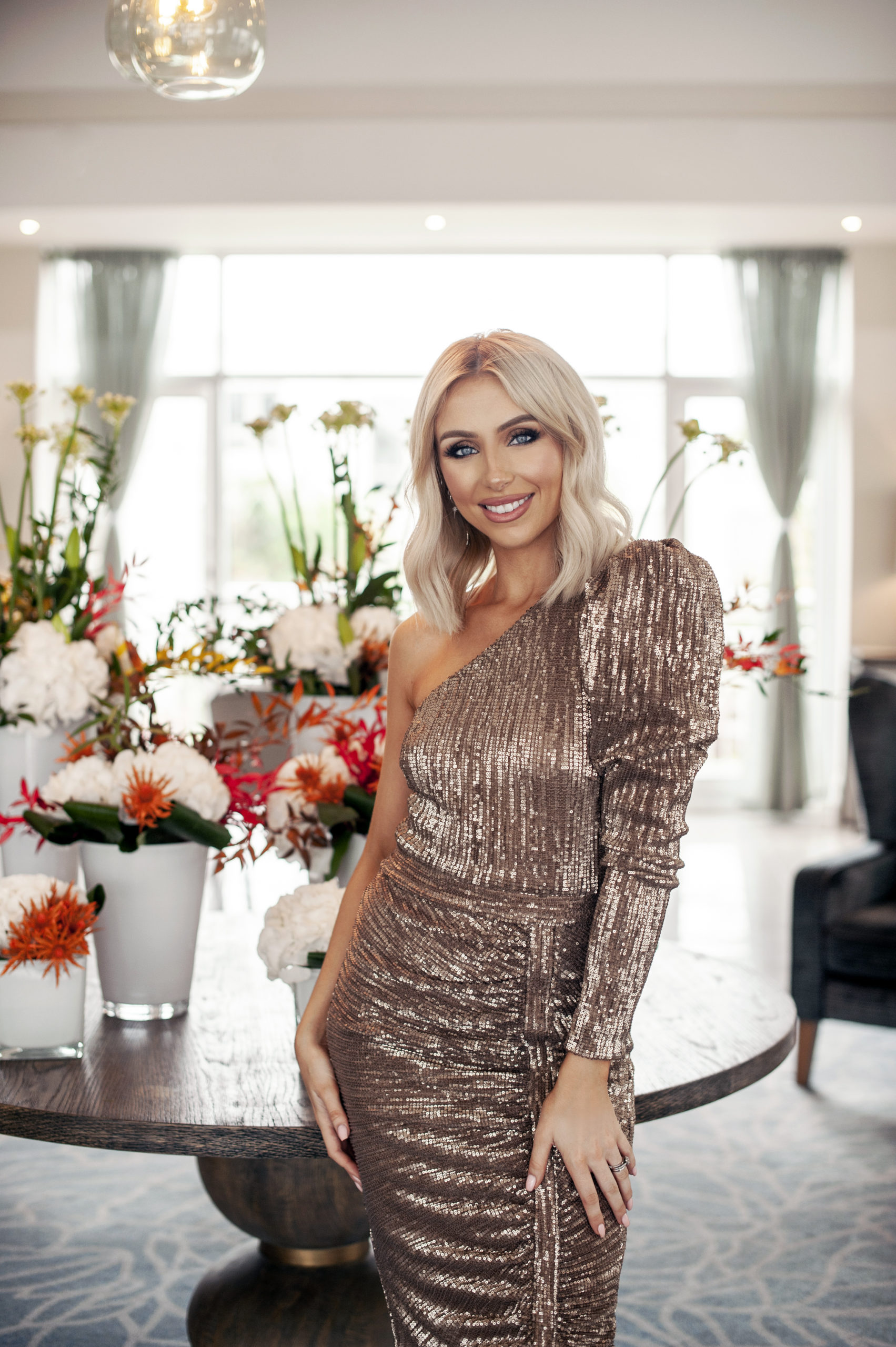 Your skin is looking fab as well – you've been very honest about your struggles with it in the past.
Mine is very hormonal based and it was really bad after Harry, it kind of flared up and down. When I first fell pregnant again it was bad in those first few months and then it levelled out and my skin just started the glow. I've been sticking to a skincare routine, I've been a brand ambassador for ASAP skincare since May; I use that everyday and my skin has reacted so well. I try not to take any good skin day for granted, I'm so grateful for my skin being clear because I've been there when it was a confidence destroyer.
Last time you featured in VIP it was for your wedding. Can you believe that that's almost a year and a half ago and here you are with a husband, two babies and your career going up and up…
I'm so lucky. We really did want to have a baby last year after the wedding but in my head I thought, "I don't know how long this will take to happen!". Then I came home from the honeymoon pregnant! It happened very fast and we're so blessed because it's so often that you hear about people struggling with fertility issues. You just don't know if it's going to happen as easy as you think it will. And luckily for us it did. She's here, she's healthy and she's happy. Life has been a bit of a whirlwind this past year but I can't complain!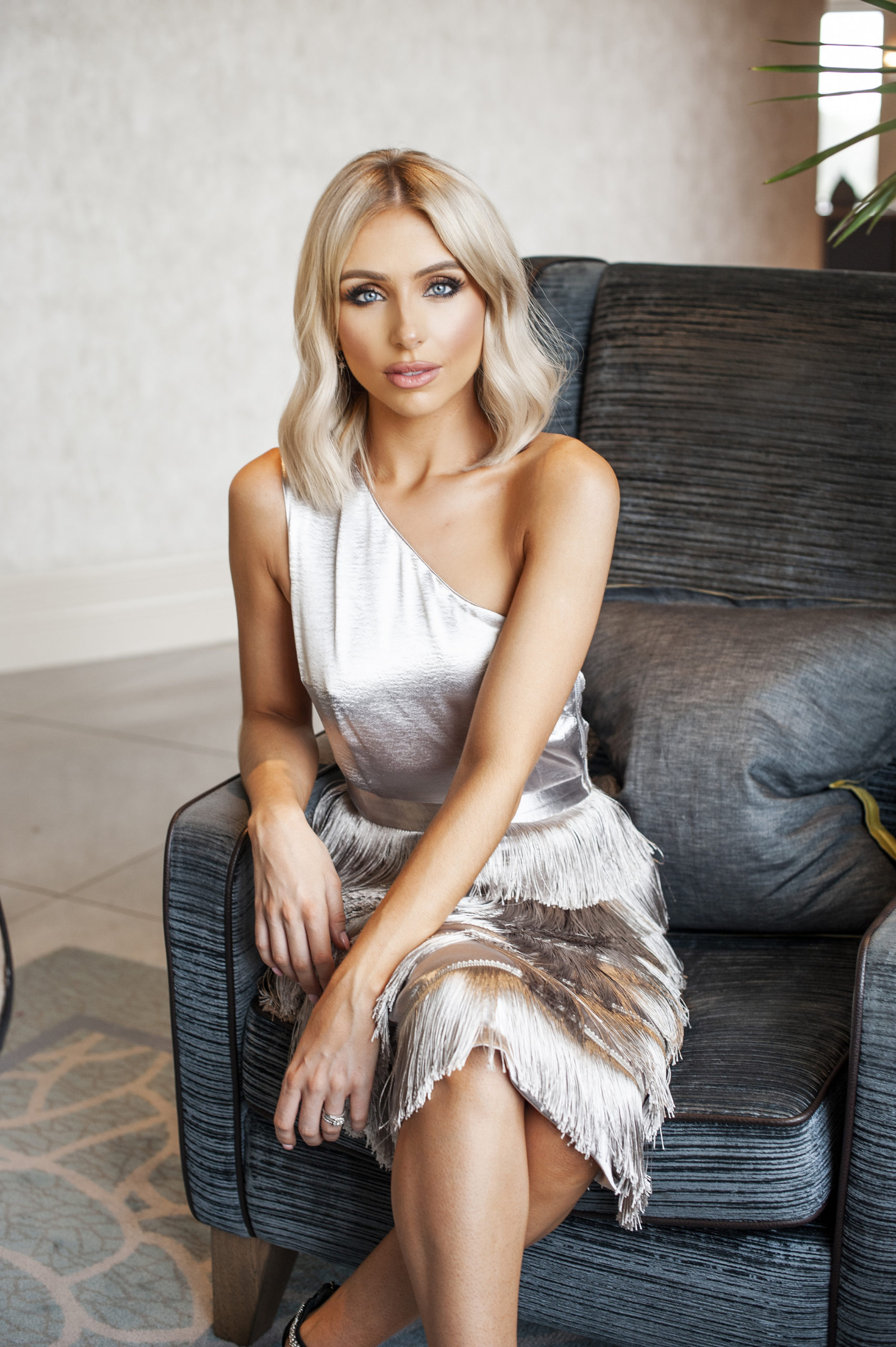 INTERVIEW: Niamh Devereux
PHOTOGRAPHY: Lili Forberg: misslili.net
Visit lavishalice.com/collections/rosie-connolly-quinn for Rosie's line, pictured throughout.
Shot on location at the beautiful Portmarnock Hotel & Golf Links, overlooking Portmarknock Strand and within easy reach of Dublin City.