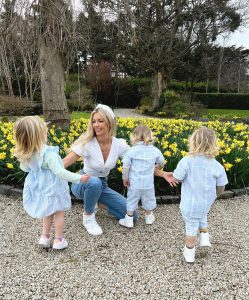 There's no doubt about it, raising kids of any age is a full-time job and one person who knows all too well is Rosanna Davison.
Yes, the former Miss World shares three adorable kids with husband Wes Quirke; three-year-old Sophia and two-year-old twins boys Hugo and Oscar.
And while social media tends to show the calmer, happier side that having children brings, Rosanna couldn't help but take to social media to share her own realities of raining a "teenager".
Uploading a photo of herself and Sophia, Rosanna wrote: "How to manage a #threenager."
View this post on Instagram
Firstly she suggested looking at them directly in the eyes, before recommending not to back down or make any sudden movements.
She then advised her followers to speak with authority and added that if all else fails, throw snacks to them.
Taking to her Instagram stories then, Rosanna admitted to finding the toddler stage "challenging".
"It's such a fun, affectionate, inquisitive age and I love it but I'm finding the toddler phase way more challenging than the 1st year.
"The fights & tantrums are absolutely crazy at the moment. But everything is just a phase and this too shall pass."
Before signing off, Rosanna expressed that she is far from being an expert when it comes to parenting but believes that she has learned a lot from managing toddler tantrums.
"Distraction works very well during a tantrum – I often bring my kids outside to the garden to help them to calm down and it always helps.
"Giving them a big hug and saying you understand that they feel angry and frustrated also works very well. Staying calm and rational is always the best approach!"