Rosanna Davison is jumping back into her international career, as she embarked on her first work trip abroad since welcome her children.
The model is currently in Germany for an event, which was her first time traveling on a plane in two years, and her first time travelling for work since welcoming her daughter Sophia in 2019, and twin boys Hugo and Oscar in 2020.
Opening up about the trip on her Instagram stories. "Happy Friday from Germany! Can you hear that? The sound of silence," she joked.
"There is no one around me fighting or asking 'Mummy, mummy, mummy, can I have a snack?' Or screaming, or pulling their siblings hair or giving me hugs. I'm actually starting to miss them a bit and I did look at some pictures of them throughout the flight on the way here."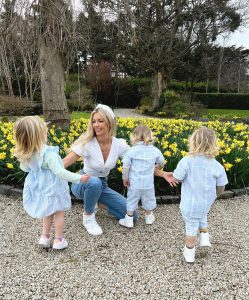 Continuing: "I'm only away for an overnight work trip, and back home tomorrow morning. But it was my first time on a plane today for almost two years. Which is crazy! I travelled so much pre-pandemic and pre-babies. But I suppose its normal when you have some children just to stay at home so much more."
The former Miss World also opened up about saying her goodbyes to the tots, sharing how she got an extra farewell.
"Putting them to bed last night, I was thinking 'aww its really sad, I won't see them until Saturday.' But of course, each of them woke up individually for different reasons and came in. So I did get a final cuddle with all of them before I left," she shared.
Rosanna spoke to us at The Platinum VIP Style Awards, about returning to her international career. 
"I have my first work trip coming up in a few weeks to Germany, I have a manager over there and I had to say to them a couple of years ago, 'there's no way I can travel at the moment with the babies.'"
"But a few weeks ago an opportunity came up to go to an event and I said: 'yeah, why not? I can probably make it work at this stage' It'll be my first time on a plan in nearly two years," she explained.