Rosanna Davison has had quite a chaotic week of solo parenting as her husband Wesley Quirke has been away.
Yep, parenting is no easy job especially when you're left to do it alone, which the former Miss World can no doubt relate to after this week.
Taking to Instagram this morning, on day nine of solo parenting, Rosanna shared: "Friends if I don't text you back this morning, it's because I'm spending my life picking up cuddly toys."
No doubt, parents can relate to that one!
View this post on Instagram
While, earlier on in the week, Rosanna couldn't help but share some other mishaps and obstacles she faced along the way.
"Managed to drop a cup of boiling hot black coffee on my left foot and right into my shoe this morning," Rosanna admitted as she posted a picture of the dressing she had got to cover up her injury.
"This dressing from the pharmacy has really helped to soothe the blistered area – good to know in case it ever happens to any of you.
"The kids weren't anywhere nearby thankfully," she added.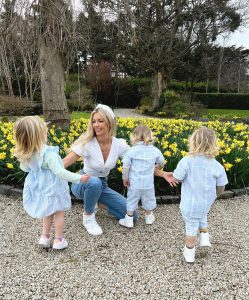 Then in a surprising turn of events, Rosanna also shared a win on her end, when she convinced her daughter to eat broccoli.
"My fussy three-year-old has just declared she loves broccoli! It's a miracle, I cooked some tender stem broccoli with olive oil, garlic and a pinch of sea salt, put it in a bowl, and started eating it beside her.
"Of course, she wanted what I was eating and decided it was delicious."
Keep up the good work, Rosanna!