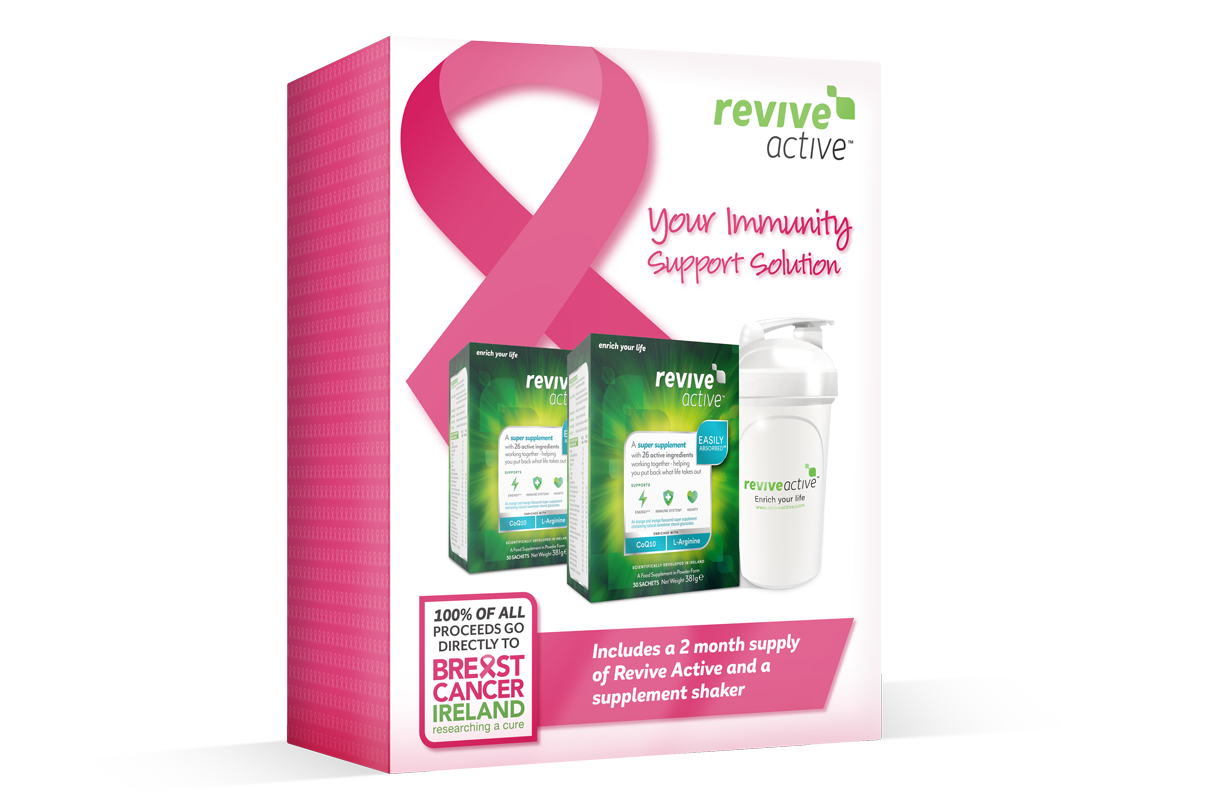 Staying fit and healthy when our immune systems are put to the test is more important than ever during the winter months and amidst this Covid -19 pandemic. Supplement brand, Revive Active has stepped up to lend their support to Breast Cancer Ireland through the sale of 1,000 limited-edition Immunity Support Gift Packs this festive season.
Each pack pack contains two 30-day boxes of Revive Active super supplement and a shaker for the discounted price of €100. The normal recommended retail price is €125. 100 percent of proceeds from the sale of this special pack will go to the charity to support pioneering research and awareness campaigns in 2021.
Aisling Hurley, CEO of Breast Cancer Ireland said, 'We are delighted to have been selected as beneficiaries of this worthy and very generous initiative by Daithi O'Connor and the Revive Active team in Galway.
"With 100% of the proceeds going directly to support our ongoing research and awareness efforts, we will be encouraging our community and corporate donors to consider this as a Christmas gift and staff incentive this year."
Revive Active is a super supplement that contains 26 active ingredients, contributing to the maintenance of the immune system, heart, energy, fertility, thyroid function, metabolism, skin and more.
The active ingredients in each sachet that contribute to the normal function of the immune system are Zinc, Copper, Folate, Selenium Vitamins B12, B6, C, and D. Taking the supplement couldn't be easier, just dissolve the sachet into a glass of water, juice or into your daily smoothie to have on the go.
Formulated and manufactured in Ireland, this limited-edition pack is available to purchase ONLINE ONLY at reviveactive.com and includes free delivery.