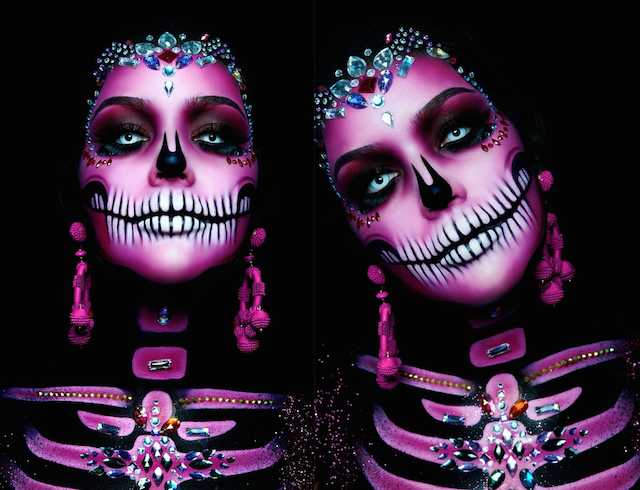 Halloween is just around the corner – but if you've yet to figure out a costume, we've got you covered.
Instead of fretting over what to wear, focus your attention on some spooky make-up and let that do the talking.
Changing things up from the typical skeleton look, add some jewels and go glam!
Top make-up artist Paddy McGurgan shares his ten simple steps to recreate this look at home:
Step 1 – Apply Supracolour White all over the face with a fluffy blending brush. This is a cream based product so will give you a full coverage finish.
Step 2 – Set your base using a white setting powder- this will not only mattify your base but will also add a white coverage to your base. For this we used Dermacolor Fixing Powder – P1.
Step 3 – To add a pink element to outer section, we used a series of matte and shimmer pink shadows to add this definition. We suggest Make Up Studio Eyeshadow No.54.
Step 4 – Fill in brows using Make up Studio Brow Powder in shade Dark, then using Limecrime Venus I, add plum and cranberry tones to the eyes.
Step 5 – Next up using Make up Studio Black Cream Liner draw a curved black line along the mouth and with a small thin tapered lip brush bring your black line up to create a teeth effect.
Step 6 – Sketch out using black liner your bones outline on the chest area.
Step 7– Using the black cream liner,  paint the neck and chest area then set with a matte black shadow, we used Make up Studio Blusher No.5.
Step 8 – Add Pink Shimmer Eyeshadow to the pink areas both on the face and chest. Make up Studio Eyeshadow Lumiere in shade Magenta Mystique and shade 'Wifey' from BPerfect Cosmetics Carnival Palette does the job perfectly.
Step 9 – Using Kryolan Spirit Gum – glue individuals jewels and diamonds to the skin.
Step 10 – Finally, add contacts for a spooky effect!
If you're not keen on doing this yourself, pop to Paddy McGurgan's Make Up Pro Store in Belfast for a full Halloween makeover.