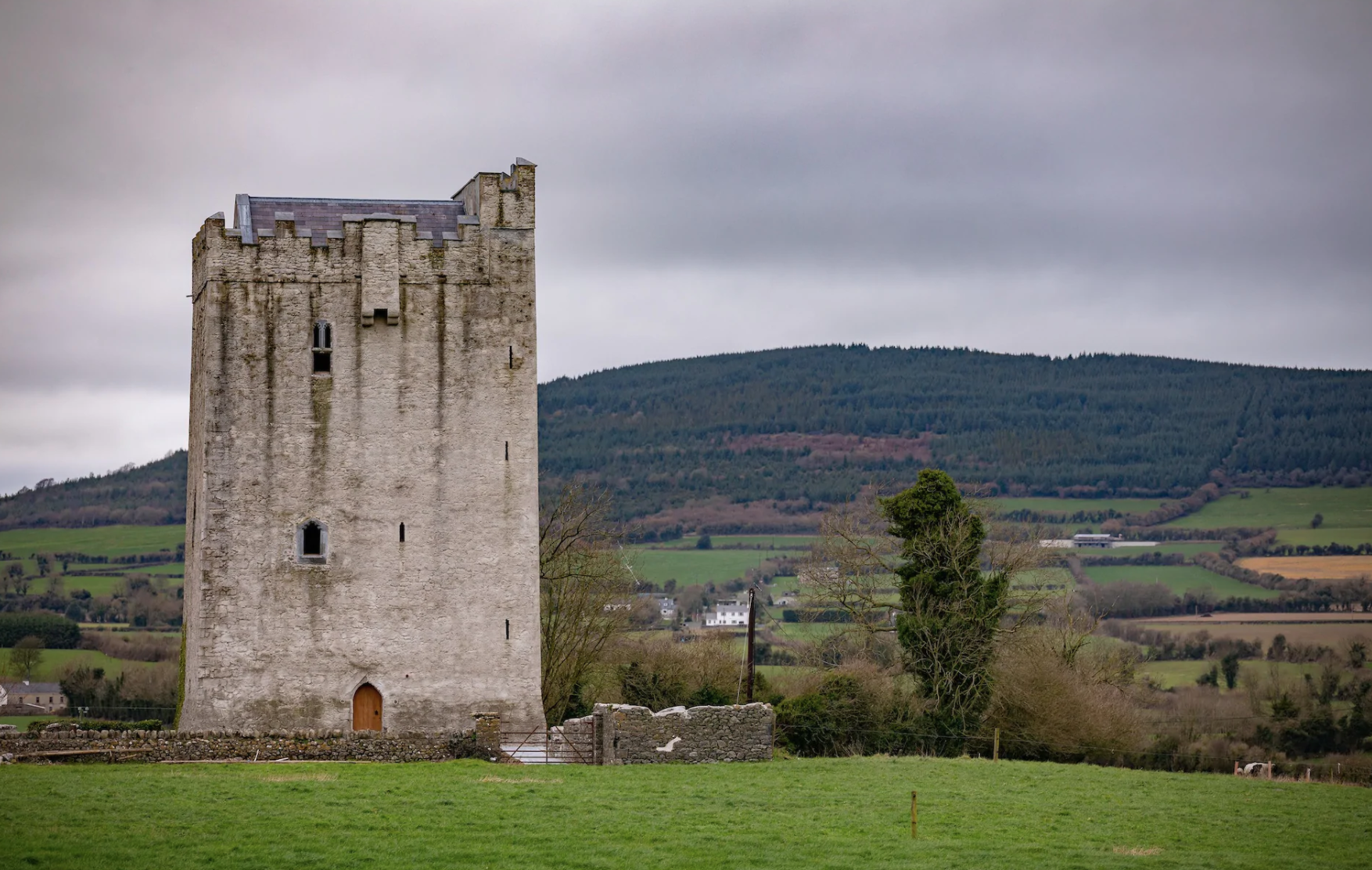 Anyone else having serious cabin fever? While the thoughts of going abroad is still a little far-fetched, we're dreaming of traveling every inch of our gorgeous country once restrictions lift and it's safe to do so.
If you're hoping to get away but fancy staying somewhere other than a hotel, we've got you covered. Time to start exploring!
1. Cuckoo Wood Hexagon, Westport, Mayo.
Always wanted to stay amongst the treetops? Well, now's your chance. This hexagon shaped treehouse is located on it's own piece of land – a private island if you want to sound fancy – and is surrounded by one third of an acre greenery. Fitted with a kitchen and fireplace, the bright interiors and green views would be all the entertainment you need, plus there is wifi for a cheeky Instagram post if needed.
This property has a three-night minimum stay at €80 per night for dates we checked in August.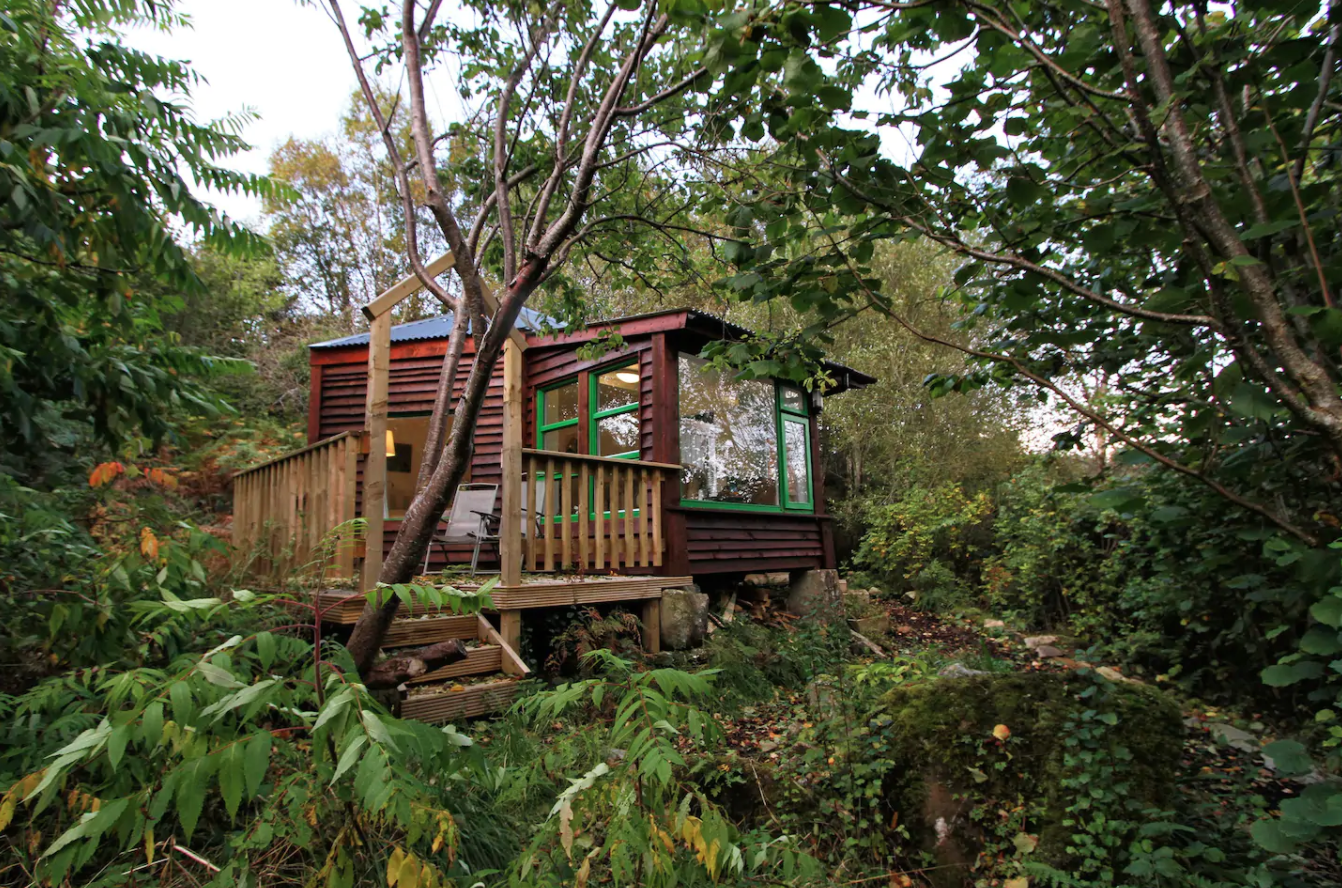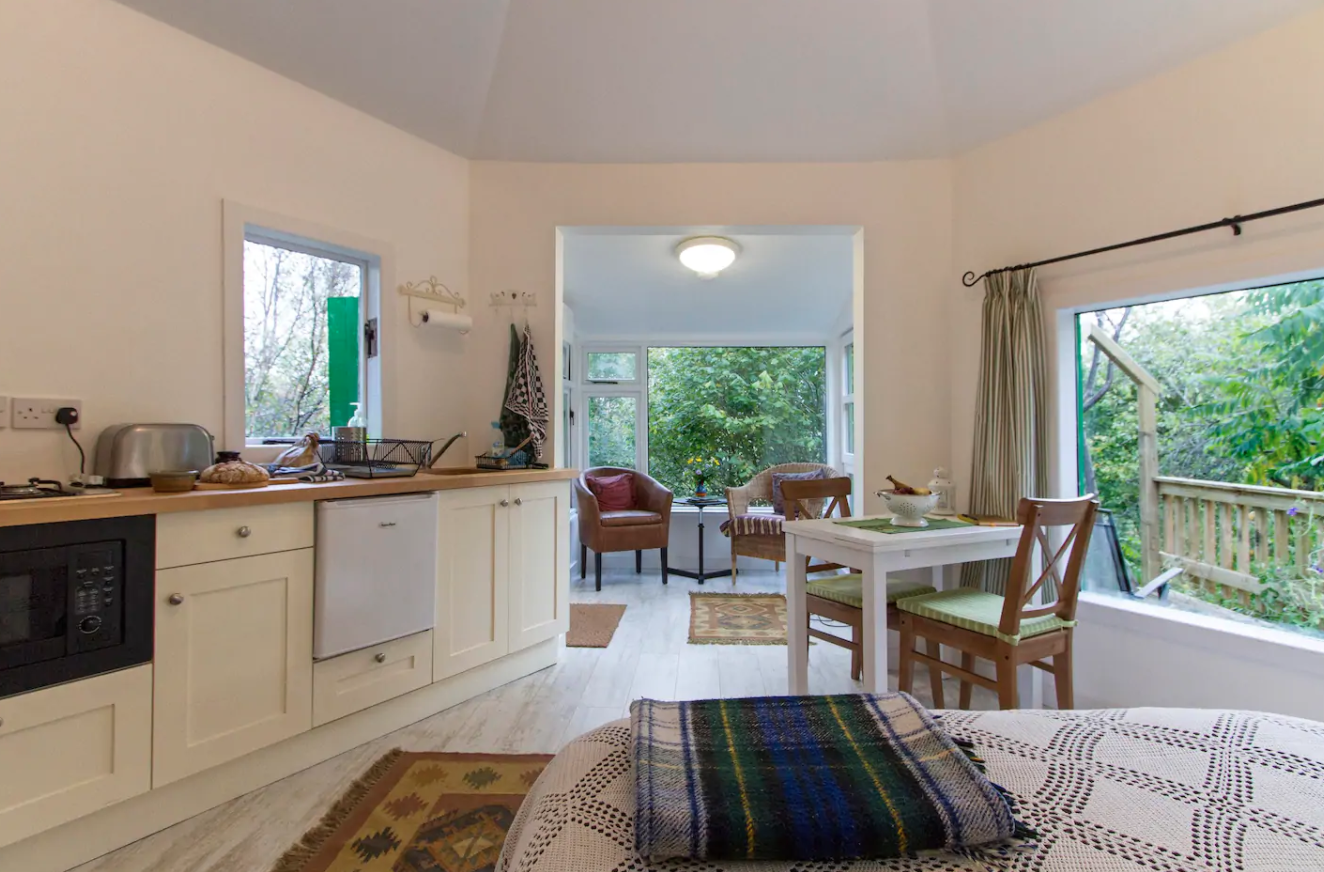 2. Lakeview Cabin, Tipperary
This tiny house was awarded 'Most Unique Listing in Ireland' by Airbnb. The cabin has a loft bedroom and a kitchen and bathroom overlooking Lough Derg and the Sliabh Aughty hills in Galway. If you're looking for accommodation based on sustainable values this may be the one for you. The home is built from locally sourced timber and has low voltage LED lighting. This tiny compact stay is definitely one for the list, it looks like simplistic living at its best.
This property has a two-night minimum stay at €60 per night for dates we checked in September.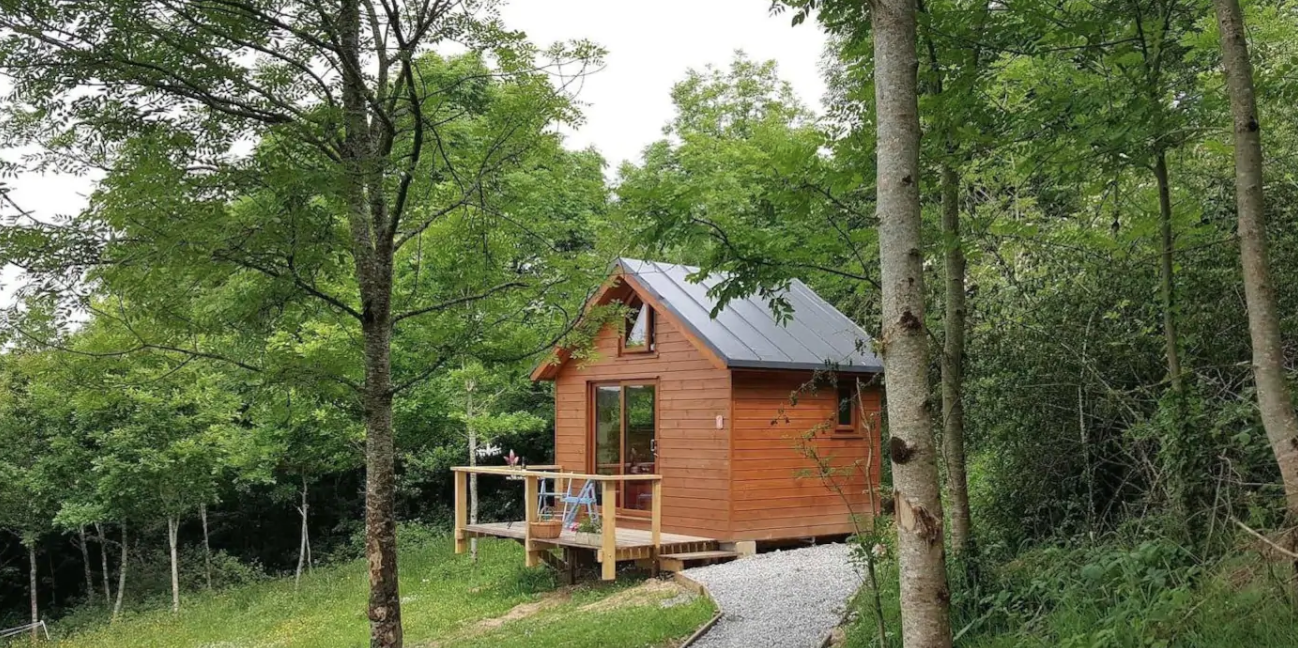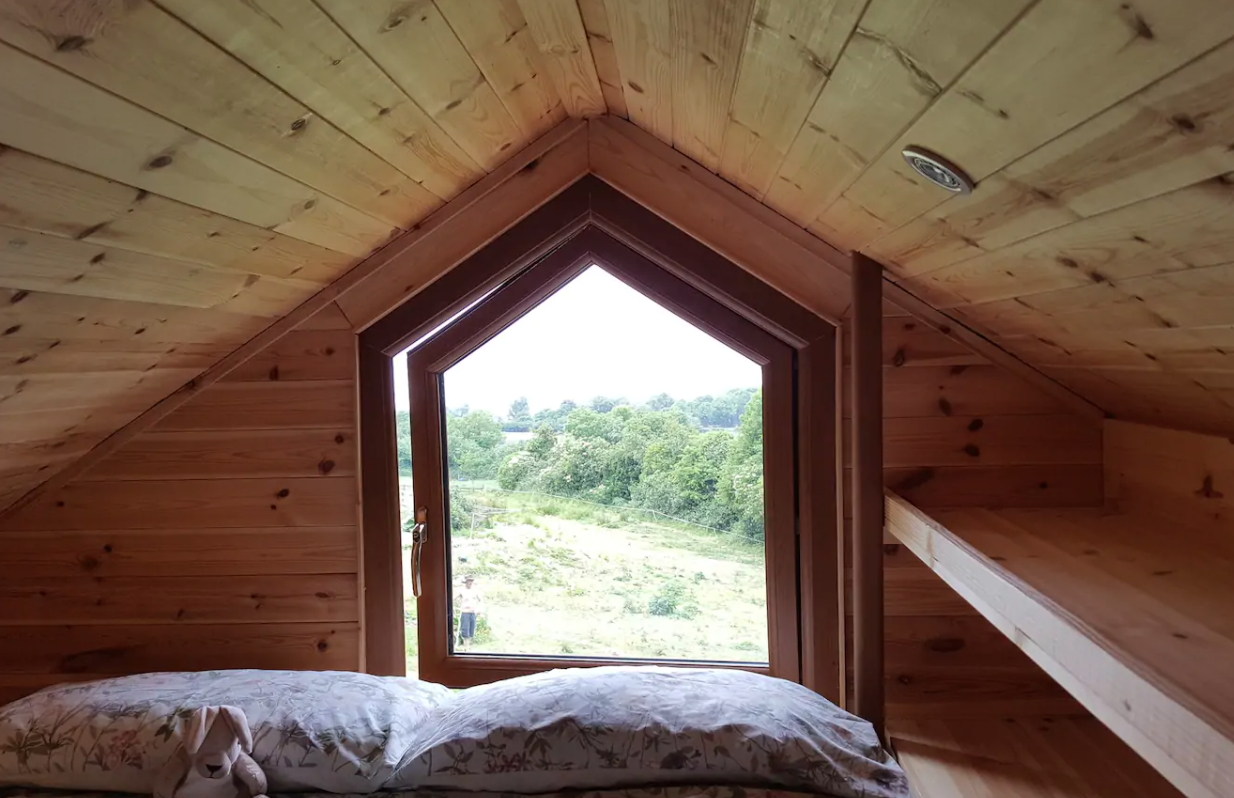 3. Drummond Tower/ Castle, Drogheda, Louth.
Anyone who dreams of living in a castle will enjoy this one. A Victorian castle built in 1858, will make you feel like you've transported back in time with the old style interiors which match the aesthetic of the place. A spiral staircase leads to each floor and up to the roof terrace, which has 360 degree views of the surrounding area. It looks like something straight out of the history books!
This Victorian dream castle cost €150 for the night for dates we checked in July.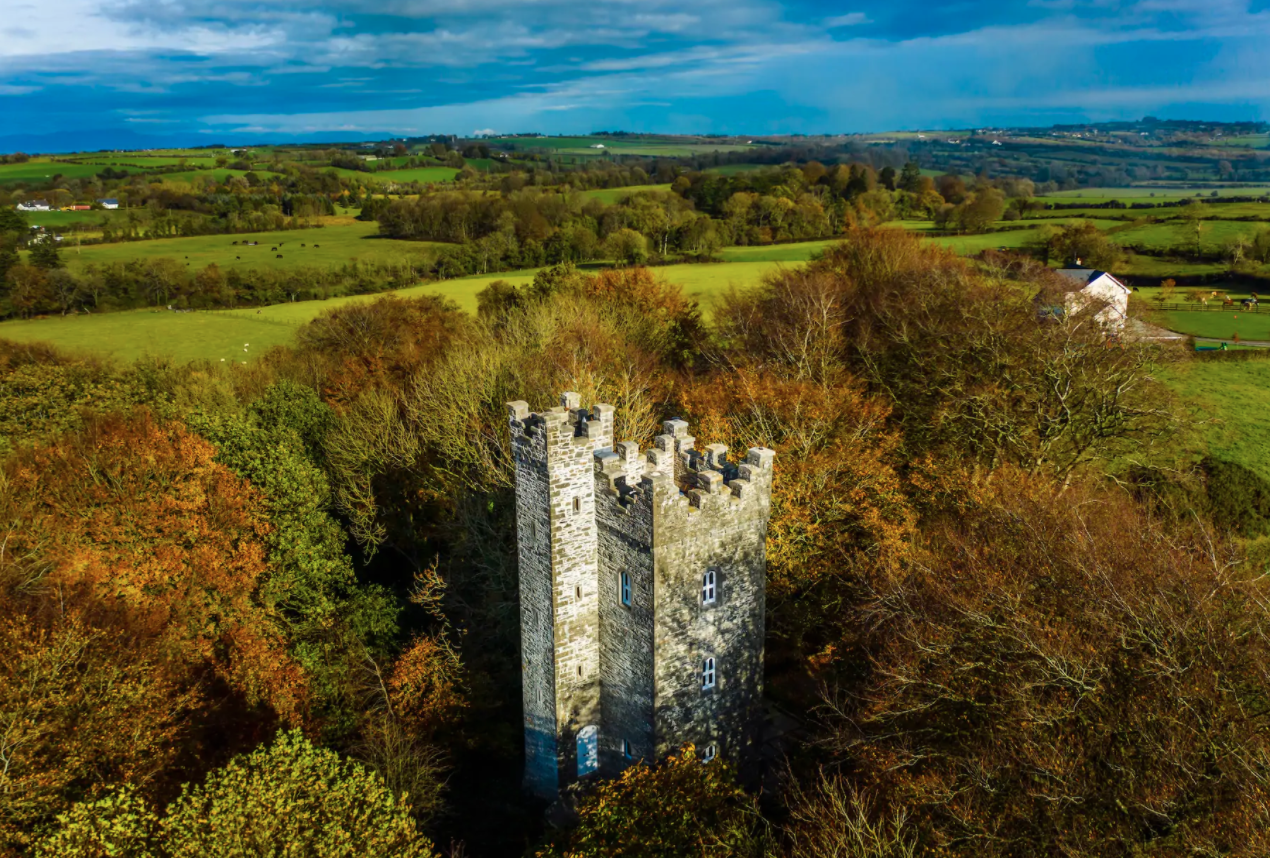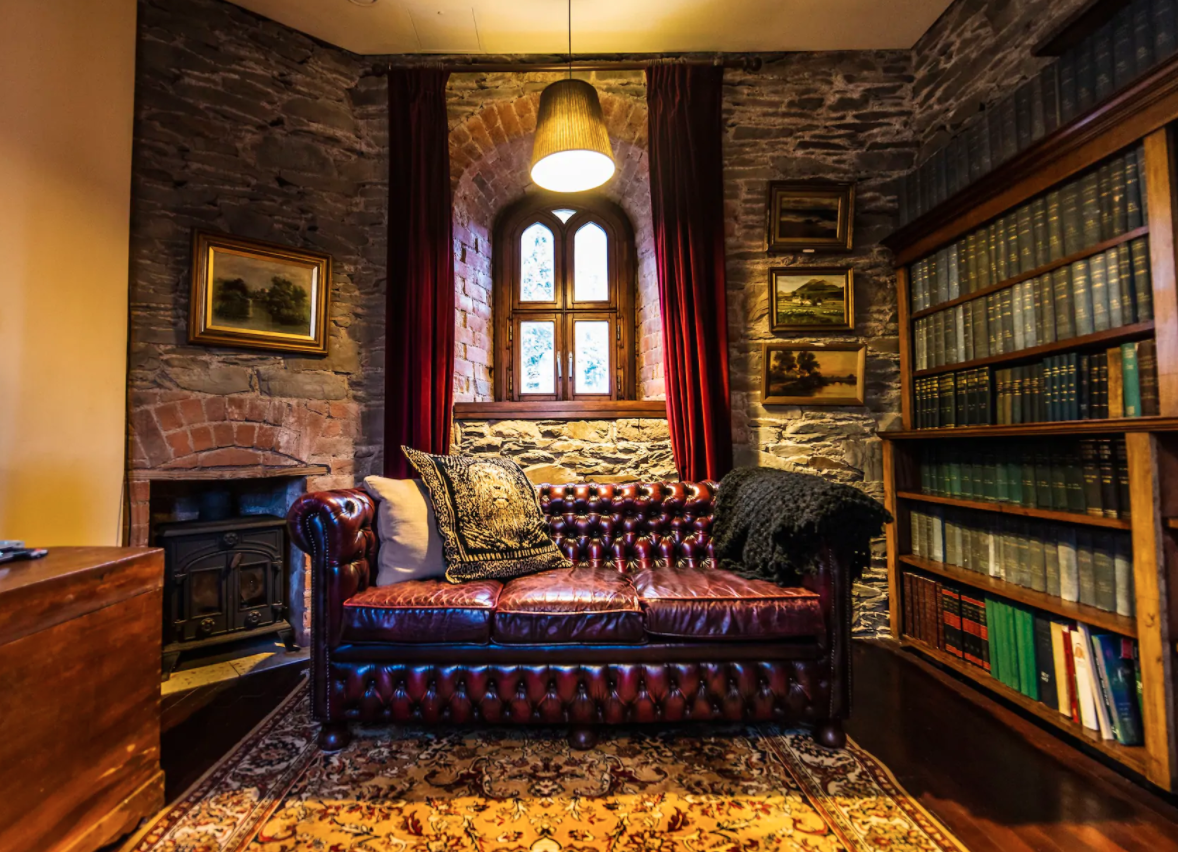 4. Mayo Glamping – Liosachan (Hobbit Hut), Castlebar, Mayo.
Calling all The Lord of the Rings fanatics! Can't make it to New Zealand to visit the actual Hobbit Houses? Well no worries, as you can get your hobbit life fix right here in Ireland! These earth covered huts have everything a little getaway could wish for; sauna, hot tub (upon request), fire pits, BBQ and pizza oven! It looks like a great place to go with a group of friends for a chilled trip.
The hut cost €100 per night for the dates we checked in September and they aren't taking bookings before then.

5. Secluded Coastal Studio, Cork.
A secluded getaway with views from every angle, this studio is airy and yet would be kept warm all year round by the stove. Cuddling up by the warmth and looking at the views in the winter would be just as enjoyable as in the summer although if you plan on doing some outdoor activities, you'd need some layers! It's a 30 minute drive from Cork so there'd be no shortage of things to do in the surrounding areas.
The property is priced at €140 per night with a two-night minimum stay for dates we checked in September.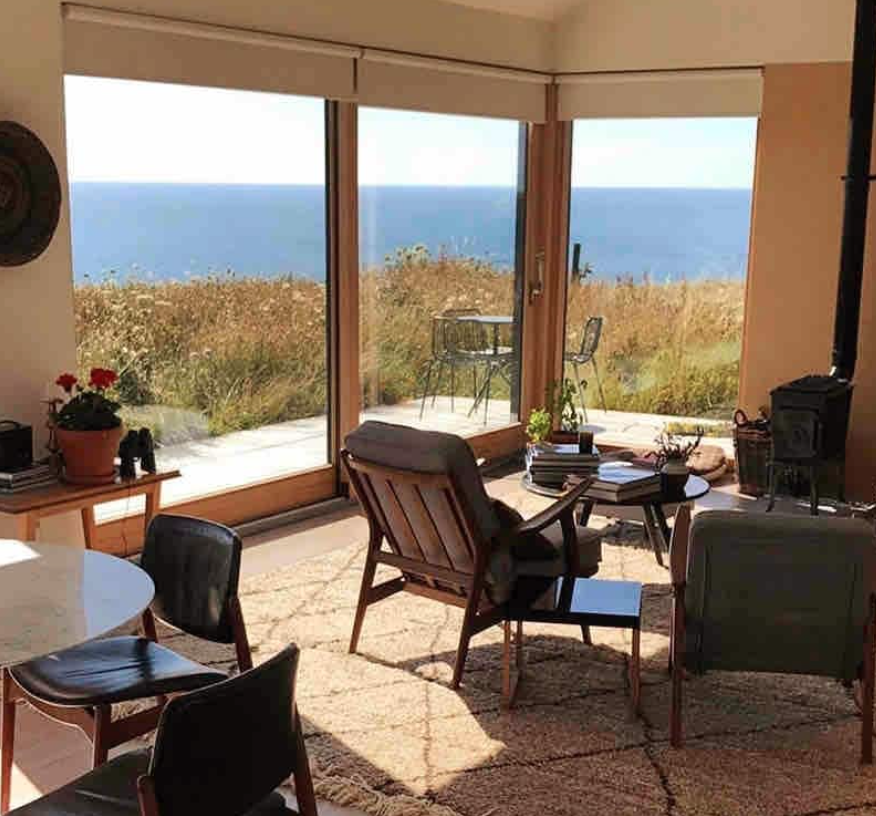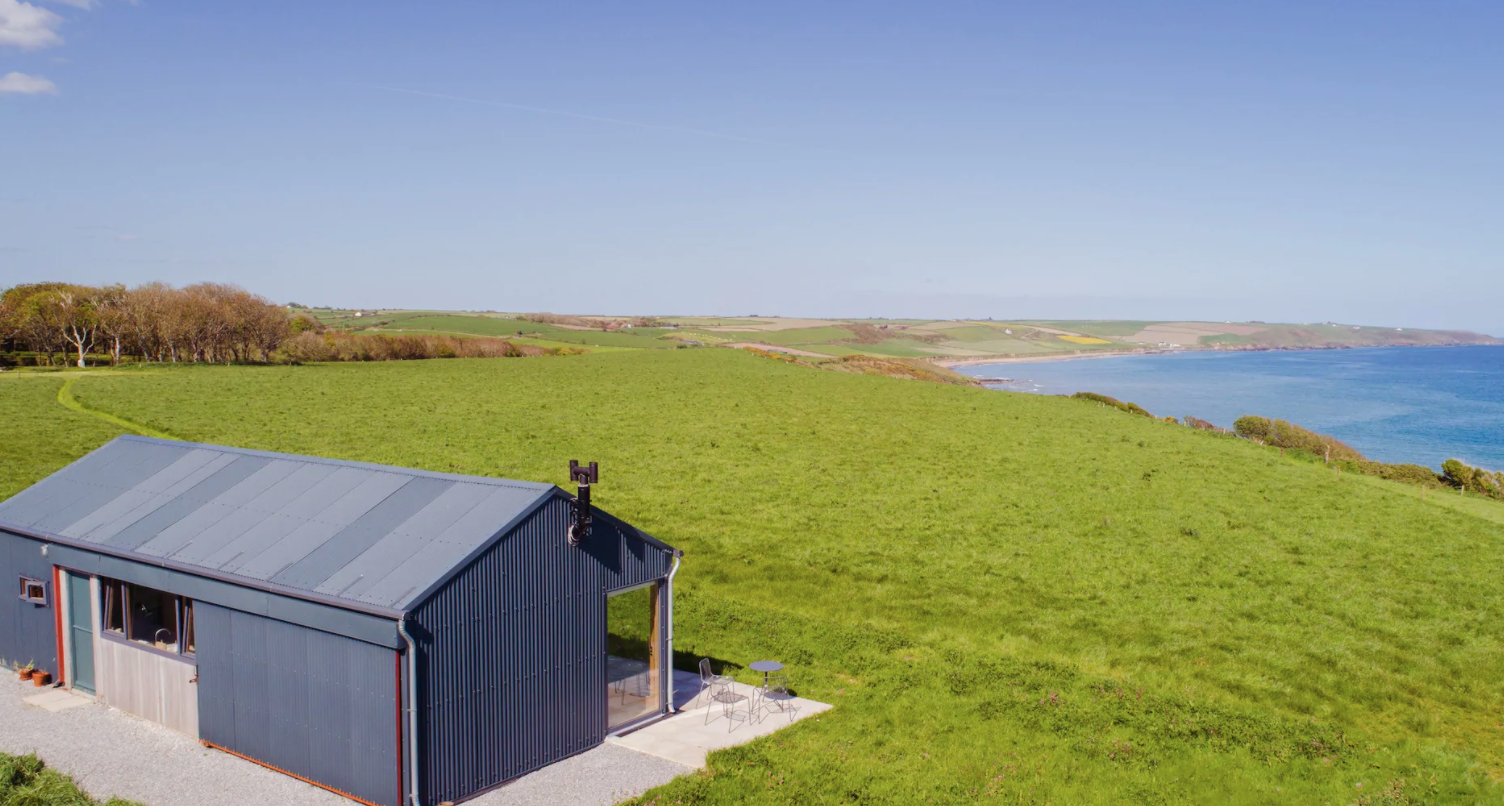 6. Boat house on the beach, Valentia, Kerry.
The big drawing point of this place is the amazing views from the upstairs seating area which faces right on to the water. The building is a 250 year old natural stone structure and is right on the beach, which is perfect for a getaway with kids. There is a bath tub and an infrared sauna with this property which would keep you cosy after those wintery beach walks (or swims if you're brave enough). Up to six guests can stay in the boathouse so it would work well for a group trip.
The house was priced at €130 per night for dates checked in September.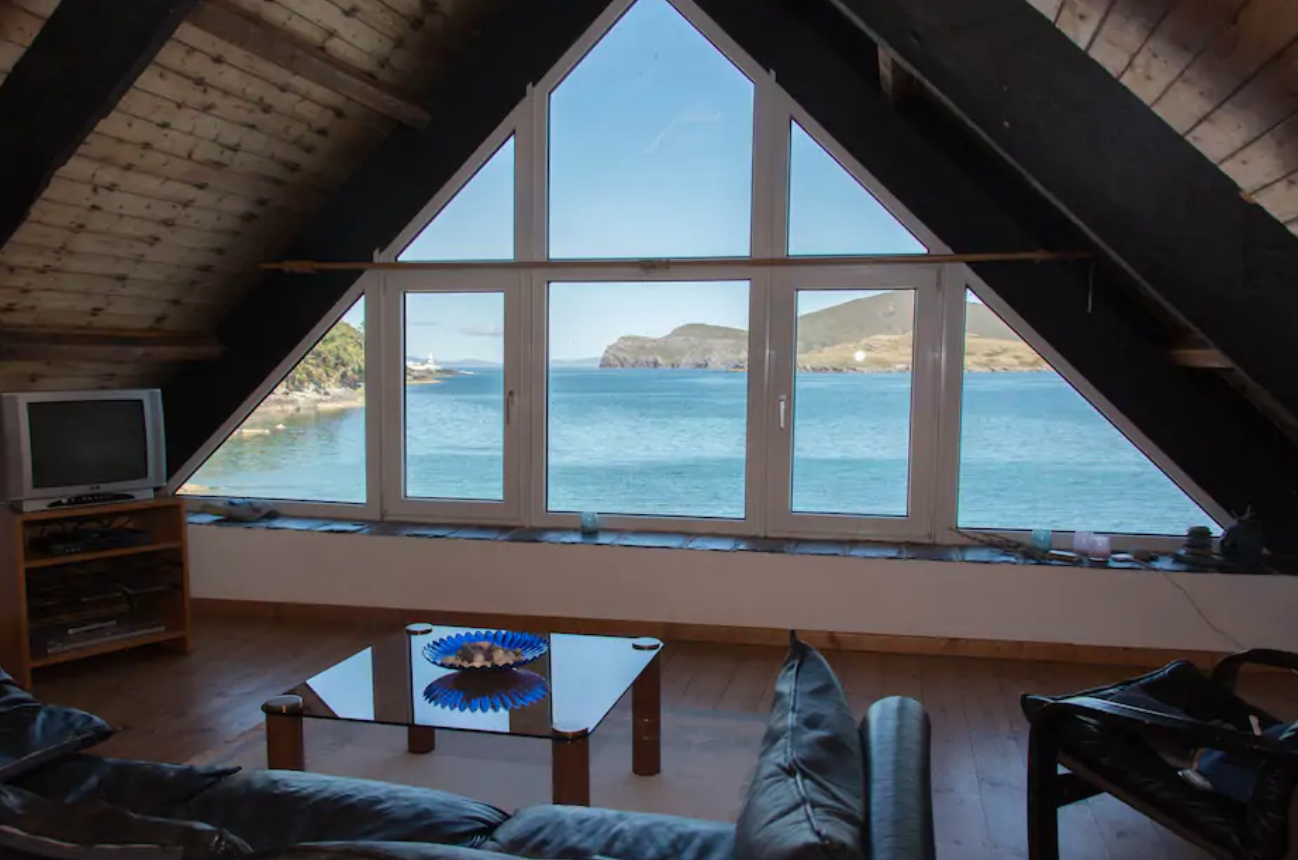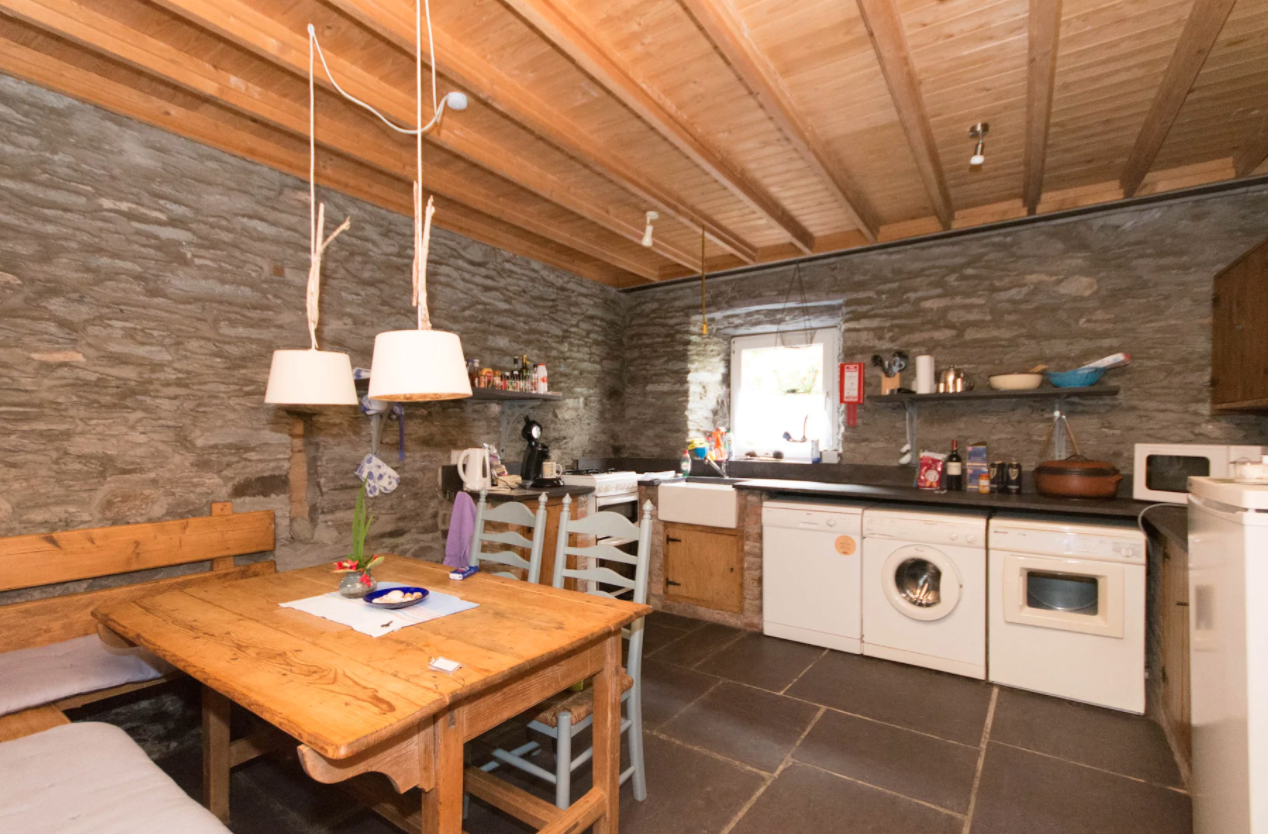 7. Quirky land boat close to the beach, Ballinspittle, Cork.
This unique stay is perfect for an adventure;a land boat by the sea surrounded by it's own private garden, with donkeys nearby! It is said to be a good base for travelling the South of Ireland and although it looks small, the property has all you would need including a kitchen and shower.
The boat costs €90 per night according to dates we checked in July.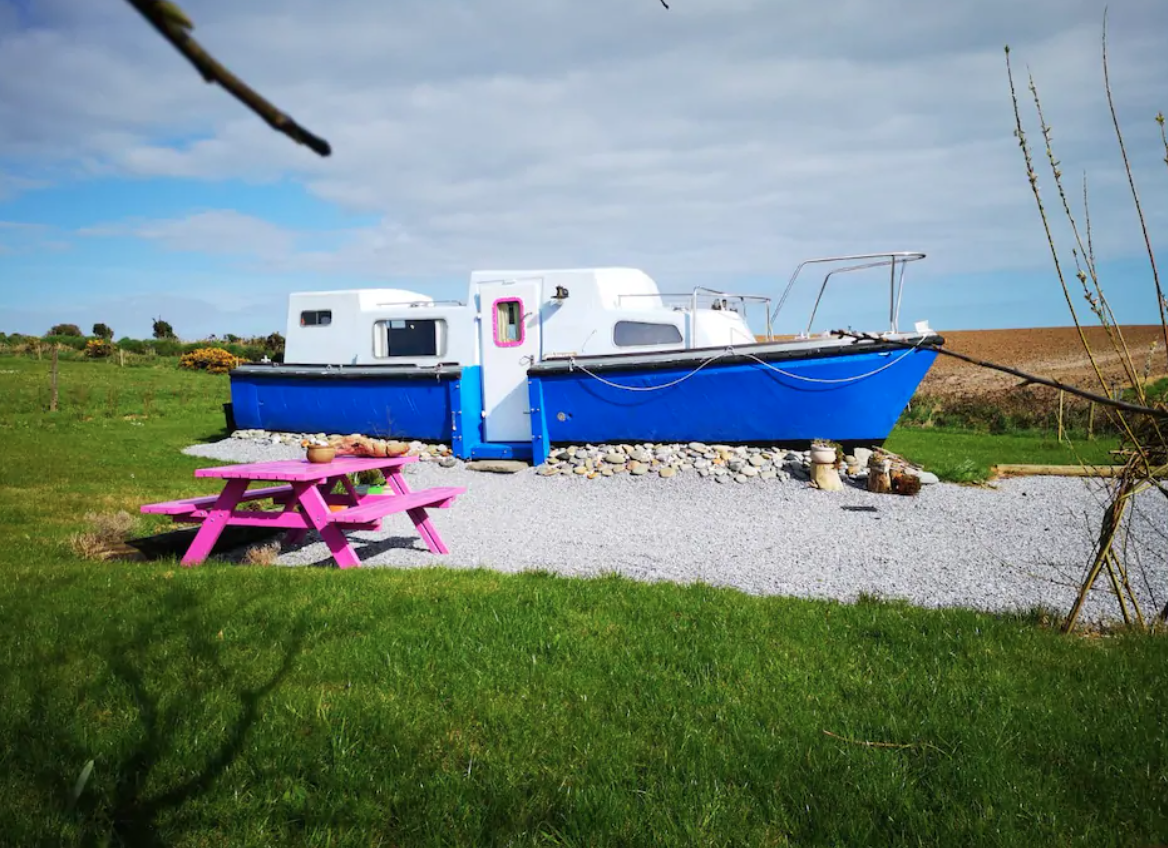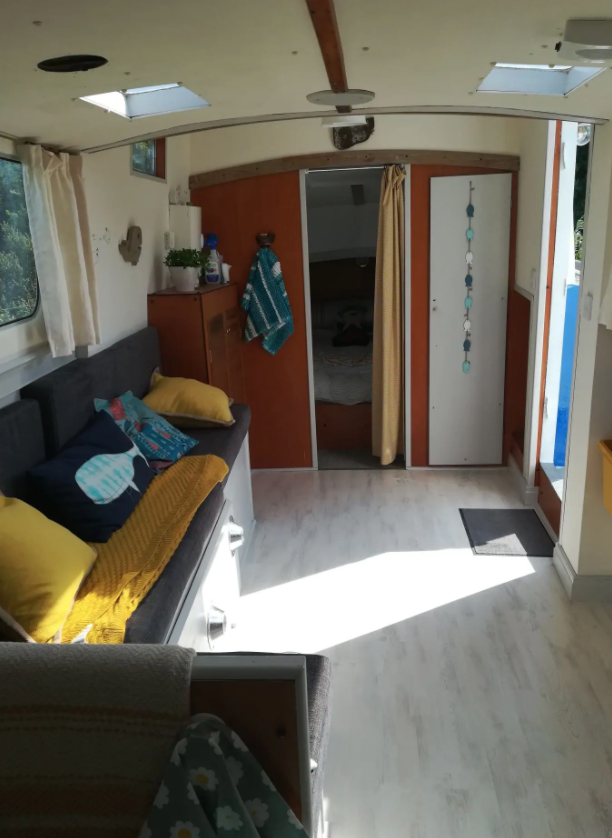 8. Georgian Flat, Dublin.
If you're looking for something a little more in the city, this Dublin Georgian stay might be perfect for you. It's just minutes from O'Connell street so you can get to all of Dublin's attractions easily. The authentic Georgian style of the interiors gives an elegant feel to the flat, giving your trip a bit of glamour.
There is a two-night minimum stay at €150 per night for dates we checked in July.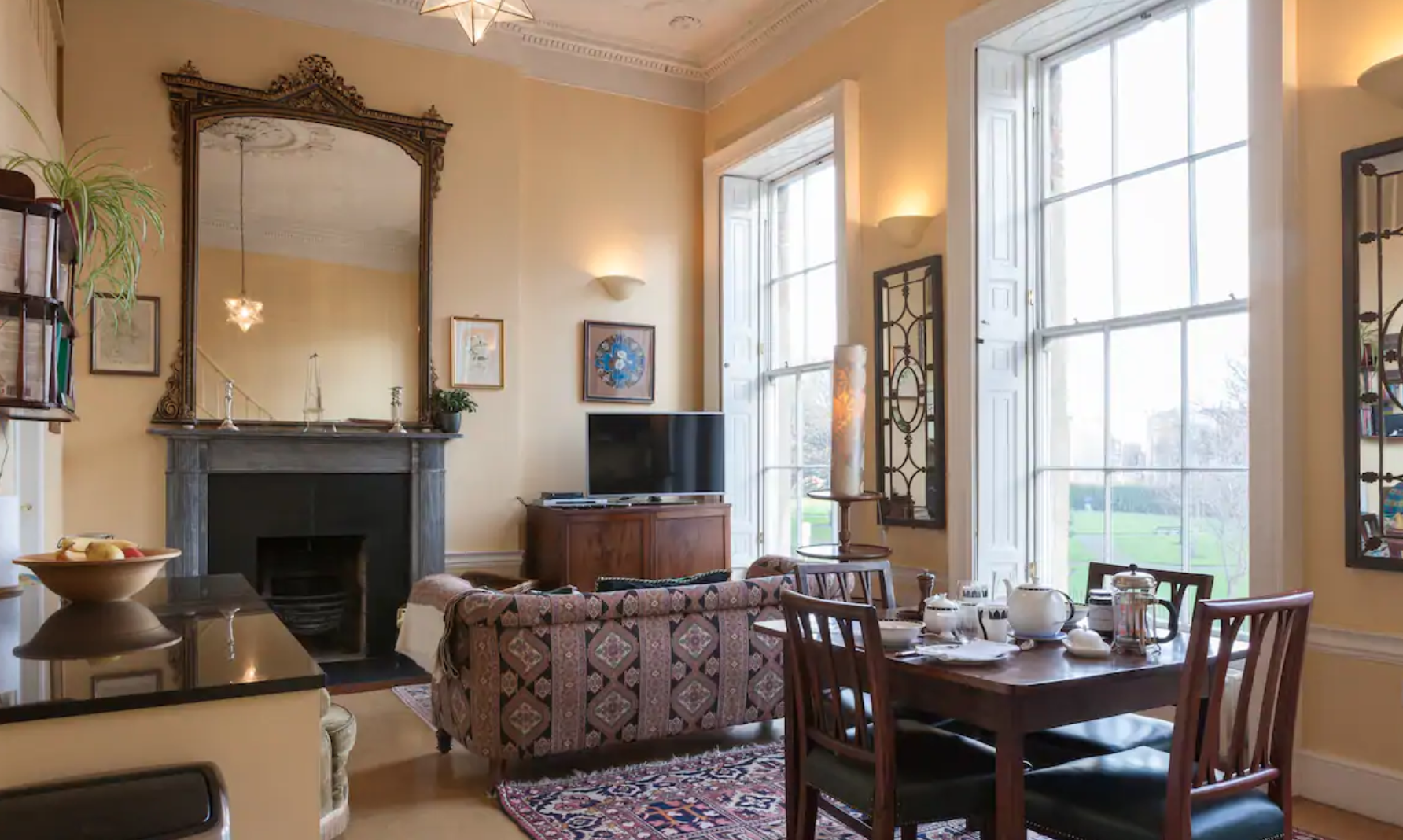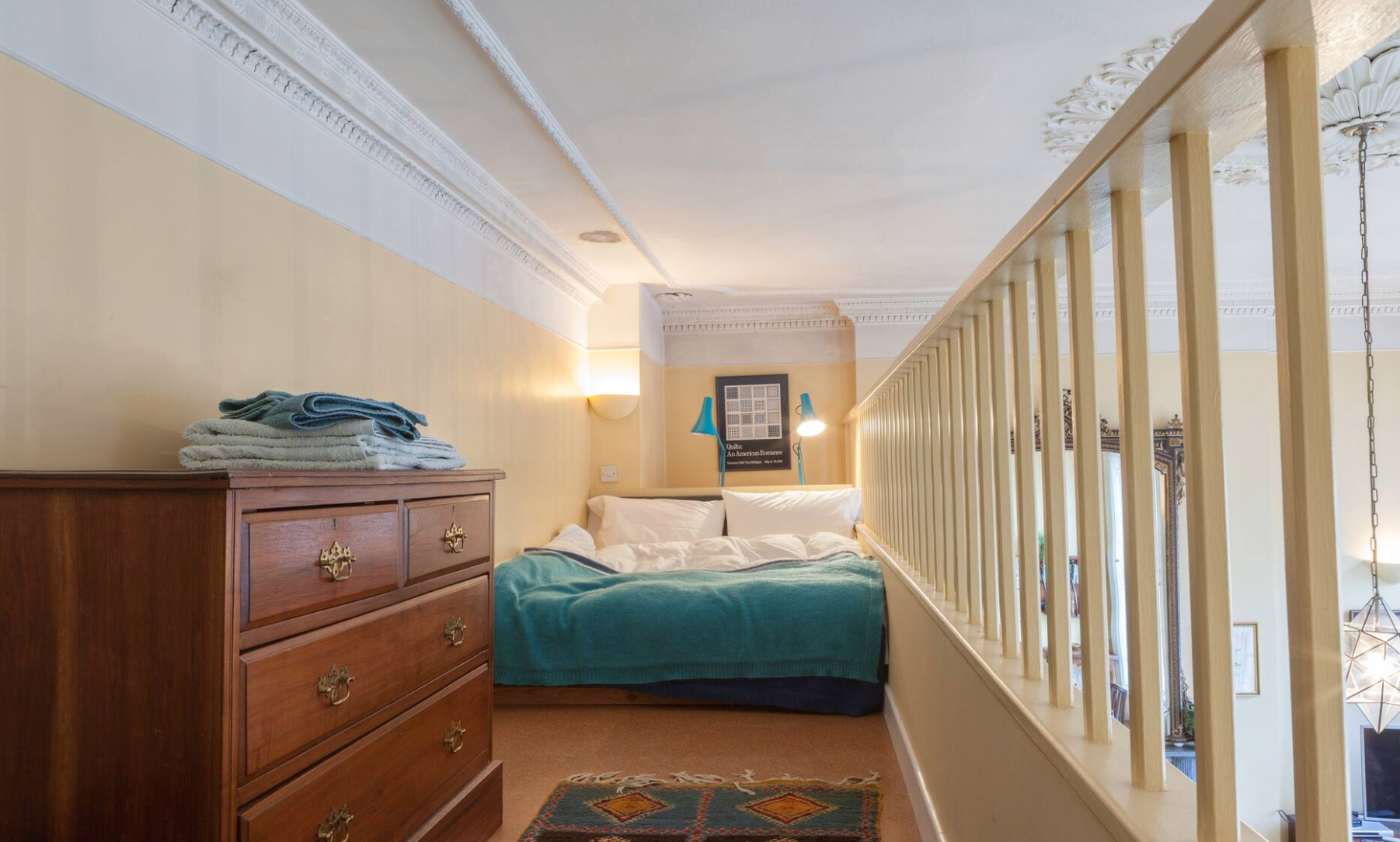 9. Lighthouse, Arranmore, Donegal.
Stay in the former lightkeepers home beside this still functioning lighthouse. A cliff edge far from the bustle of everyday life, this looks like a refreshing change of scenery. Although since the lighthouse is still in operation guests cannot enter it. For something different, a lighthouse stay is one to remember, with little service and no wifi it really would be an escape to the country.
The dwelling costs €80 per night with a three-night minimum stay.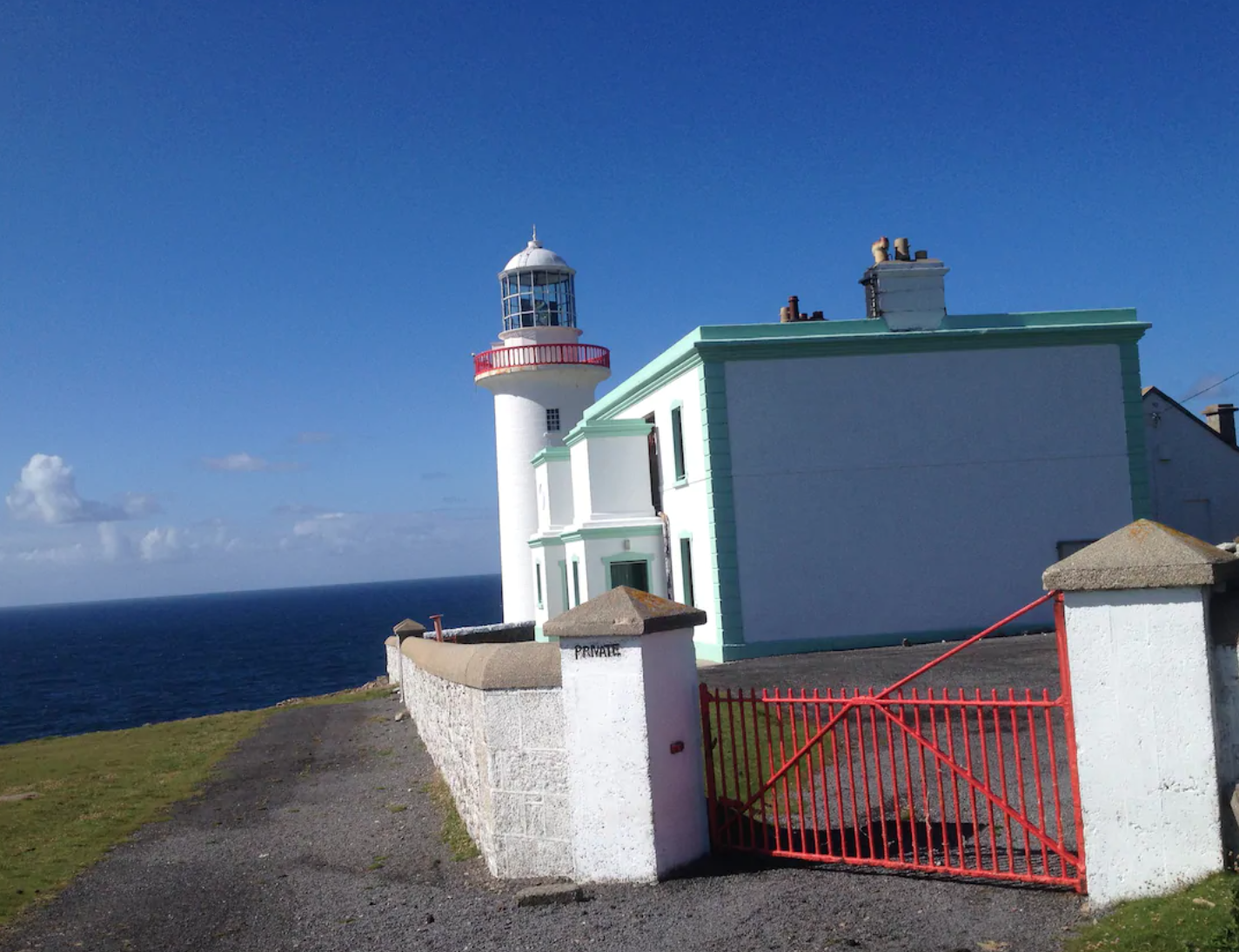 10. Restored 19th Century Gothic Church, Portlaw, Waterford.
This restored gothic church looks like just the glamorous stay we need. Chandeliers, spiral staircases and pointed arches make it grand and elegant while the stove and furnishings create a cosy atmosphere. The church is surrounded by interesting grounds and has a south facing terrace for those sunny evenings. A space that is both an experience and accommodation, this one is high on our list.
There is a two-night minimum stay at €210 per night but can sleep up to six people so cost could be split.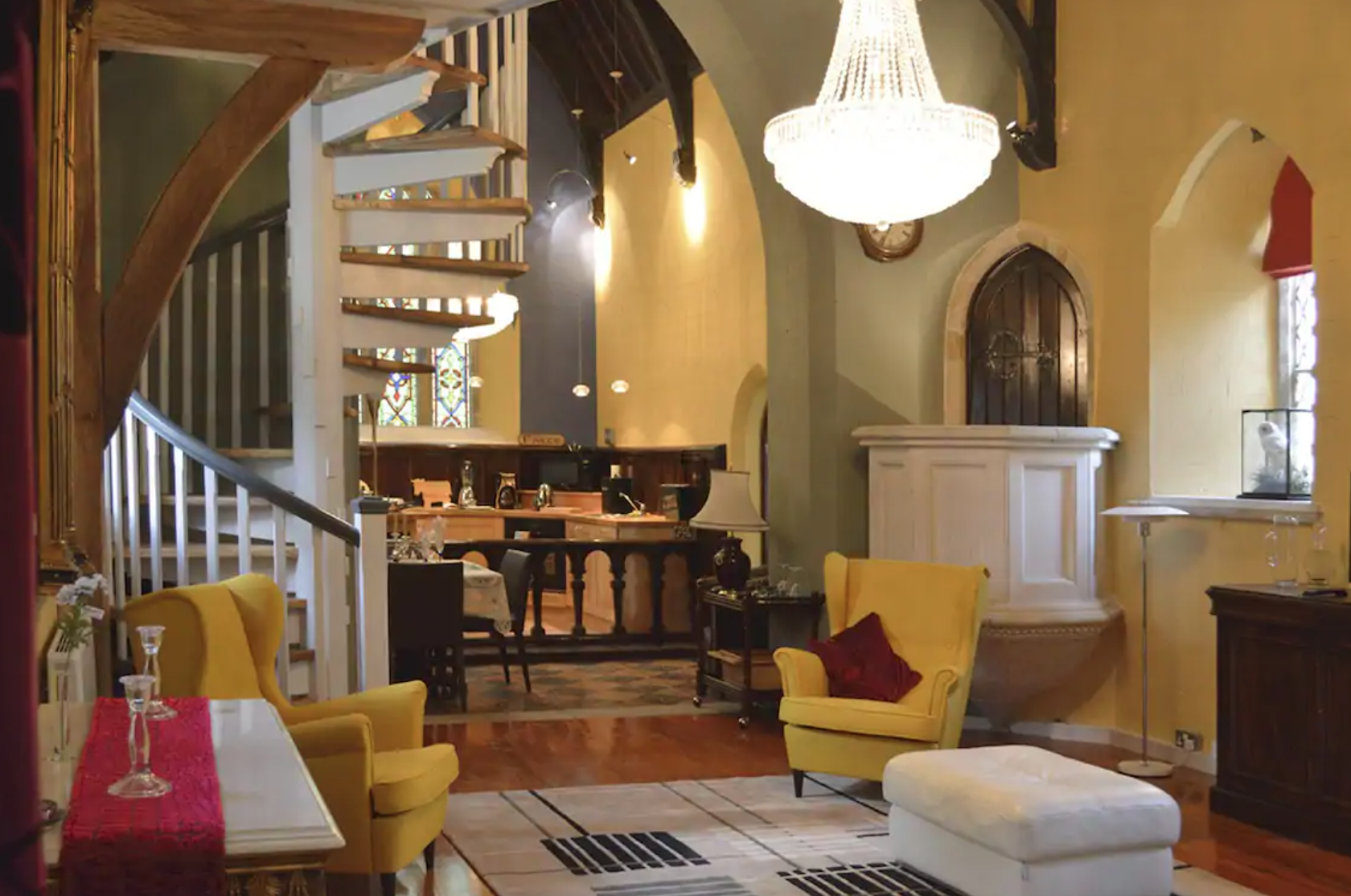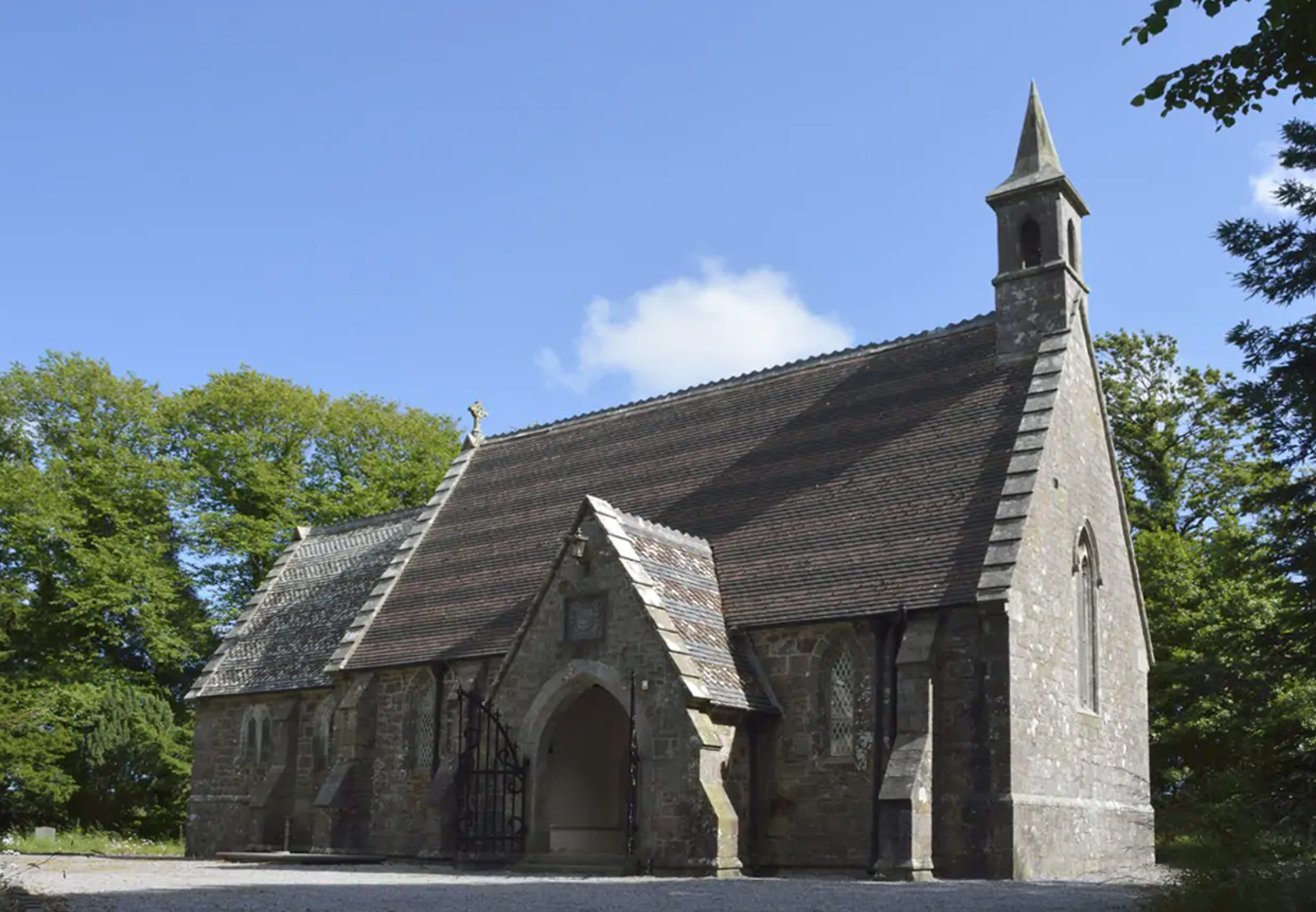 11. Glamping, Clare.
Camping with all the glamour, this luxury bell tent is located in a private harbour garden overlooking Lough Derg. A private bathroom and kitchen is also included and the garden seating area allows guests to enjoy tranquil views.
The tent costs €110 per night and has a two-night minimum stay according to dates we checked in July.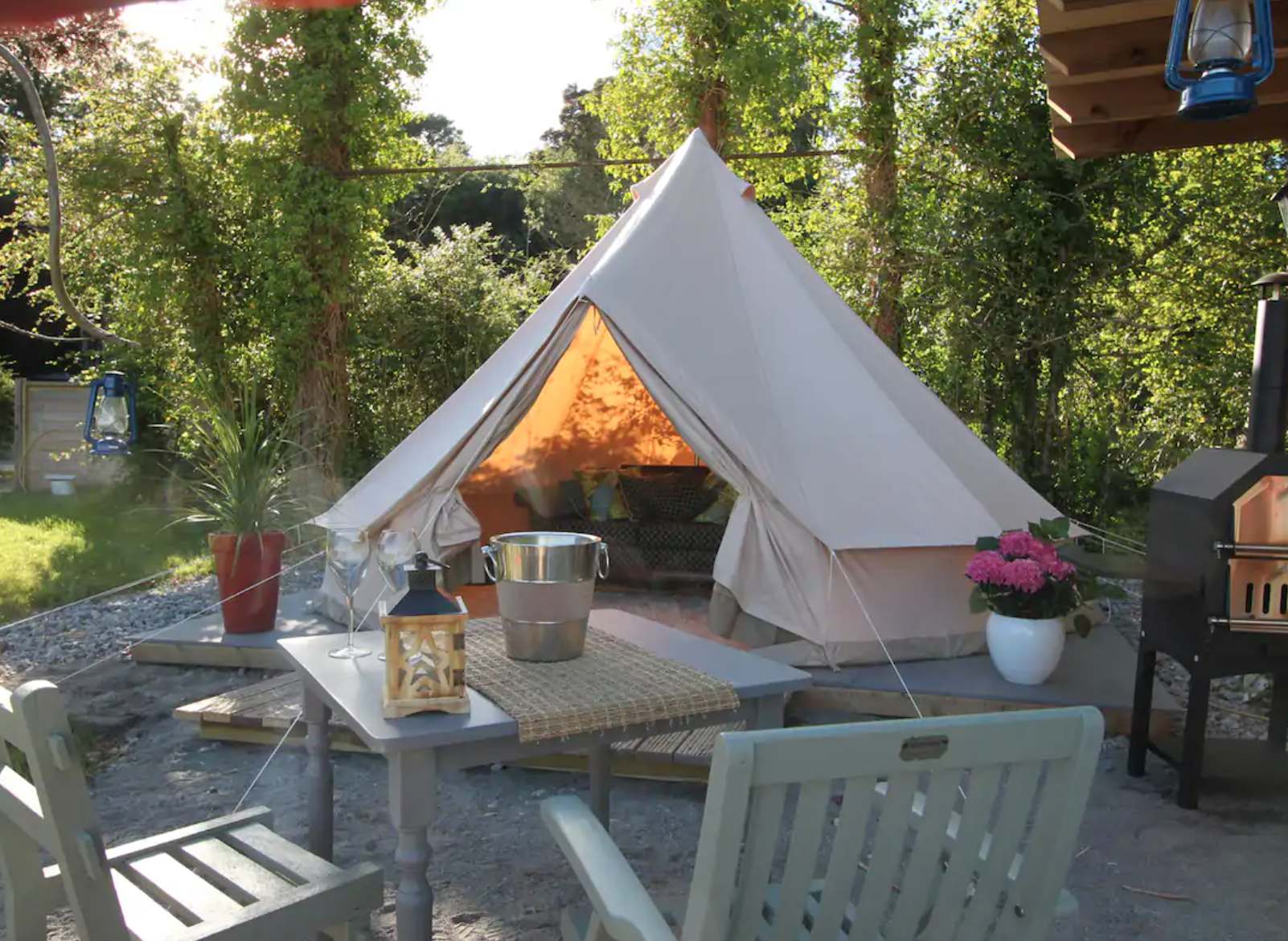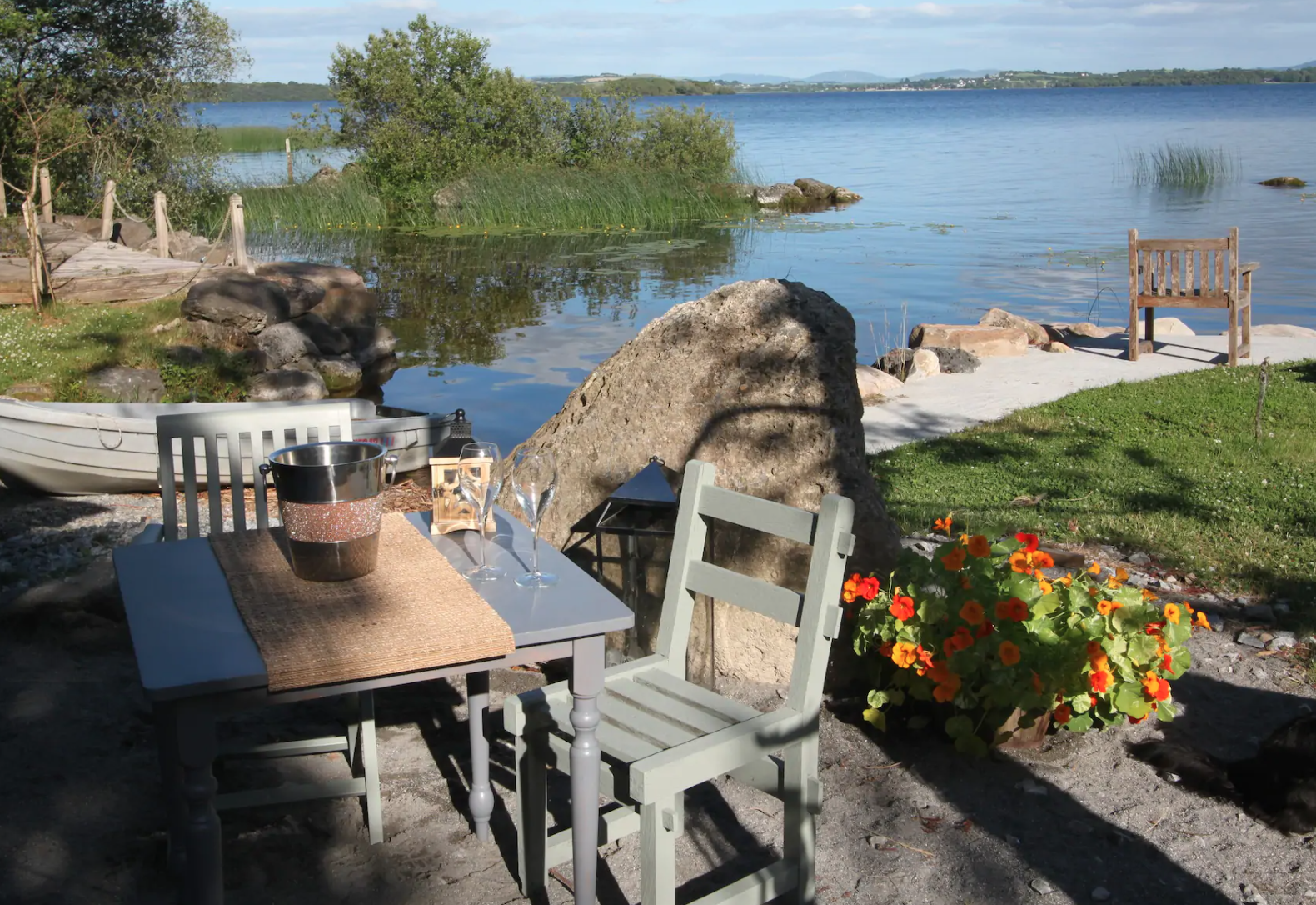 12. Storytellers Cottage at the Cliffs Of Moher, Doolin, Clare.
This thatched roof cottage has the old look from the outside, but the inside oozes sophistication and remains homely with its charming interiors. The property has views of The Wild Atlantic and the Aran Islands and is located right by a cliff walk guests can take in the scenes.
There is a two-night minimum stay at €204 per night but can fit up to four guests.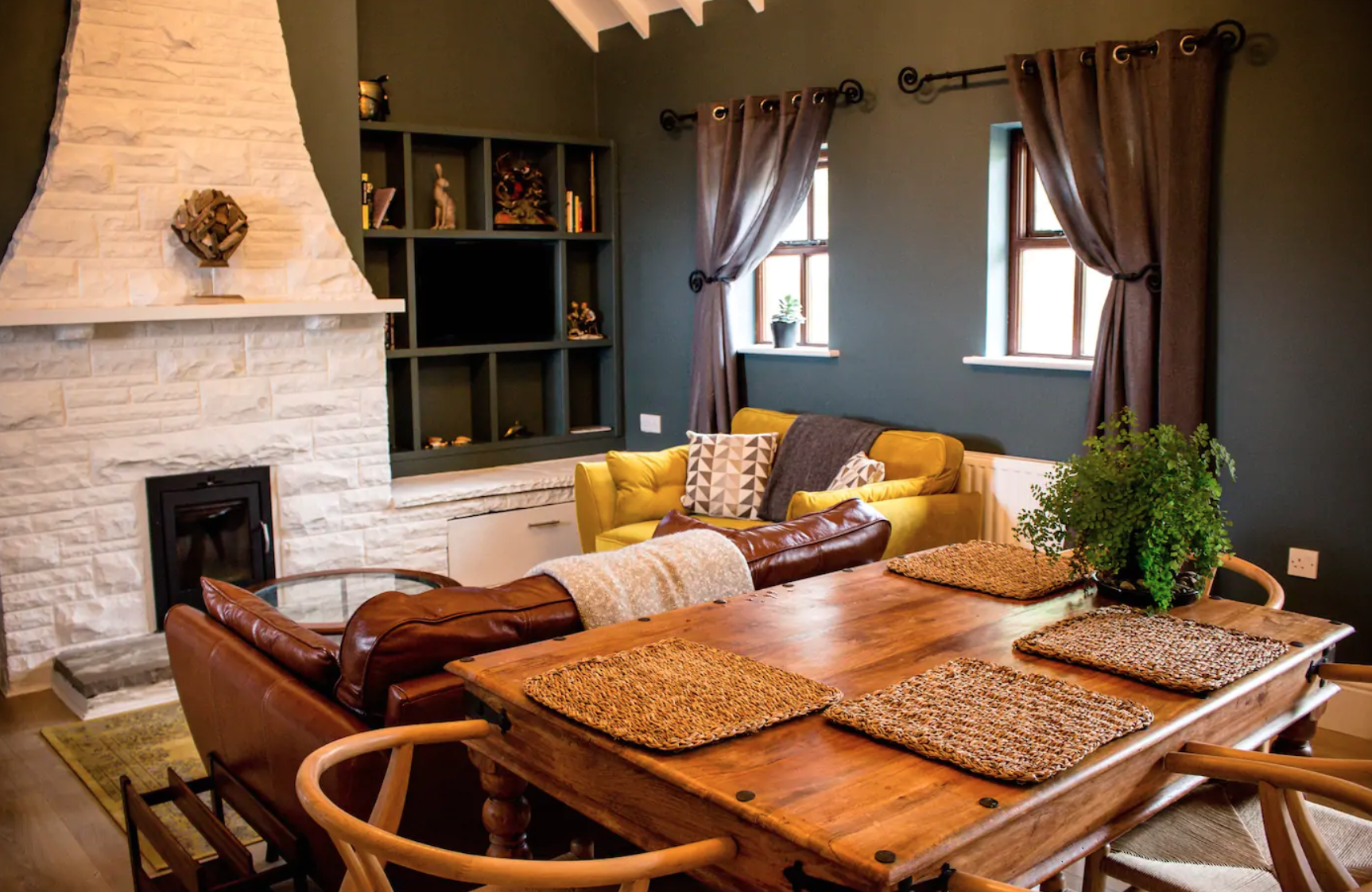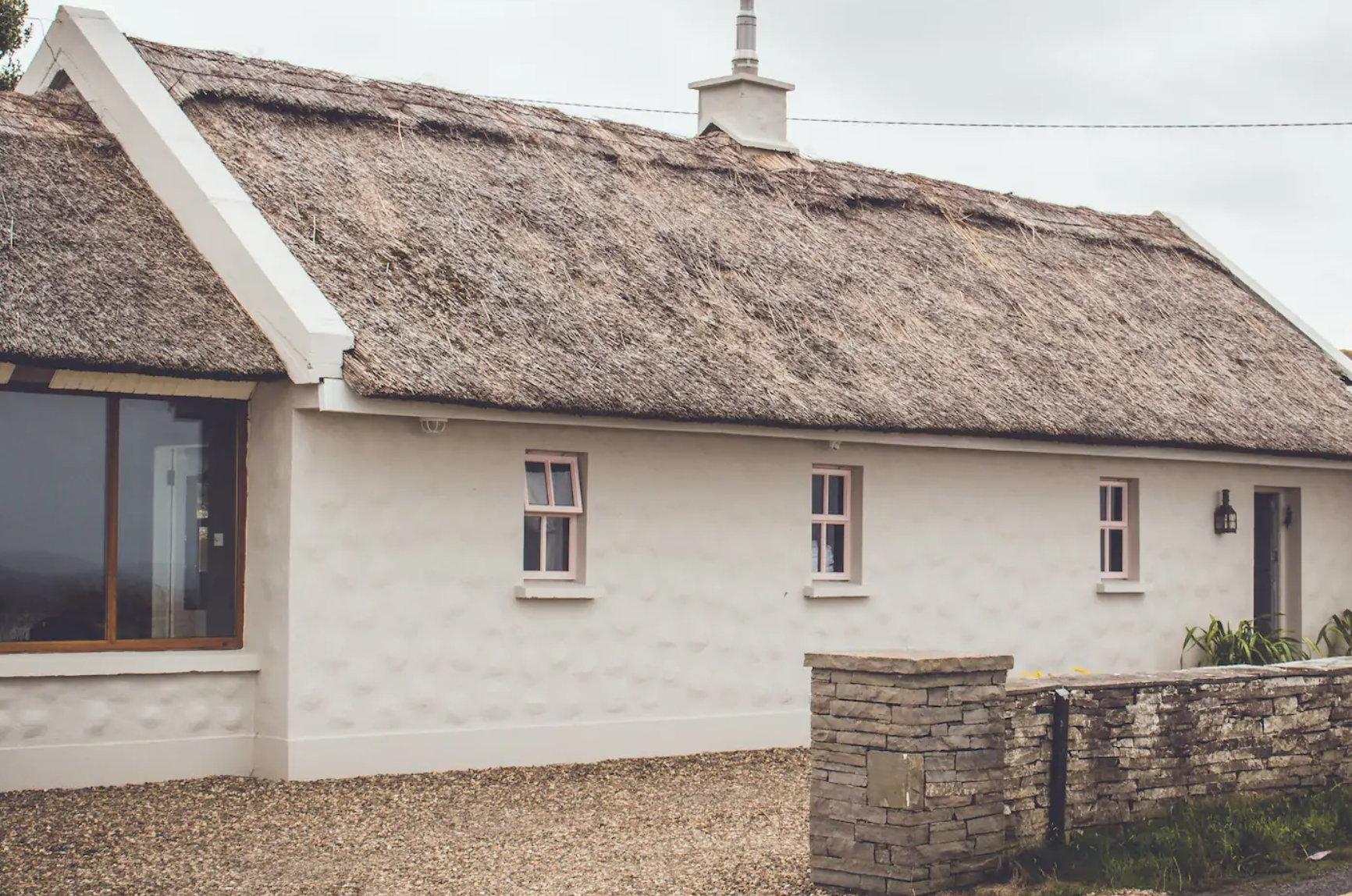 13. The Nissen hut, Waterford.
This unique and stylish  accommodation is something totally different to the others on the list so far. The rounded roof and walls and bright interiors give the place a modern twist. Located near Dunmore East village and beside the cliff walk, the beachfront home has everything needed for a sunny weekend break.
With a two-night minimum stay, the property is priced at €190 per night according to dates we checked in July.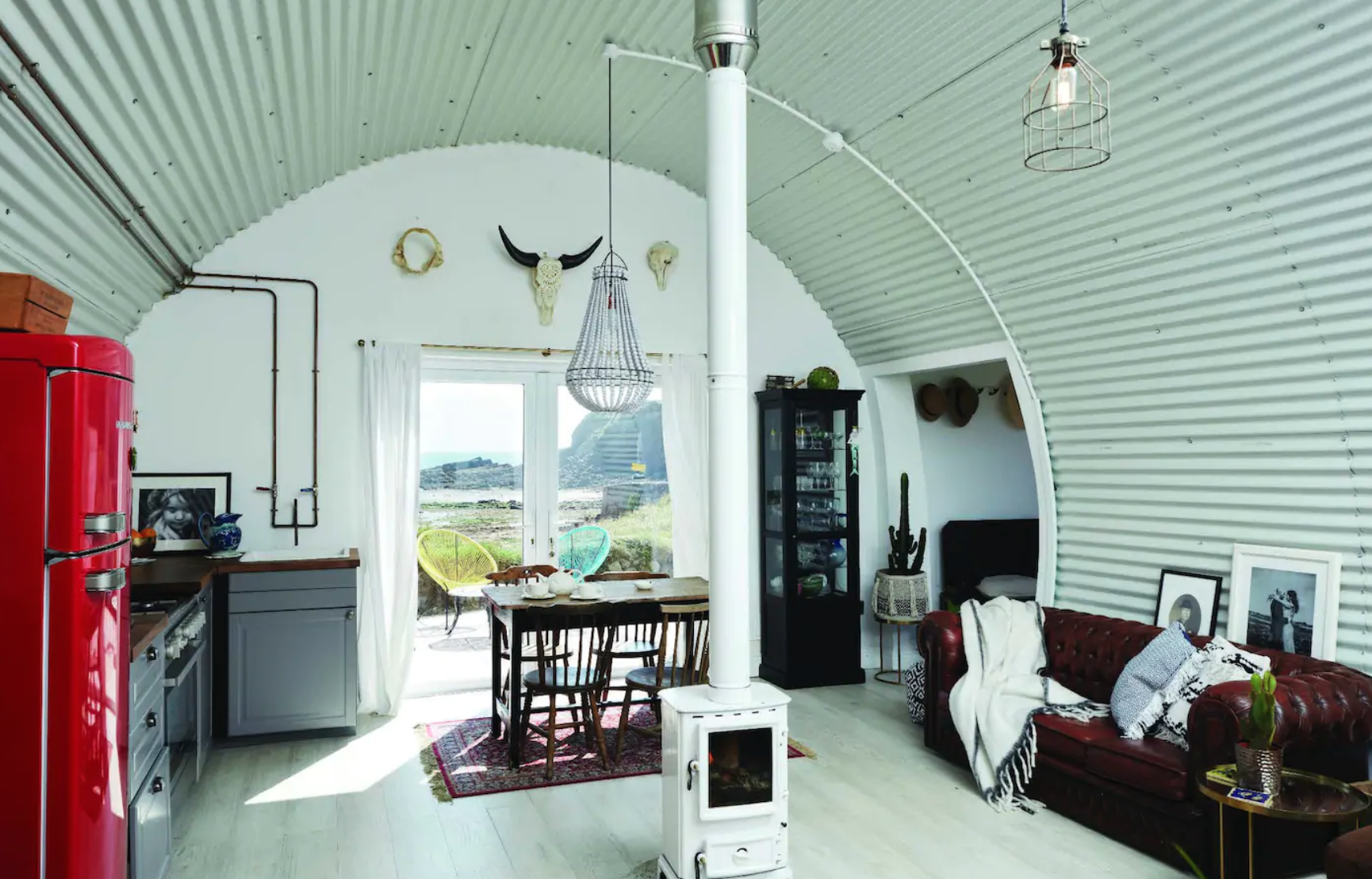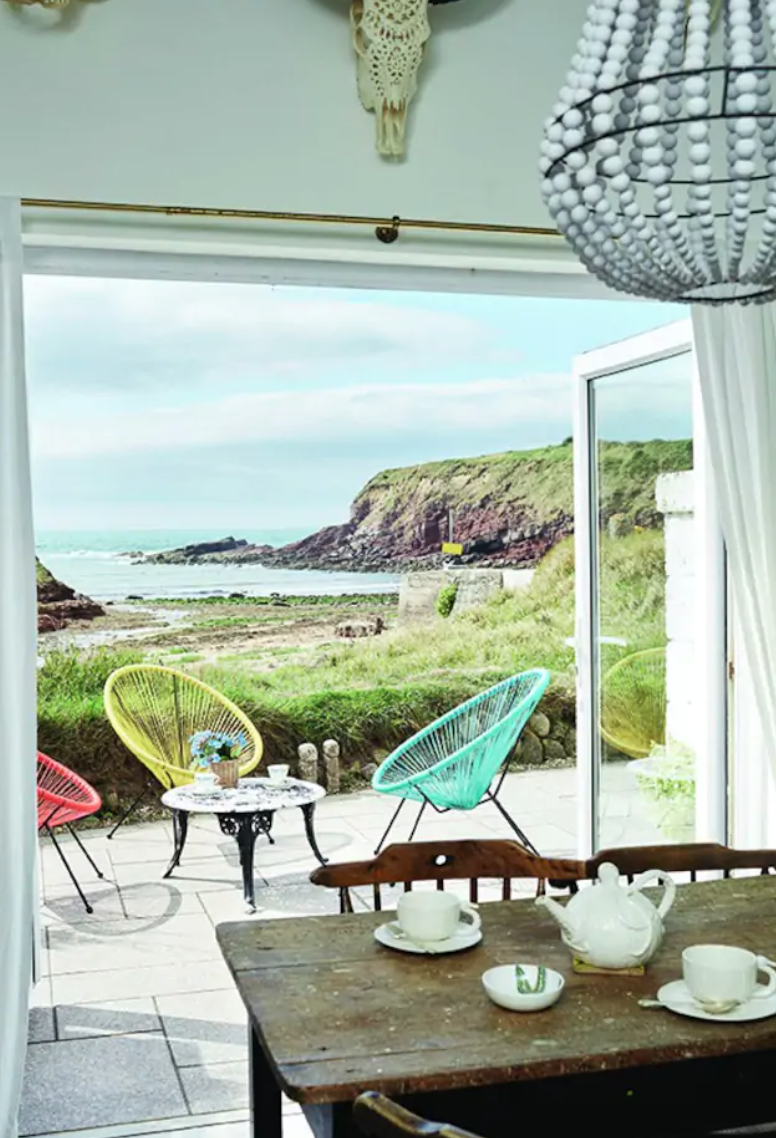 14.  Yurt at Lough Mardal Lodge Lakeside Glamping, Bradlieve, Donegal.
This quirky stay offers a sky dome roof so guests can sleep under the stars. There's 90 acres of land on the property for guests to explore as well as kitchen services and a communal lodge area. The lake provides space for fishing or swimming and nearby forests ensure there's no shortage of activities. A yurt is certainly a different type of stay than we are used to, but there's something magical about them.
There is a two-night minimum stay priced at €137 per night for dates we checked in August.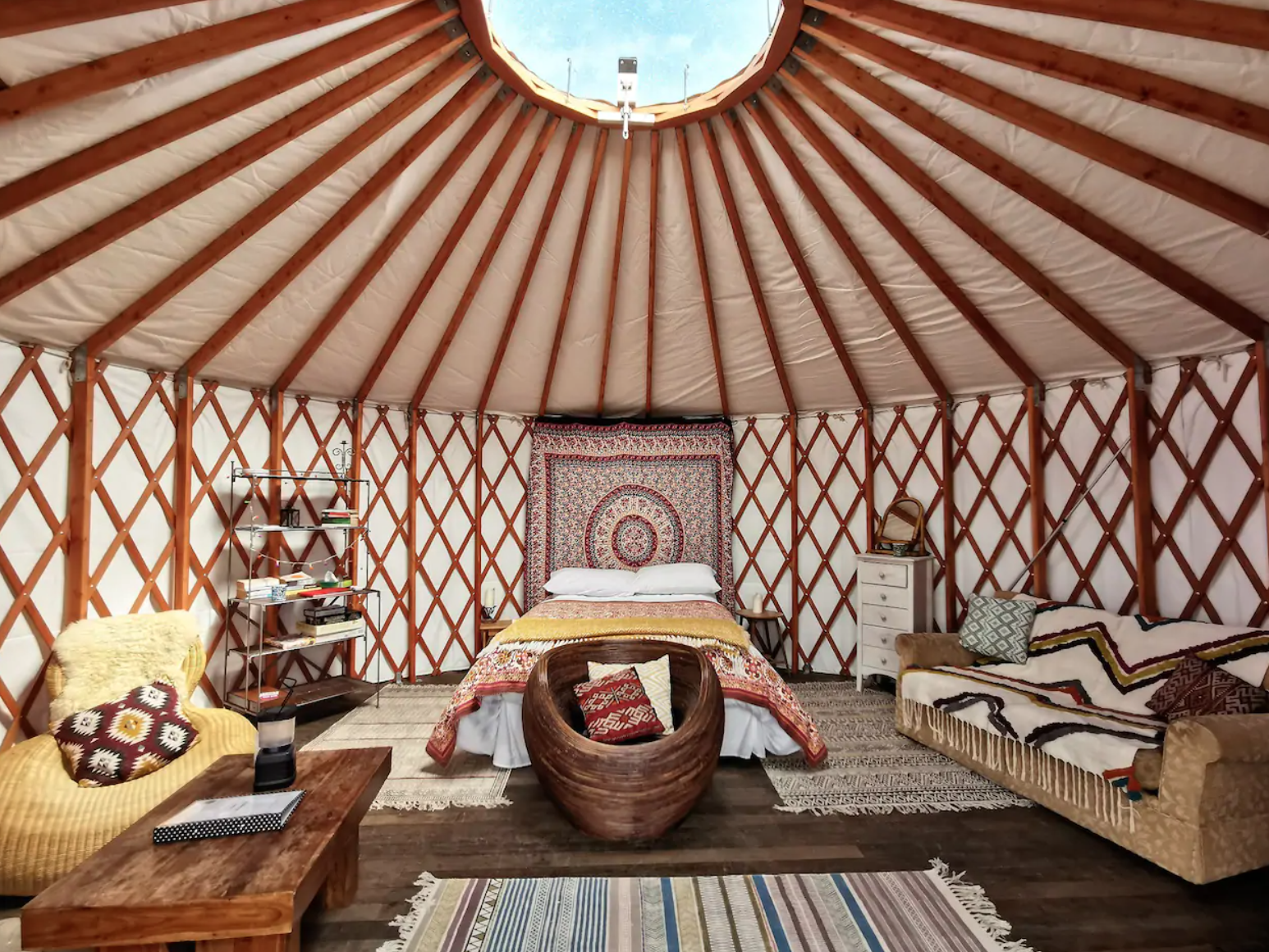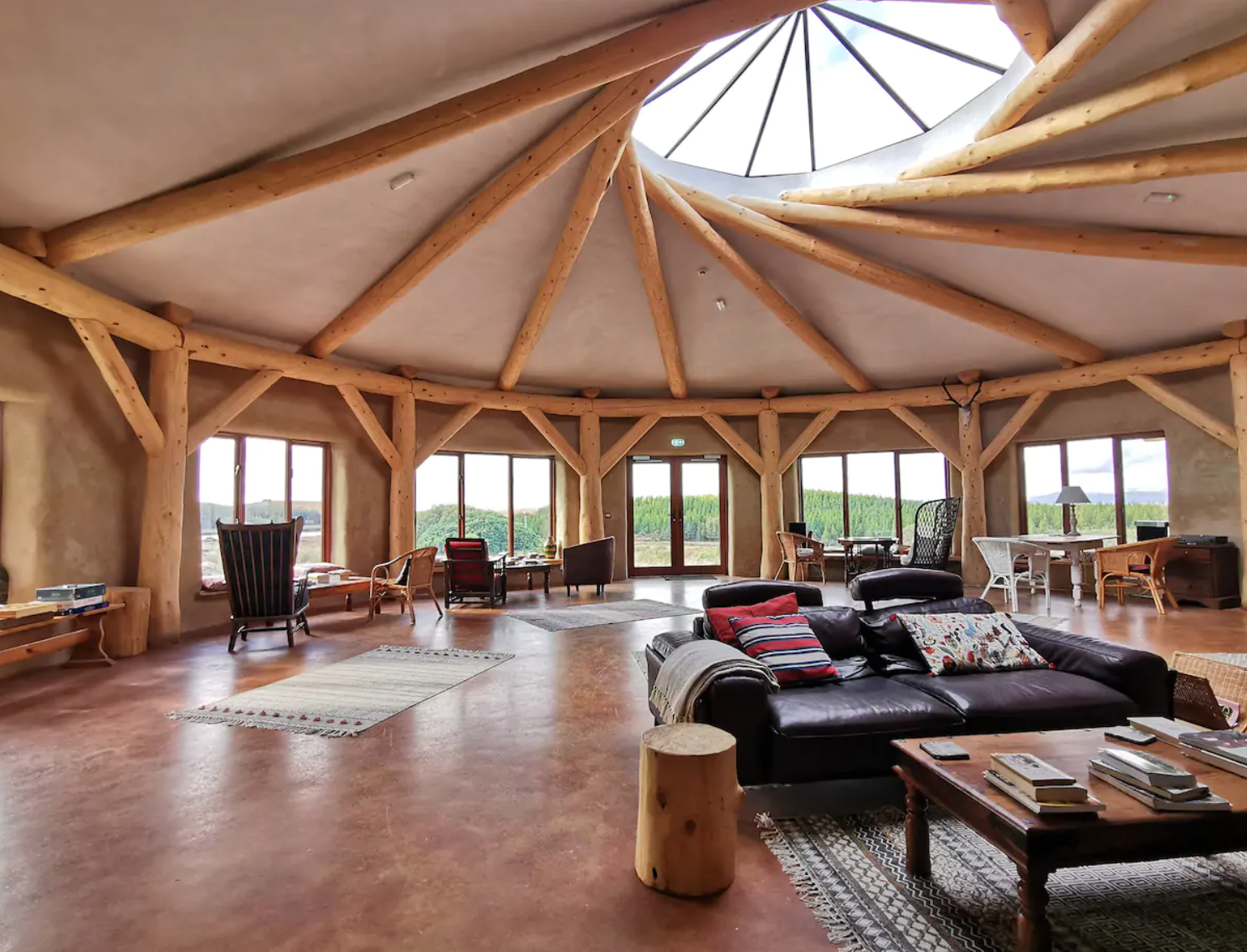 15. Polaris Popcorn – a two person hideaway afloat, Galway.
An adorable floating house boat in a great location, which offers a unique stay on an old fishing trawler. The boat is roomy and also has a covered deck so you can sit out, rain, hail or shine and enjoy the views. There is a kitchen and a bathroom on board so self catering is possible.
The house boat has a two-night minimum stay and costs €150 per night based on dates we checked in July.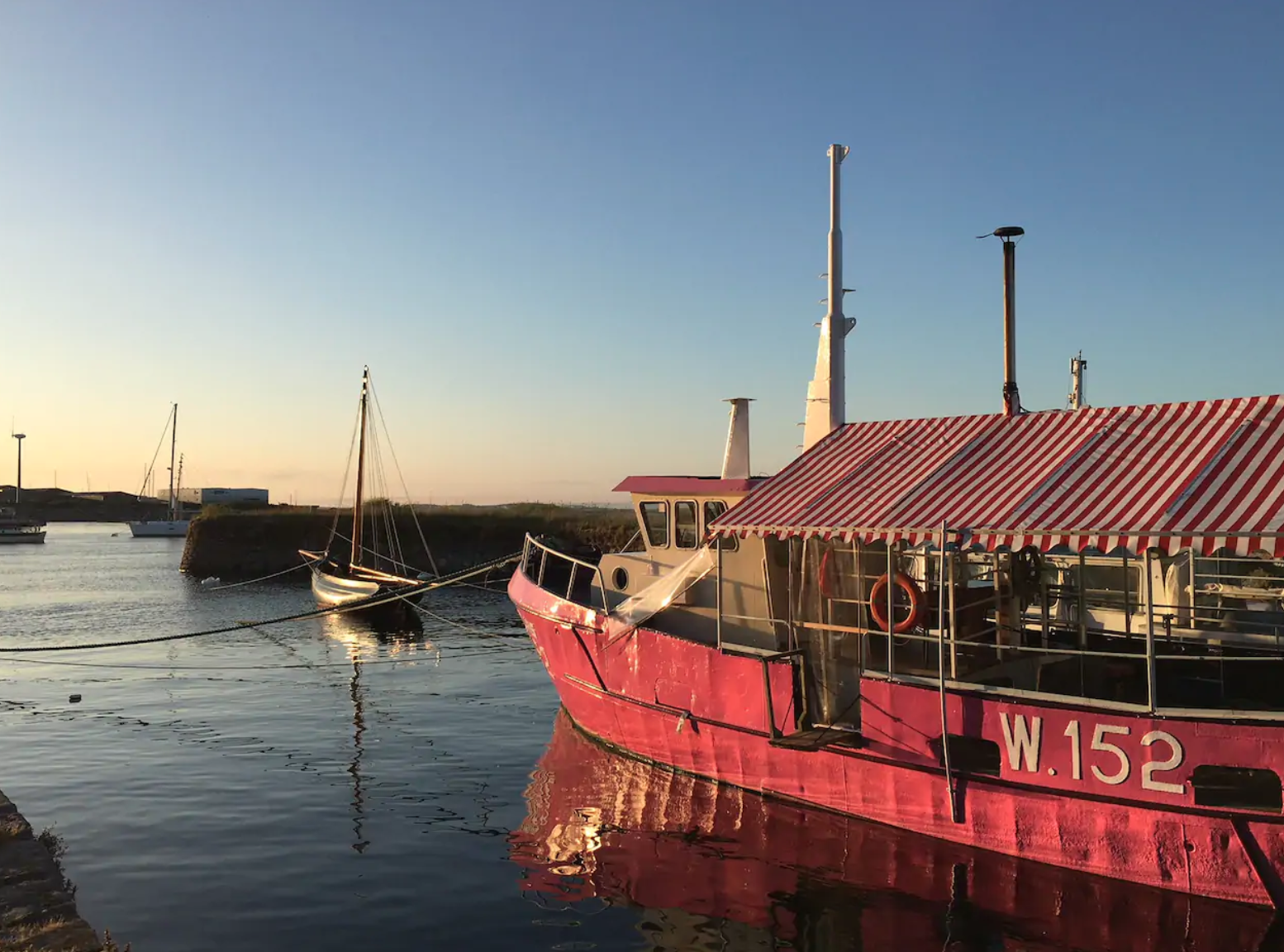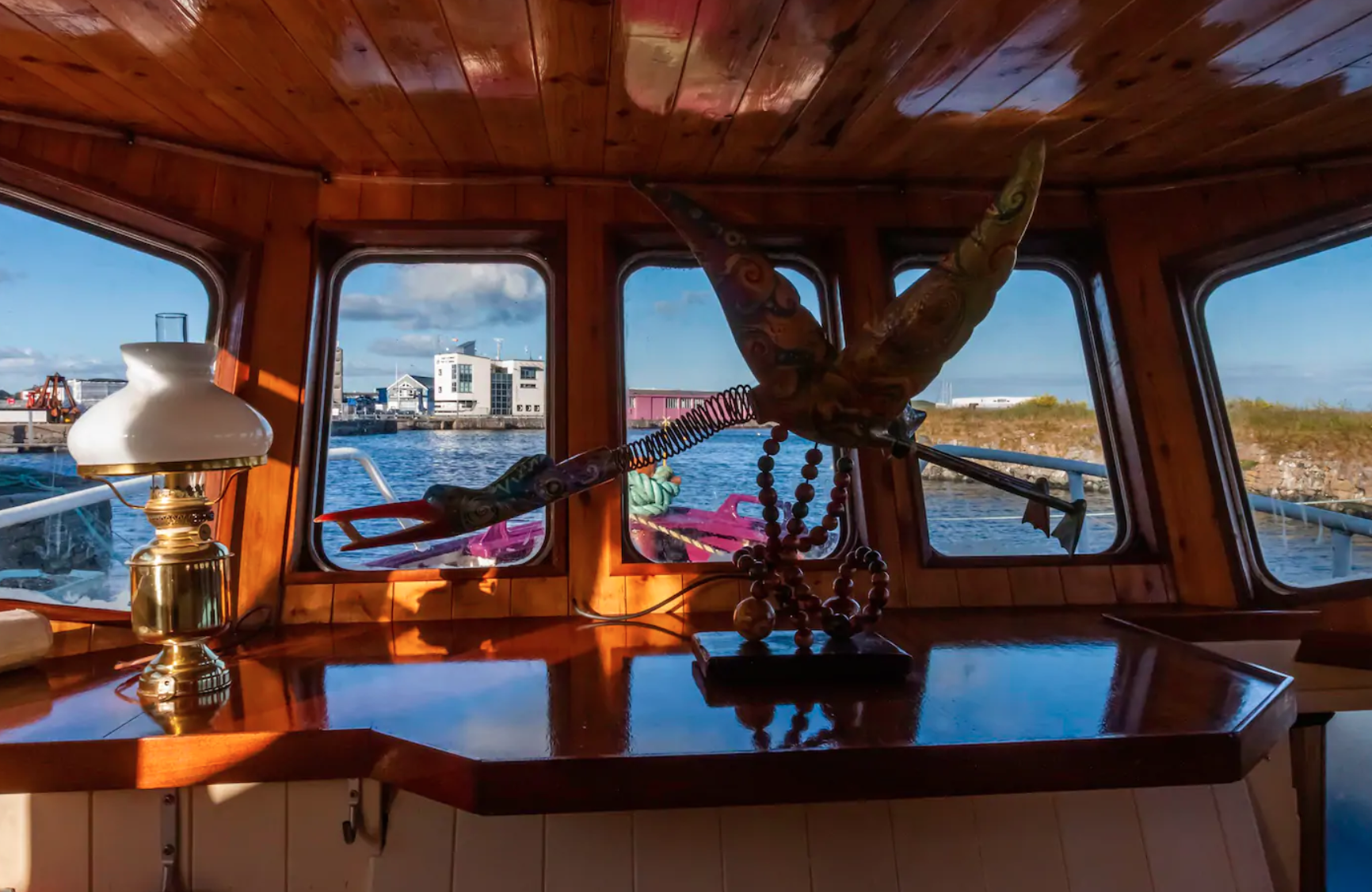 16. 15th-Century Irish Castle, Kilkenny.
Finally, we have another castle to finish off the list. This castle was designed to allow guests to embrace their inner prince and princess with touches of luxury among the authentic castle walls. Steeped in history the castle and its surrounding areas will indulge you in culture and have you feeling like royalty.
The castle can host up to 9 guests at a time and has a royal price tag at €608 per night and a two-night minimum stay.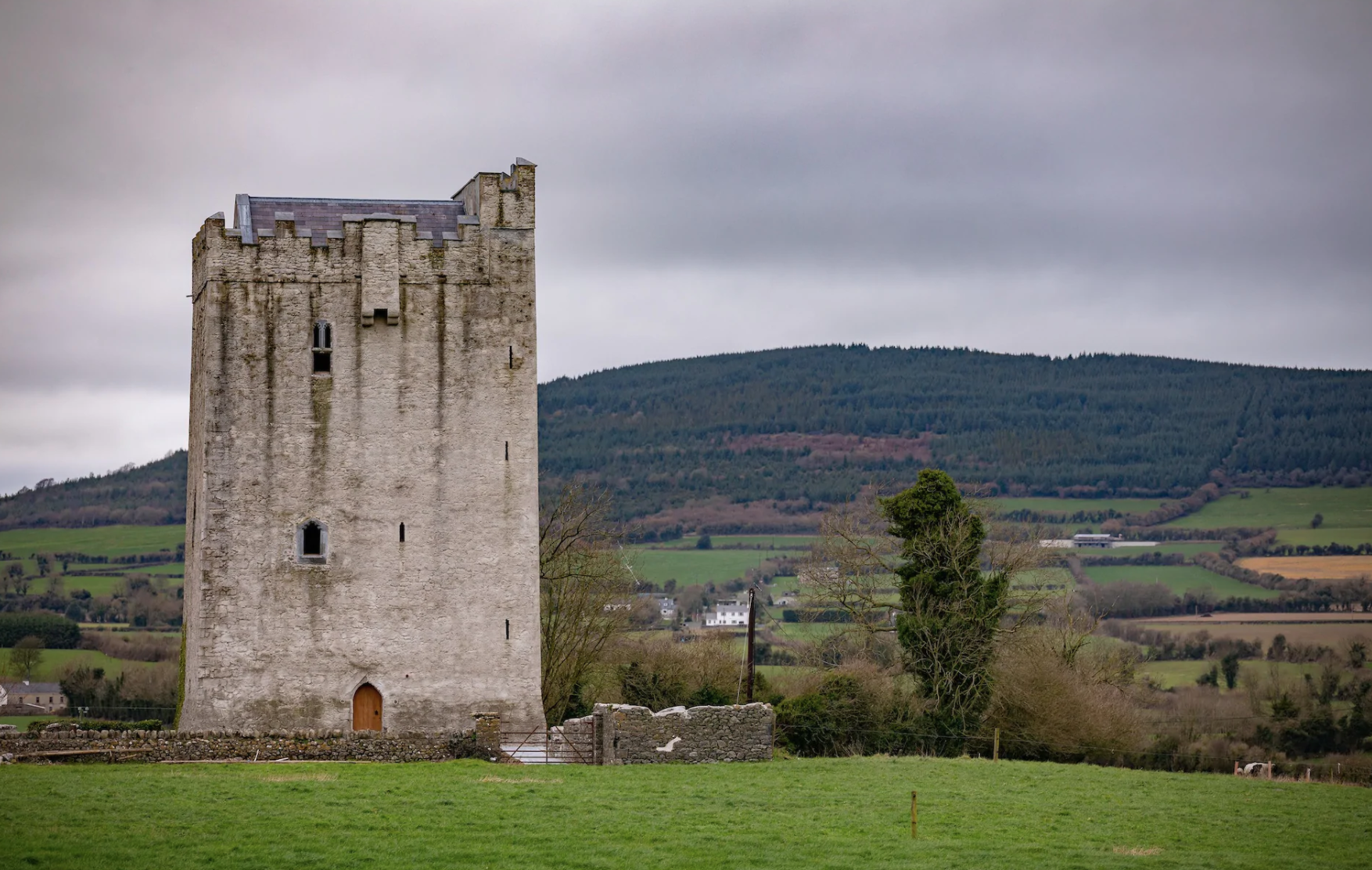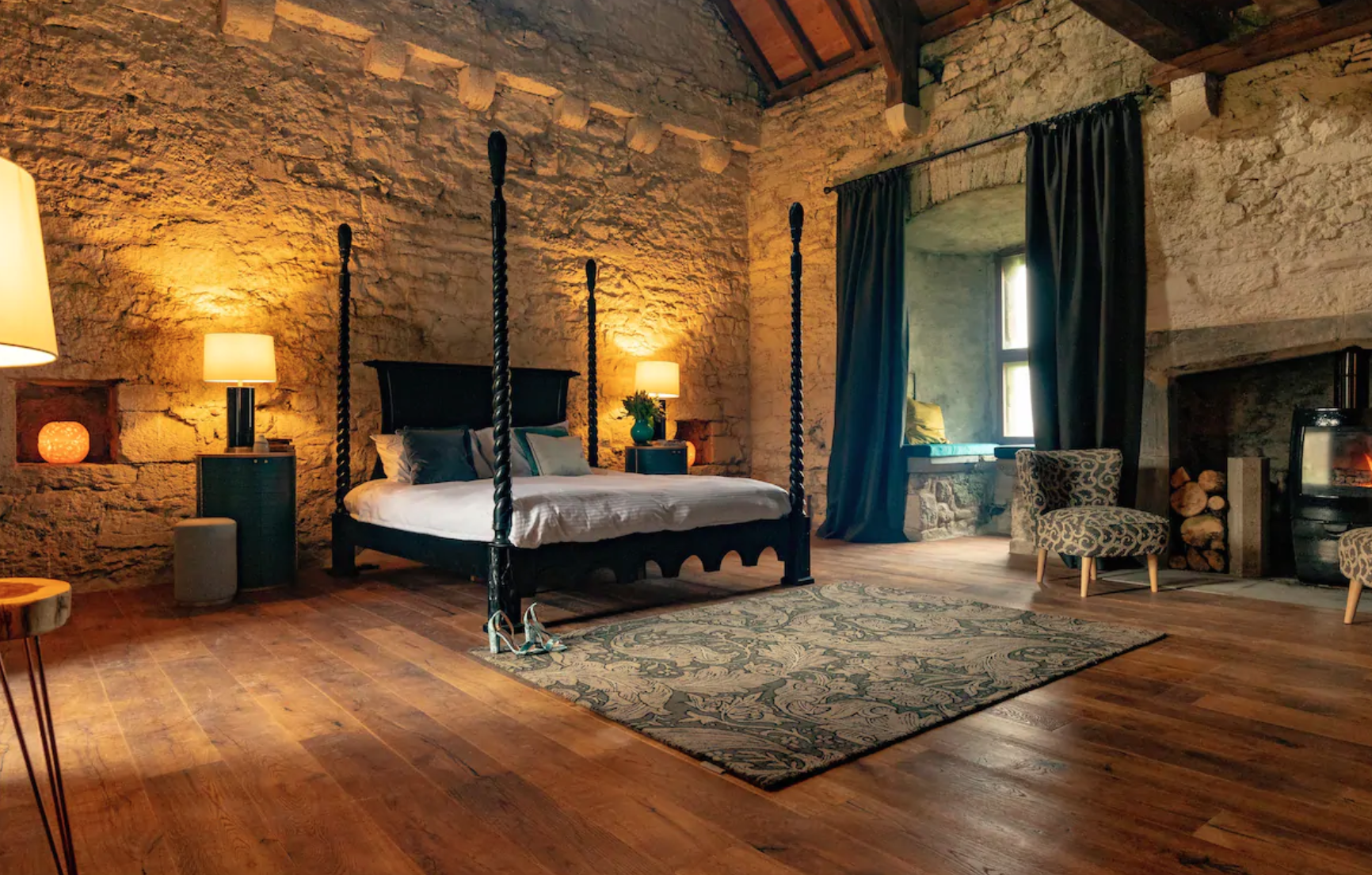 We are planning our trips already!
Words: Jade Carpenter