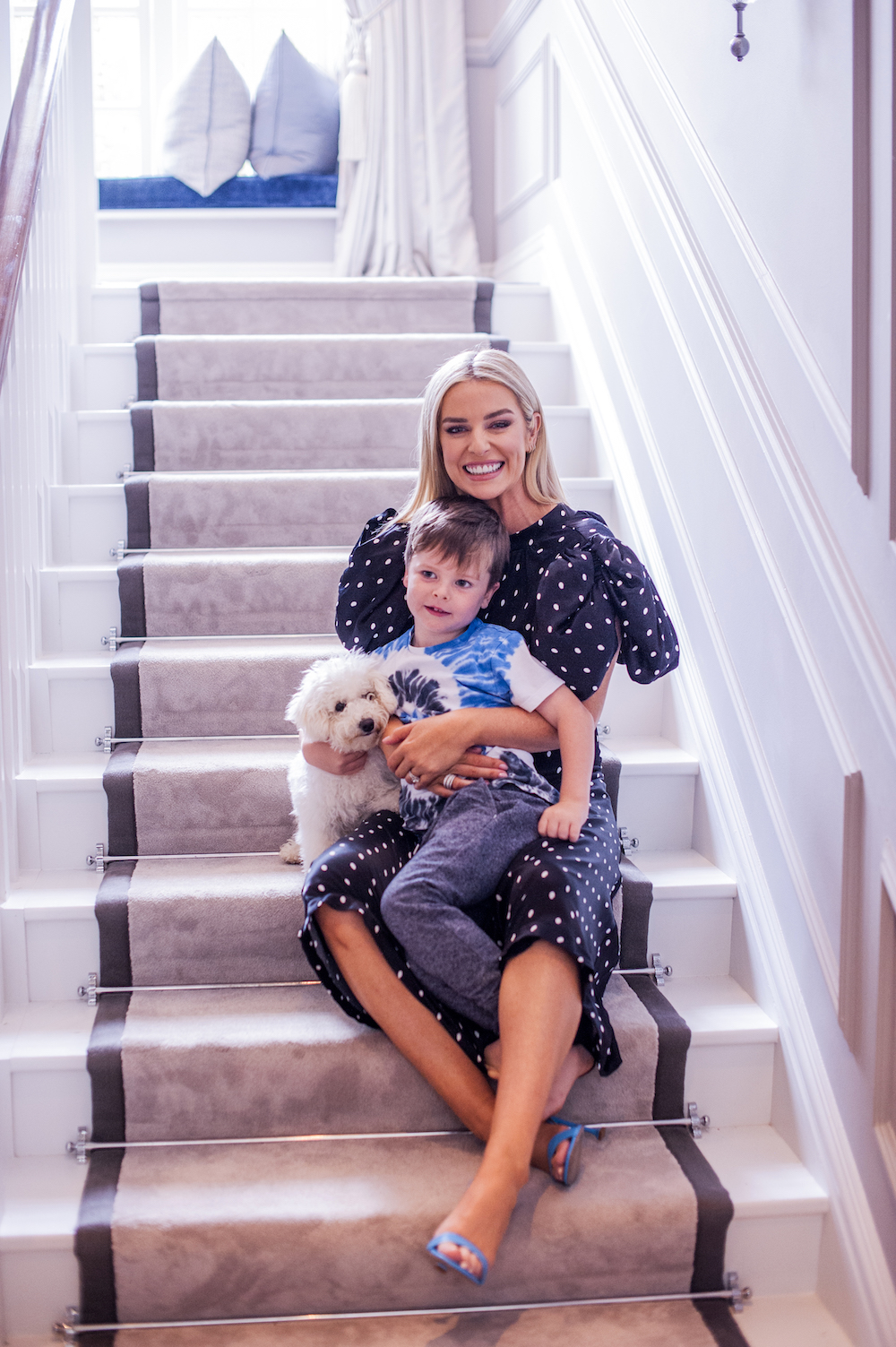 She's impressive, really impressive. And, just 36-years-old. Pippa O'Connor Ormond – along with her husband, Brian – has in four short years built a fashion empire from the bottom up. No leg-ups here, just self belief, sweat and a big dose of risk. It's often said that if you are not willing to risk the usual, you will most likely have to settle for the ordinary. So, Pippa – the former model and the original Irish online influencer – took the route of risk, because she is everything but ordinary.
We are sitting here post-interview trying to figure out what it is about this Kildare native, the youngest of three. Because Pippa was always going to be successful. She just has that something about her, and working with her – as we are observing today – is a masterclass in professionalism. Things just get done. And, it's never stressful. In fact, a shoot with Pippa is so easy it doesn't even feel like work. We are here in her house, masked-up and apart, along with her stylist Niamh Doherty, who has carefully curated a selection of outfits, including pieces from POCO's new collections, just launched. Pippa has a number of exterior locations in mind which she thinks might be nice to shoot in, and so we just follow, led by this entrepreneurial mum-of-two, who does not just believe she is a leader. She is. "Don't follow the crowd, let the crowd follow you", as the famous line goes. And followed Pippa we all have.
Since POCO's launch in 2016 as a brand inspired by the needs of busy women, she and her team have processed 149,000 orders between online and pop-up stores. POCO began with denim but has since expanded to include t-shirts and sweatshirts, bomber jackets and trainers, and most recently leather jackets, houndstooth overcoats and a loungewear collaboration with Irish cashmere designer, Lucy Nagle. In total POCO has launched 123 items on pocobypippa.com. Such is their demand that some of their limited edition collections sell out overnight. One sweatshirt even sold out in five minutes! Weekly impressions on her Instagram average at about 20 million a week. Impressive? Yeah. Very!
In her elegant and plush reception room at home in the grounds of The K Club, she talks exclusively to VIP about work, rest and play…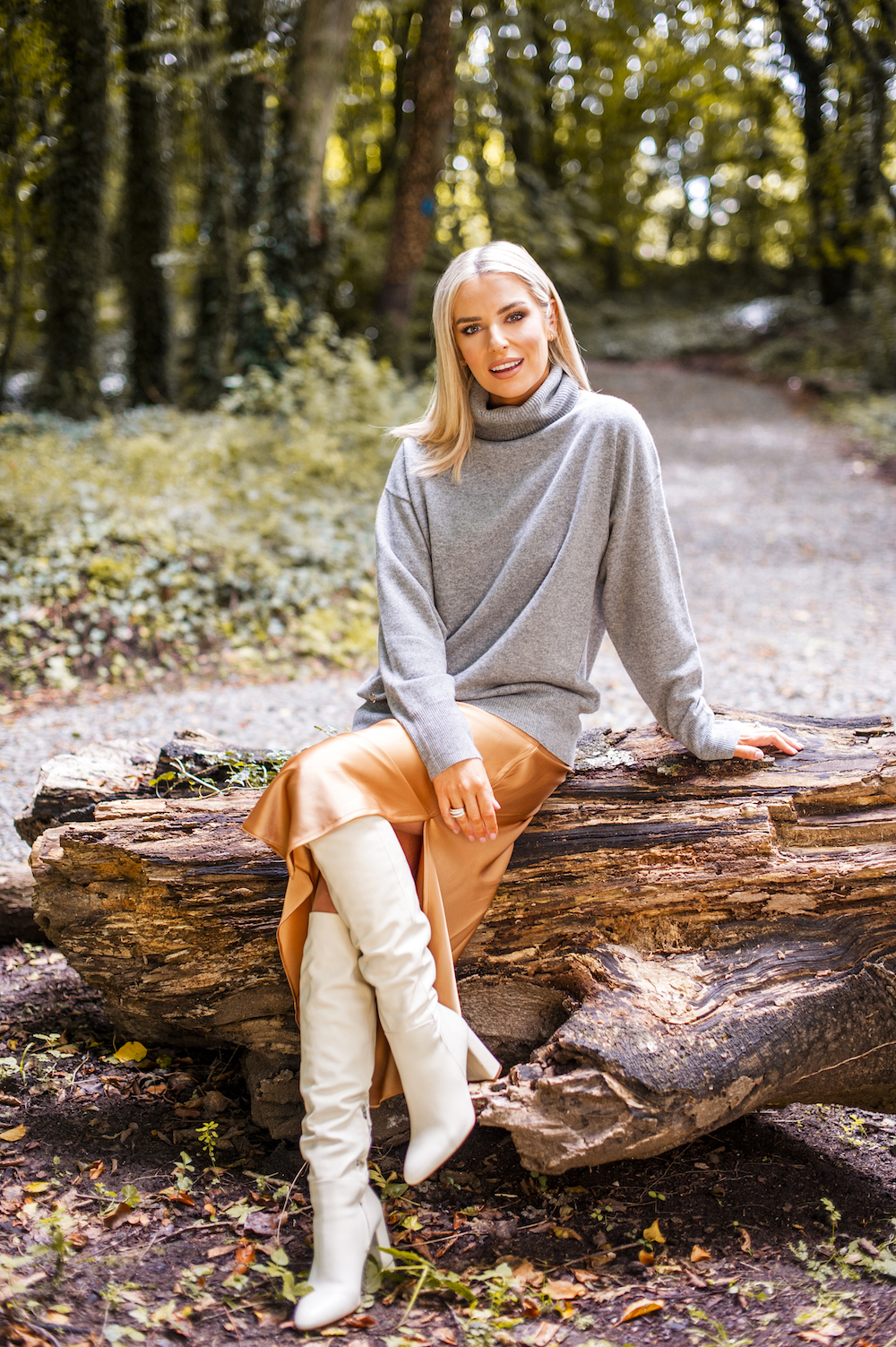 The kids are back to school and there's a return to routine. Are you working uninterrupted with a new found enthusiasm now, or have the last seven months set a new groove to life?
I suppose they have in a way. We got used to both Brian and I being at home, and working and tag-teaming between the kids. Louis is just four, and as you can see, he's full-on and wants to be with either of us all the time. But with school, and our childminder back, it's a massive help because otherwise we couldn't do what we're doing, not when our kids are the age they areat. The return to school has brought a return to more normal living.
You are naturally an optimistic person and you always try, as you say, to live your best life. But it is definitely harder for us all to live our best lives now.
It certainly is. No matter who you are, or what you do, whether you run a business, are a school teacher, a health worker, a stay-at-home mother – and that's bloody hard – this virus has affected everyone. Hearing how everybody is coping – and not coping – is hard.
But you are good Pippa at seeking out the silver linings…you've coped okay?
I do try to find the positives always. And I think as a family we've done things these past few months that we wouldn't ordinarily have done, which has been nice.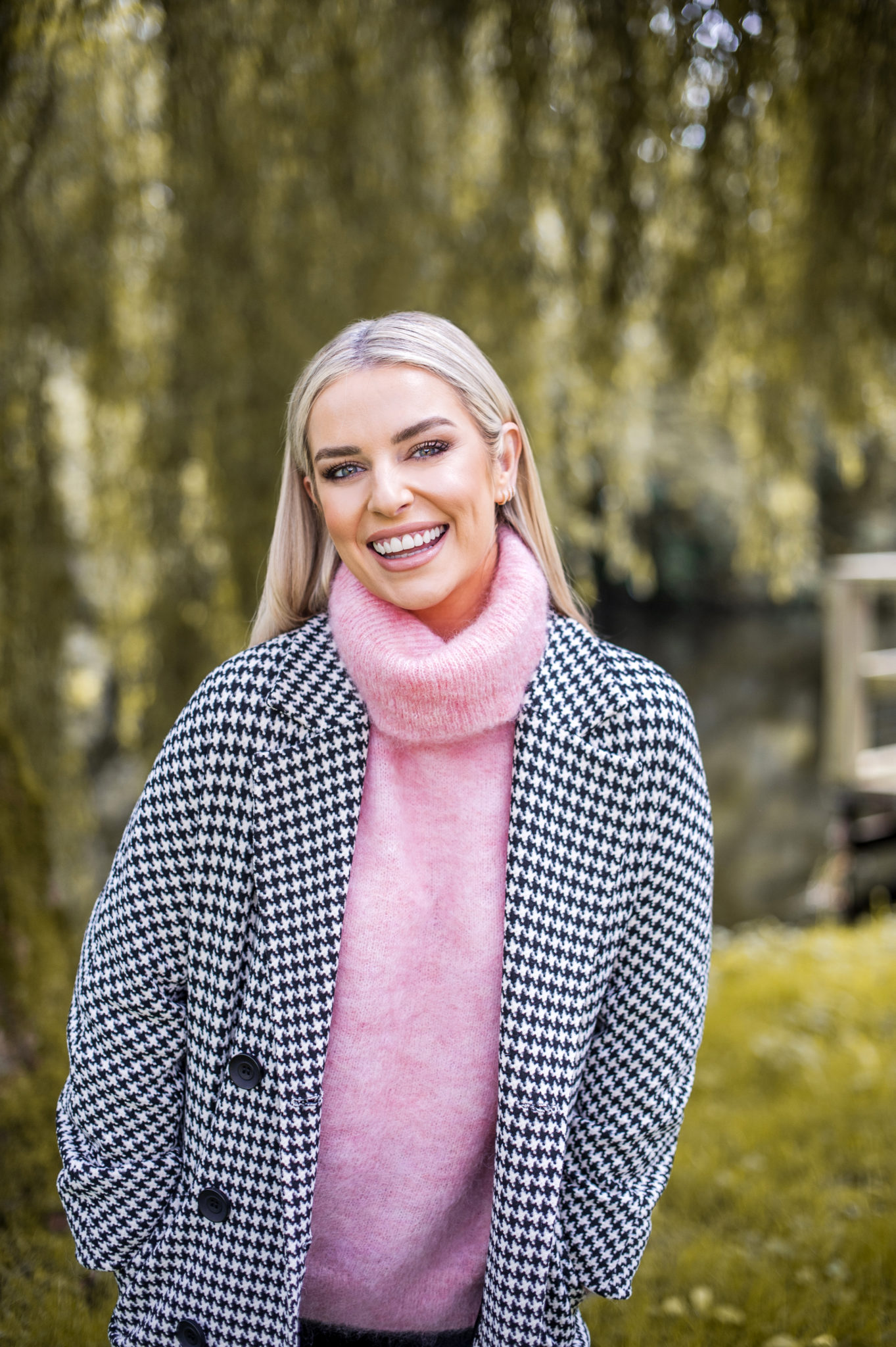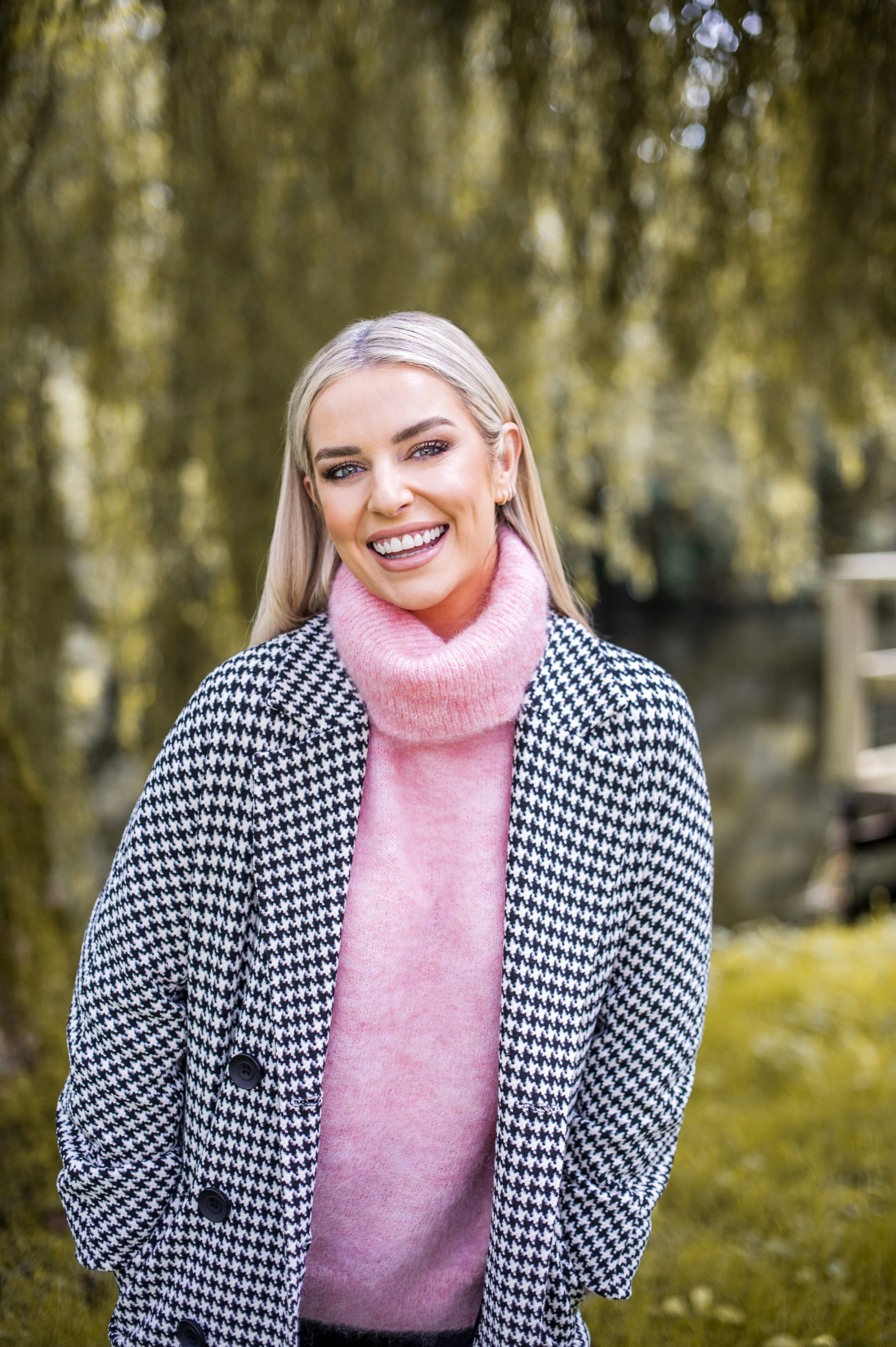 What in particular have you done differently?
Well, I bought a bike and a scooter so I could bomb around with the boys! I also bought a Fitbit and started counting my steps, which was highly odd for me because I am usually allergic to exercise! Brian likes to do Spin classes so he hired a Spin bike and would go off every day spinning. He says if his head is full of stuff
it just chills him out…[thinks] Why couldn't I be more like that?!
Because you are chill! You don't need to unwind! You are already 'unwound'!
[Laughs] The busier we get the more thankful I am for having a laid-back personality! Maybe it's because I don't think far ahead and don't do 'what ifs'? I dunno…but don't get me wrong, I didn't, and don't, find this easy. I had lots of days in lockdown, and semi-lockdown, when I was fed up and bored and just wanted to get out of our little cocoon. But if I am in a funk, I am good at pulling myself out of it.
How do you do that?
I'll have a chat to myself!
What do you say?
I say, "Cop yourself on! You're in a lucky position, none of us have got sick or ended up in hospital and we're lucky we can still run a business – so, suck it up!" [Laughs] But obviously Covid-19 has affected us – and our business – in different ways. We have had big business headaches and a lot of stressful moments. We're dealing with different companies all over the world and that has definitely tested our endurance. The uncertainty in the early days was gut wrenching. I was waking up in the morning with the fear.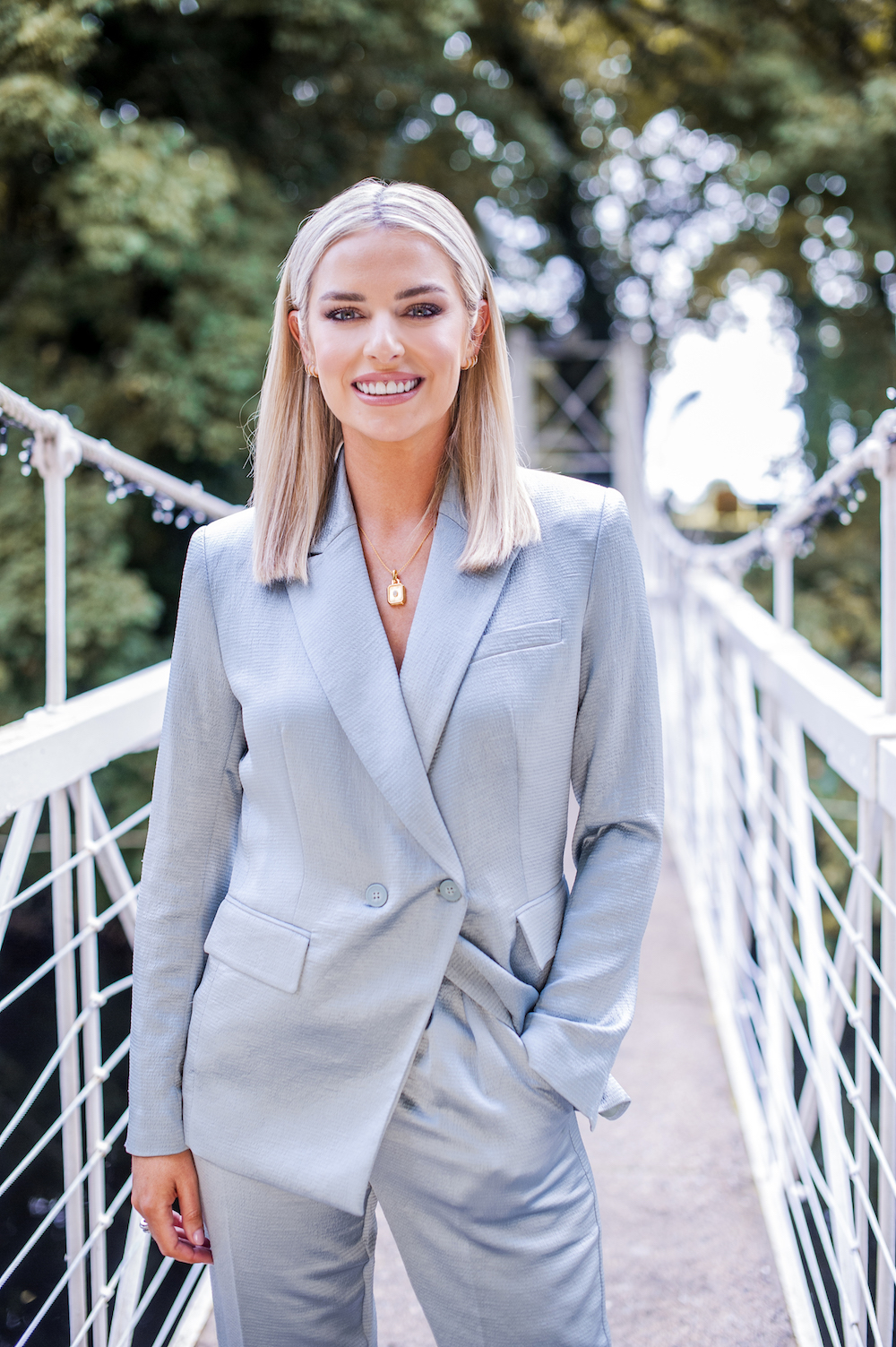 Because it takes a lot, financially too, to produce a collection. What's it actually been like trying to run a business under the shadow of a pandemic?
Tricky! We didn't know if our productions would go ahead even though we had invested a lot of money. The other side is staff: we did our best to keep everyone positive, and first and foremost, employed. We were lucky, I suppose, that most of us could work from home.
As we said you're good at finding silver linings, but one big silver lining must have been that you have no physical retail space, as most of your business is online.
We had one pop-up we were due to open literally the week after everything went into lockdown, so we just pulled it. We had a lot of extra stock for that, and 15 or so staff lined up to go in, so that was stressful. But yes, we are lucky that we have no massive permanent rent that we had to keep up. God knows what would have happened to us if we did.
Research reveals that a lot of shoppers have – for now – moved online. Have you seen this?
Online shopping is definitely up. But as you said – for now.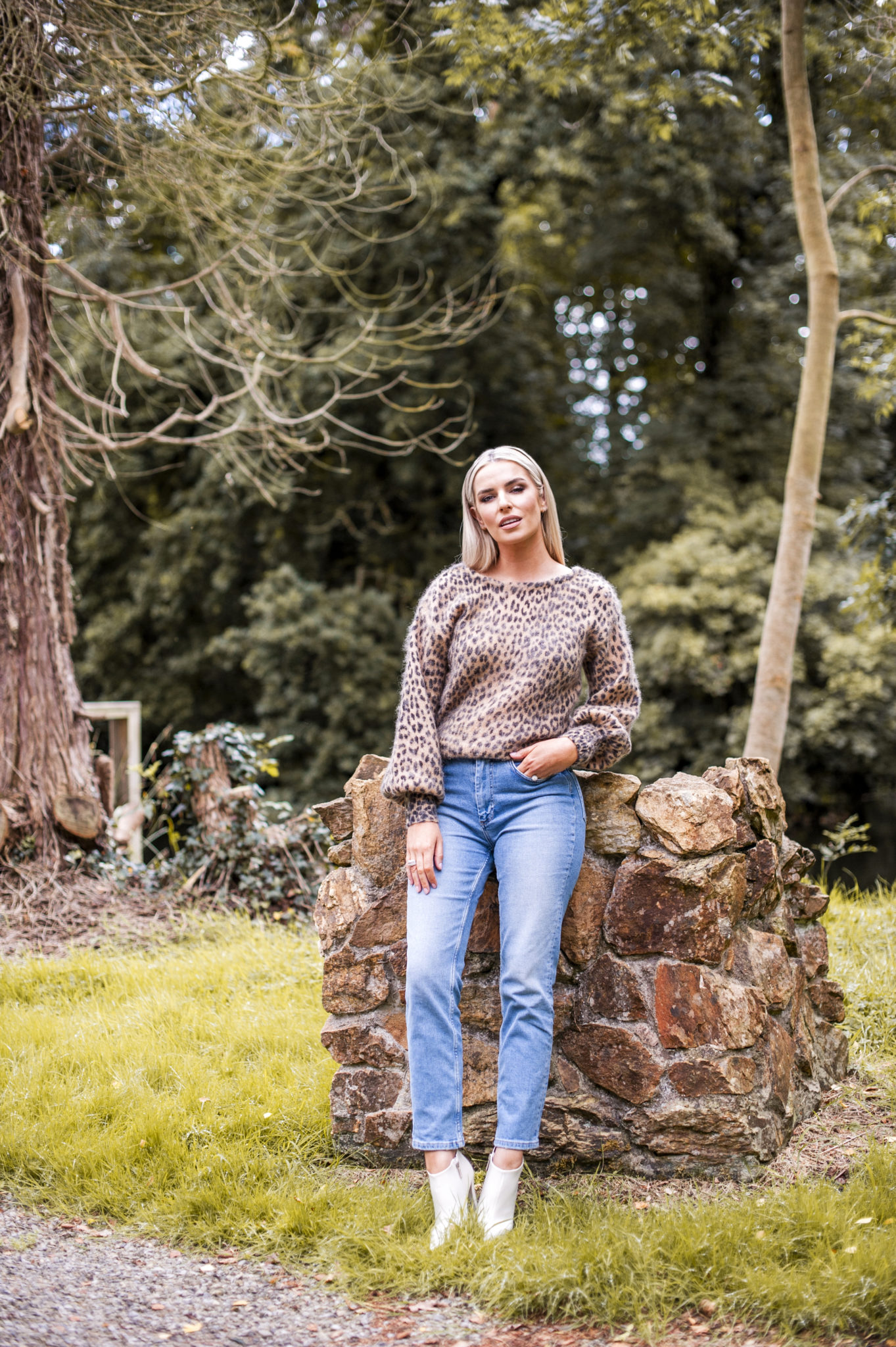 Where did you find yourself scrolling in the height of lockdown?
Skincare sites! I wanted facial products and face steamers!
Tell us more!
I'm a huge fan of Sarah Chapman – sarahchapman.com – her Pro Pore Refiner sucks all the blackheads out of your face!
Nice! Does it work?
I think so. It retails at about €140 and I'd use it a couple of times a week as it opens up the pores, and let's everything you are putting on your skin, penetrate. Their overnight facial is gorgeous too – very relaxing and with a spa smell.
Oh – we miss that smell! What about the house? Interiors spend is up as we all pimp up our pads for an autumn at home! Any pimping up happening here?!
We're pimped already! We're only two and a half years in here, and so, no, we're not touching this house for a long time to come! It's done! And even if it wasn't done, I don't think I could face that for a while! The garden is the next thing we'll do – maybe next spring.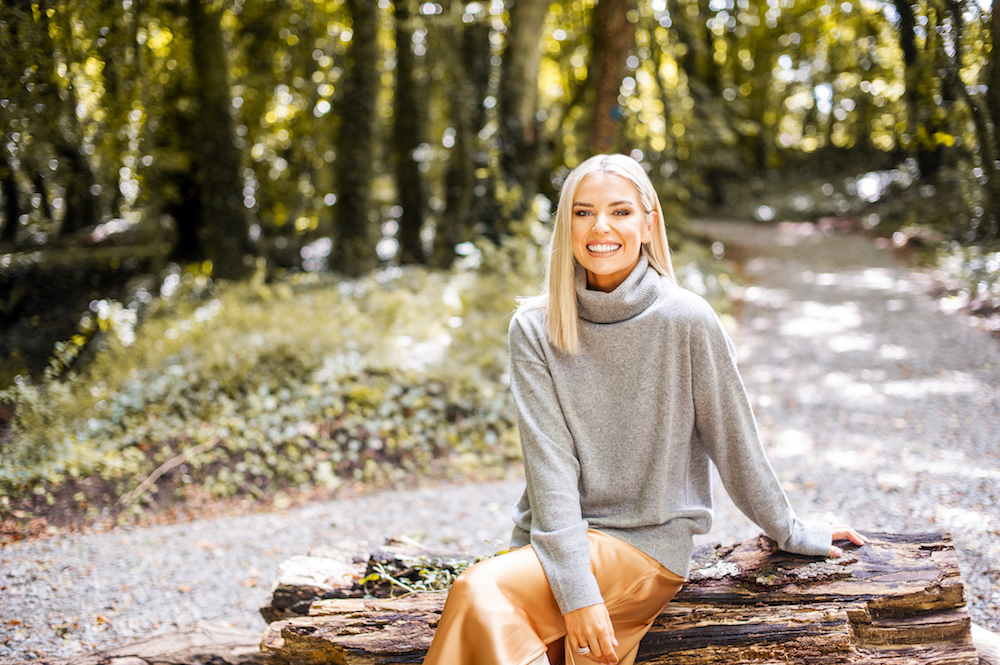 We're looking out onto the garden here from this elegant room. It's a tranquil view from a tranquil room.
This is the 'good room'! Very Irish, yes! Our living area is where the kitchen is and there's a tv there, and then also a kids playroom, and that's where we'd hang out generally. I suppose this is more 'my room' where I like to come and listen to music, and pre-pandemic, maybe have the girls over for a glass of something!
Yes, the drink! Apparently, half of us drank more in lockdown. Were you guys with us!?
Brian and I would never really drink during the week usually, but sure we were drinking cocktails mid-week in lockdown! Brian does the bottle bank run, and he said to me the other day that he stood there counting, and then he started to count up how much money we'd spent, and I was like, "Don't tell me that! I could have bought the handbag!"
We know from listening to the podcast Death Becomes Him, which you did with your BF Brian Dowling, that you like to compartmentalize and shut things away, a little. But we can't compartmentalize Covid- 19, so being out of control – how have you dealt with that?
I don't like not having control and I don't like not knowing where will we be – for example – in six months time. This loss of control is hard so I manage it by not thinking far ahead.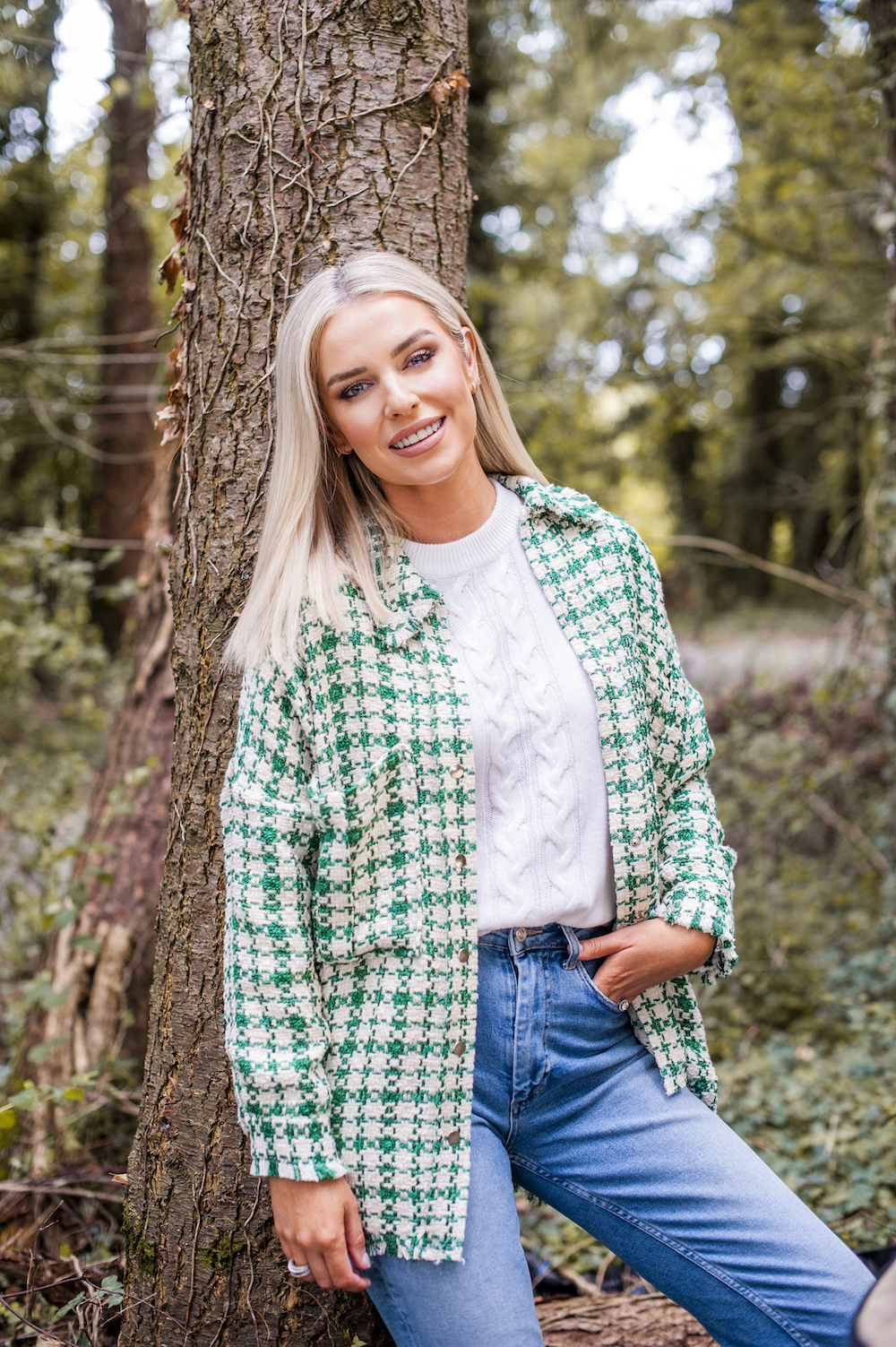 What also struck us from that podcast was that you say the loss of your mum suddenly, aged 61, (this October is Louise's six year anniversary), prompted you to – in a way – 'seize the day'. And your career from that point on, sprung forward.
Yeah, but I'd say it was half sudden loss and half my age. I'm from Kildare and was always very concerned – certainly in my 20s anyway – about what the locals thought. But now? I couldn't be further from that. I know there are people talking behind my back all the time trying to bring me down. But that nearly motivates me more. I laugh it off. For me now, at this stage and at this age, I couldn't give two shits!
Has success made you happier in your skin, do you think?
Maybe…[thinks] POCO may be only four years old, but I have been here working in this industry since I was 18. And I've been with Brian since as young….I'm used to all of this. We're used to people talking about us. In
a mad way it has brought us closer together.
You two against the world!
Completely!
Another silver lining right there!
Well, you have to turn it around or otherwise you'd have a nervous breakdown!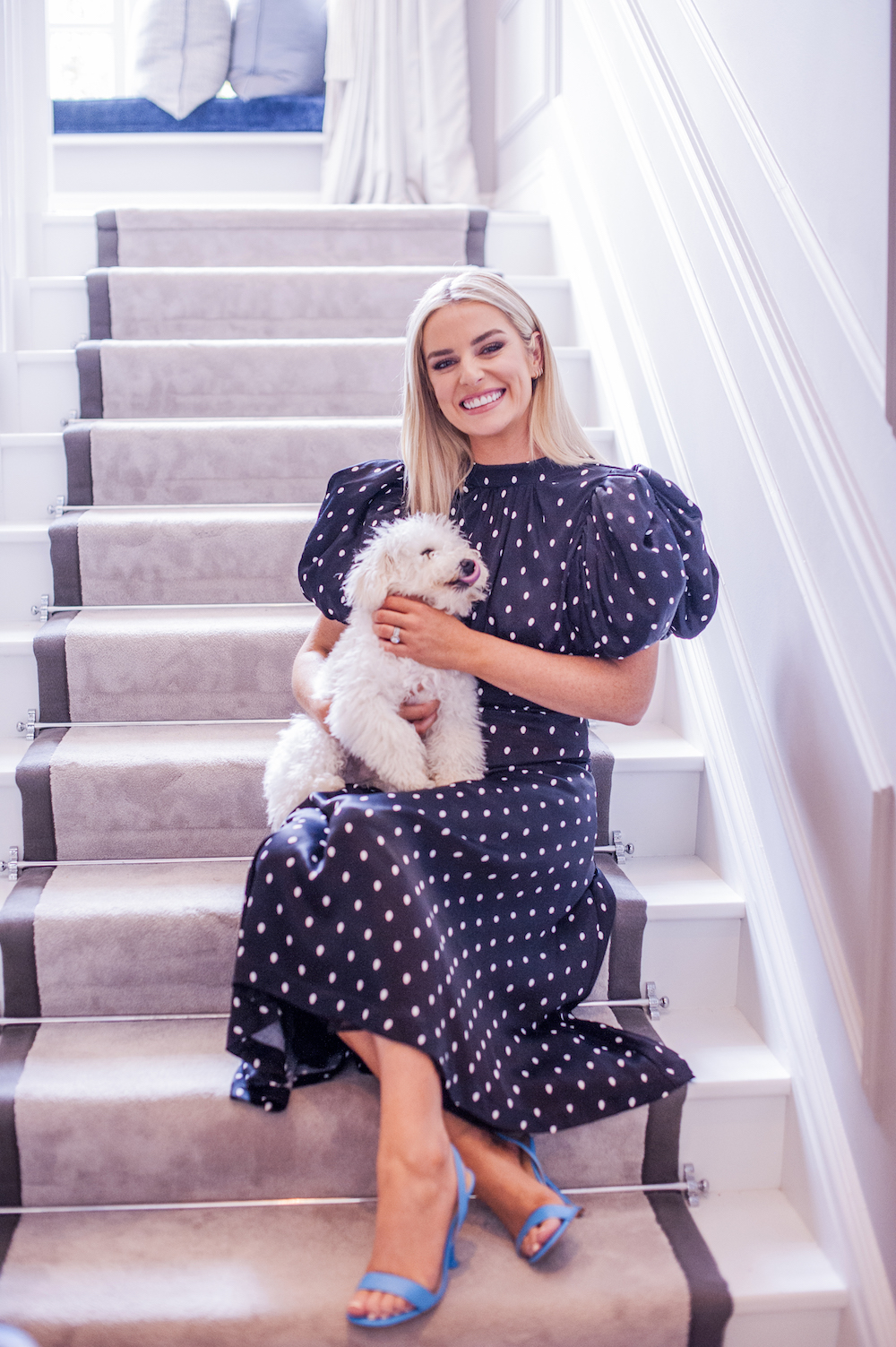 We were talking to Brian at your last launch, giving out about our husbands and partners who were trying to organise the kitchen while furloughed at home, in the height of lockdown! And Brian was laughing. He just didn't get it. He didn't understand how we wanted them out from under our feet!
You were like, "Shut up, Brian!" [laughs] But look, it makes such a difference if your partner works in the office all the time and then suddenly is not leaving the house. Don't get me wrong – Brian and I had days we didn't like and couldn't look at each other – it was so intense. But yes, we are used to working together so that does make it easier.
Speaking of work, how have you seen fashion change and respond to what has befallen us all?
Well, people want more cosy casuals. They want nice quality basics, as do I. I don't need going-out-tops now, but I would like another cosy jumper!
It's amazing really how you have timed the launch of the Lucy x Pippa collection, which has 100 per cent merino wool sweaters, loungewear and cashmere blend t-shirt tops. Had this collaboration been planned before the world shifted?
Would you believe – it had!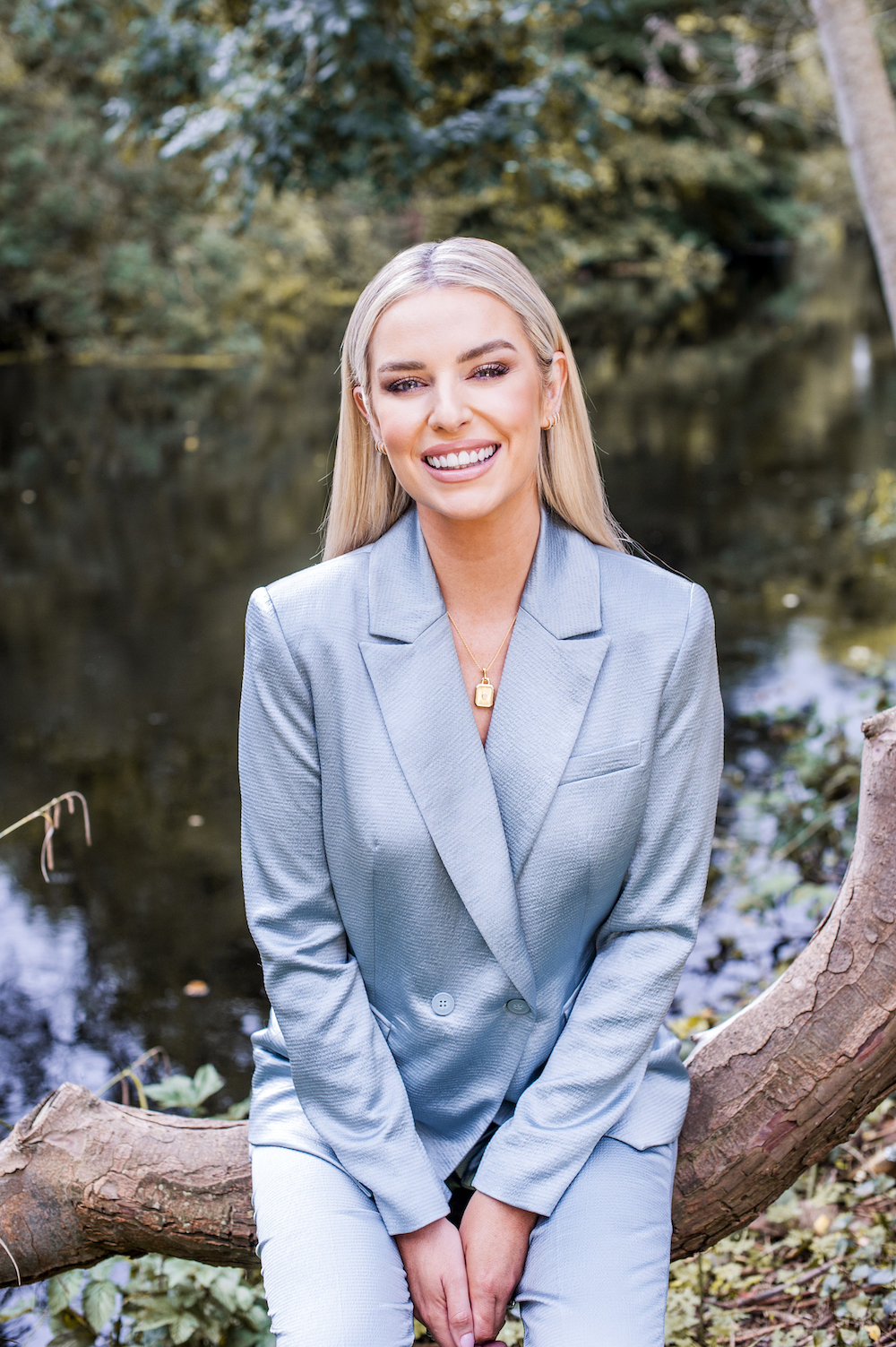 You are always ahead of the curve! Are you intuitive or just unafraid to take risks?
I don't know…I mean, I've been asked to collaborate with a few fashion brands over the years, but none sat 100 per cent with me, so I didn't go for it. With Lucy it happened last year and it just came about very naturally, probably because I'm such a huge fan of her brand. I also think it's great for two Irish women to work together. We are all stronger together.
You are a leader, Pippa. Do you feel like you lead?
Oh god I don't see myself as a leader, I see myself as the heart of the team. In work I think I bring everyone together. We all work in harmony. Maybe I'm the leader in home life though, the boys always say, "Mom's the boss"!
Who do you take your lead from?
I take lead and advice from those closest to me, like my sister Susanna, I trust her opinion 100 per cent on what products we create for POCO. In aspects of the business I take Brian's lead on things and he equally takes mine. My brother Cian is in a totally different industry [showjumping] and is at the top of his game. I find his passion and determination very inspiring. He'll achieve whatever he puts his mind to. I have a few close friends I'd ask for advice too. I value each of them. (Ollie then returns from school and peeks his head in the door). Hiya Ollie…!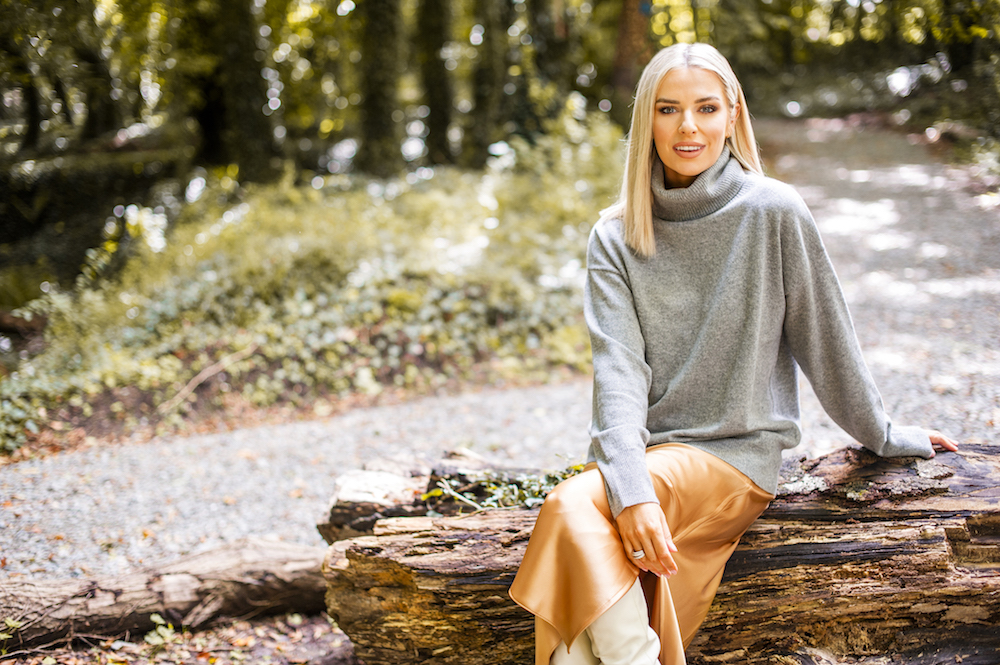 What about Ollie and Louis? We don't want to generalize but the younger the child, the less emotionally affected they seem to be, so far, by Covid-19. Would this be your experience?
I'd like to hear someone else ask the boys what they thought of lockdown. I think you'd get a truer answer. But
I think they'd say we had a nice time because it was mild and we were outside a lot, and mum and dad were home every day, and they got to stay up late! I think – I hope – they have good memories.
The golf course is in our view. We know Brian likes to golf. And that the boys like a bit of pitch and putt, too. This is the time for you to find a new hobby, you know!
No, no interest! Brian's like, "Take golf up and the four of us can go play together"! And I'm like [really sweetly] "One day Brian, one day!" "You bring the boys out – I'll chill!"
INTERVIEW: Bianca Luykx
PHOTOGRAPHY: Lili Forberg; misslili.net
STYLING: Niamh Doherty; @niamhdoherty
MAKEUP: Lisa Shannon; lisashannonmakeup.com
HAIR: David Cashman; @cashmandjmc