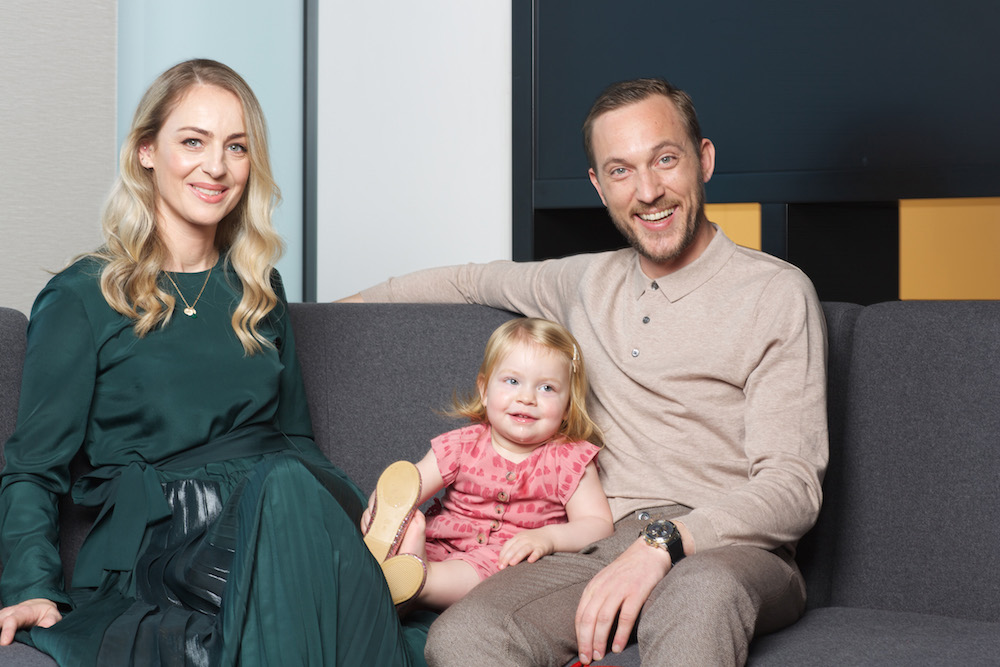 Mateo Saina we meet on the day of our photoshoot, and the Mateo Saina we bid farewell to, are two different men. The reason why? Coffee. Mateo likes his coffee. And these days in particular, he needs his coffee. You may know him as the charming maître d' on RTÉ's First Dates (now in its fourth season!), but there's a lot more going on for the Croatian-born smooth operator than what you see on your tv screens.
He's been working in the ever-busy restaurant service industry for two decades now, and in Irish eateries for many of those years, currently as manager of Dublin 2's Glas, an innovative, high-end vegan/vegetarian haunt, that just opened late last year. This fast-paced, late-night role combined with having a new toddler in the house – the gorgeous almost-two-year old Isabelle Luna, nicknamed Isa – can mean that sleep sometimes feels like a distant memory. Especially when his partner Vjerana also leads a busy career as a hardworking nurse.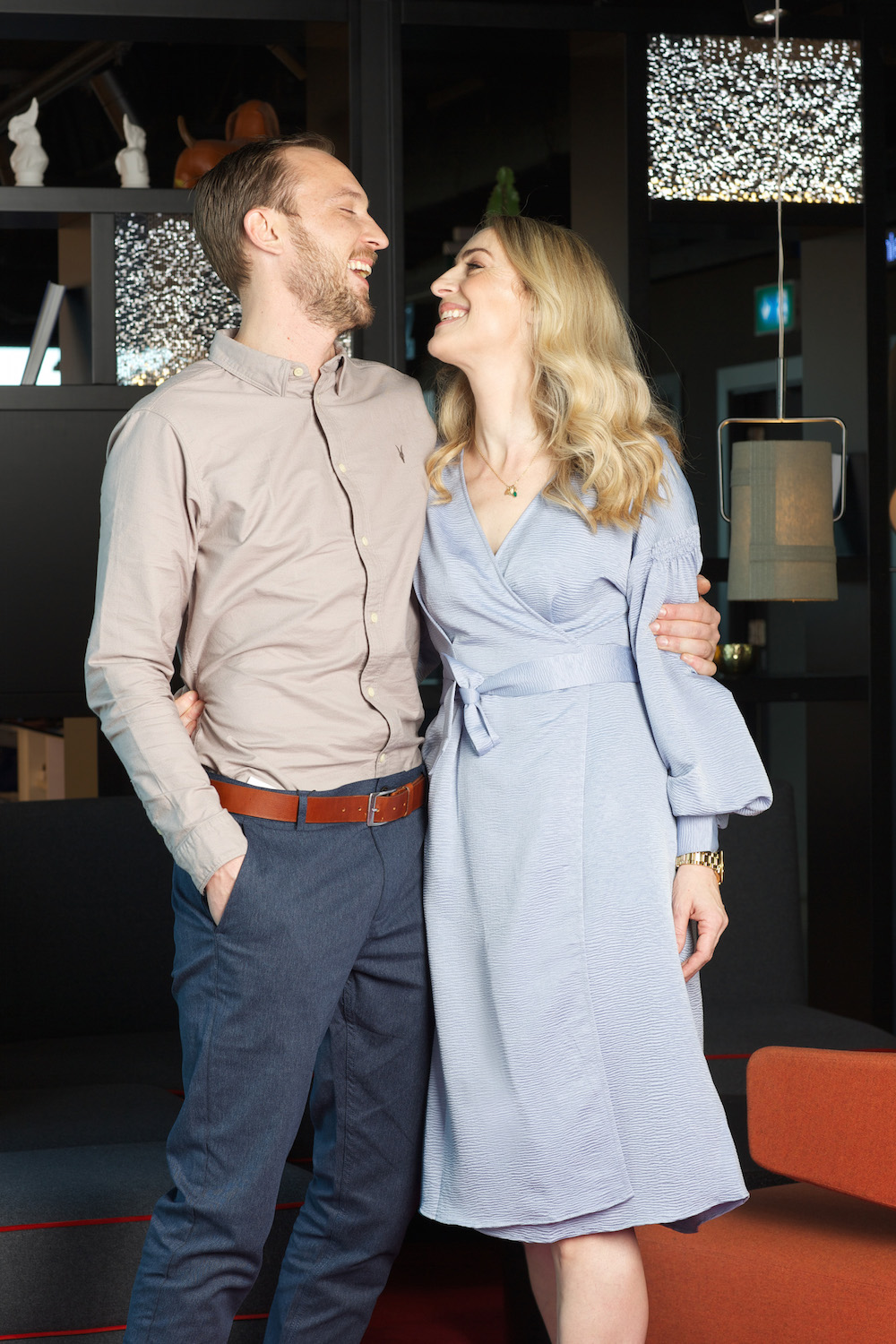 However, after two strong Americanos (two sugars), Mateo swaps drowsy eyes for twinkling ones, and cracks our team up between shots with his dry wit. He is a wonderfully easy person to be around, and after a few hours in his company, we'd like to think that we can paint a pretty good picture of the kind of guy he is away from the kitchen, and the tv cameras. Firstly, he doesn't give a damn what people think. At all. Whenever Mateo speaks, it is uncensored, and on topics people usually shy away from, like sex and money, which feels liberating to listen to – you know that he's real.
He seems to have a refreshingly simplistic view of life: to work and love hard, to treat people with great respect, and to enjoy everything that comes his way as much as possible. He's a big family man, and he adores "his lady" as much now as he did when they first got together, and he positively dotes on his little girl. Fatherhood is something that Mateo felt daunted by, but now, he says that it's the best thing that's ever happened to him. His outgoing, zany little one is no doubt a Daddy's girl, and it was pretty special witnessing the start of this beautiful bond for life.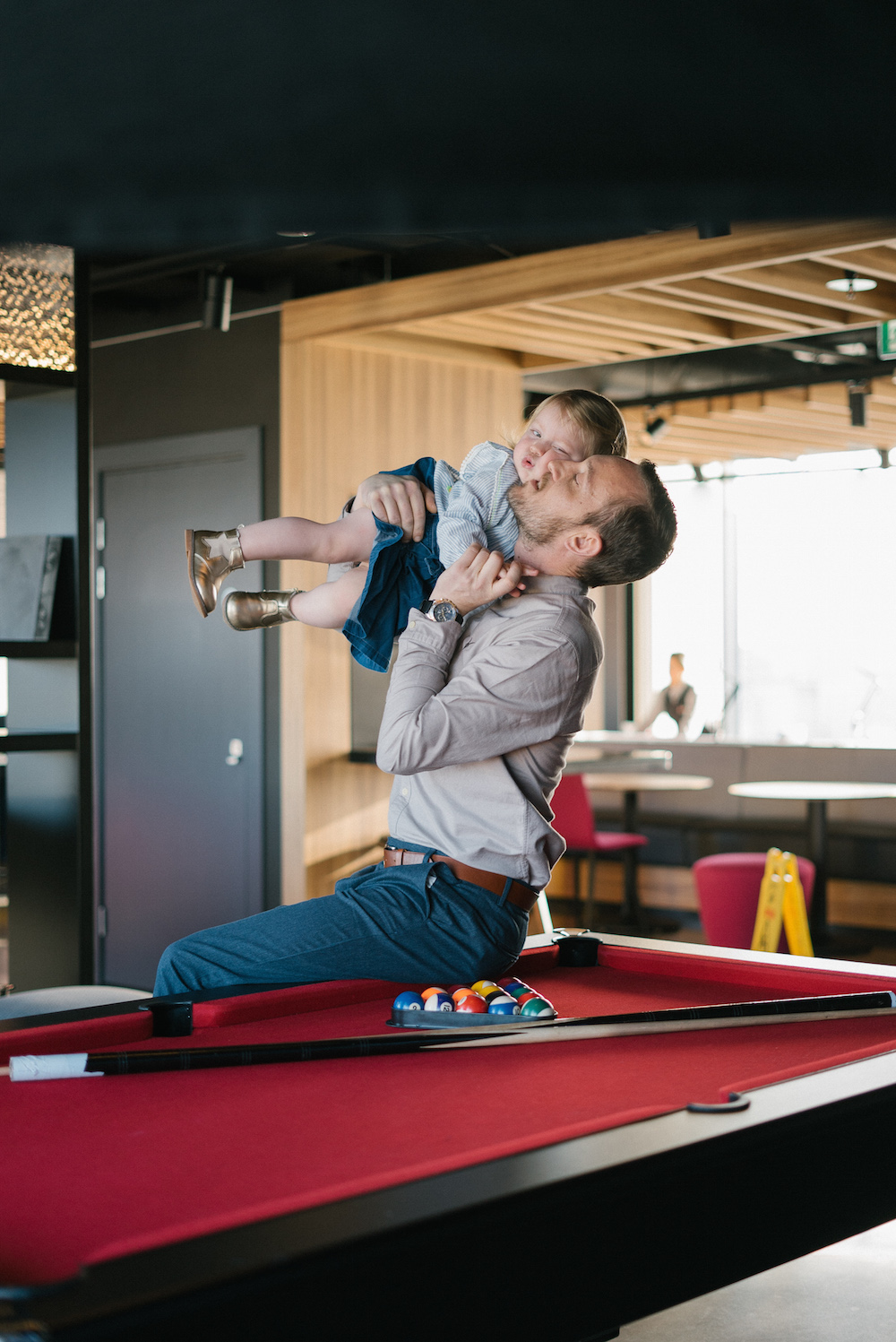 So, yes, there is a lot more to Mateo than the so-called love guru title he's been given. "I'm no expert," he laughs to VIP. "In fact, I'm the one who needs the advice sometimes!" Here, he talks the realities of relationships, the unexpected way he winds down from stress, and his desire to perhaps cross over from tv to radio for his very own show…
Mateo, you're a busy man these days!
Ah, well, listen you gotta pay the bills [chuckles].
Tell us about the latest string to your bow, Glas restaurant…
It's one of the first of its kind in Dublin, high class veggie and vegan food with good service…it doesn't feel like a hipster place if you know what I mean! From day one it has been incredibly busy but that's a good complaint. It's going even better than expected so hopefully we can keep that up, I'm confident that we will.
It's funny; people who watch First Dates may not be aware of your long-standing career in the restaurant industry.
Yeah, I know, this is what I've been doing for a living for 20 years now. I've worked in Italy, Amsterdam, Austria, Croatia and now Dublin…I've seen it all!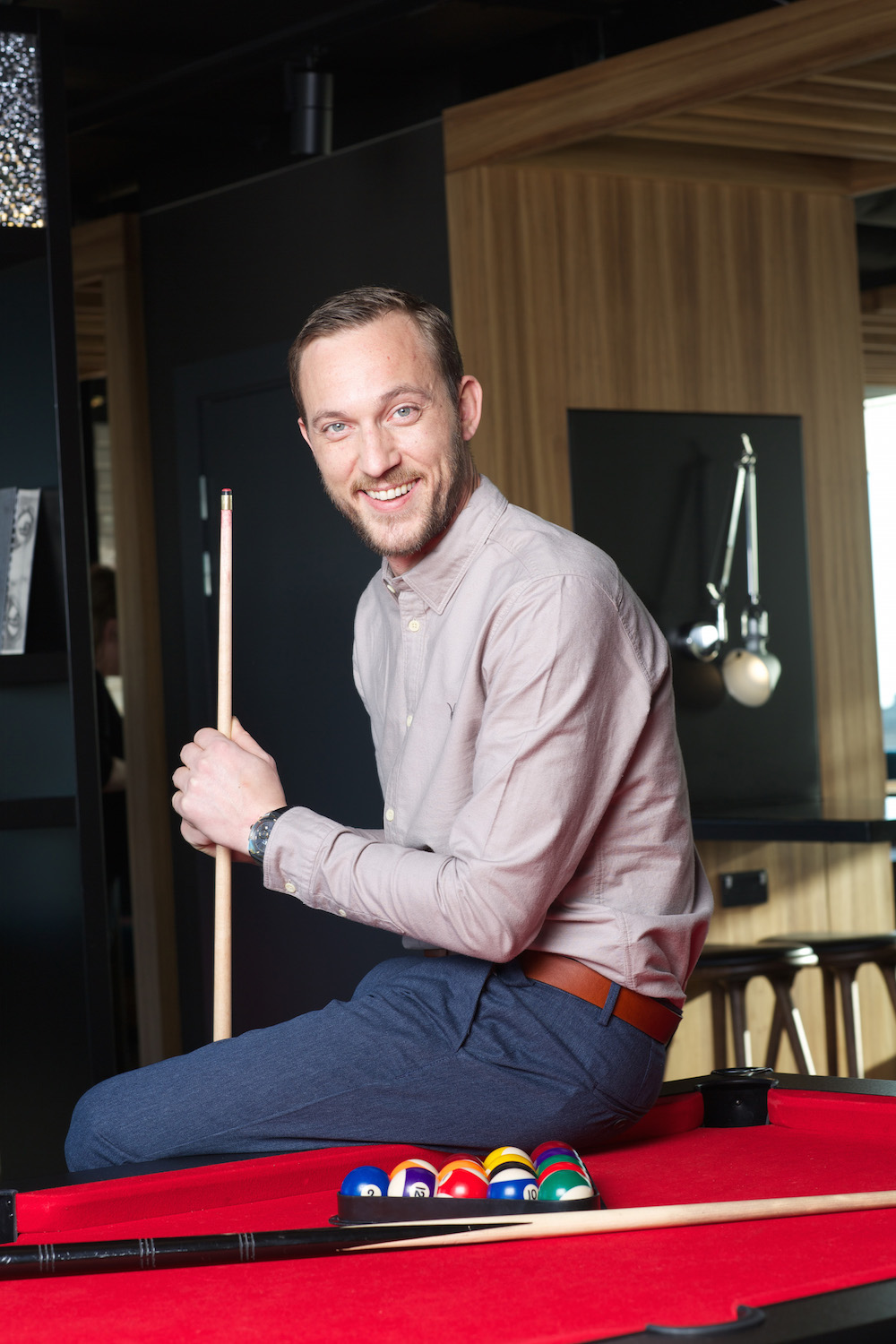 Your tv role was plucked from nowhere (the owners of Coco TV, the show's producers, knew his boss at the time, who put Mateo's name forward). How does it feel to suddenly be a household name across Ireland?
The first year was a bit stressful, actually. I'm a village boy, and suddenly people all over the city knew who I was from the tv, it was hard to get used to. But after a while, I found my feet and I found the joy in it all. I'm still enjoying it all!
There's so much negativity in the world. So, a positive, wholesome show like First Dates must be a delight to be part of.
It really is. And what I love about it is that we never mock people; we just present them as they are. We're not there to make a fool of them, to boost ratings… nothing is scripted. We're just there to give them a hand, and off they go!
It's so popular, we think, as people love to watch a connection – which can be rare to find – blossom in front of them.
Yes, and that's just human nature – to see how people react in certain situations, and make them think also, "How would I react in that situation?" I know that I wouldn't be able to go on a date on the tv, that's for sure. I just couldn't do it!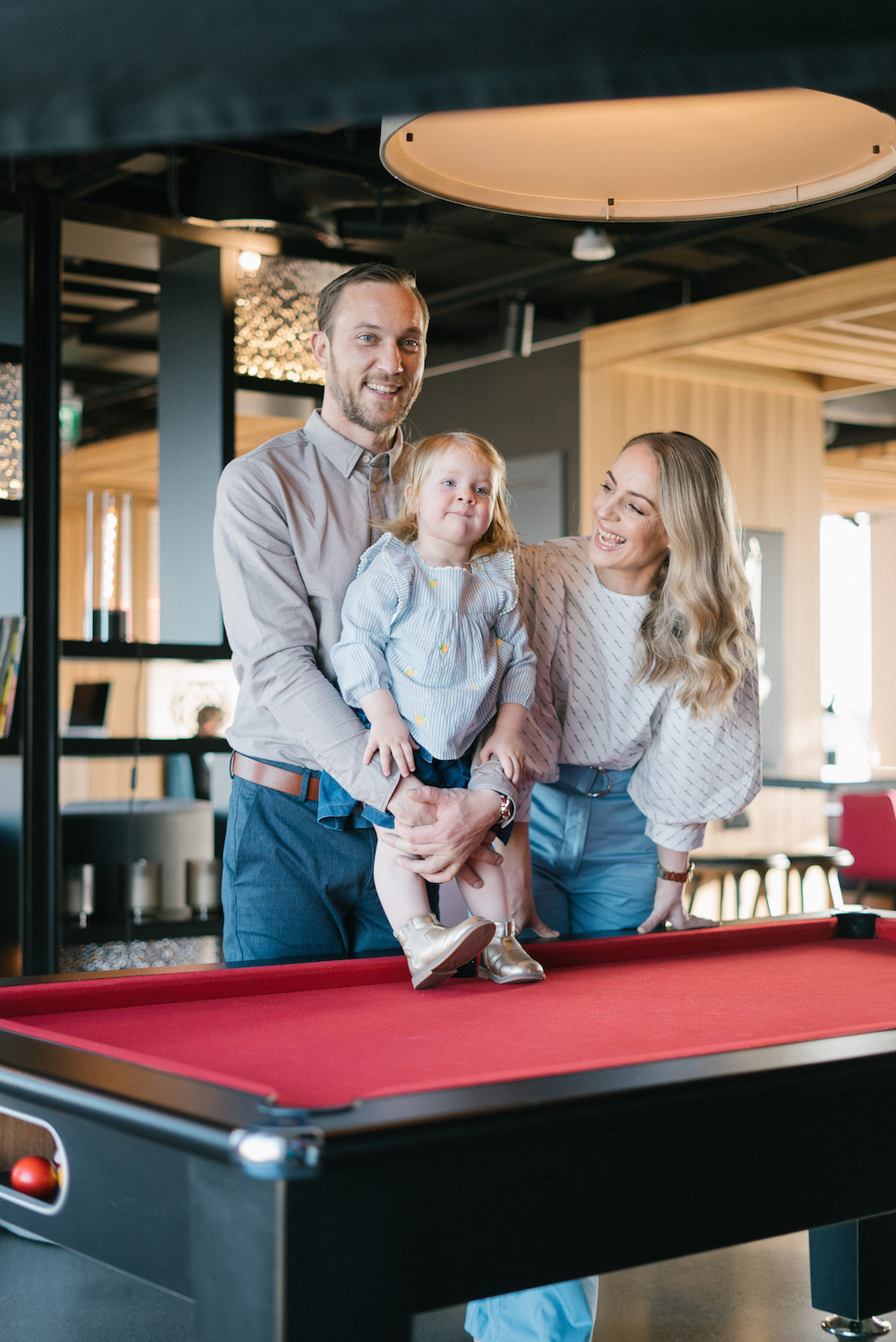 Luckily for you, you don't have to look for love though, as you found it a long time ago! How long have you and Vjerana been together?
I should really get this right [laughs]. I would say nine or ten years. She would definitely know the date but I can't exactly pinpoint it! A long time yes, and a very enjoyable time.
And you met in Croatia, where you're both originally from?
Yes, and no. Vjerana was a refugee from Bosnia, from the war. She was living in Bosnia when they bombarded the town she was in, burned her house, everything. The family fled to Germany, then Croatia, and that's where our story begins, when I first spotted her! She was the older girl in secondary school that I used to admire… I remember thinking, "Man, look at her!" She went off to study in Amsterdam, I went travelling and working around Europe. We bumped l into each other one summer, caught up, and I took her on a date and…sparks flew.
Wow. And things just grew from there…
Yeah, although we had to do four years of long distance!
How did you manage to make that work?
[Without hesitation] Skype sex. The only way to do it! [Roars laughing]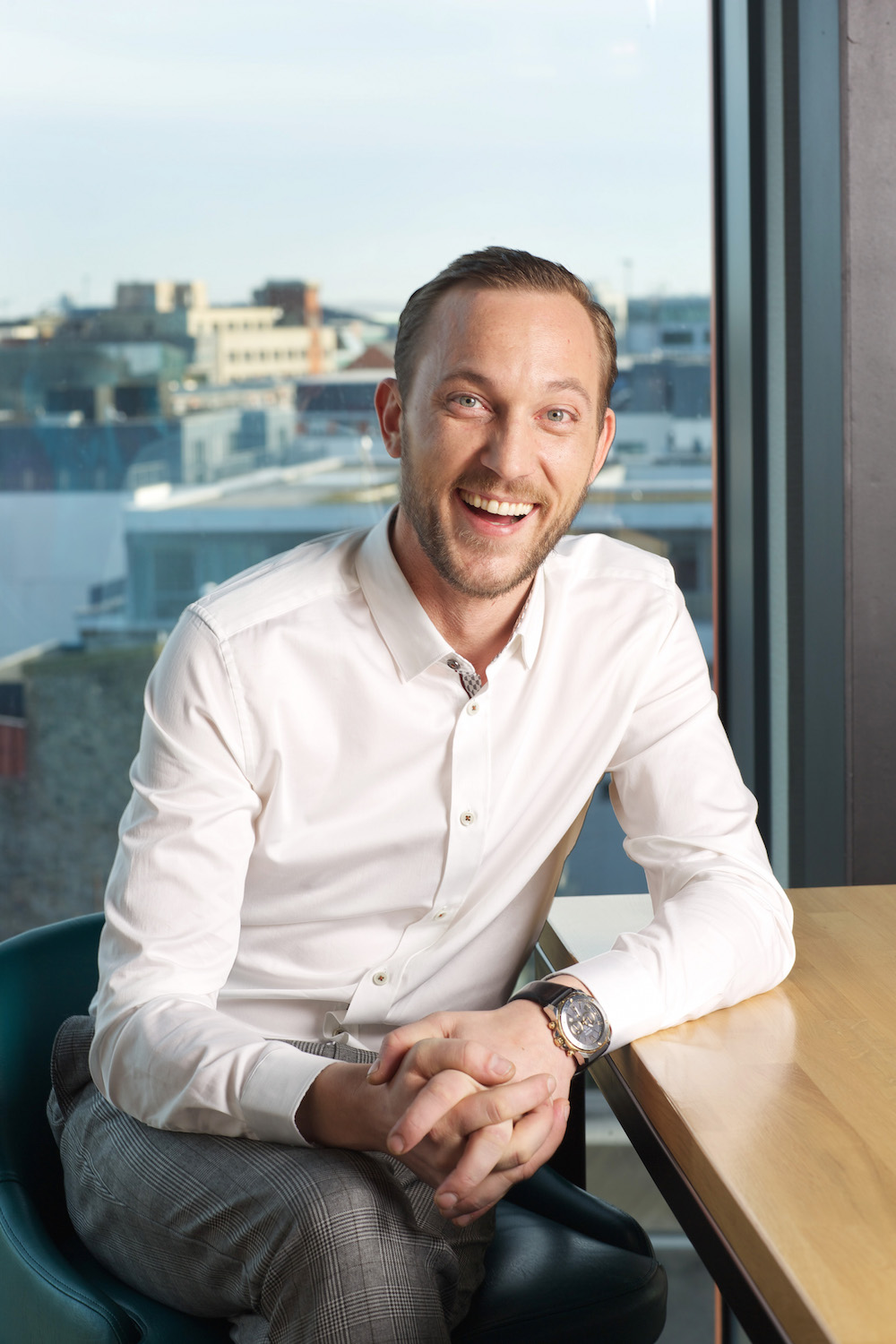 Well, you can't say that you're not honest! We obviously have to ask more about your very own first date. How did you impress her?!
Ah, she's hard to impress you see! [Jokingly laughs] She has both feet on the ground, very grounded and humble, she's never been into the whole tv thing and I love that about her. I took her to a restaurant – yes, I know! – after that I took her to a hill for a beautiful view of the coast. And then…[laughs] it was a good first date. We kept in constant contact after that and made it official.
Do you miss Croatia?
Y'know, there's one thing that I really miss – how you grow up with your mates and they're still there after 20 years. When I come home, I'm not in on any of the jokes! But then, after we hang out, it feels like I've never left them. And I want my mother and father to see their granddaughter grow up, that's a big thing.
You are close with your parents?
Yes, very much so. Isa is their first grandchild…although my brother was feeling left out so he welcomed a son half a year afterwards!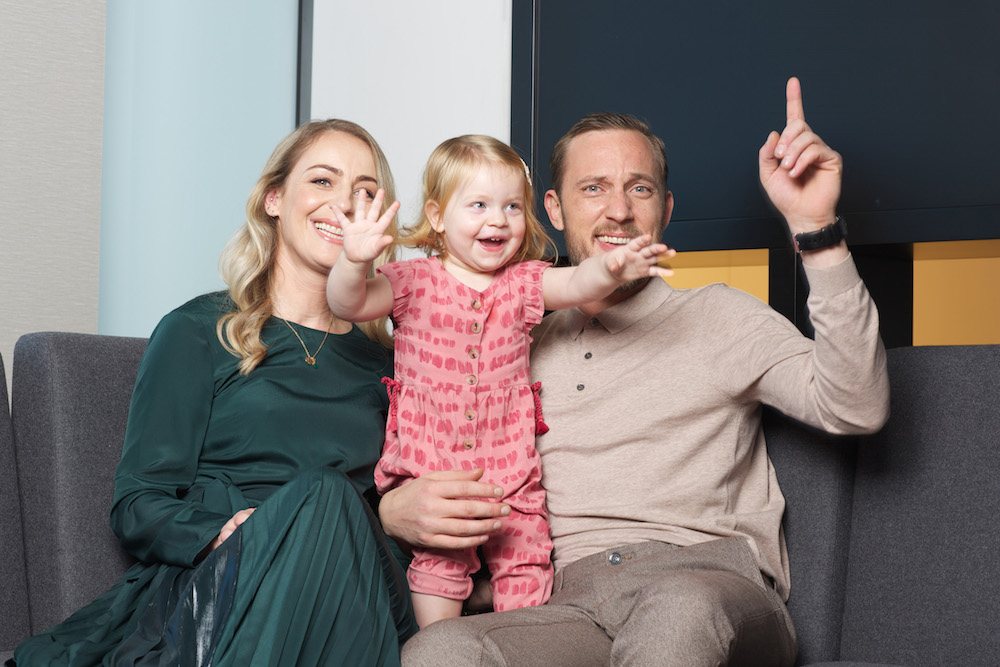 She really is such a character Mateo. We've never seen a toddler so full of energy!
To the point that it's worrying me a bit [laughs]. Her communication skills, for such a young kid, are truly remarkable…she reads people's expressions – she knows how to manipulate to get what she wants! There are signs that she's going to be a people's person, that she's going to be chatty and bubbly. And out partying, you can see that already [laughs]!
You're very hands-on, and it seems like being a dad is a role that you have fallen in love with.
Oh, yeah. It's a pleasure. It's not without stress too though; I've been working very late shifts in restaurants all my life, and used to getting up at 12, but now – no chance. Sometimes I have to though because I'm wrecked and I don't want to be bad company.
Of course, you want to be a good partner as well!
I have to work on that [laughs]! Nowadays with the hectic schedule…it can be tough for us to spend time together. I miss my lady a bit! I miss making her feel like a queen, and giving her all my love and attention.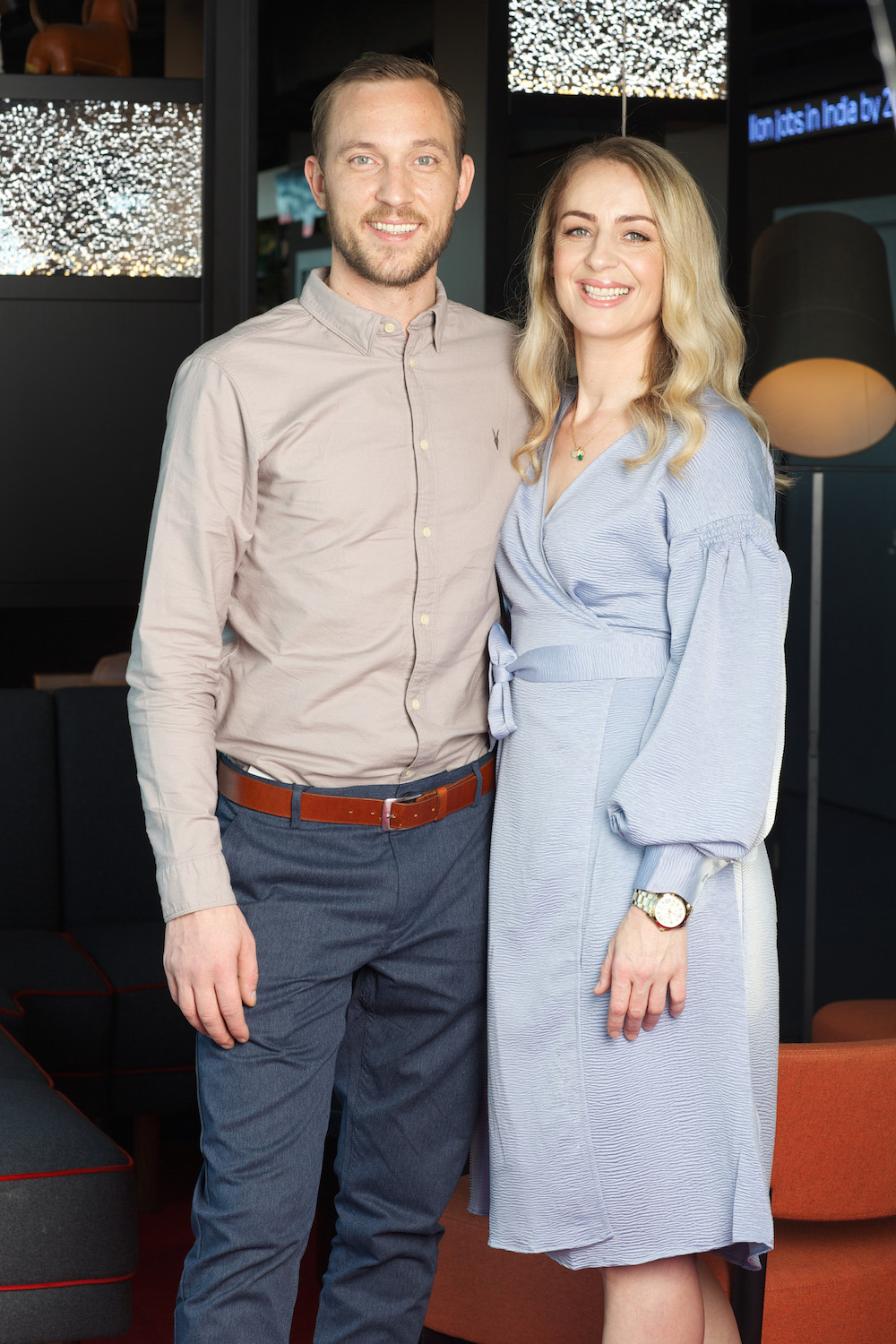 As romantic as you can be, Mateo, you are realistic too, and you've said before that relationships take work. Which is very true.
The honeymoon period comes to an end…and you might think, now what!? But that's when the real deal kicks in. That's when you have to start working on it. Nobody has the answer for this, it's just about putting the effort in with that person, because you love them. People come to me looking for answers because of First Dates, and I'm like, "Man, I cannot sort my own shit!" [laughs] Everyone seems to think I'm some sort of love guru…I'm like, I can help you with sex, that's maybe it!
Having watched lots of daters come through the restaurant doors, you must have some dating advice, though?!
Just to be yourself. Honestly, what is the point trying to impress by being something you're not? You can see when someone is not genuine, and it is a turn off.
Very true. What are your thoughts on modern dating, and the terms that come with it – such as ghosting, for example?
When you don't show up on the date, is it?
No – it's when you are dating someone, and suddenly, they disappear from the face of the earth, with no explanation. It's more common that you think, too.
That's just a weak personality. This is a guy or girl who can't face any kind of problem in their life and they are going to be like this all their life. How can you do something like that to someone?! I never had to deal with any of this online dating because I met my lady long before it, thank god!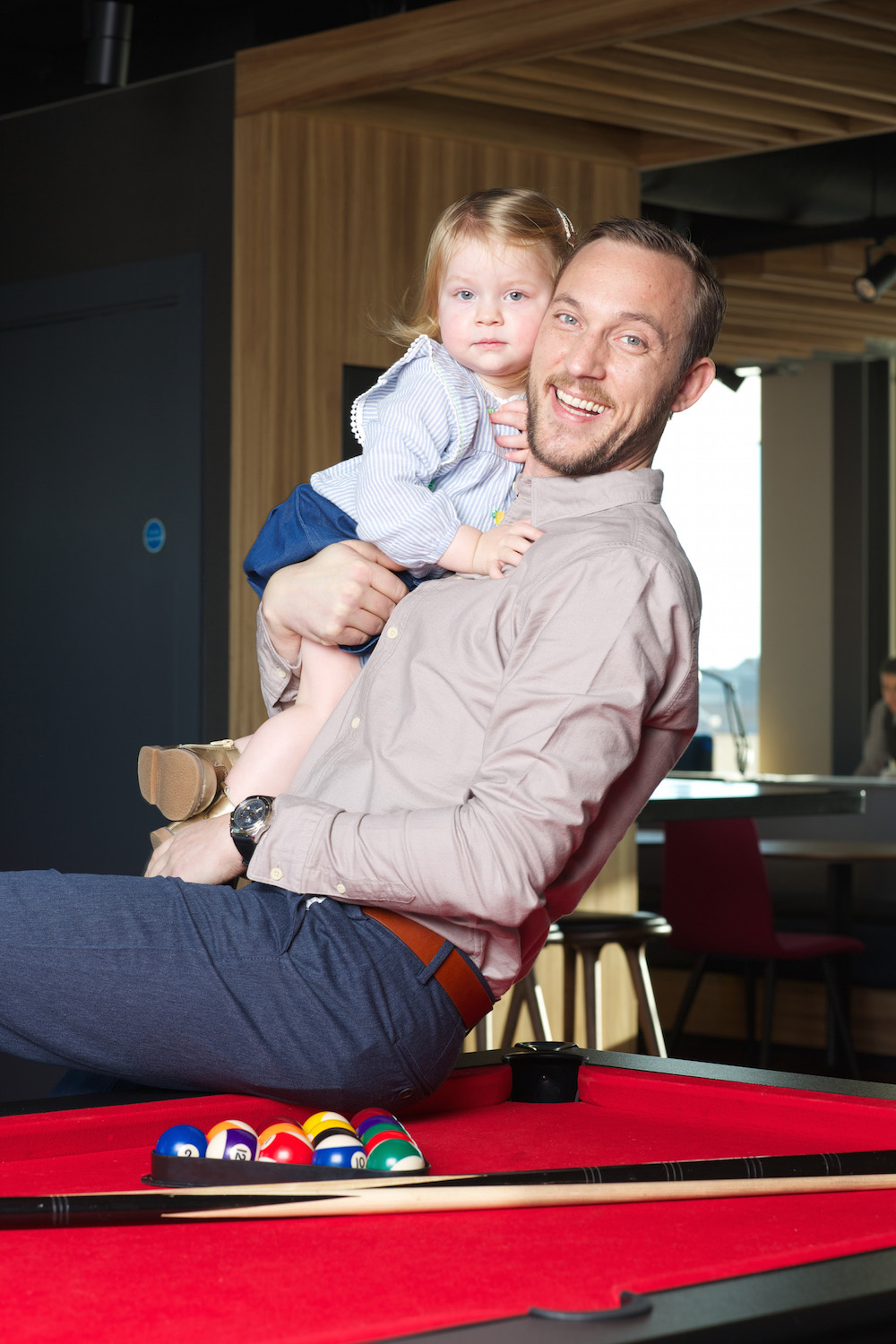 Having spent time with you Mateo, we feel as though you're something of a free spirit. Would this be correct?
Yeah, I come from a family of artists. My father was president of an artist's society…they see the world from a different point of view. And it's refreshing to be around these kinds of people because you learn the true values. My father and mother are a team, and it's powerful to see that.
We read somewhere about your mother lamenting how easily people give up on things these days; what are your thoughts on that?
Yeah – she says, we used to fix the things now we just buy another, referring to relationships. Back then, it was a burden to say you had broken up. However, we're thankfully in different times now, but the one good thing from that stigma was that people did try. Because sometimes, after you pass those rough seas, the harbour is going to come, you're going to sail in there. Every relationship is like this. You don't develop a strong bond by everything being amazing all the time. We have to go through the heavy moments to develop the strength. I can see it with me and Vjerana – there are times we want to kill each other, then we sit down at night and we talk, and we make up [laughs]!
You guys seem like you've nothing to worry about! People know you from the tv show, or from your restaurants, but we want to know; what might people not know about you?
Y'know music is a big thing for me. Growing up in Croatia, for my generation, we started with The Prodigy, then I got into vocal house music from there; Frankie Knuckles, David Morales, Tony Humphries…all the legends. I was with a crew back then that organised a lot of the party scene in Croatia, we created this beach party at the harbour; beautiful scenes, and house music 'til the morning. I got into harder tech house after that, but now I'm in between the two.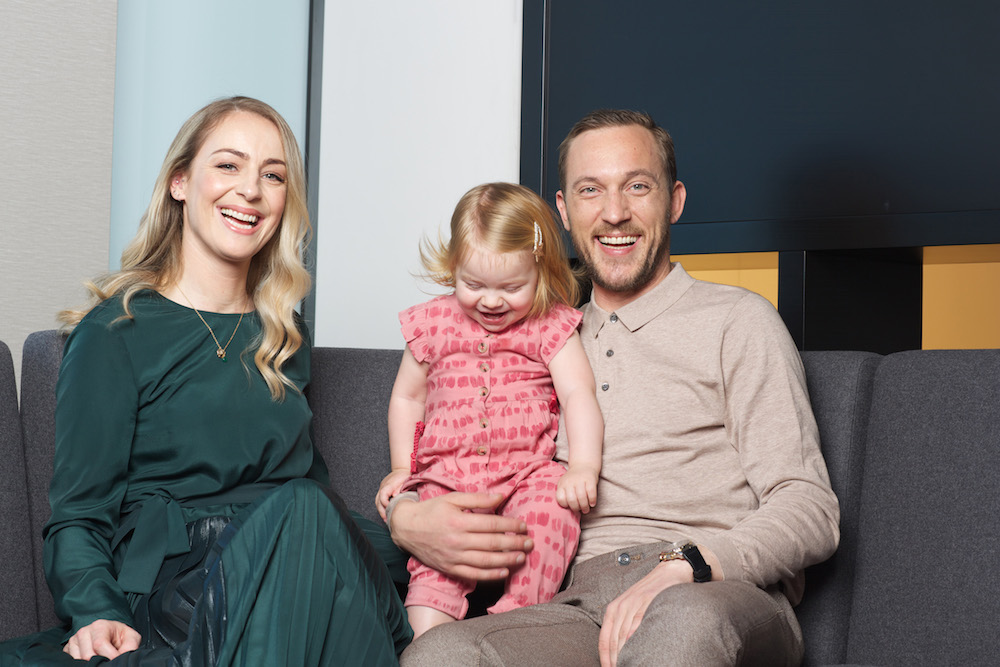 Is it a release for you, from your stressful life?
Every morning before work, and every evening on the way home: techno and house music. Oh, yeah. It relieves me. I love to find new songs all the time. It gives me that old buzz when I used to walk into the club! One of my biggest regrets is not following my dream to produce music. I'm a realist, to become one of the top boys, it's ten years work, six hours a day. But I'll try to do a little more Djing, which I did in Croatia…I once played in front of thousands of people. But that was ten years plus back!
No way!
Yep. Also back in the day I had a poker hobby, I was semi-professional. I played pretty frequently for ten years, but I learned that the downs are really stressful. The lifestyle isn't sustainable, especially if you have a family. I had a passion for football too, I played until I was 18 and then had to have knee cartilage surgery and life kicked in and I got to work.
A man of many talents…
Yes, but they're all so childish when you think about it? They're kids dreams!
Who says you have to put an age limit on anything that makes you happy?
Yeah, I guess so. That's actually very true!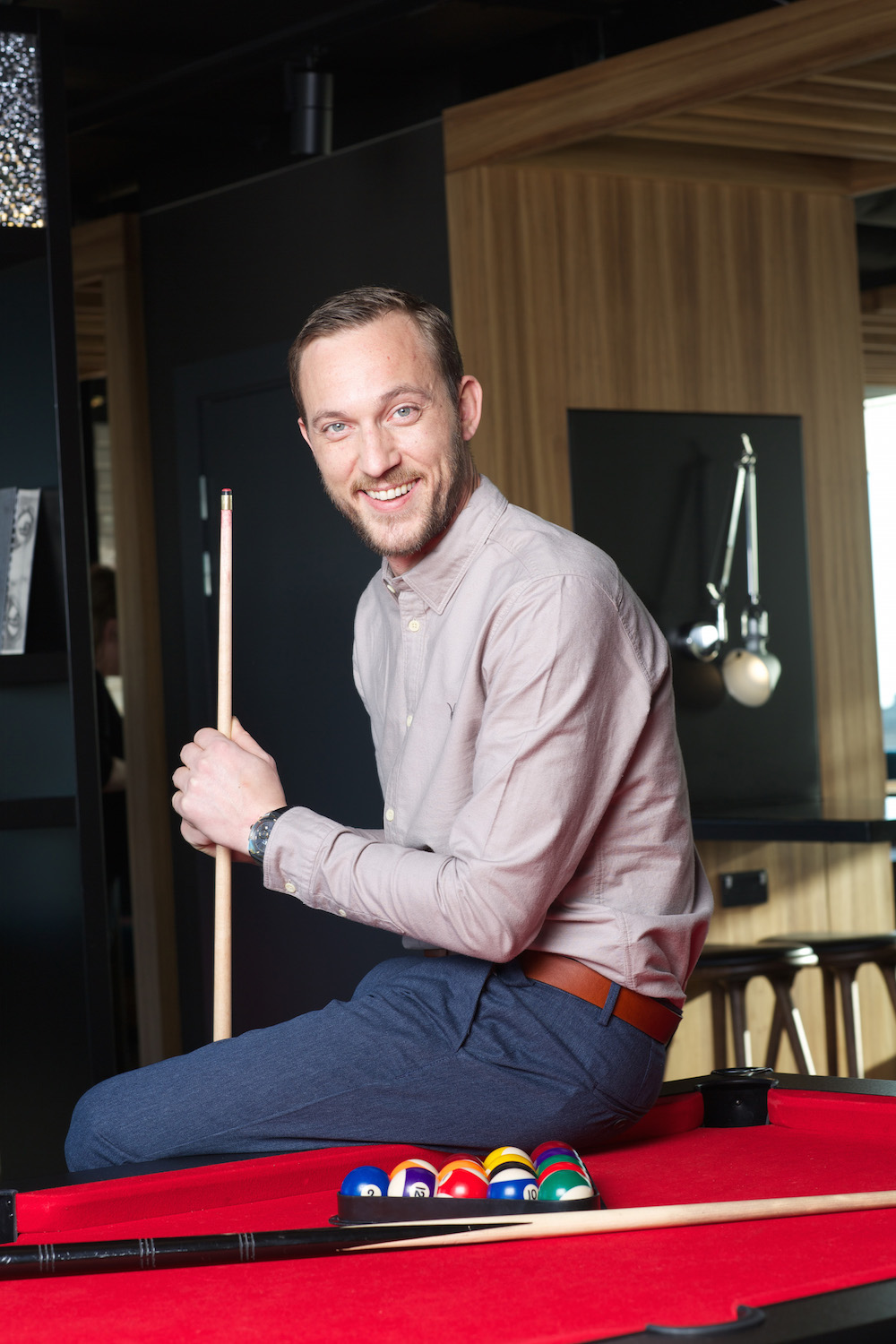 With this being a fresh new year, are there any goals you want to tick off?
More time with my daughter. More savings…because of my daughter, I want to give her the best start in life. And to make the restaurant successful, because it's with my best friends and I want to help to make their baby a true success.
How about more tv work!?
If you pay me good enough I'll do it! [laughs]
Fair enough! We like how forthright you are with this.
I'm sick of hearing, "This is good for your exposure." Exposure won't pay my bills! I'm not sure how I feel about doing more tv, but I'd like to get into radio work. Maybe I could have my own house music show! Oh, yeah!
Interview:
Photographer: