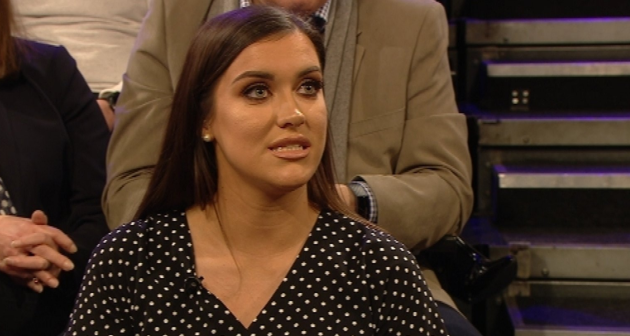 Last night's Late Late Show welcomed the heroic young nurse who saved the life of a Dublin Bus driver who suffered a heart attack while on duty last week.
The dramatic incident occurred in Dublin's City Centre, and nurse Aoife McGivney's quick thinking and CPR meant the driver made a full recovery and is doing well.
Host Ryan Tubridy spoke to Aoife about the incident, and how she managed to act quickly and save a life!
Nurse Aoife McGivney tells the Late Late Show how she gave CPR to a bus driver who fell unconscious in Dublin this week pic.twitter.com/bOw30m43ZL

— RTÉ News (@rtenews) March 8, 2019
After her appearance on the show, viewers took to social media to heap praise on the brave young woman, and on nurses in general.
Wouldn't it be great if @dublinbusnews gave that amazing Nurse unlimited free trips on all routes in return for saving their Drivers life @RTELateLateShow #LateLateShow

— Nuala Carey (@nualacarey25) March 8, 2019
Time to introduce CPR training for all in Schools … Great Save by Aoife#LateLate #LateLateShow pic.twitter.com/vkyJjnAIfZ

— Dr. Eddie Murphy (@dreddiemurphy) March 8, 2019
Two observations on tonight's #LateLateShow 1. Aoife McGivney is a bit of a legend & a reminder of how great our nurses are…
2. I'm not a close friend of his, but Mick McCarthy is one of the most decent men I've come across in Irish sport #JustSaying

— Des Cahill (@sportsdes) March 8, 2019
This girl is a prime example of why nurses should get a pay rise! Saved a man's life, saved a bus full of people – all on the way to work! #LateLate #LateLateShow

— Liam Redmond (@theliamcredmond) March 8, 2019
The young nurse is seriously impressive. What a great thing to have done, fair play to her. #LateLateShow

— Paula O'Connor (@paulaoconnor_) March 8, 2019
Great to see not all heroes wear capes.goes to show you that if you're a nurse you're never off duty.well done to this young lady #latelateshow

— shane broderick (@shanebroderick) March 8, 2019
Lovely nurse on #LateLateShow from the Mater who saved the bus drivers life this week. Ahh happy Women's Day. Go the nurses!!

— Barbara O'Reilly (@BarbaraOReilly) March 8, 2019
Did you tune in last night?