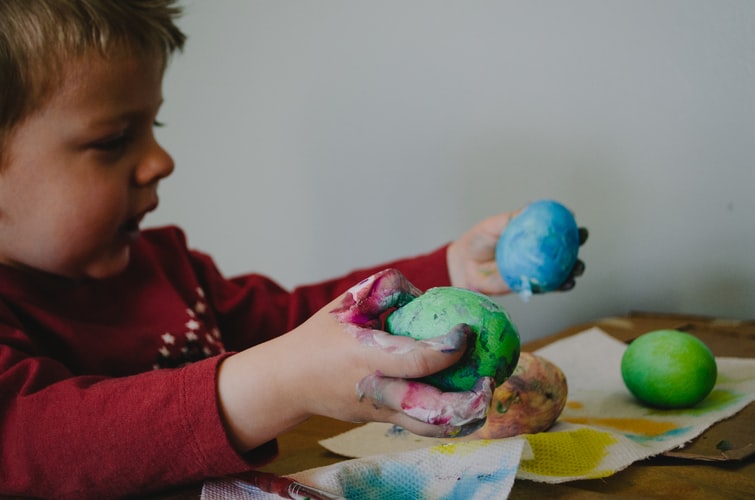 Now officially into spring, the evenings are getting longer and the temperatures (slightly) higher, and better-still, Easter is right around the corner!
With the threat of the pandemic still raging on around us, being stuck in strict restrictions means that this coming Easter will look a little different from previous years'. But that doesn't mean you can't create some Easter magic for yourself and your little ones at home.
If you're looking for some arts and crafts for the whole family to get stuck into this spring, look no further. We've rounded up our 5 favourites that even the littlest of hands can get involved in.
Paper Plate Basket 
You've heard of a Christmas wreath, so why not make your own Easter wreath! All you'll need is a paper plate, some scissors, ribbon, a stapler and glue, and paint colours of your choice.
How to: 
Begin by cutting a window frame out of two paper plates and paint each plate brown.
Next cut out some egg shapes and paint in pretty pastel colours.
Then take some ribbon and decorate your plate as desired.
Once dried, staple both brown plates together.
Finally, fill the inside of your plates up with shredded paper and place your eggs in too.
Easter Bunny Ears 
Possibly the easiest Easter craft of all. Easter bunny ears are super easy to make, you can print out a template online here, or if you're feeling crafty you can give it a go yourself from scratch. All you need is some paper, a good pair of scissors, and some pritt stick.
How to:
Make your head base by measuring your little one's heads and cutting a rectangular strip of paper using those measurements.
Next, draw yourself some bunny ears and cut out.
Taking the head base and ears pritt stick everything together and voila!
Cotton Wool Sheep 
Another simple craft, if you have some cotton wool knocking around the house why not turn them into some mini sheep!? For this craft you'll need some paper, scissors, cotton wool, PVA glue, markers and googly eyes (optional).
How to: 
With some plain white paper, cut out an oval shape. Onto the oval, cover the surface with balls of cotton wool using glue.
Cut out smaller oval shapes for the sheep's legs and head. On the head draw a nose mouth and eyes, or stick down googly eyes.
Attach the head and legs onto the body using glue.
Hand Chicks Card
Get your little ones involves hands-on (literally) with this chick arts and craft and make some artwork to share with the loved-ones you wish you were spending Easter with. For this you'll need some coloured paper, marker, pritt stick, scissors, and feathers.
How to: 
Make your 'chick' first by tracing your little one's hand using a pencil. Cut this shape out and leave it aside.
Next, create your egg by cutting out two oval shapes with a zig-zag shape across the top as seen above.
Glue on half of your egg onto the bottom backside of the hand chick. Take the other egg shape and glue it to the left-hand side of the hand.
Decorate your handprint by drawing a chick face on and glueing feathers behind it.
Under the front flap of the egg write your desired Easter message.
Carrot Footprints 
If you don't mind your little ones getting a little bit messy, or if your children are too young to get involved in any real crafts just yet, this is the perfect way to immortalise their first Easter. You will need some paper, paint, glue, and scissors.
How to: 
Begin by painting your child's foot with orange paint and printing it onto plain white paper.
While you wait for your print to dry, cut out some long green rectangular shapes – these will be the carrot stalk.
When your footprint is dry, cut around the shape and behind it glue on your green strips, and you're done!