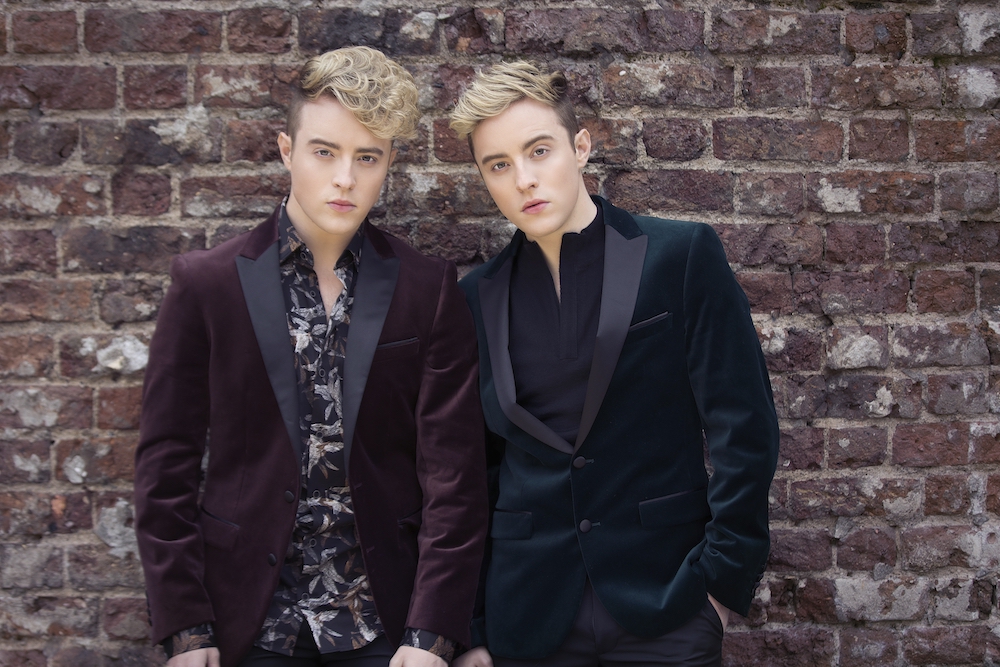 "I'm John!" "I'm Edward!" "And together, we are…Jedward!"
It's a line that has gone down in pop culture history. John and Edward Grimes, singing twins from Dublin, burst onto our screens back in 2009 to audition for the X Factor, a whirlwind of energy and matching giant quiffs. They gathered a huge fan base, placed sixth in the competition, and went on to release their own music, represent Ireland – twice – in the Eurovision, come second on Celebrity Big Brother and even appear in a movie (remember Sharknado 3 with their US actress friend Tara Reid!?) What a wild adventure it's been, over ten years on from that first audition.
The boys are now men; they turn 30 next year. They still burst with that same liveliness, they're still endearingly goofy, but Jedward have grown up. Yes, they still love to sing Britney songs and animatedly talk over each other, but they use their platform to speak their minds now, about issues that matter. This year, they have tweeted about everything from Black Lives Matter to seeking justice for victims of mother and baby homes, and engaged in hilarious Twitter battles against anti-maskers like Jim Corr and Noel Gallagher. Even those who aren't usually fans of the duo had to admit: their ballsy online antics were pure gold.
Speaking to John and Edward in this exclusive VIP interview, we were struck by how level headed and wise they have become. Perhaps the loss of their beloved mum Susanna, who passed away last year, has something to do with that. The brothers have faced the greatest pain possible, and it no doubt has changed them, as grief does. But they've always been resilient, from overcoming bullying to dealing with life's latest blow. And no matter what, they stay true to themselves; which is why we admire them so much. In their most honest chat ever, Jedward open up about facing their second Christmas without their mum, marriage and settling down, standing up for themselves and speaking out.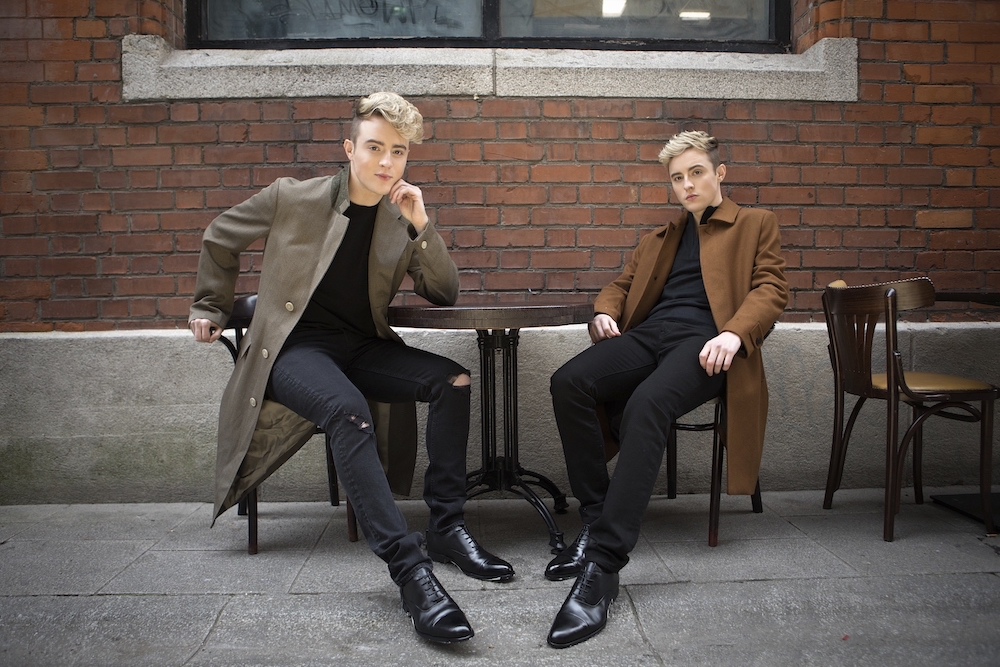 Hey guys! What a year it has been, eh! How are you coping with it all?
Edward: It's been an emotional and financial struggle for everyone, definitely. You just have to stay focused, I guess, and ticking off little accomplishments throughout the day, even if it's cooking something nice – something that makes you feel that your day has been worthwhile. But if you do have a day where you do nothing, that's OK too. Sometimes you just need to rest!
John: I've been running and getting as much sunlight as I can, and playing lots of guitar and writing poetry. Normally I'd be going to Christmas markets or going ice skating at this time of year, it's still so weird how different everything is.
E: What's interesting is that some people never had the opportunity to just sit with themselves before,
to learn who they are and to figure themselves out. There are positives to this year if you look for them.
J: People have embraced their community more; people are more self-aware and thoughtful…
E: Everyone seems to be more in touch with their feelings. Mental health is being talked about more openly which is great.
People really respected your recent Late Late appearance in which you both discussed your own struggles with mental health.
E: For me and John, yes we've done music and tv, but it's so nice when people get us for who we are before anything else. We're glad that people have a better understanding of us. Usually with creative people, they over think things and situations and can have a particularly hard time. Growing up, we didn't have the most perfect time in school, and just in general, but I feel like it made us evolve with our emotions and learn coping mechanisms for when people come at us. It made us develop as people.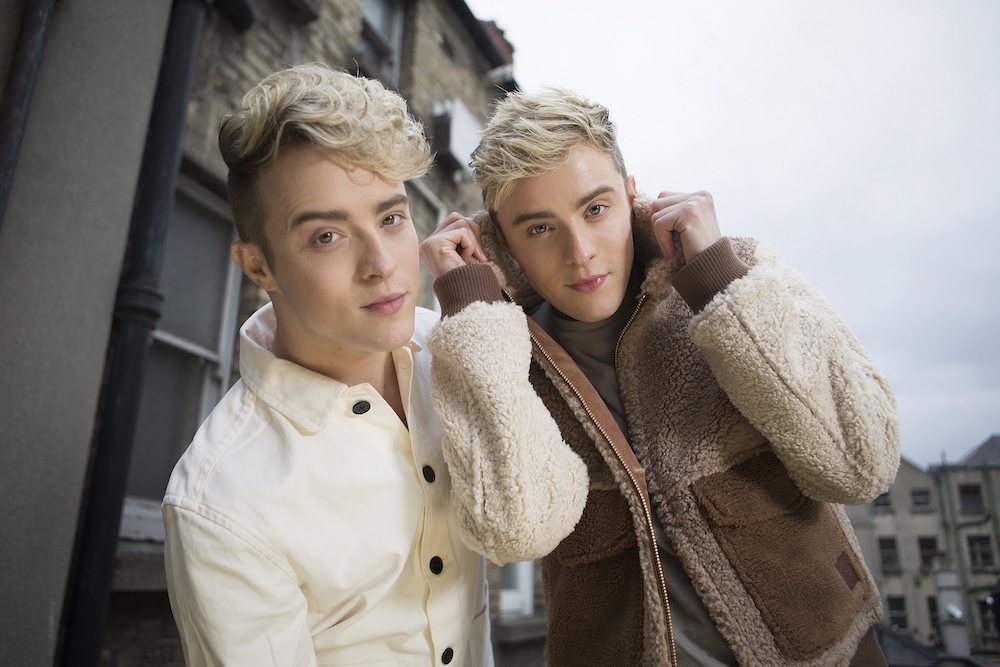 Where does that resilience come from?
J: As long as you're doing and saying what you want, and you're being you as much as you can be, you've nothing to prove. It's like, you're a certain jellybean flavour, and some people may not like it. [laughs] You can only be what you are! If people want to be all about us, great, but if they don't, we can't do anything about that.
E: The thing about me and John is that we don't allow anyone to put us in a box. Nobody dictates who we are. Sometimes with pop music, people think there's not much else to you, that you're a robot, but there is depth and substance to us.
And you showed that this year, by tweeting passionately about your political views!
J: Yeah, I think it's great that we can use Twitter to change people's outlook and make them see us in a different light. Me and Edward aren't what people think. A lot of people pre-judge us, and there's so much more to us. This year, obviously so much was happening in the news and we decided to say how we were feeling about it all.
E: We're not experts but anything we've tweeted has come from a genuine place. We think it hits harder for people when it's not coming from a politician too! We don't have a hidden agenda, we're not looking for votes or to be re-elected – we're just coming from a human perspective. People started sharing private messages we sent them too, but the thing is, we've been doing that for fans all our lives! [laughs]
J: Behind the scenes, we've been there for so many fans who have been going through a tough time. We've picked them up at their lowest and helped them to come out the other end. We really care about our fans, we always have time for them.
E: For Christmas this year, actually, we're doing personalised video messages! We thought it'd be a really nice way to connect with our fans and make them feel special.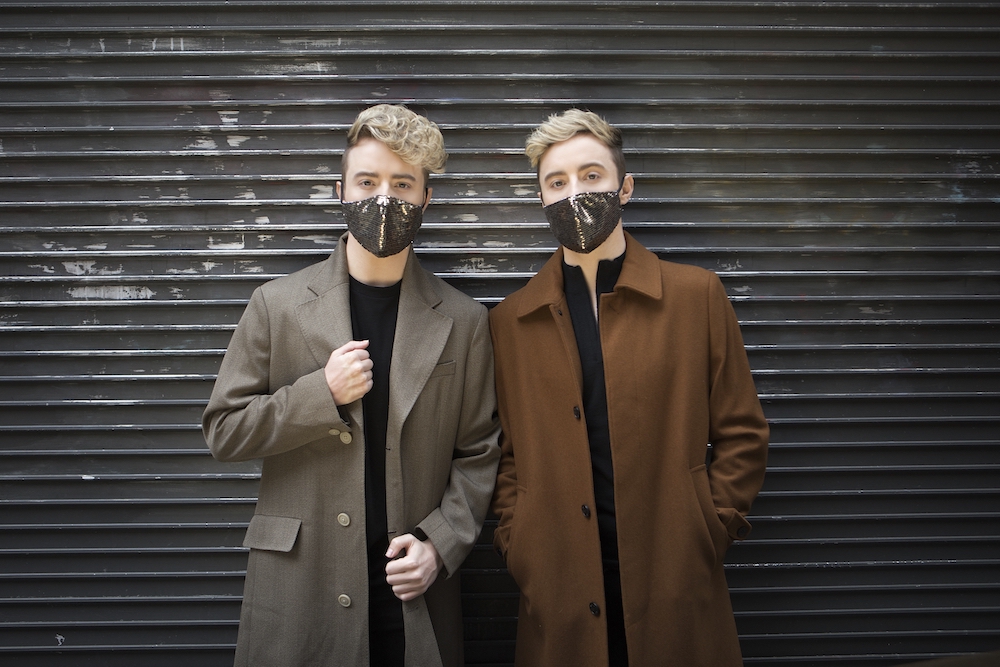 Yes, Christmas is around the corner…can you believe it!?
E: It's going to be totally different. Now we've lost so many from our family – our granny, our granddad, our mom – it's all about remembrance. Remembering the good times and being thankful for all those times you spent together. As you grow older, it's like nostalgia for all the Christmases prior. Our granny Susan was amazing at making Christmas pudding, so we still use that recipe.
J: I make us gingerbread lattes!
E: And John always makes the most amazing Christmas playlist, there's movie scores, classics, feel-good songs people mightn't have heard before…
Please share this with us when it's ready! This time of year, as fun- filled as it is, can also be really hard for those missing loved ones. It's your second Christmas without your mum and that must be very tough.
J: Normally your mom is the head of Christmas. The fact she's no longer here means that everything is changed.
E: We'll have moments where we think of her and talk about it, and I feel like there will be tears at the dinner table, it will be emotional. But we'll definitely honour her on the day. She is such a big part of who we are; she still is and always will be.
J: We have a few home videos of us all together, so we'll put those on and feel close to her.
E: It's crazy to think that the last Christmas we all spent together, we didn't know it would be the last. We cherish that last video.
J: I feel like, this Christmas, if you're fighting or having tense moments with people, just be the bigger person and tell them you love them. Bury the hatchet and let them know how much you appreciate them. We love our mom and wish we could tell her again.
E: Sometimes the holidays aren't the easiest time for people, but just take each day as it comes.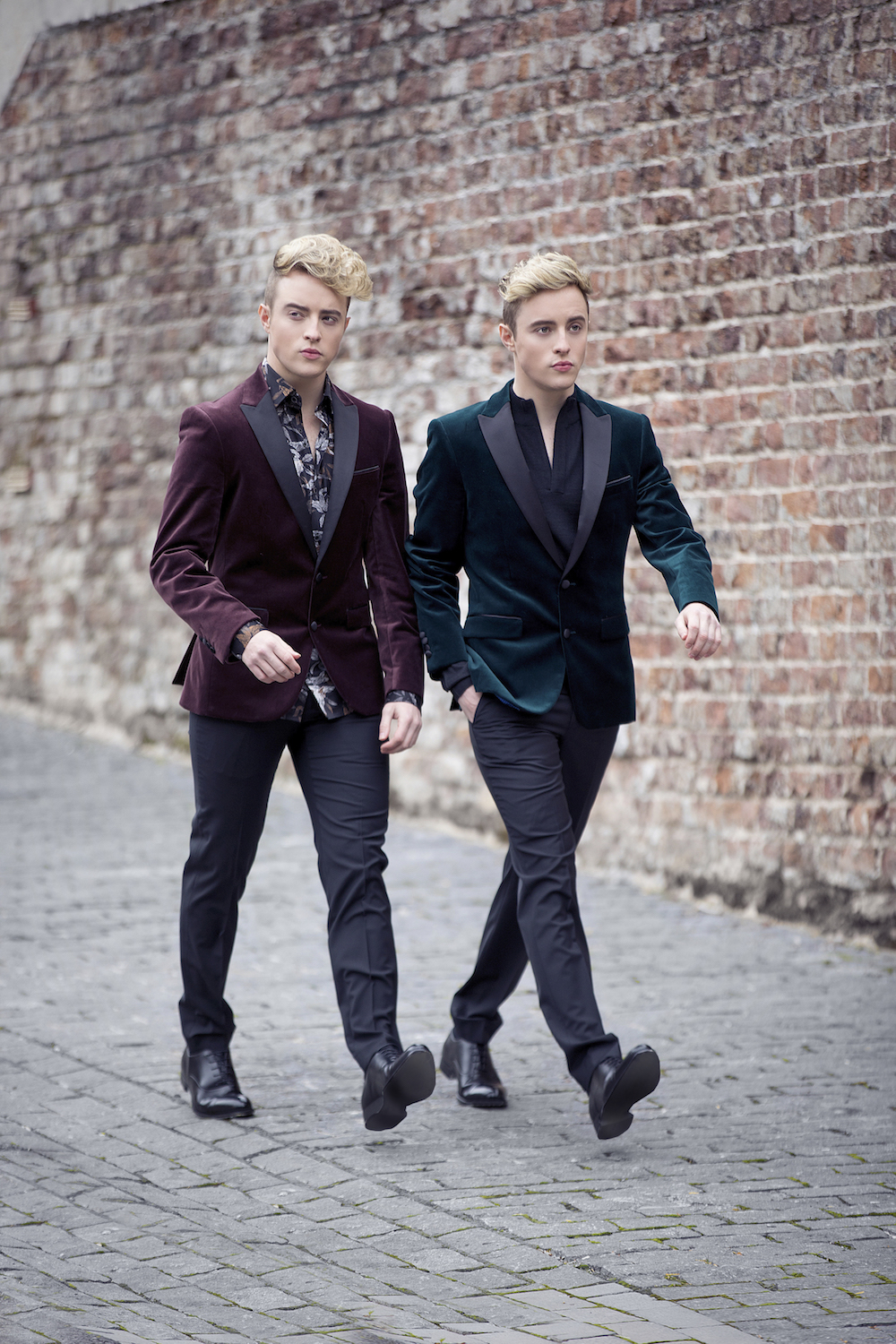 You blew everyone away with a touching performance of Everyone Hurts by REM recently, and your latest album Voice of A Rebel has a lot more serious songs; is that the direction you want to go in?
E: Yeah, I think it's nice to be more real and authentic and sing about issues or topics that are happening in the world, because sometimes in music it's all about partying and going to clubs. It's nice to emotionally connect with people.
J: I wrote a song recently, it'll probably go on the next album. Right now it's a poem. It goes like, "Angels never die, I know you're here with me tonight. You'll help me through these trying times, oh you're always on mind. I know the love we shared will survive, no this isn't the last time, angels never die." I wrote that for my mom.
E: When we did Eurovision, we got into this insane pop world, and it's nice to strip it back and be us again. We're 30 next year, we're growing up in our music and what we stand for. We've had to transition from teen stars to adults, and it's nice that people have let us grow with them.
It's great to see you both standing up for yourselves; this year you called out Simon Cowell for one of your biggest hits Under Pressure (Ice, Ice Baby) no longer featuring on streaming services. Did you hear back?
E: Sony's legal team did get in contact, and they do want to re-issue it – I think the contract had been up for that release. It would be nice to get it back out there! It is crazy to see different artists who have had certain things to say about Simon, it showed us that we weren't the only ones.
J: Sometimes in the music industry, you can be silenced, with contracts and underlying things. There's a lot more to us all than what people try to label you as.
E: It's a very competitive market, and you're always a threat to some other act, but the thing about us is that we never got into dramas or anything, we set ourselves aside from anything like that. To us, it's not about always being number one. Sometimes we're hot, sometimes we're not, and that's fine by us, as long as our fans are happy.
J: And as long as you don't lose who you know you are, that is the most important thing.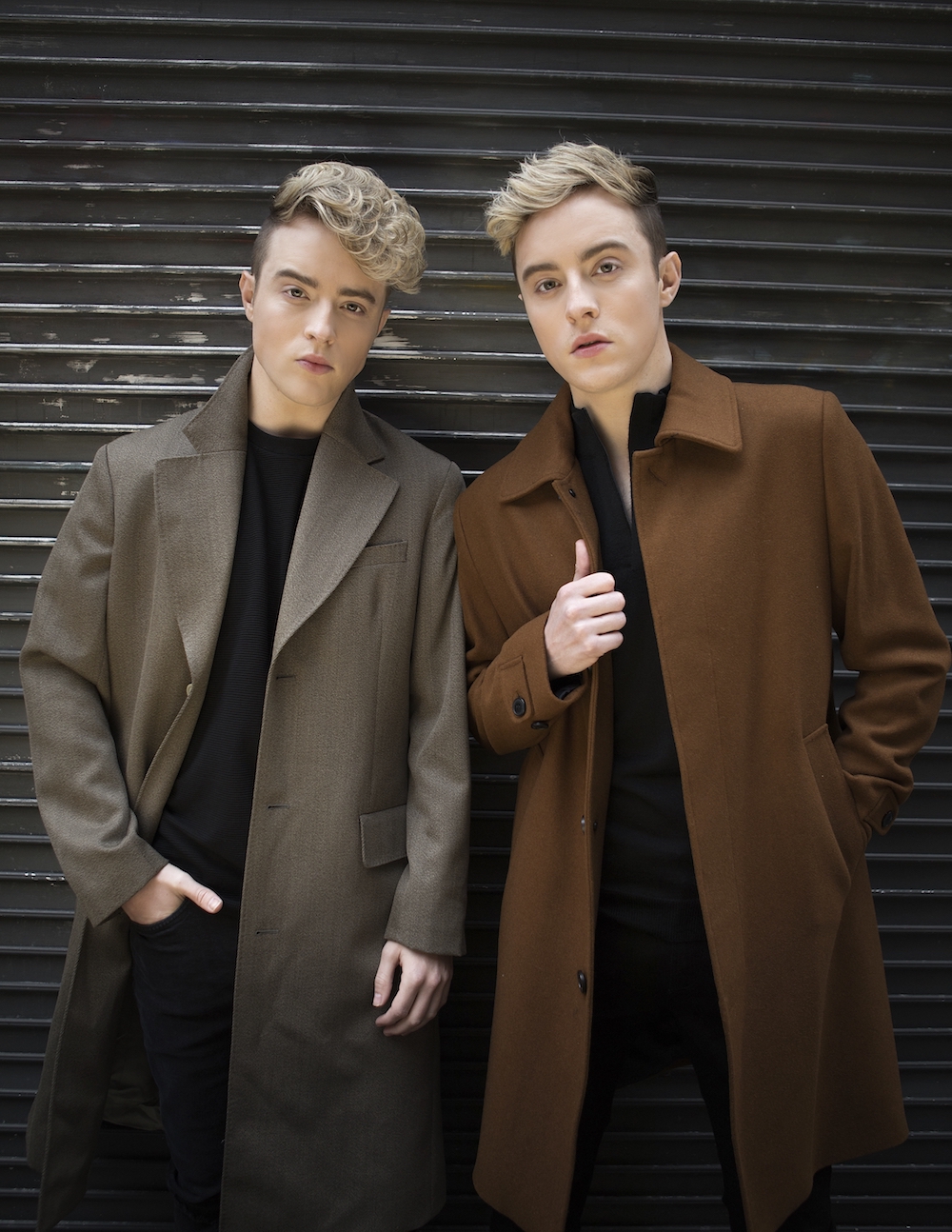 Over a decade on, we feel like you two are just getting started…
E: John and I definitely have a lot more to accomplish. We are dreamers. And dreams are really powerful. Actually, speaking of dreams, I love when I have a dream about our mom; that feeling that you're in the same room again. I know it's just your thoughts but it really lifts me to start my day when I dream about her. Our mom loved to buy all sorts of furniture, mirrors, sets of chairs, even a grandfather clock. She told us that we would keep them and think of her in our own homes.
J: We'd go to antique stores with her and she'd see a rocking chair or something and say, "oh this would be lovely if you had a kid" or whatever. Lampshades… just stuff that moms get, y'know? Now we have all that to hang on to. It's a nice, warm feeling that there was thought put into all that for us and that it's still in our life.
E: Our mom isn't here physically but she's definitely here in spirit. Even in how we are as people and how we go about things. When you lose someone you love, you have to think about their whole life, not just them not being here, and everything they brought to the world.
You're a credit to her, guys. How do you both feel about turning 30 next year?
E: It is a crazy age because you think you have to have everything together, but things have changed, and you don't need to have kids or be married by now anymore. Y'know the movie, 13 Going on 30? [quotes] "Thirty and flirty and thriving!" [laughs] With housing and everything being so expensive I think it's about focusing on your career and laying the foundation for the future. Everyone's on their own path.
J: I feel like we've lived so much life already, it's crazy! Maybe when we're 40 we'll re-evaluate everything!
E: We've never lost our fun-ness, or gotten really serious over the years. I mean, we're grown up, we're just not boring. [laughs]
J: So, yeah, turning 30 is a milestone but we're not going to drastically change or anything. We'll ease into it. Maybe rock a bit of stubble, give the ladies what they want!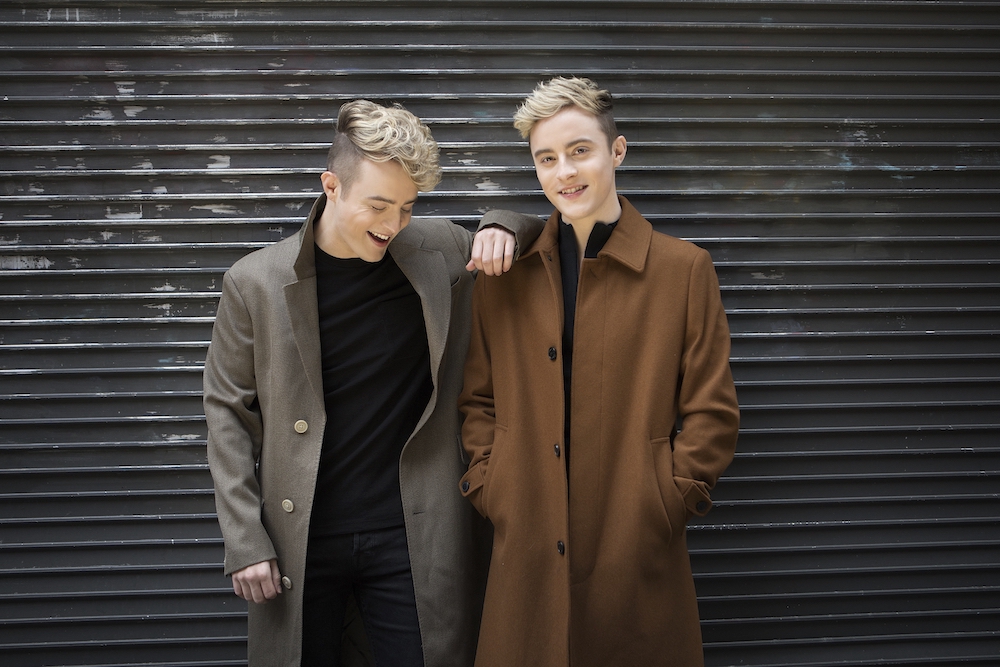 You're right, there is no pressure – but is getting married and having a family something you both want one day?
J: Well, we're very caring and we have got so much love to give. When it comes down to putting a ring on it…boom! For a lot of people, being in relationships is their career and that's fine, but when it happens for me and Edward, it'll be coming from a real, genuine place. It'll be a new chapter and we'll let you know how we get on [laughs]
E: A lot of the time with celebrities, it's about getting engaged, but I think we're in a different world now; people don't have to get married to justify their love for each other. If you want to get married, great, but why put yourself in a financial state where you're trying to afford a wedding when you could be putting a mortgage down on a house!? People need to have their priorities straight. I also think it's really important to focus on healthcare. Remember when I broke my knee on stage? It's still not 100 per cent, I have to go to physio and specialists, so it's important to be smart about your finances for your health's sake.
Heads firmly screwed on! You both have a bond that not many get to experience: being an identical twin.
E: It's mad, if someone doesn't like John, that's the biggest insult you could say to me.
J: It is a unique experience; you really feel like you're going through life together. We're like Mary Kate and Ashley, it's cool [laughs]
Finally John and Edward: 2021 is around the corner. What would you like this new year to bring with it?
J: I'm hoping to travel again and have adventures, bring out new music and go on an amazing tour!
E: We would also love to do more work in television. I'd like if someone had full belief in us and knew that we could anchor a tv show. We'd love to present the Late Late Show when we're 50!
INTERVIEW: Niamh Devereux
PHOTOGRAPHY: Evan Doherty
STYLING: Megan Fox
MAKEUP: Aidan Corcoran
HAIR: Jake Ryan