James Kavanagh has responded to an online comment about him following his appearance on The Late Late Show on Friday night.
The snapchat sensation was on the show for a fun segment on things people hate, and was forced to deal with some unwarranted backlash over his appearance on the chat show.
James shared a tweet that was sent out about him, saying that he was 'setting the gay agenda back 100 years', with his own response shutting down the negative comments.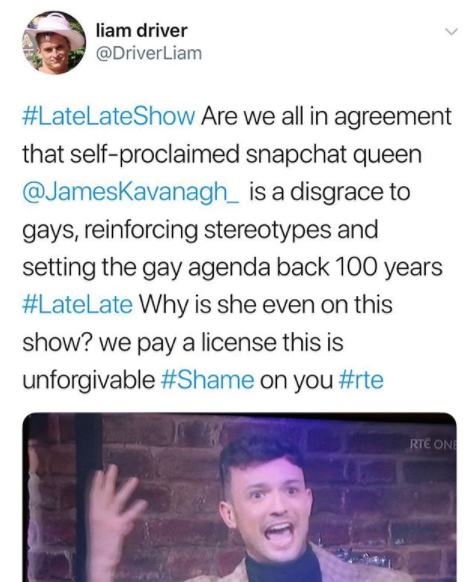 "Damn it! I hate when I accidentally set The Gay Agenda™ back 100 years," the hilarious presenter of Ireland's Got Mor Talent wrote.
"Sorry Liam, sorry gays I promise to make amends. By Monday it's business as usual for The Gay Agenda™: turn everyone into glittery drag queens (fave bit: THIS IS UNFORGIVABLE #SHAME ON YOU #RTE)"
We love how well James has handled the hate!