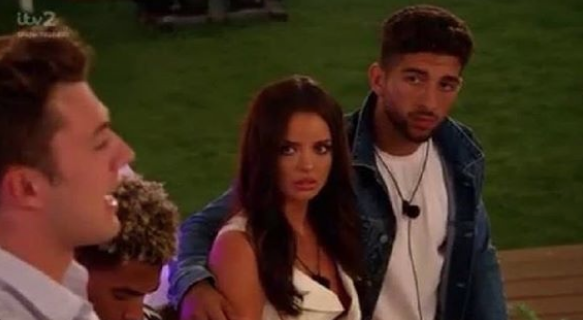 Last night's episode of Love Island saw the fallout from Casa Amour continue to cause tension in the villa!
With both Amber and Michael and Anna and Jordan falling victim to the new Islanders, Curtis and Amy were last night's casualties as it appears their relationship has come to an end!
The pair seemed to go their separate ways at the end of last night's show, and the teaser for tonight's episode showed Irish girl Maura setting her sights on the newly single Curtis!
Viewers took to social media after the show to air their opinions on what could be the next pair to couple up on the Island!
Curtis is cancelled and Maura is delusional #LoveIsland — fofi (@baguettie_soph) July 5, 2019
First look better clear up this Maura and Curtis thing because I cannot wait till 9pm #loveisland2019

— Jennifer (@JenniferLynchx) July 5, 2019
Maura and Curtis get a no from me #loveisland — Chelsea (@chels1805x) July 5, 2019
Maura and Curtis???? #Loveisalnd pic.twitter.com/OCN3d0cSQ9

— simplysaida (@simplysaida1) July 5, 2019
Just woken up and realised how weird the Maura and Curtis situation is gunna be #Loveisland — BLA (@BrandonLAdams) July 5, 2019
Jeez Maura take your time, hun. I mean don't go for Curtis immediately and god please be aware of what he did to Amy #LoveIsland #maura #Curtis #CasaAmor

— Heidi (@Heidi09785542) July 5, 2019
Omg at first I was thinking like curtis and maura would never work like I cant imagine her being his type?? Then I remembered he slid into her dms not long ago???? #Loveisland — Mary Ward (@MaryWard_16) July 5, 2019
Maura …. and Curtis????!!! Maura … and …. Curtis oh you producers are crafty feckers #loveisland

— rantsandcraic (@rantsandcraic) July 5, 2019
What do we think of the new love interests?!