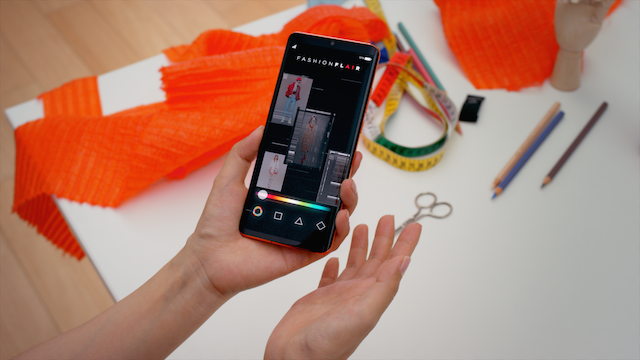 This is a brand new fashion collection co-created using the Artificial Intelligence from the HUAWEI P30 Pro, coupled with the outstanding creative flair of Anna Yang, founder of designer clothing label ANNAKIKI.
The much-anticipated collection was launched at the iconic superStudio+ in Milan last month and VIP's Fashion Editor Elle Gordon was lucky enough to be there to sit down for a quick chat with the designer herself which you can read in next months issue of VIP magazine.
The event itself featured a breathtaking fashion show to showcase the AI created collection and it was unlike anything we here in VIP had ever seen before, demonstrating exactly what designer Anna Yang spoke about in our interview that it has "pushed the boundaries of what is humanly possible."
With garments in the collection reflecting the shimmering colours of the latest Huawei products: Amber Sunrise, Breathing Crystal, Aurora and Black, we were completely blown away by the impact technology had in producing such a stunning collection which is available to buy through consumer.huawei.com and on annakiki.com
The stunning show closed with a performance by girlband Clean Bandit while the crowd went wild, and of course recorded everything on their stunning Huawei P30 Pro's which we were lucky enough to be trialling out.
The 50X digital zoom camera is ideal for shooting at a distance, while it also has the latest light fusion sensor technology meaning it allows you to take breathtaking photos in extremely low light and nighttime conditions.
And as well as its stunning looks – it is available in Breathing Crystal, Black and Aurora Blue. The P30 Pro artificial intelligence feature means it distributes power where it is needed most… this means a better smartphone experience, as we didn't have to worry once about our battery running out! Ideal.
But we can't give all the deets away just yet… to find out all you need to know and read our chat with the extraordinary designer of this collection pick up next months mag!
The P30 Pro is available to buy from Vodafone, Three, Eir, Carphone Warehouse, Harvey Normans, Virgin and Tescomobile. The SIM FREE price is €999.99 and available on bill pay from €79.99 upfront.