Happy Easter!
That's right it's time for chocolate eggs and rabbit ear yet again, but that's just how some of us celebrate. Let's take a look at how our favouite Irish stars rang in the occasion!
Rosanna Davison
Rosanna organised a special Easter suprise for her tots Sophia, Hugo, and Oscar. Sharing a snap of them early that morning, the model wrote: "Bed head and Christmas jammies at Easter, The Easter Bunny excitement was real. Happy Easter everybunny." Later sharing a snap of herself decked out in bunny ears, playing with her kids in the garden.
Dami Hope
Dami is enjoying a pretty exciting Easter celebration, heading abroad to Japan with girlfriend Indiyah Polack. The Love Island couple are currently enjoying their stay in Tokyo, tasting plenty of local cuisine, and even heading to a tattoo parlour.
Brian Dowling and Arthur Gourounlian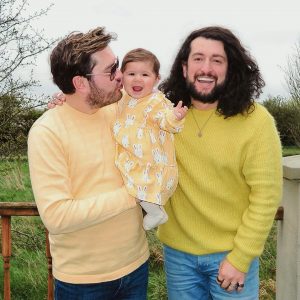 Brian and Arthur started their Easter celebrations early, heading to Luggwoods last week, with the whole famile. Everyone, including baby Blake donned bunny ears and had a great day. But of course, they also celebrated the actually dat, enjoying a dinner with Brian's family in Kildare. Sharing snaps from the occasion, Arthur wrote: "Happy Easter from us @bprdowling & Blake to you. It's Blake's very first Easter & for those asking, no, she's not had any chocolate yet, but for sure next year. We actually don't think Blake has a sweet tooth, but time will tell. Will it be a sweet tooth like Papa or love Tayto like Daddy." This time Blake forewent the bunny ears, opting for a bunny print dress instead.
Lisa McHugh
Lisa really got in to the Easter festivities, decking out her wee man Milo in bunny ear, with plenty of chocolate treats as well. Writing: "My little Easter bunny, Happy Easter" How Sweet!"
Elaine Crowley
Elaine was busy on Ireland AM, this Easter, but still managed to celebrate the occasion. As some actually bunnies stopped by the show. Joking: "Tough day at the office!"
Carl Mullan
View this post on Instagram
Carl Mullan went viral this Easter, after showing his way of cracking an Easter Egg. The hilarious video inspired kids up and down the country to try his method for getting to the chocolate.
Laura Whitmore
Laura Whitmore headed to Switzerland for a skiing holiday this Easter. Taking to the slopes with her hubby Iain Sterling, and their daughter Stevie Ré. Writing: "This Easter bunny is on skis."
Vogue Williams
Vogue Williams, her hubby Spencer Matthews, and their tots, headed off on a sunny holiday, and are enjoy the beach and good weather this Easter.
Alan Hughes
Alan enjoyed a relaxing getaway heading to Galgorm Resort, with his husband Karl, enjoying some afternoon tea. Sharing a snap from the getaway he wrote: "Happy Easter everyone hope your having a lovely day and if your not always remember it's only 1 day."
Joking: "I wanted roast lamb Karl wanted afternoon tea guess who won"