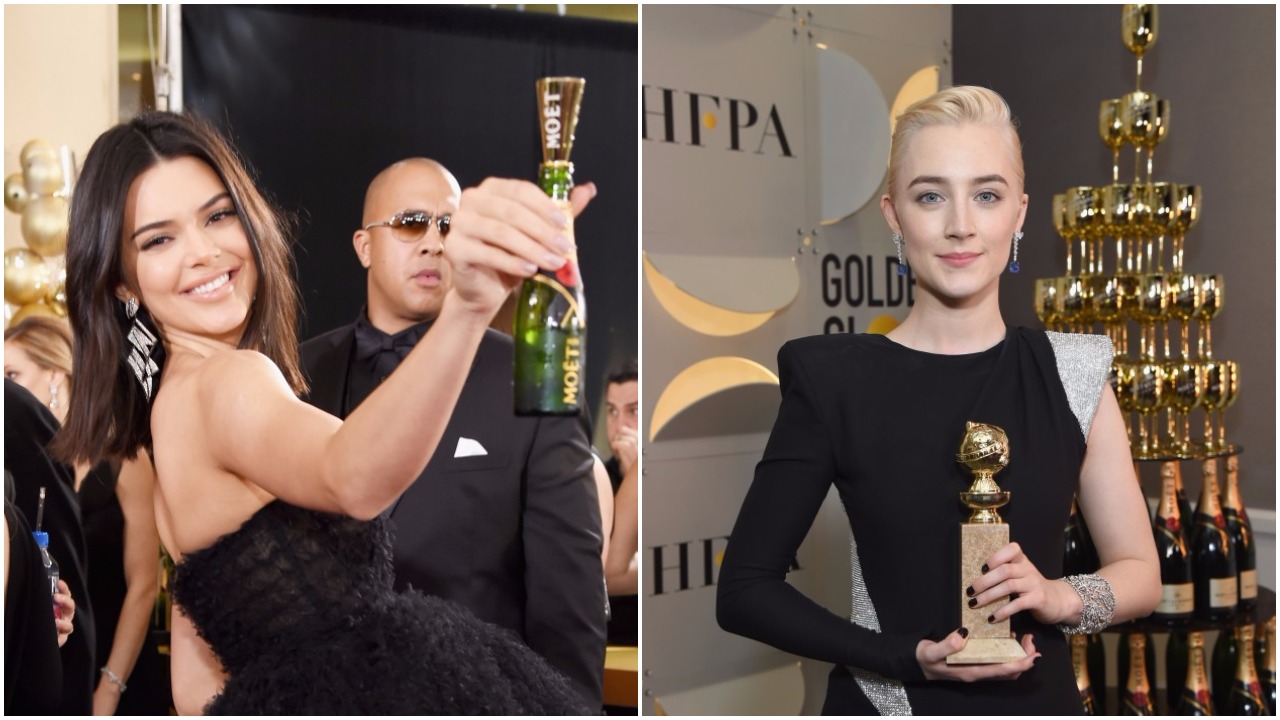 Celebs stepped out in style at this year's Golden Globes, but the night celebrated more than just talent.
This year's ceremony saw stars take a political stance with their Time's Up campaign. This saw almost everyone wearing black to protest against the sexism and sexual harassment in Hollywood.
Meanwhile, over 1,500 Mini Moët were served to a roster of stars on the red carpet, continuing the Maison's popular philanthropic initiative, "Toast for a Cause", now in its 9th year.
Celebrities including Kendall Jenner, Emma Stone, Reese Witherspoon, Shailene Woodley, Zoe Kravitz, Eva Longoria, Jude Law, Jamie Chung, Debra Messing, Sterling K. Brown, Ansel Elgort, Mariah Carey, Ricky Martin, Billie Jean King, Octavia Spencer, Billie Jean King, Kate Hudson, Laura Dern and many more raised a celebratory Moët Mini in honor of their charity of choice – to which Moët donates $1,000 in the participants' names – with a cheers to someone who has inspired them throughout their career.
As a result, Moët donated to charities including YouthAids (Debrah Messing), Shine On Sierra Leon (Zoe Kravitz) Youth Mentoring Connection (Sterling K. Brown), Make a Wish (Jude Law), Water (Kendall Jenner), The Ricky Martin Foundation (Ricky Martin), Casa Alionza (Laura Dern).
An overwhelming number of celebrities chose the Time's Up movement as their organisation of choice.
Supporters included Reese Witherspoon, Emma Stone, Issa Rae, Jamie Chung, Jessica Chastain, Octavia Spencer, Eva Longoria, Emma Stone, Kate Hudson Mariah Carey, Ansel Elgort, and Billie Jean King.
Throughout the evening, Moët & Chandon treated guests to magnums of Rosé Imperial, Grand Vintage 2006 and debuted 'The Moët 75', the official cocktail of the 75th Golden Globe Awards created by actress, fashion influencer and lifestyle expert Jamie Chung.
As a homage to the Globe's special anniversary, this cocktail embodies the effervescence, glamour and magic of cinema, celebrating over seven and a half decades of the Golden Globes. Chung playfully captured the boldness and creativity that shines on Hollywood's biggest night with a cocktail that mixes sweet and tart notes and beautifully sparkles with a candied blood orange slice garnish.
Check out pics from the stunning affair below.